Despite loud claims, popping up here and there, that push notifications are dead, the statement couldn't be further from the truth. In 2021, Push notifications are still one of the most effective ad formats. 

In fact, there are many kinds of push ads, and each variation can bring you high ROI, if used right.
A new type of push notifications, calendar push, is a format that many ad networks have been recently adding to their push portfolio. So, let's see how they work and what ROI they can bring with the case-study from Vimmy, a push advertising platform.
What is Vimmy? 
Vimmy is a push advertising tool that will help you with the monetization of your ads.
With the headquarters in the Netherlands, this advertising network specifically focuses on push notifications, giving you the best tools and opportunities to increase your ROI.
Vimmy has an expert team with extensive experience in digital marketing, who are always there to help you achieve the best results.

Types of push notifications
These days the market offers affiliates to reach their audience with 3 types of push notifications: Traditional pushes, In-page push (or Web Push), and Calendar push. 
Push Notifications
These kinds of notifications appear on the device screen as native notifications, therefore the CTR is very high, and it is an effective tool to get many clicks.
In-page Push
Similar to classic push ads, but those ads appear alongside the content in your browser when you enter the website, and with the right targeting they can bring high conversion.
Calendar Push
This type of ad is unique for iOS: it appears in calendars on iOS devices and brings in iOS users who tend to have higher incomes and spend more time on mobile applications.
The brand new format: calendar push for iOS
Vimmy gives you the unique ability to send special push notifications to your iPhone, opening up a more solvent iOS audience. With over 1 billion iOS users, the possibilities are truly endless.
This audience can be defined as "fresh", as the push notification format is fairly new to it. Calendar push as an ad format is quite new but profitable, it is not widely used by publishers, so you have a great chance to raise your ad revenue.
All the push notifications come to iOS devices via the calendar application. Users see them on screens as a calendar event with the ad title only. Users click on the appearing notifications and go to the Calendar event, from where the link will bring them to your advertised page. 
The verticals that are thriving with this kind of ads are various applications from the App Store, VPN, antivirus, games, crypto and finance, dating, gambling.
Vimmy Account and Dashboard
It is rather easy to register your account, verify it and start launching your first ads. The dashboard is clear and easy to use. It is full-fledged, fully equipped, all the necessary essentials are in plain sight, and checking your statistics is not a hard thing to do. Every option is clearly seen in the dashboard, there are no unmarked or hidden buttons.
Advertising and publishing tools are at the same place and design is quite intuitive as well - no need for support tickets here. Vimmy adheres to high-security standards, so you can rest easy about malware. The bot traffic is also not allowed.
Payments information
The minimum deposit for beginners is 50 dollars, the same sum is needed to withdraw your earnings. You'll be able to withdraw your funds as soon as you reach the necessary limit.
The payments are made once a week. You can get your revenues any way you like - Webmoney, Payoneer, PayPal, Paxum, Wire. You can change your payment method whenever you want.
There are revenue stats for any web page - you can see your earnings in statistics, just go there, choose the necessary time period and press "group by sites".
In the "Referral Program" tab you can find your personal referral link, it gives you an opportunity to expand your income even more. Just follow the rules of the referral program and you'll share the profits of the first invited colleagues pretty soon!
Vimmy for Publishers
The main advantage of using Vimmy for publishers is a competitive payback percentage, which goes up to a whopping 85% of the income. The platform processes are maximally automized, so there is no need to be constantly in touch with your account manager. All the revenue goes directly to you.
Vimmy gives publishers various ad formats to use. The CPC rates are quite high and the integration is really clear and simple. Push calendar ads for iOS are another way to greatly increase your revenue as a publisher. Installing these ads on your web page is simple by using multi-tag.
Last but not least is the quality of Vimmy's support team. The support team is fast and attentive, helping you solve all the questions you might have about Vimmy in a timely manner.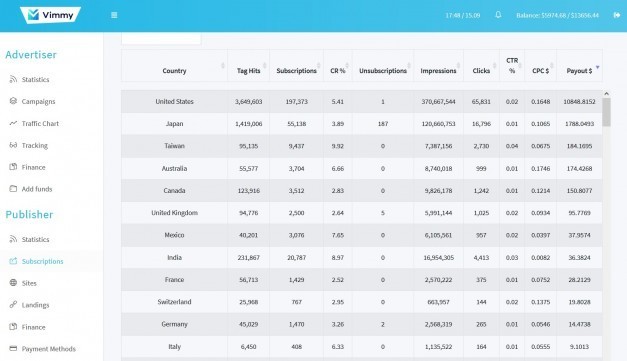 Payment proofs
As already mentioned, Vimmy pays out 85% of the income. The processes are mostly automated and therefore the costs are lower compared to other ad networks. All payouts are right on time and never delayed. Payouts are made every week.
You can choose any payment system convenient for you and change it anytime.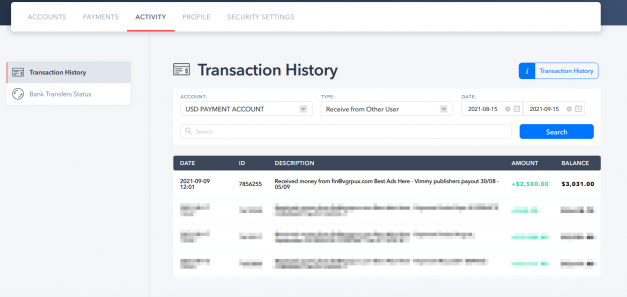 Why choose Vimmy?
Let's sum up the benefits of this advertising platform:
Simple dashboard, user-friendly interface
Support team working 24/7/365
Many funding options: Webmoney, Payoneer, PayPal, Paxum, Wire.
The minimum deposit of 50 dollars.
Payments once a week.
Various push ad notifications with good costs and CPC.
Low-budget test campaigns.
Fast and simple campaigns with detailed statistics.
Lots of targeting options to use (region, browser, platform, country, etc).
Safeness and secureness (no malware, no bots, regular check-ups).
If you want to test and check how push ads work, Vimmy would be a great starting option. Full campaign control, great CPC, traffic from iOS, high conversion rates and easy withdrawal with a lucrative referral program give you chances to get the maximum revenues possible and multiply your income.
Share the article

Read. Learn. Do. Earn more money on Affiliate Marketing
Don't miss