Check out our review of PropellerAds Audiences - a perfect tool to make your targeting work even better.

Has someone asked you if "magic outside Hogwarts" existed? Our answer to it would be no and yes. No, because we've never seen Hogwarts. Yes, because we are going to present you a nearly-magical tool from PropellerAds that might increase your CR by up to 300% (if that's not magic, we don't know what is)!
What is PropellerAds and what is Audiences?
If you've been with affiliate marketing (or with us) long enough, you must have heard about PropellerAds a thousand times. For those of you who are still in the dark, PropellerAds is an AdTech company which helps both the publishers and the advertisers to find the right audience for their products. They started out as a traffic network specialised in popunder traffic and now they have expanded to "a complete marketing ecosystem".
As a result of their devotion to finding best-working advertising tools to simplify the lives of affiliates, they have come up with PropellerAds Audiences.
Now this is something worth serenading to: PropellerAds Audiences is an advanced tool that allows you to reach the exact audience that with greater probability will like what you offer. In other words, you will get access to the audiences from specific GEOs, of a necessary age and the relevant interests that are likely to convert into leads or sales (whichever your target option is). 
As of now, it is available for Gold and Premium accounts only, with many more perks for their most loyal members (including Priority campaign moderation, Priority access to new features, Premium Support via Live Chat and many others). At the moment, it is available for both push and in-page push with CPC, CPM and CPA Goal models. 
Well, if you are too hesitant, you can wait a little for it to become a common feature for everyone. But, I don't know if you can after this article.

The oh-so-great advantages
If you've ever struggled with targeting the right audience (it could be the choice of the age or interest group, even GEO that would be more convertible), this tool is exactly what you need. 
Let us break it down for you:
You get access to ready-to-use audiences that have proved to work well with specific types of offers;

You can use other tools to enhance your performance, e.g. the Traffic Estimator (to see how many potential customers you can target within your targeting settings);

You have more targeting opportunities to give your campaign a boost it needs.

So, when you're choosing an offer (let's say, finance/insurance), their tool will immediately accommodate the audience and target those people interested in banking, crypto, loans etc. Basically, what it does is accumulate all the information about the target audience's demographic and all the choices they've made before. The idea (which should be perfectly clear) is that those users who were interested in a similar offer in the past are more likely to be interested in yours. 
That means, no more pain trying to target the audience that will be active. It's already done for you: they have custom-made audiences for literally any vertical of your liking (gambling, sweepstakes, crypto etc.). You name it.
And this tool makes sure they see your ad.
The one with "fantastic prizes"
We can go on and on about how great this feature is, but that's all just talk. One picture is worth a thousand words.
Entry data
Offer type: Sweepstakes 
Ad format: Classic push
Lead cost: initial lead - $0,42, increased to $0,48
Period: March 19th - May 31st
The advertiser chose a sweepstakes offer targeting Indonesia (still, a very popular type of offer since it's still quite new to the audience) with a daily budget of $500. It was kind of an experiment as well: if the ready-made audiences convert better than just shooting in the air.
In order to see how it works, the publisher chose two interest groups - Giveaways and Finance (which would be the obvious choice for sweepstakes offers since people who like free stuff are the exact target audience of sweepstakes) Here, the publisher also used one more feature that PropellerAds offers - to target by activity (high, medium and low). 
So, how did it go?
In this screenshot you can see that CR is pretty much the same (as it usually is for high activity users), CTR multiplied by five: from 1,77% for no interest groups to  5,78% and 5,91% with interest groups. And without use of a magical wand!

If we compare it with the next screenshot showing us the performance with low-activity users, we'll see that CTR is also higher with interest-based groups.

This is an already known tendency that CR and CTR increase by 20-30% with the use of interest-based groups (like, giveaways for sweepstakes). The CTR of creatives shown to these groups would be also on average 38% higher than with no-interest audiences. PropellerAds has also done some internal tests which showed the growth of CR up to 300% in certain segments compared to ordinary campaigns (just think about that!).
This case shows that PropellerAds Audiences is a great way to optimize any campaign and enhance your performance by just adding this feature. Even if your campaign is doing great, you can make it better. If it's near flopping, audiences will be even more beneficial.
The easy-peasy results
Well, so how does it work then? Pretty easy, we would say.
PropellerAds Audiences allow you to target people by the following criteria:
Interests: Sports, Shopping, Finance, iGaming, Giveaways, Dating, Utilities;

Gender: Men and Women;

Age: 18-29, 30-49, 50+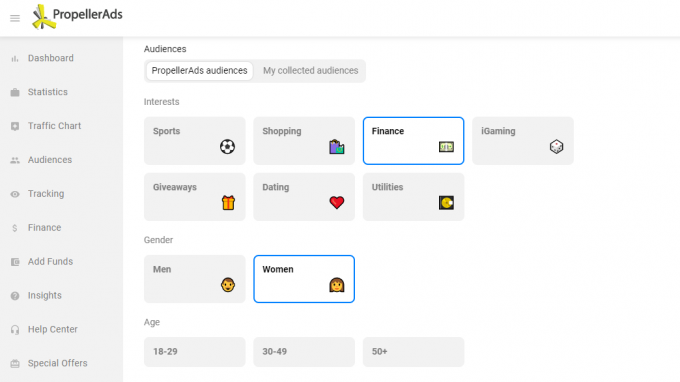 All you need to do is to choose the settings for your target audience, and you're ready to go. 
What's more, you can go ahead and use this tool whenever you're working with Facebook, Google or any other sources and target the relevant audience. Pretty cool, huh?
The not so hush-hush lifehacks
If you're ready to go and try out PropellerAds Audiences, here are some tips to get you the best results:
Use relevant creatives AND, if needed, make sure they are in the language of your targeted GEO;

Try out the following GEOs first (they have the largest interest-based audiences): India, Indonesia, Brazil, the Philippines, Mexico, Nigeria, Thailand, Colombia, Malaysia, US, Egypt, Vietnam. 

Find the relevant audiences for your offer (as in the examples above): think what interests your potential leads have.

Summary
PropellerAds Audiences is a tool that will blow your mind (not literally, but figuratively) in the best way possible. It will help you to make sure your traffic is not going to waste, but bringing you the profit you have in mind. 
All you need to do is to choose the offer, choose the best target settings and reap the benefits. Combine this tool with other tools, find the best-working combination for you. Let the experiments begin!

Share the article

Read. Learn. Do. Earn more money on Affiliate Marketing
Don't miss