4rabetpartner is a direct gambling and betting advertiser with an in-house offer 4rabet. See our detailed review and guide on how to easily sign up and go live right now!

Even though working with affiliate networks can be highly beneficial in terms of support, protection or variety, there are still downsides since you just limit your choices. Working with direct advertisers and their in-house offers (especially, when it comes to such verticals as gambling or betting) may work wonders: with the direct support from a team of managers, you get first-hand information that will help you to immediately boost your performance (and not waiting for your manager to go ask another manager to get information from yet another person). What's more: you will win big (isn't that what you're here for?).
So today we have a special treat for you: the 4rabetpartner review (and their in-house namesake offer). If you haven't heard of the 4rabet affiliate program, let us bring you up to speed.

What is 4rabet?
4rabet can be easily called one of the leaders in the gambling industry. Established in 2016 in Goa, it only became legal to Indian citizens in 2018 (before that it was exclusively working for tourists). Now, it is available in the whole world, making it one of the largest bookmakers in the Asian region with at least three hundred thousand visitors every month.
To make it work for the rest of the world, the creators have put enormous effort into making localized versions with domestic currencies and payment systems (so now it's not limited to rupees or dollars, which greatly simplifies working with the offer). Now anyone interested in sports can easily register an account at 4rabet.com and place bets on virtually anything they like: boxing, football, tennis, baseball etc. Hell, even politics, weather and esports are real options here.
Since many users are now more prone to turn to their phones (with functionality relatively close to the one of a usual laptop), 4rabet decided to launch not just a mobile version of the site, but also separate apps for both Androids and iPhones. They are available in Google Play and AppStore and can be downloaded for free.
To learn more about sports news one can go to https://4ranews.com/ and read about upcoming matches and bookmakers predictions or finished matches and their analyses. They even have guides with the best betting strategies. 
And now to 4rabetpartner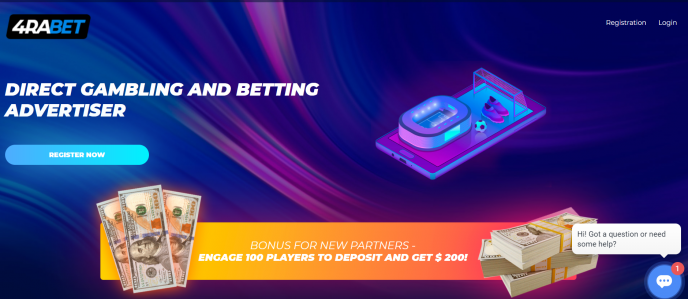 Now that we've learned more about 4rabet and what it offers to the customer, let's see what benefits there are for affiliates.
As a direct advertiser with in-house offers, 4rabetpartner assures you that you will earn 10 to 50% more than if you worked through a CPA network. This is not far from reality: all affiliate networks take their commission off each lead/deposit you bring, therefore grabbing part of what would otherwise be yours. 
How much can you earn then?
They offer you several options for payout: CPA (cost per action, which is usually first deposit) and RevShare (how much 4rabet earns off each customer throughout the time the player stays with the platform). 
For each lead you are promised to get from $20 to $100 for CPA and up to 50% on Revshare. 
What's up with traffic?
In terms of traffic, you are allowed to use basically anything except for clickunder and popunder. To use brand context ads, you will have to consult with the manager first.
Otherwise, targeted ads, mobile traffic, context ads, doorways, emailing etc. are totally legit.
Why should you choose them?
First of all, they provide options for technical setup: from an elaborated API instruction manual to a postback or a simple tracking link. What they pride themselves in is that they track every click and conversion, so no lead or deposit is ever lost.
Second, 4rabetpartner offers great expertise in localization and will go out of their way for you to succeed. You can ask questions, inquire about statistics. At the moment, they have only India available, but they might be open to discussion of possible expansion.
Third, they offer a variety of promotion tools: unique promo materials, apps for your own traffic, promo codes to motivate your players. As of recently, they have introduced a new bonus system (where you get 100% bonus on first deposit up to 15000INR on sports and 100% bonus on first deposit up to 20000INR on casino). 
Suffice it to say, any demand can be satisfied here.
How to get started with 4rabet?
First, we register 
When you click the "Register now" button on the main page of 4rabetpartner, you will be redirected to a page for authorization of existing affiliates. Click "create account", where all you need to do is to put your email address, create a password and give a link to your telegram account. 
NB! They will ask you to agree with the Terms and Conditions, which we would strongly advise to look through. Even though most of these T&Cs are conventional, there still might be some really useful information as to terms of payment (Net30, Net60, the threshold) and more details on their traffic policy.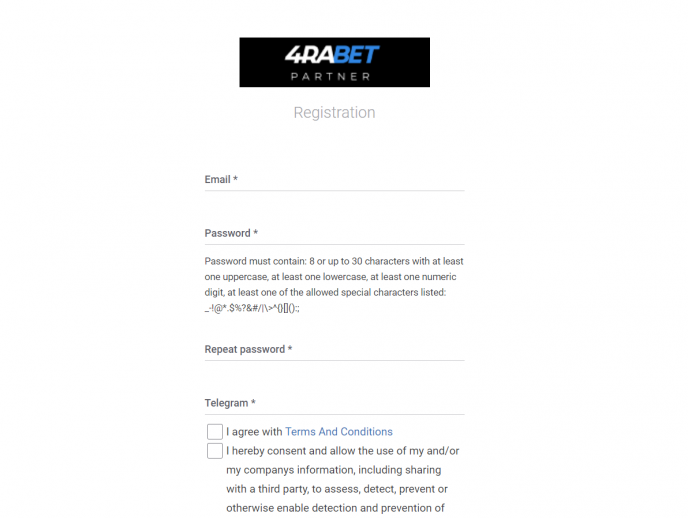 Once you fill in the form and check the boxes, you will receive an email with the confirmation link. As you go there and log into the system, you instantly get to the dashboard. 
Dashboard
Here you can see your daily statistics (clicks, conversions), your balance and the contacts of your personal manager (who will be available to help you with anything as fast as they can).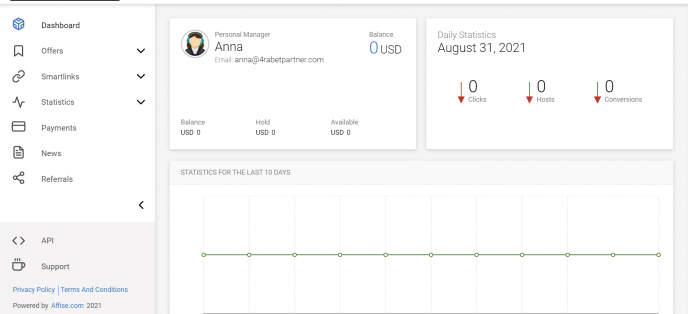 Let's find the offer
Now that your account is validated and you have successfully logged in, it's time to see how you can set up the campaign from here. If you go to "Offers" => "Available" you will see 4rabet offer with default payout (revshare 30%). If you want to get a better deal, you can always contact your manager and they will see what they can do. 
They also have the "Support" page here where you can create a ticket and the manager will review it.

Go to the offer page to see all the information you will need to successfully run the campaign: minimal deposit sum, payment terms, GEOs, landings, targeting info, traffic sources etc.

How to set it up?
The offer is exactly the page where you get your tracking link with all the parameters (and boy, do they have options) and where you can add your postback (if this is your preferred way of working). From the dashboard (two screenshots above) you can access the API documentation (which would be pretty much standardized if you've ever worked with Affise).

What's more, you can always click here to start working with Google AdWords and simplify tracking:

Where do I check my performance?
Once you're set and live with 4rabet, it's easy to monitor your leads and deposits in the statistics section: you can check statistics based on the sub ids, countries where you promote, devices, referrals, browsers and so on. This is also where you will see which of the leads/deposits were approved or rejected. 

How do I get paid?
Do not forget to set up your payment info: just click on your account (it's in the upper right corner of the page) and choose "payment system". Choose the option which will suit you best, and they do have quite a choice of payment systems: from WebMoney to BTC to UPI. If you have a preference for a specific payment system that they don't have on the list, you can always contact them. They are relatively flexible and will try to figure something out just for you.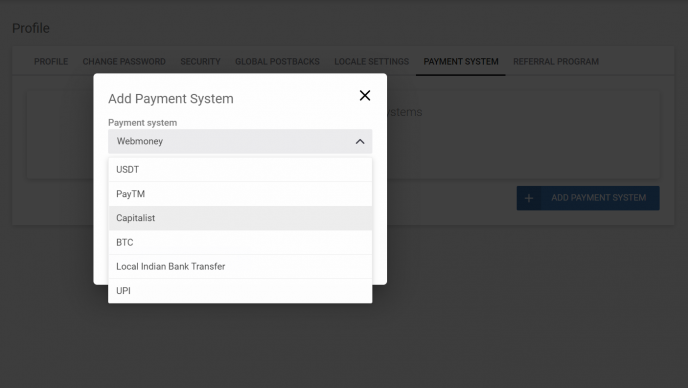 On the "Profile" page you can also complete your personal information, change password, generate the API key ("Security" is here for you), add a global postback, change local settings AND (the coolest part here) get your personal referral link so that every publisher you invite to 4rabetpartner will turn into money.

To check out payments you can always go to "Payments", where they will give you all the information on the payout amount, payment system of your choice, the period and payment status. There you can download the invoice and check for yourself the list of all the leads/deposits that you are being paid. Note, that they pay you on a weekly basis in dollars.

The 4rabet Affiliate Program Summary
As you can see, the interface is very user-friendly and has everything you might need to track your performance: all the statistics broken down into categories and sub ids, all the payments made to you by the advertiser or potential new offers (if they come up with them).
Commission types: CPA(from $20 to $100) or RevShare (from 30% up to 50%).
Offer types: Gambling, betting
Offer GEO: for now, India 
Tools: Banners, Landing pages, promocodes
Bonus system: 100% bonus on first deposit up to 15000INR on sports and 100% bonus on first deposit up to 20000INR on casino
Payment: WMZ, USDT, BTC, Capitalist, PayTM etc. 
With the 4rabet affiliate program you have the opportunity to try your hand at driving traffic to one of the most renowned Indian betting companies with all the benefits that direct advertisers might offer you. With an offer easy to apply to and managers ready to assist you tout de suite, you may be in for some good profit.
Share the article

Read. Learn. Do. Earn more money on Affiliate Marketing
Don't miss