Antidetect browser is a special software that replaces digital fingerprint, making it possible to imitate behaviour of a user that is new and unfamiliar to a platform.

There are a lot of ways to use an antidetect browser: webmasters address this tool to place so-called arbitrage surebets, and it can also be of service for SMM managers, spammers, crypto traders, etc. Generally speaking, it comes in handy for everyone who needs a bunch of separate and completely unrelated accounts.

Problems of antidetect browsers
There are dozens of various antidetect browsers: they differ in pricing, functionality, and reliability. Some of them are too expensive for small companies, while others don't hide your identity well enough and all your accounts get banned. This leads to loss of time and money.

For instance, most of today's browsers will not pass PixelScan testing, that means they are potentially vulnerable to massive blocking.

You couple that with systematic crashes, system workload, unfamiliar interface, problems with profiles, and artificially generated fingerprints that will be detected soon enough.

Octo Browser as an efficient solution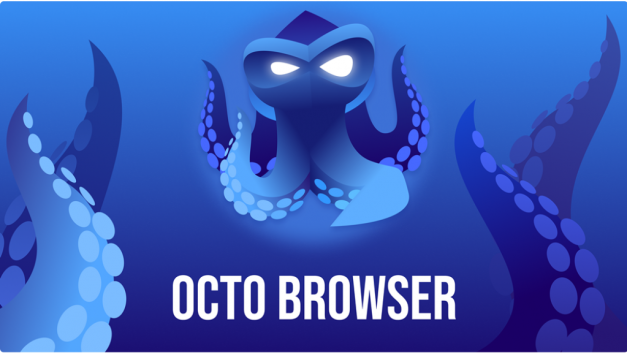 Octo Browser is a Chromium-based antidetect browser. The interface is really intuitive and understandable to most users. Externally, it is similar to Google Chrome.

Today, it is one of the best solutions among all available antidetect browsers on the market. The product is versatile: it is suitable for webmasters, marketplaces, betting shops, and crypto traders.

The browser combines high speed performance and easy-to-use interface, while its system uses real-life fingerprints only. Chances of finding connection between your accounts or getting detected equal to zero.

But there is more inside the Octo Browser. While testing the product, we've pointed out the following advantages:

Universatility. The browser can be of use not only for webmasters, but also for working with marketplaces, bookmakers, and creating profiles on various platforms;

Security. Like we already mentioned, Octo Browser uses fingerprints of real devices. This is the only antidetect browser that successfully passes any popular testing, including PixelScan;

Speed performance. The browser is easy to use due to external similarities with Google Chrome. It doesn't lag or crash and stands out for its  faster response speed;

Practicality. The browser is compatible with Windows and Mac OS. It supports HTTP, SSH, and SOCKS5 proxy. You are one click away from downloading, checking, and saving numerous proxies, as well as from choosing them;

Convenience. You can create a profile in a blink of an eye and start working right after launching the programme. You can use tags to sort profiles and speed up the search.

Great solution for teams. If you work in a team, you can launch an unlimited number of sessions from one account. Also, you can see who interacted with the profile and adjust access rights.

Octo Browser is understandable even for newcomers, the interface is multilingual. For those who may struggle to understand some of the features – there is a learning centre with step-by-step instructions and FAQ. Besides, there is Russian-language technical support that will answer your questions about the product.

A 7-day experience of using Octo Browser
The Affiliate Valley team has been testing this browser on various PCs and with different workloads during one week. We launched multiple sessions simultaneously, checked the browser on several services, and now, we are ready to share our thoughts.

Let us start with installing: it is quite fast and raises no issues. All you have to do is to download the file from the official website and launch it on your computer. It is better to switch off the defender and firewall because it may cause problems while launching.

When running the programme for the first time, you need to enter a login and password once the subscription is paid.

Octo Browser has 5 different plans: from Starter to Custom where all features are available.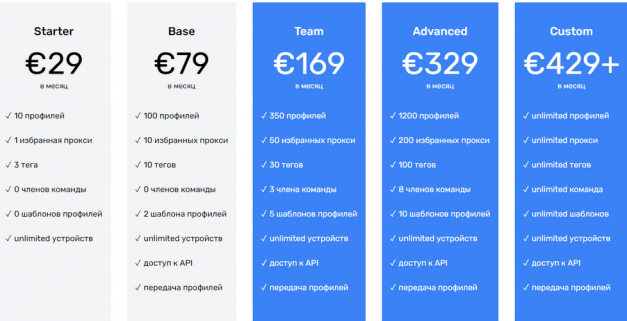 No matter what tariff you choose, you can still log into account on any number of devices.

After the login is successful, the main page will appear. It is very simple and raises no questions.

On the main page, you will find all created profiles that can be filtered by tags, naming, date of creation or launch. You can also manage profiles here – the set of functions includes starting accounts, editing and deleting them, along with importing or exporting cookie files.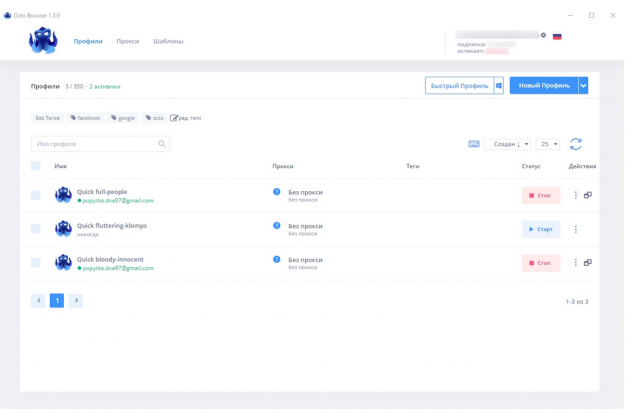 Profiles can be created in two ways: "Quick Profile" suits for fast automatic creation or "New Profile". The latter provides you with manual setup: from icon and basic page to browser extensions and screen dimensions.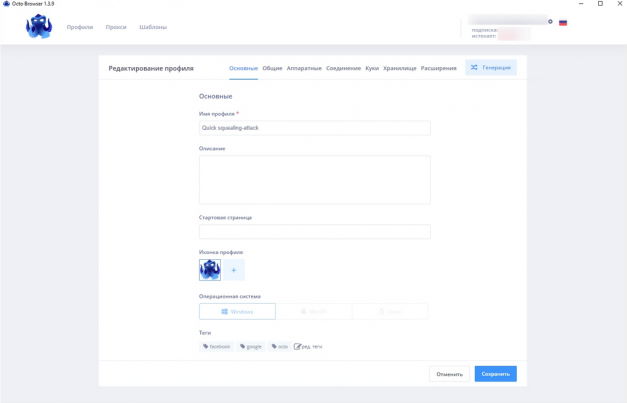 We launched both profiles and checked them through different services. Here are the results:

Pixelscan:


Fingerprintjs: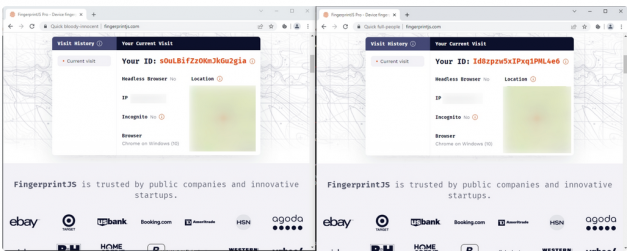 Abrahamjuliot:

F.Wisor: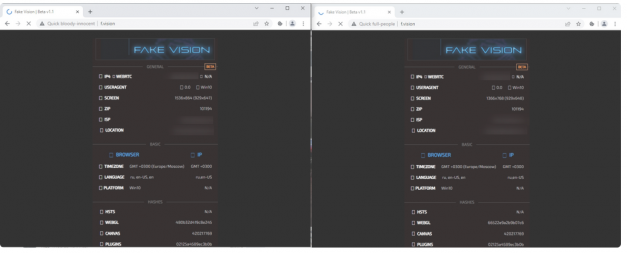 Inside the "Proxy" section, you can add proxies, singly or massively. It is also quite convenient that you can add everything in one file – the programme supports three different data formats.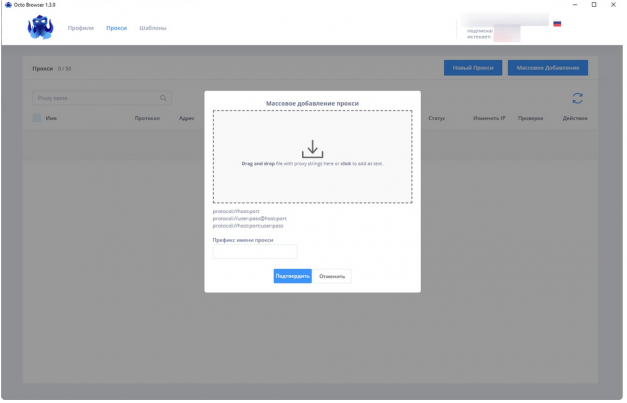 Inside the "Template" section, you can create profiles for automatic generation. Every tab runs fast and stable. An average PC works easily with up to 20 tabs.

Just in one click, templates and profiles take some manual work off your shoulders while every created profile can be edited.

Team members don't see each other's templates so you don't have to worry about confidentiality. You may grant access to profiles under certain tags or refuse to do this at all.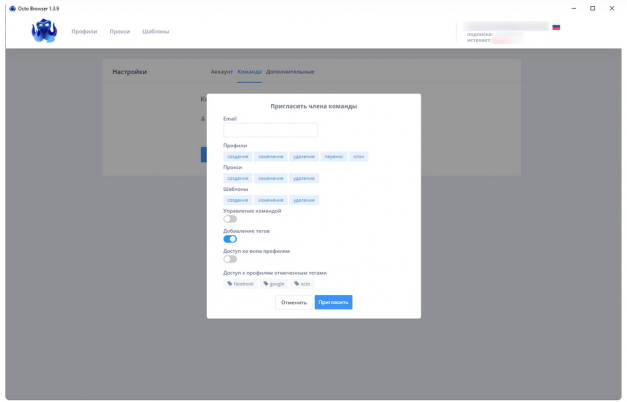 Last but not least – a friendly and responsive community. Octo Browser has its own chat where people share ideas, ask questions, and help each other solve emerging issues.
Is Octo Browser worth checking out? If you look for secure protection, stability and easiness – totally worth it. This is a good and affordable product that pays off completely and contains a lot of features, easy setup for different users, and fast speed performance. Octo Browser gathered up all the benefits of other antidetect browsers and solved every technical problem. Application area is limited by your imagination only, and thanks to API and headless, all mundane tasks can be automated to bring you the best results.
A special offer for our readers: first 50 readers who use the FFVL-220701 promo code will get 5 days of Octo Browser's BASE subscription for free.

Learn about Octo Browser and buy subscription through the official website

Share the article

Read. Learn. Do. Earn more money on Affiliate Marketing
Don't miss