PropellerAds has launched a new tool for automatic setup of advertising campaigns in the CPC Push and Interstitial formats – Rule-Based Optimization. Due to this feature, you can manage click rates and budget spend depending on the efficiency index. Here are instructions on how to connect and cases when this function simplifies and speeds up your working process.
When Rule-Based Optimization helps you the most
Rule-Based Optimization is an automatic campaign optimization based on particular rules. It means that the user sets certain parameters that will increase or decrease rates automatically. Thus, Rule-Based Optimization saves time and helps affiliate marketers solve three main problems:

Enhance lucrative campaigns. For instance, your offer brings profit – ROI goes over 100% or the price for one lead is less than $1. Then you set the rule and the system gradually increases the rate for gaining more traffic. Moreover, this happens only if ROI and the price for one lead remain appropriate;

Get rid of non-profit-making zones. At the end of the setting up process, there is an "exclude zone" function. It turns off particular zones where ROI is low, null, or negative. Also, it turns them off when the price for one lead is above the certain value or conversion drops below the limit;
Correct the rates. Webmasters can set the rule: if the price for one lead gets too high compared to the CPS bid, the latter will decrease automatically.
Thus, we can point out 5 reasons to implement Rule-Based Optimization:

Automatization. Auto rules eliminate the need to constantly monitor campaigns, regulate the rates and turn off non-profit-making zones;

Control. With Rule-Based Optimization, you are in full control of traffic and its efficiency without much effort;
Budget saving. Opportunity to control spend saves your budget from over-expenditures;
Effective enhancement. Profitable campaigns grow automatically while non-profitable campaigns can be turned off. You can set up the amount of rates and budget thresholds;
Adaptive testing. Auto rule optimization suits different verticals and payout models due to the capability of setting up various events – turning off the zone, increasing or decreasing the bid.
In this way, Rule-Based Optimization becomes the key to personalised and accurate campaigns with auto-correct behaviour.

How to use Rule-Based Optimization
This feature is available through the "Create a campaign" page. Go there and set up your starting values at which Rule-Based Optimization will launch. For example, it may come into effect if the spend is higher than $20,5.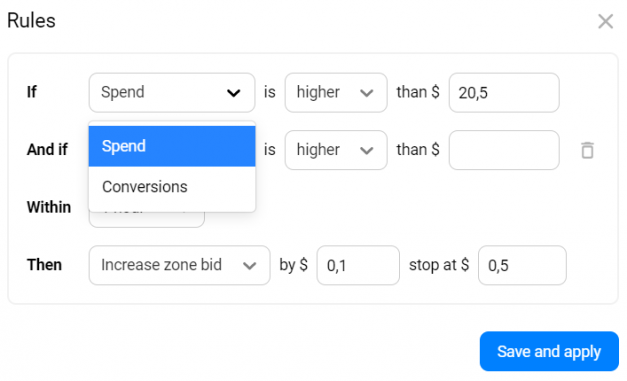 Set up the value for the second parameter to be applied by the system. To choose from – ROI, conversion, the amount, and price for the target action. For illustrative purposes, we chose CPA - the price for one lead.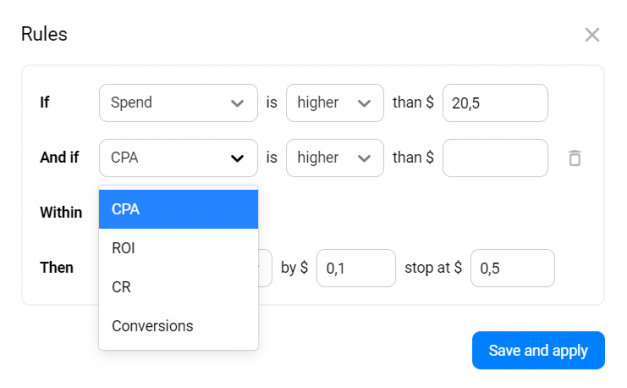 Then we set the period when the system will monitor campaign parameters.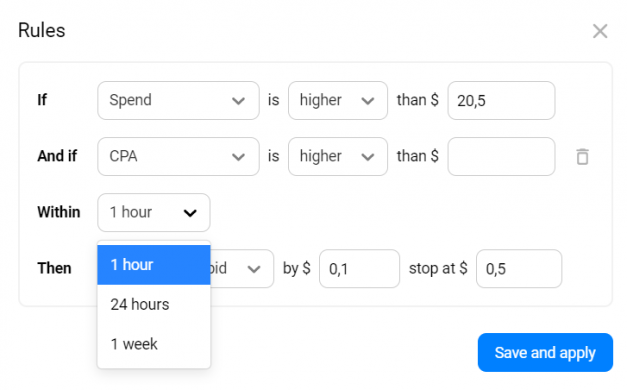 At last, we set the action that will apply if all parameters are met. For example, to set up the rate from $0,1 to $0,5.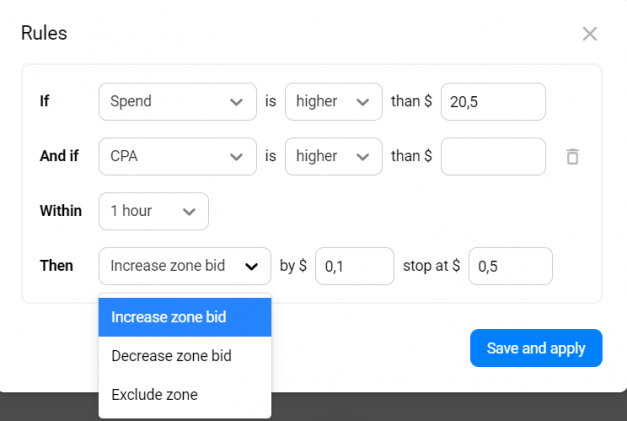 Important clarification! At the moment, you're able to set up 1 auto rule, but PropellerAds is planning to improve the Rule-Based Optimization functionality.

You're all set! Test it yourself and make sure that Rule-Based Optimization is developed to reduce your labour input and enhance return on investments.
Share the article

Read. Learn. Do. Earn more money on Affiliate Marketing
Don't miss