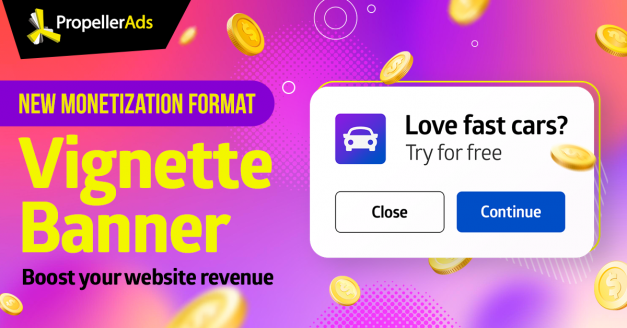 Do you own any traffic? Do you want to monetize it? If both of your answers are yes, then this article is for you.
We know that growing traffic is a big challenge. You've spent many hours creating content and spreading the word about your website (or any other traffic source). It's not a secret for you that, instead of just offering viewers your services (AKA content) completely free of charge, you can target your traffic with ads and to earn money.

However, it might be confusing to find a perfect recipe to boost your traffic revenue - there are so many great options on the market! What if there was a native, clean and safe solution that increases CPM & CTR up to 65% on the market?

That would help to make the choice easier, you say! However, is that even possible?

Just read the article and see how it works!

Disclaimer: the following article will help you to choose the best option for your traffic monetization.

Hard work pays off

For many of us, PropellerAds needs no introduction – it is a notable advertising network for brands, affiliates, advertisers and traffic owners. Yep, you've got it right, PropellerAds also helps traffic owners, publishers and webmasters to boost profits through their site.

With PropellerAds, it doesn't matter how you operate, there are multiple ways to earn money. Here are 6 ad formats to gain profit that already exist:

Classic Push Notifications

In-Page Push
Direct Link
OnClick Popuner
Interstitials
MultiTag
That's not all, guys! They decided to go further in helping traffic owners in boosting their monetization.

This month PropellerAds has launched a new must-have for publishers – Vignette banner. It shows tremendous numbers and increases CPM & CTR up to 65%!

Let's dive into the details a bit deeper.

A Vignette banner – what is it?
Vignette banner is a small native banner that appears right after a user goes to a website. It includes a tiny header and a description, as well as "continue" and "close" buttons. The banner is placed in the center of the screen and can be adjusted to appear with a 5-30 seconds delay or later, depending on your preferences.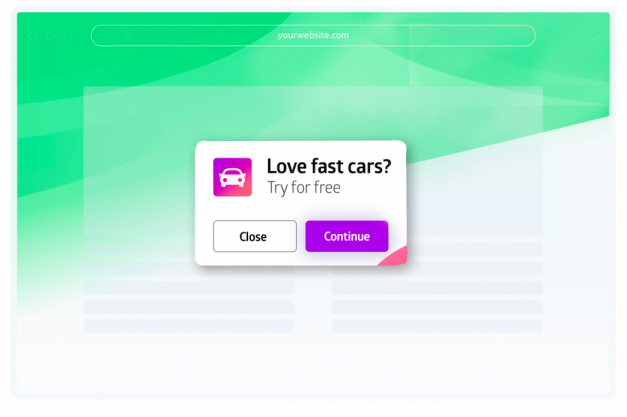 What does the testing show?
The test on Vignette banners ran by PropellerAds team showed some promising results:
Testing Period: December 24, 2021 - January 16, 2022
GEO: US
OS: Windows, Mac OS, iOS, Android
Testing demonstrated that Vignette banners have a 65% higher CTR compared to usual banners. And that's not all.
For those who prefer to get traffic via desktop devices, Vignettes bring twice as many clicks as via mobile devices.
Main advantages of using Vignette banners
Like we mentioned before, Vignettes have a higher CTR (up to 60%) compared to classic banners due to the central position on the screen.
Clean and safe ads only: Vignettes support games, Google Play/AppStore apps, utilities, etc.
Vignettes are 100% visible to every user because of the integrated Anti-AdBlock solution that helps you monetize AdBlock traffic as well.
The new format is compatible with all of PropellerAds' monetization tools – Classic Push Notifications, In-Page Push, Direct Link, OnClick Popuner, Interstitials, and MultiTag.
A very flexible format. These banners perform on every platform (desktop & mobile) and OS.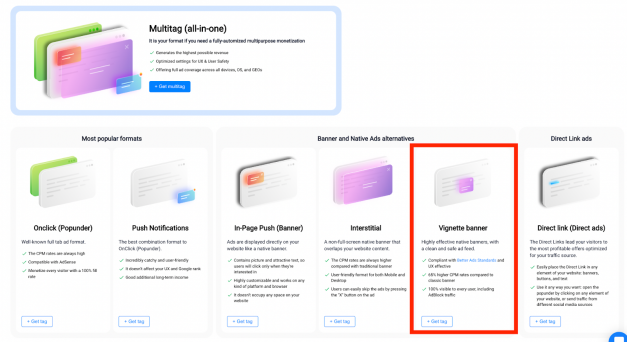 Want to try this thing out?
Great! Follow these step-by-step instructions and start making more money.
Conclusion
Taking eCPM, CTR and desktop engagement tests into consideration, we can tell that Vignette has the potential to strongly improve your website revenue. Moreover, user-friendly and effective features of Vignette banners make it very easy to get started.
So if you want to boost your traffic revenue, go to PropellerAds and check out Vignette Banner!
Share the article

Read. Learn. Do. Earn more money on Affiliate Marketing
Don't miss