When doing split-monitoring among dozens of affiliate networks, probably everyone notices a lack of original offers. It's no secret – newer GEOs mean fresher offers and a higher ROI. Today, we talk about ADLEADPRO, whose main strength and benefit is a so-called "TRUE-GEO". What does it mean and why does a webmaster need to try this thing out – further in the latest review from Affiliate Valley.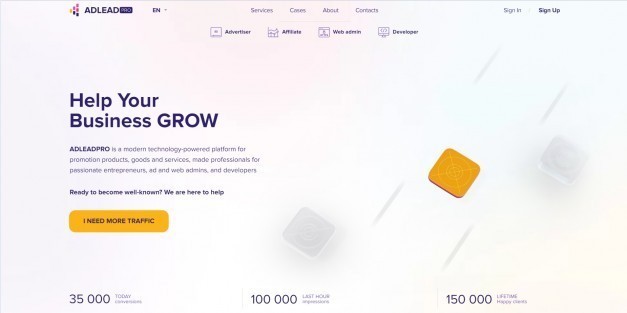 Features and benefits of ADLEADPRO affiliate network
Firstly, we were interested in what is a "TRUE-GEO". Here's how the manager of ADLEADPRO explained: working with local advertisers of whom market players have never heard before, unique offers, numerous GEOs, private KPIs, no limits, and high rates that will surprise even experienced webmasters.
Sounds promising… In fact, we have singled out the following features:
A lot of verticals (including rare ones): WAP-click, Sweepstakes, Mobile installs (CPI), Finance (microfinance organizations, crypto, FOREX), Nutra, SP-offers, Insurance, E-commerce.
All GEOs: Latin America, Asia, Europe, North America, Australia, Africa, CIS – 198 countries.
A lot of private offers. There are 5000+ offers in total. Half of them are available for everyone, the other half can be found by reaching out to the manager directly.
All must-have tools: smart links, apps to lease, TikTok accounts, if needed.
Payouts upon request. Send a message to the support and get your money.
Offers upon request. If you need a specific offer in any niche, it will be found and suggested to you in a couple of hours with an appealing rate.
Well-experienced support. They will pick the offer in accordance with the traffic, tell what GEOs bring the best results depending on the vertical, suggest alternatives, help with settings and integration. Also, we noticed that the guys have a sense of humor and skills of an "affiliate psychologist" (whoever tests will understand).
Besides, everyone, who talks less and attracts more traffic, gets a bunch of goodies: gifts for providing great volumes, competitions among webmasters, tickets for vacations abroad, tickets to the top affiliate events including private gatherings.
Also, if you are not yet well versed in setting up and boosting advertising campaigns, the team is ready to help and share expertise as they are really interested in your profit.
If you want to partner up with ADLEADPRO, you just need to enter your email address, Skype or Telegram and follow the link sent to the email. Access to your personal account is received instantly.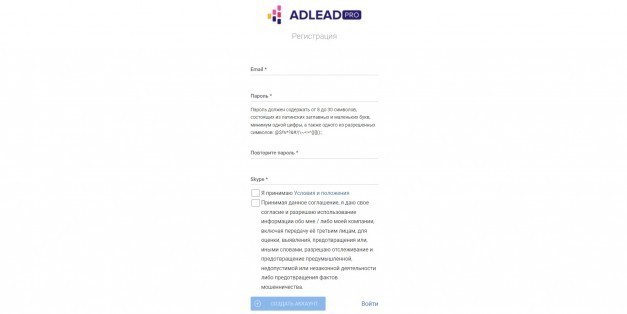 ADLEADPRO's Offers
Because there is a large number of offers, we asked the manager to show us those that have the best performance. Right now, Mobile subscriptions in Asia demonstrate great results if promoted with inApp, Push, and Popunder ad formats. Traffic to Adult and mainstream content is driven steadily. Moreover, there are some offers from popular marketplaces, such as Ozon, Aliexpress etc.
But what is really mind blowing – the 1 click flow. What is it? Users subscribe in just 1 click and you get paid for each of them! On average, a team of 5 members easily makes conversions that amount to 8-12K daily, but that is not the limit. Over time, you can boost these numbers up to 15-18K, and even more. Also, you receive reports on your traffic, based on its main indicators.
A lot of webmasters prefer combining offers with different flows. If you're interested in how to do so – send a message to ADLEADPRO managers and you will get the necessary information.

Stats of a webmaster who works with ADLEADPRO
Here are some good options:
[TH]-Truemove-Body Health – a mainstream offer in Thailand. Payout – $0.56 (daily limit: no more than 2000 conversions). No restrictions in choice of OS, devices, and traffic sources. Average CR – 0.8%, EPC – $0.0045. According to the manager, Popunders work really well for this offer.
[PE]-Entel-MINIME — WAP-click offer where you need to promote a mobile app in Peru. CR is crazy – 9.42%, EPC – $0.0677. Limitation – 10k conversions daily. No restrictions in choice of mobile operators.


[CL]-Entel-Games LP6 – if you don't like Peru, there is a similar WAP-click offer for Chili with equally good conversions. CR — 9.03%, EPC — $0.0948. Payout – $1.05, limitations – 100 conversions per day (agreed on with the manager).


If you want to take a look at previews or banners, every offer has useful links in the "Offer information" section:


Don't forget that the guys have a decent range of in-house products. A few big projects are being developed right now. They provide access to private tests, just get in touch with the manager. PWAs are in stock, too!

To stay updated on the information about new offers and the latest trends in the affiliate marketing world, follow ADLEADPRO in social media:
How to start working with ADLEADPRO
Right now ADLEADPRO is powered by Affise, a well-known engine among experienced webmasters. This means a very low chance of issues when creating the flow. If this is your first affiliate network, everything is quite simple:
1. Firstly, we head to the "offers" section and choose the product we want to drive traffic to.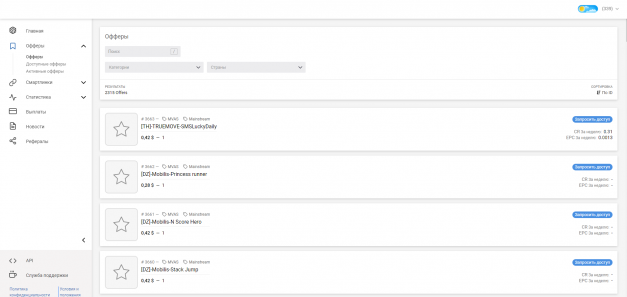 2. Every offer is clickable. You can look at the detailed terms, whether or not there is a KPI test, what GEOs are available, what sources of traffic are unwanted for the advertiser etc.


3. If everything is okay, you can request access. If you are in touch with the manager, then you can request the approval from him directly. If not, fill in the necessary information in the corresponding box. If you don't have any screenshots – no worries, explain the situation as it is.

4. When you get the requested offer, you may find it in the "Active offers" section.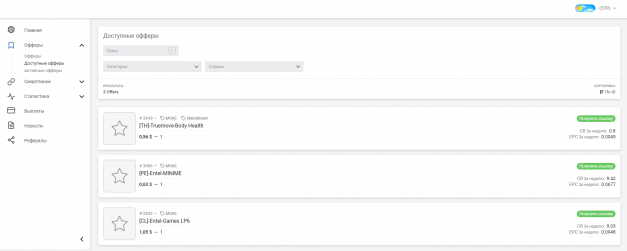 5. Also, you can find available promos and landing pages here, create flow and set up a Postback.


Guys from ADLEADPRO work with traffic from any source: FB, TikTok, VK, Instagram – any other social media, myTarget, pushes, pops, banners, in App, contextual advertising, messengers etc. The main requirement is quality traffic.
How to withdraw money from ADLEADPRO
Payouts are provided by request in RUB, Euros, US Dollars and Singapore dollars. You can withdraw on USDT, Crypto, Capitalist, any WW cards and Paypal. Hold – 1 day (depending on the offer).
ADLEADPRO feedback
If you ever worked with ADLEADPRO, share your experience through the special form below – we are always looking for new feedback from experienced and starting affiliate enthusiasts.
Wishing you profit!
Share the article

Read. Learn. Do. Earn more money on Affiliate Marketing
Don't miss