Today sweepstakes vertical is one of the most important niches for those who want to get profit in affiliate marketing. A lot of effective GEOs, a huge variety of offers, and numerous funnel types cannot but attract. Both experienced specialists and newbies of the sphere can't resist launching sweepstakes campaigns.

But such popularity follows certain difficulties. One of them is rapidly growing competition and today to hit the jackpot is not so easy.
In this article, RichAds product manager Eugene Kuznetsov will share his one-of-a-kind tips on how to get profit in the sweepstakes vertical.
How to choose an offer & GEO for the campaign?
Eugene: The simpler a sales funnel the easier it is to make a profit. The user doesn't have to perform a lot of actions, so the conversion is more possible.
These types of offers are a gold mine but remember about checking the quality of traffic not to waste money on low-quality offers. A/b testing is your best buddy here.
Find more about choosing an offer & GEO in another article by RichAds on Affiliate Valley.

What algorithm should an advertiser follow to find the best converting offer?
Eugene: To find the best converting offer is a huge science. We recommend using some kind of algorithm. This way the process of finding the offer for your next campaign will be much easier.
Identify an approximate budget for your campaign.
Сhoose GEO according to your budget from Tier 1, 2, or 3.
Choose the type of sweepstakes offers: SOI/DOI, CC-Submit, or Mobile subscriptions.
Do your own research on the offers meeting your requirements.
Ask your affiliate manager about the best options for a certain affiliate network.
Moreover, try to be unique and don't implement overused offers from spy tools.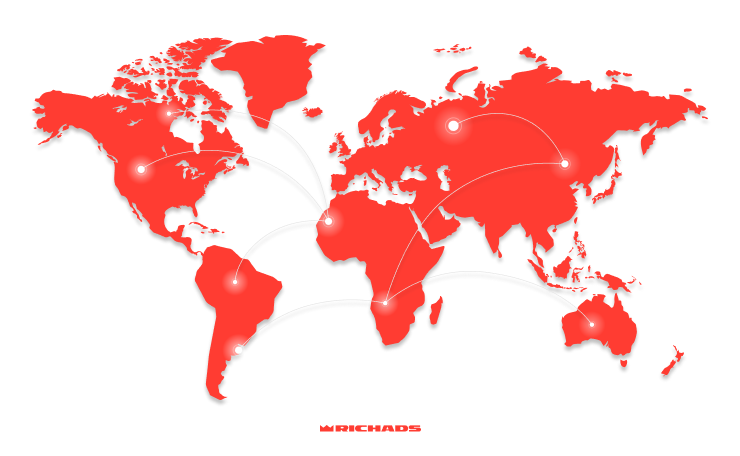 What traffic type to choose for sweepstakes vertical?
Eugene: It's not so difficult to choose traffic type for sweepstakes offers as this niche works great with almost all options. But we recommend choosing push and pops traffic.
Push traffic
This traffic type works great with both newbies and skilled professionals. The most important benefit of push notifications is simple moderation rules. Using Facebook traffic advertisers may face the problem of bans. The same cannot be said about push traffic.
RichAds moderators will help you to use working approaches without violating moderation rules.
Pop traffic
The main advantage of pop traffic is its low cost. Pop ad campaigns don't require creatives. Just prepare a quality landing page, launch campaign, and implement correct optimization. Remember that pop traffic may include lots of bots. Check the quality of traffic in the network you've chosen. By the way, RichAds pop and push traffic is verified by AdScore.
Which elements help to create high-converting creatives?
Eugene: The right creatives increase the CTR of your campaigns. To know more about trends use spy tools but don't copy the whole creatives. If you overuse popular creatives the CTR of your campaign may be extremely low.
Here are the best examples of sweepstakes creatives' icons and main images:
Use images and icons of credit cards. It's a symbol of money. Sums of money depicted on the card work even better.
Use gift boxes and other attributes of celebration. Ribbons, fireworks, and other features will create an atmosphere of celebration.
Use large images of the gifts. iPhones are the most popular gifts on sweepstakes. Choose the latest versions of devices to make your creatives as attractive as possible.
Use the images of packages. It will make people sure that the gift is real and the lottery is not fake.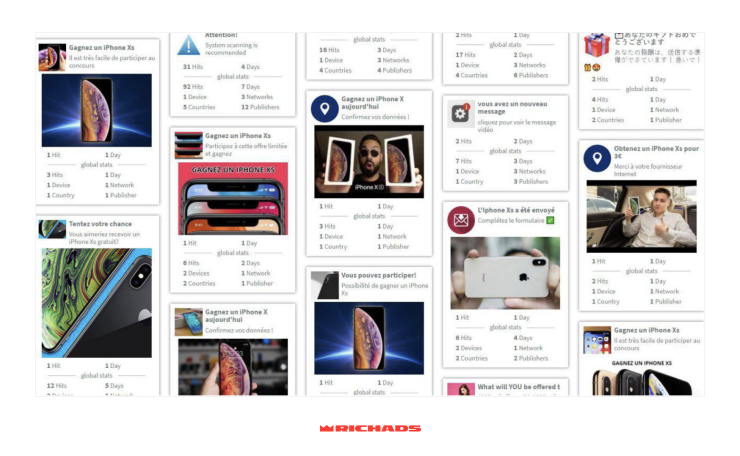 To know more about sweepstakes vertical from top experts of the industry register for the RichAds Sweepstakes Webinar!
📌 Topic: "Sweepstakes for Affiliates: Win-win game"
Use only proven traffic sources to launch your sweepstakes campaign. RichAds advertising platform offers push and pops traffic verified by AdScore 💣

Share the article

Read. Learn. Do. Earn more money on Affiliate Marketing
Don't miss