MyBid is a multi-format advertising network that has remained private for two years but now it became public. The current review will explain why you should launch your ad campaign on this platform as soon as possible.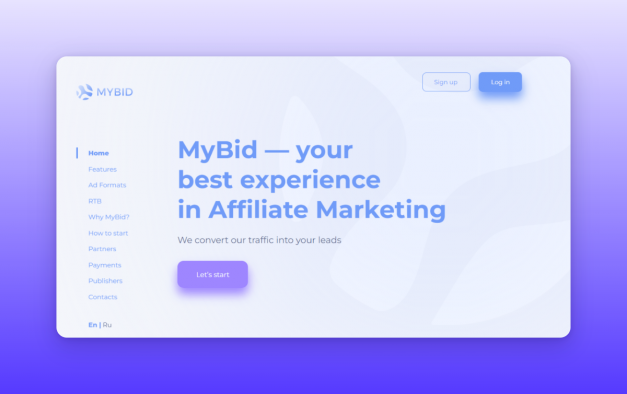 Features of the MyBid advertising network
Fully-managed platform — all campaigns are created, optimized and removed through the manager;
Two payment models: CPC/CPM;
No forbidden verticals;
Most websites are in-house;
Running ad campaigns for the Adult offers is allowed;
Type of traffic: Adult and mainstream with a preponderance of the former. 
Ad formats available through the MyBid advertising network
MyBid is a multi-format network. Here, you will find the following ad formats:
Push Notifications;

In-page Push;
PopUnder;
Native;
Widget Notification

In-page push is the most popular option. The MyBid team is constantly developing skins for other verticals so that in-page push ads fit perfectly into any website.

There are no forbidden verticals – feel free to design any creative and promote any offer through the network. Usually, publishers go for:

Nutra;

Sweepstakes;
Utilities;
Gambling & Betting;
Webcam;
Dating;
Adult.
By the way, the MyBid manager can provide you with the creatives specially designed for your offer. To seize this opportunity, describe your offer and desired outcome. Your manager will select the ads that best match your request. 

How to top up the MyBid account
The minimum balance is $100. There are a few ways to replenish accounts available on the platform:
USDT TRC-20;

Capitalist;
Visa/MasterCard;
Wire Transfer. 
Bank transfer currency is euro.

How to launch campaigns with MyBid
Like any advertising network, MyBid has direct traffic to all GEOs but with a notable swing toward Tier 1 countries, India, Indonesia, and Latin America.
Once you've registered on the platform, the MyBid manager, who is now in charge of your campaigns, reaches out to you. To launch an ad campaign, specify the GEO you want to run traffic to. Your manager will outline the daily volume of impressions and clicks as well as the minimum and recommended bids.

You can adjust the following targeting parameters:

Country and city;

Device (including model and version);
Browser (including version);
Length of push subscriptions;
IP ranges;
Browser language;
Provider;
Limits.
As usually, the time of day to have your ad run is also adjusted.

Managers can prepare configurations, such as whitelists and blacklists, upon request. 

There is no "Create a campaign" button on the MyBid platform as all campaigns are started and removed by the manager. This means a lower level of competition and no overheated auction because publishers opt mainly for the networks where they can do everything themselves.

Before you start working with MyBid, you need to agree with the manager on which of you will optimize the campaign. Your manager can monitor the statistics independently and cut off non-effective platforms which is a huge benefit as you save valuable time. But you can also optimize the campaign yourself by keeping close tabs on statistics and informing your manager which placements should be added to BL. 

Benefits for advertisers
And how without bonuses? MyBid offers two perks at once:
Top up your account with $500 and get extra $50 to your balance.
Send the promo code MyBid50 to your personal manager and get the bonus.
❗️ The bonuses are valid for the first replenishment only. 

For publishers: how to connect a website to the network
Most websites available through MyBid are in-house but third-party publishers can also connect their sources. Websites will display offers related to the following verticals:
Nutra;

Sweepstakes;
Utilities;
Gambling & Betting;
Webcam;
Adult;
Dating. 
There are no requirements on daily visitors. Absolutely all sources are accepted, except for those with illegal subjects.

Feedback on the MyBid advertising network
Have you already worked with this network and want to share your experience? Welcome to the comments section below!👇
Sign up to MyBid and don't forget to follow the team on social media to keep up-to-date with the latest updates!

Share the article

Read. Learn. Do. Earn more money on Affiliate Marketing
Don't miss