This gorgeous post was prepared in a collaboration with our long-term partners TravelPayouts. Apart from super-actionable insights it features many cool travel blogs. Enjoy! 

Affiliate programs, contextual advertising, guest posting, and other sources of income allow travel bloggers to not only survive economically during a pandemic, but to flourish thanks to their blogs. Today, as tourism around the world is gradually recovering, more and more webmasters are once again paying attention to the travel niche. Now is a great time to start a travel blog; however, frankly speaking, there was never a bad time to start a travel blog. In this article, we will tell you why a travel blog is a great idea now and how to approach running one to earn money.
Is it worth making a travel blog right now?
If we look at the statistics of queries in Google Trends, we will see a clear picture that the travel niche is gradually gaining popularity all over the world: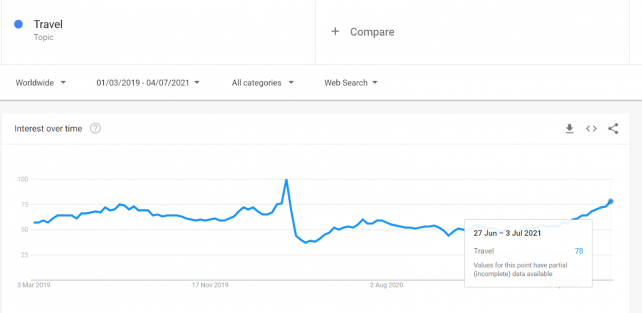 For example, in the US, the trends are as follows: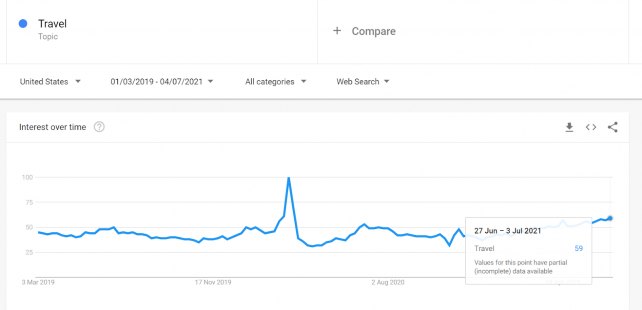 There are some countries in which the topic of travel is in higher demand than it was even before the COVID pandemic. In India, the trends look like this: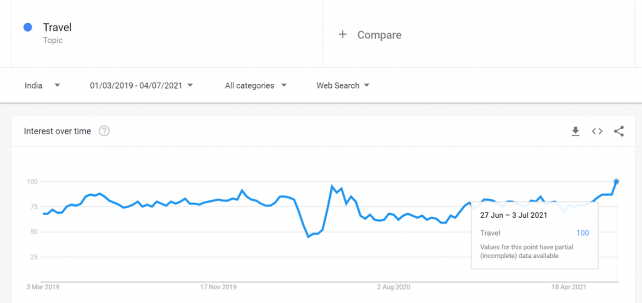 Many search queries have become even more popular than they were before the pandemic, such as those related to local travel.
Since the beginning of the pandemic, the travel niche plummeted. People were stuck in lockdown without any opportunity to travel. Resorts went bankrupt, airline companies, hotels — the travel industry bled all over the globe. 
Thus, the online niche has been experiencing an abrupt decline in interest from money makers, as obviously, there was less money to be made. Right now, this is only partially true. The world has changed, but travel is back alive and doing well. For example, according to Flightradar24, the total number of flights per day is now just slightly lower than it was at the same point in 2019:

The fact that some travel businesses and travel bloggers have closed puts the market into the hands of those who stayed. In some niches, there is less now competition and, at the same time, there is continuing potential for income growth within the travel market.
You can look at existing travel blogs that explore the destinations you are interested in to find examples of when previously well-developed blogs were abandoned. For example, a number of webmasters stopped updating their articles related to a particular year, although before the pandemic, such blogs were more actively updated.
Even with the serious travel restrictions in 2020, travel bloggers made money (for example World Travel Family).
Img.source: https://worldtravelfamily.com
So, the bottom line is that creating a travel blog is not just worth it, it's absolutely vital to start working on one right now or returning to your existing travel website. 
Full travel recovery and further growth are just around the corner. If you enter this period with a well-developed travel blog, you will skim all the cream off the top. But even before that, you will not have to humbly wait and work at a loss, you can earn money in the travel niche even now.
How to create a travel blog during a pandemic
The world has changed. This fact cannot be denied and must be taken into account when working on your travel blog. We have collected six tips on how to promote a travel blog during a pandemic.
0. Write, write, write 
Yes, this is point number zero and this is the foundation of everything we'll be talking about further along. To start a travel blog, you need to be able to write or at least curate content that you will provide to your audience. 
For that, you don't need to be a travelling guru or a creative writing course alumni. What you do need is discipline, consistency and passion.
Let's quickly cover each point. 
Without discipline, no content will ever leave the dark corners of your imagination and get written, not to mention being published on a site. Create a routine of writing every day on a topic that interests you personally. It doesn't have to be perfect and it sure as hell doesn't have to look like all the other travel blogs you see online. Make it about you and your perspective on things. This is what is going to make your content sell in the aftermath.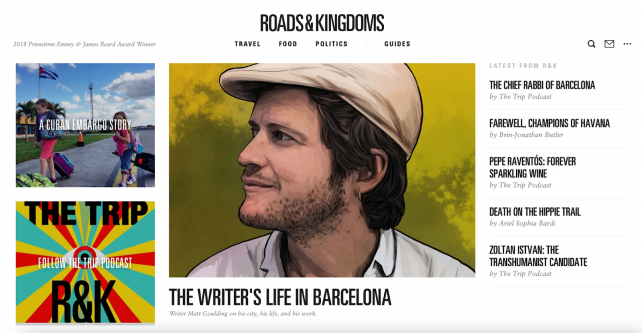 Img.source: https://roadsandkingdoms.com
Consistency is just the logical continuation of the previous point. Once you write regularly, make it a habit of publishing your content regularly. While you're not actively monetizing your travel blog, you don't need to be publishing a new article or a new destination review every day. But make it consistent. Also, consistency will help you develop your own tone of voice in writing, which is extremely important for building a brand. Yes, your site also needs a brand. 
And last but not least is passion. Don't do it if you just want to get an extra buck. There are much easier ways to make money online if that is your only goal. Do it if you feel like you can't not do it. Your passion for the topic will show in your writing, and this is what will be making readers come back to your blog. 
1. Analyze the search volume
And now let's get to the boring techy stuff. 
To generate traffic from search engines, you need to study what users are looking for and use those keywords in your articles. If you could previously write articles by focusing on keywords and the number of requests per month, then you should adapt this same strategy today. 
For example, some destinations are still closed and the number of requests for them may be lower, as people are not currently looking for information on these spots. However, the opposite can also be true, as some destinations may have a higher search volume if there is some news about that spot or it's one of few open destinations for your audience.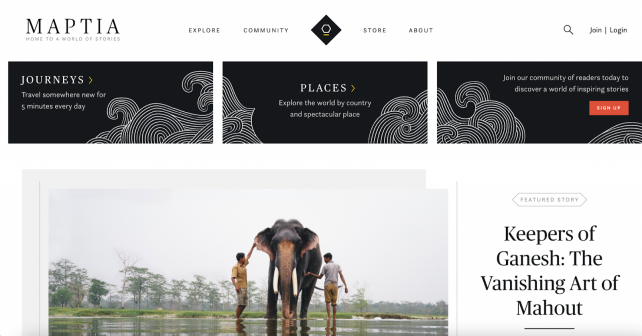 Img.source: https://maptia.com
Therefore, if you are writing an "evergreen" article, it is beneficial to focus not only on the current search rates, but also on historical data and information, especially if this destination has a chance of becoming popular in the near future or if there is any news that may impact the search volume. With this approach, you can find good keywords and topics for articles that have a chance of getting traffic now or later.
2. Find your anchor topics
Consider the specifics of your traffic. If you have organic traffic from search engines, you can even make content about destinations that are currently closed. After all, it takes time for an article to reach the top in Google and start generating organic traffic.
If you already have a ton of traffic for relevant destinations, be sure to monitor your data and write about what is currently true about those spots. Even in this case, you can and should feel free to write about closed locations as well.
Even when travel to a specific destination is not allowed, people will still look for travel content. For example, to see photos or videos of places where they went in the past.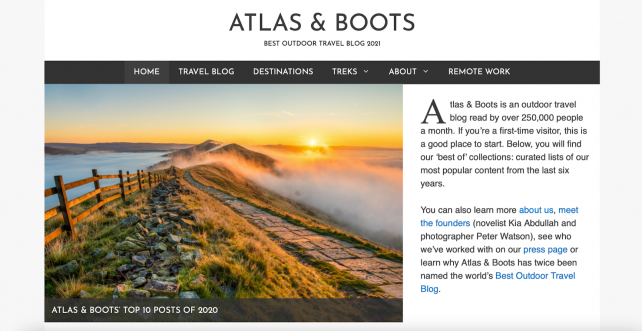 Img.source: https://www.atlasandboots.com
People have been inside for so long and want to see beautiful places (at least online). Some people even plan trips far in advance and are collecting information right now. Therefore, you can write about anything and it will surely find demand either now or in the future.
We are certain the world will not stop traveling. If a specific route is closed now, it will probably reopen in the future. However, you should adapt your content strategy for the current demand. If your production capacity is limited, focus on content for local travel, as this topic is currently trending all over the world.
3. Be relevant to your audience
During a pandemic, relevance is very important. The situation in a number of regions has stabilized, but changes are still happening almost daily.
The audience is interested in information that is relevant. If, before the pandemic, the rules for entering a country were relatively unchanging, today, it's worth updating the information much more regularly.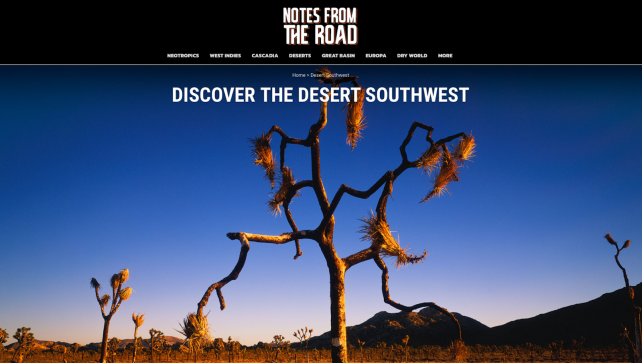 Img. source: https://www.notesfromtheroad.com/
Even if the situation has not changed, be sure to reflect in your article that the information is relevant. For example, show a date when the post was updated. You can check back regularly if the information is current and update the date in your post. It is ideal to place the update date at the top of the page so that the reader immediately understands that he/she is reading relevant information.
Relevance is very important for travel blogs in 2021, as audiences do not want outdated information. Having fresh information is useful to your audience and is a great signal to search engines that your page is the best answer for specific queries, which increases your chances of attracting more traffic.
4. Promote trendy products
Working now in order to get money later is not about the current state of the travel niche. You can earn now and in the future.
If you already have traffic, but no sales, analyze what you can offer your current audience. You should focus on trendy products that are currently in demand. Let's look at an example.
If you have a travel blog and your audience is interested in a destination that is not selling very well right now, you can add new content and products that are currently on sale to your blog. For example, RVs are in great demand in the US, so why not share them with your audience, who may be hesitant about taking the bus?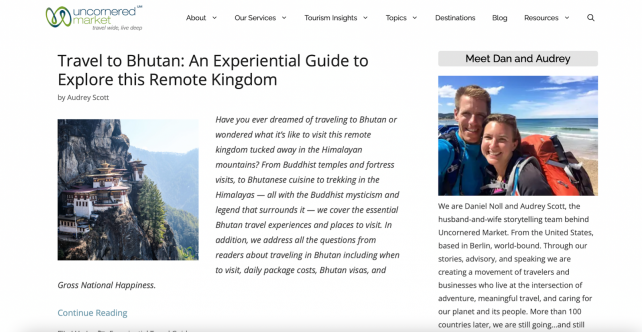 Img. source: https://uncorneredmarket.com/blog/
Use new blocks in articles or create an advertising campaign on your own site. Drive the traffic you already have to what is currently in demand.
Note: If people are looking for something that is not currently for sale, this is not a reason to avoid answering their questions. Give them an answer, but in addition, offer alternatives and make money on them.
To conveniently monetize your travel blog, join the Travelpayouts affiliate network. You will find more than 90 brands in your account, including Booking.com, Agoda, Rentalcars, TripAdvisor, and others. Through Travelpayouts, you can earn money on various products, including flights, hotels, car rentals, RVs, and others. The network is suitable for webmasters with traffic from the USA and Europe, as well as those with traffic from other regions.
5. Monetize your blog
The travel niche is a huge marketplace, where people spend thousands of dollars a year. Selling travel services and getting commissions is a great way to earn money, but it's not the only option. You can monetize your site through methods other than selling flight tickets or hotel stays. 
To increase your income and effectively develop your travel blog, you should use other monetization methods to further develop your site. For example, you can install contextual advertising from Google or sell paid guest posts.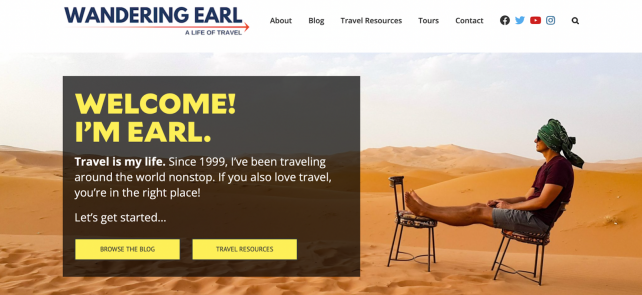 Img. source: https://www.wanderingearl.com
In this case, it is important not to turn your site into a platform exclusively for advertising. Remember to provide benefits to the reader.
6. Monitoring and growing your audience
Many websites are visited by 80-90% new visitors each month, so only a small part of the total traffic volume is made up of returning users. There are exceptions, of course, but you can check your site on Google Analytics and see how many new people you attract each month.
While you are waiting for travel to return to its fullest, you can use your free time to convert people into subscribers on:
Instagram
Facebook
Twitter
Newsletters
And other sources
For this process, time is your best friend. For example, if you have 100,000 monthly visitors, of which 80,000 are stably new, then even with a small conversion rate of 1%, you will have 2,400 subscribers in three months. Later, you will be able to work with those users and monetize them as your subscribers.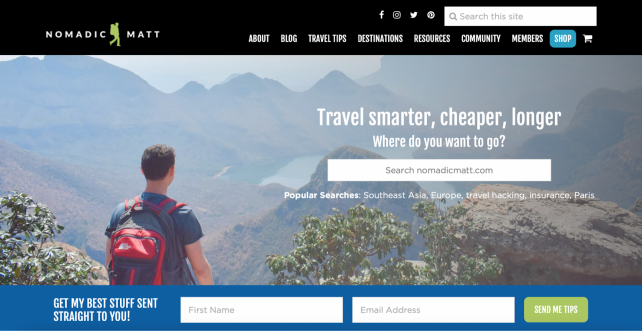 Img. source: https://www.nomadicmatt.com
You can use this strategy even after the COVID-19 restrictions are removed, since traffic can be converted into subscribers. Right now, this can be done just as efficiently, and in some cases, more efficiently than before. As mentioned earlier, travel rules are constantly changing and people want to be aware of, for example, which destinations are open or what the current travel conditions are. Thus, they will willingly subscribe to your blog.
Summary
The pandemic has impacted the travel market, but at the same time, people have started going online even more. Those who previously would have bought a tour from an offline travel agency have now learned to search for and buy that same tour online. This creates excellent prospects for increasing the number of online orders in the future.
The current situation across the world does not prevent you from, in any way, creating a travel blog and making money on that blog both now and in the future. Of course, working in the travel niche requires you to be flexible and to constantly monitor the situation. Moreover, you should truly care about your audience. When giving recommendations to tourists, do not only pursue earnings. The safety and health of your audience should also be a priority.
Travel market specifics, such as the fact that some travel bloggers have abandoned their blogs, large companies have reduced their budgets for paid advertising, and audiences nevertheless crave up-to-date information, play into your hands and allow you to effectively start a travel blog in 2021. Therefore, if you do not have a travel blog yet, start one now. You will be grateful to yourself in the future as it may become a main source of income for you. 
Share the article

Read. Learn. Do. Earn more money on Affiliate Marketing
Don't miss