Ad platforms that work solely with traffic monetization are not so common. Usually, they provide services to both parties: affiliates and publishers. However, when the network sets out to focus on a particular activity, such as traffic monetization, publishers expect higher payouts and some kind of special treatment. But does it always work like that? This seems to be the case with AdLane, an advertising platform for ultimate traffic monetization.

What is AdLane
Having started its journey back in 2019, Adlane is an advertising platform for effective traffic monetization with multiple advertising formats. It can boast of a variety of payout options, reliable customer support and AI-driven optimization algorithms.
The range of the supported ad formats includes Browser push, In-page push, Popunders (Onclick), Native/Banners and Video with CPM and CPC pricing models.
Everyone who wants to monetize their traffic is welcome to join the network and see for yourself how convenient it is to work with the network and how lucrative their payouts are.
Now, let's take a closer look at what the network has to offer.
Advertising formats
As we mentioned, Adlane only works with publishers and provides them with the opportunity to monetize their traffic with the most popular ad formats:
Browser push
Browser push notifications are a classic type of push ads. To be delivered, they require a user to accept push subscriptions, however, afterwards, users will see them even if they are not actively browsing your site.
In-page push
In-page push ads don't require an opt-in. They are delivered to all users who are visiting your site and look very much like classic push notifications. The main difference is that they can be delivered to iOS and MacOS users. This option allows you to monetize the share of the audience that would be unreachable with classic push ads due to native platform limitations.
Popunder
Popunders, also known as Onclick ads, is one of the oldest and most effective monetization formats in terms of revenue. This full-screen banner opens in a separate browser window or tab and allows you to monetize every visit.
Display
Display consists of banners and native ads. Display ads are ubiquitous, you can see them every day on thousands of sites, as static images or animated creatives, in a variety of sizes.
Video
According to the description on the adlane site, they use a classical VAST-tag template that publishers can put into their player and earn money from the ads shown in their videos. So, if you have video format on your site, that's a great way to monetize them.
Adlane currently works with thousands of webmasters, media agencies, affiliates and publishers.
Benefits of working with Adlane
The Adlane platform provides the following benefits to its publishers:
Smoothless registration, plug & play, as the company calls it. Once you place a script of an ad format to your site, the ads are shown to your audience immediately while you'll start generating profits.
Fast payouts with the vast majority of the most popular methods. The company claims to have no extensive hold periods and the simplicity of micro payouts on demand.
Global coverage. Adlane has no restrictions in terms of what GEOs to work with. They work with advertisers in every country and every niche, so regardless of what GEO your traffic comes from, mainstream or adult, you can monetize it away with Adlane. None of your spots will be idle.
Friendly support. The company takes pride in its support, a team of professionals always there to help you with any issues. The guys are available through many channels, so it won't be a problem to reach them once you need to.
With the network's real-time reporting you can monitor your performance online. A variety of filters allows you to mine any data you need.
AdSense compatibility allows for any monetization strategy whatsoever. You can increase your profits by combining various ad formats from the majority of advertising platforms, including AdSense.
The ultimate flexibility and functionality. This robust self-service platform is tailored for fast approval and set up so that you can monetize your traffic fast and with no hassle.
Registration
According to our research, the registration in Adlane is relatively simpler than in other networks. Once you hit the sign up button, you'll be forwarded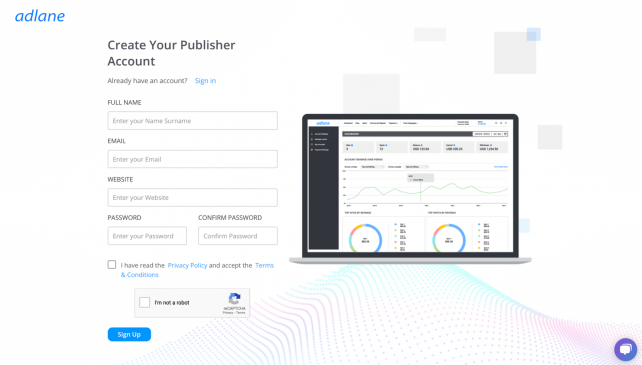 After filling out the form, you'll immediately get access to the dashboard and will be able to start working.
How to start monetizing your traffic
To start monetizing traffic with Adlane, you need to add sites and ad spots to your account. Here's how it's done.
First, go to the Sites tab. Hit Add Site(s) to add websites that you'd like to monetize.

During the process, you'll need to specify its domain name and IAB category. That's essential to send you the ads that best suit your traffic.

Once your site is added, go to Spots. On this page, hit Add Spot to add new advertising spots on your site.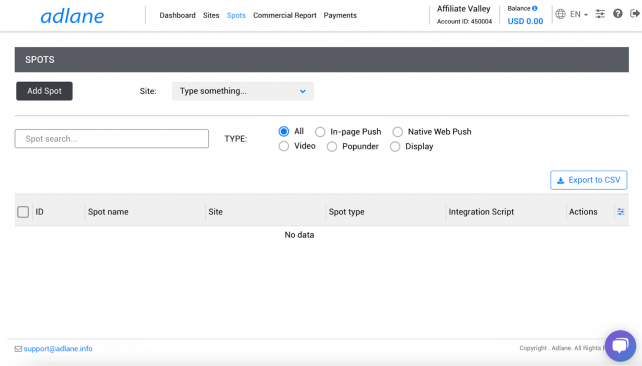 Here you'll be able to set up the code for any ad format (including a mix, if you wish to work with several formats). Once you do, the system will generate the script that you should later add to your site's script.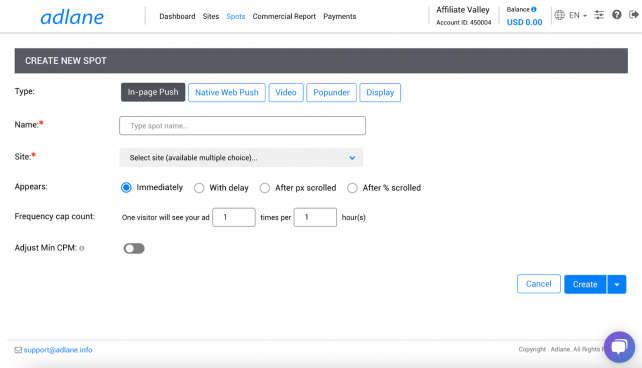 A nice touch: you can adjust the minimum bid to only accept ads from advertisers with a higher budget.
That's it. Once you add the script to your site, your visitors will start seeing the ads. The platform uses the RTB system to send the most relevant and lucrative ads your way, so the first payout won't be long to come.
Payouts
As we mentioned earlier, Adlane has many payout methods to choose from.

In particular they work with:
Qiwi
WebMoney
Skrill
Capitalist
Yandex.Money
Wire transfer
The minimum payout is $50, however, the managers are always open to negotiate a smaller payout, should you want to do so.
Summing it up
According to what we've seen, Adlane is a relatively new yet powerful platform for traffic monetization. Their team aims at seizing its share of the market, that's why they strive to establish mutually beneficial relationships with its publishers and provide them with the best conditions for traffic monetization.
What we'd like to highlight is super-fast approval, AdSense compatibility — super important for seasoned webmasters, the support team that actually cares and responds really promptly (on third-party forums as well!) and a variety of ad formats.
Altogether, we can recommend AdLane as a great platform for traffic monetization.
Share the article

Read. Learn. Do. Earn more money on Affiliate Marketing
Don't miss