As strange as it may sound, too much traffic is the problem when working with the largest push networks. Everyone who knows at least something about pushes has heard about such a problem as going overboard when the actual cost of testing an ad campaign differs several times (even to ten times) from what you planned. This may happen due to the very mechanics of push traffic.

It's necessary to explain to newbies how push traffic works. The advertising network sends push notifications according to the auction -> users receive notifications -> click them -> your budget is charged for those clicks. BUT! The user doesn't always immediately view incoming notifications, so you may get clicks a few days later (not to mention hours). These will be different figures for the total in different networks, depending on the volume of traffic and mailing lists.
Therefore, in order to avoid such situations and smooth over the imbalance if they still take place, get it within a couple of dollars (not tens/hundreds), it makes sense to test advertising campaigns in pushes starting with the minimum bid, buy traffic selectively from feeds or buy everything in small push networks. And then when scaling the ready-made money-making combination, you can raise the bid and buy traffic from all feeds in the maximum volume.
Competition in the auction is another important factor. Often in push networks-giants (where the base is counted in hundreds of millions of subscriptions), direct advertisers buy the necessary GEO for the amount of $XX XXX/day, and it becomes a real problem to buy traffic with a small budget. In such cases, it makes sense to look for an alternative in other networks, where the bid will be more comfortable and traffic will flow smoothly. You will get clicks on the average bid much faster due to less aggressive competition in the auction.  A lifeline for beginners with a small budget is to look for the middle ground and go to advertising networks where there is a good volume of traffic and a minimum deposit of less than $100 (usually in such networks, the budget is used to the last cent without any problems).
As an example, we suggest paying attention to one of such push networks – Push.House.
Overview of Push House
Push advertising network Push.House, like the push notification format itself, started working in 2018. The network offers cooperation both to advertisers (to buy targeted traffic) and webmasters (to drive traffic to subscriptions). As for the volume, the network has more than 3,500,000 clicks per day from 100+ different GEOS today.  At the moment, the network base is more than 200 million active subscribers + feeds from third-party databases, which can be disabled when configuring then advertising campaign.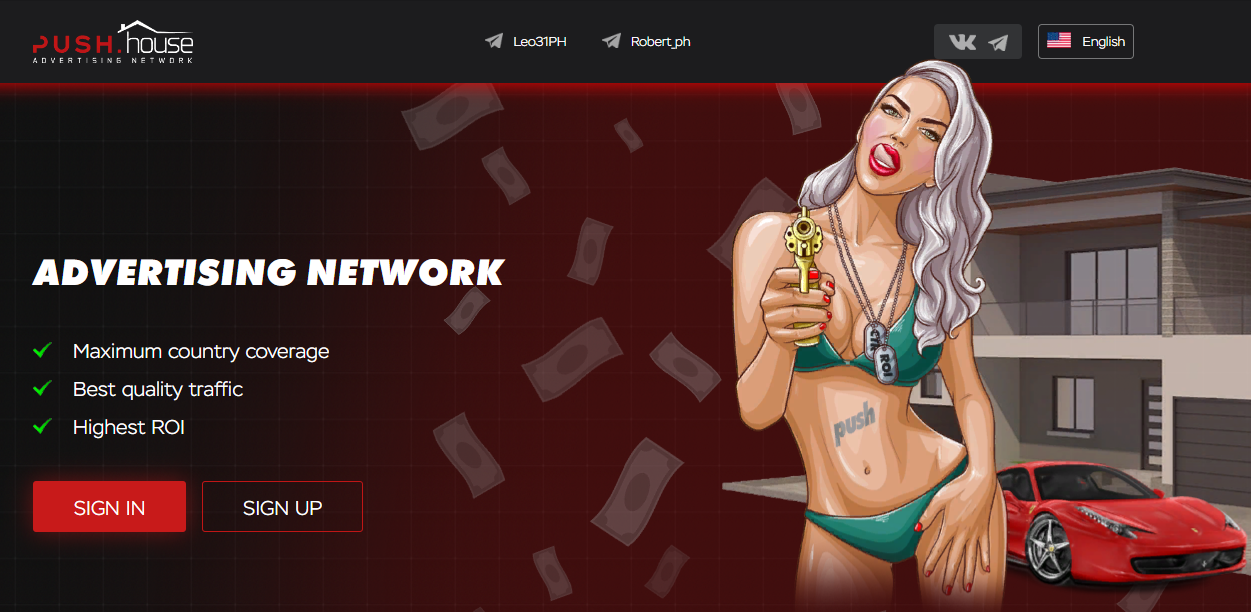 Let's see what's inside. Sign up and go to your personal account. You will find the following sections on the right side of the panel: News, Network Volume, Campaigns, Statistics, Finance, Support, Referral System, and Rules.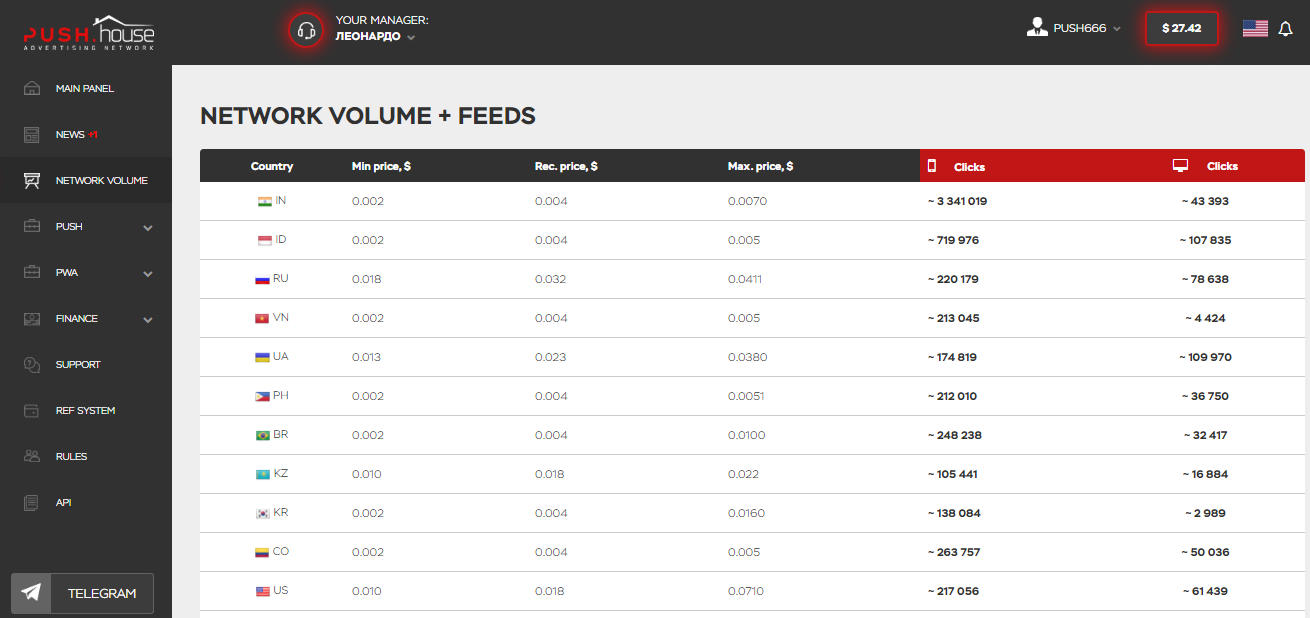 Let's start with the Volume section. Top network GEOs in terms of mobile traffic are Russia, Ukraine, Kazakhstan, Indonesia, Vietnam, India, Kyrgyzstan, Thailand, Uzbekistan, and the Philippines. They've got more than 100k clicks. As for Europe, the volume is 50-100k clicks. The minimum bid in the system is $0.002/click.
How to get started in Push.House?
Go to the Campaigns section and create a new advertising campaign. Let's look at the functionality and recommended bids for RU and UA. As for the bids: for Russia, the minimum is $0.028 (2 cents), the maximum is $0.0411 (4 cents), while in competing networks, the top bid is $0.055+. For Ukraine: minimum is $0.013, maximum - $0.04, in other networks the recommended bid is $0.05-0.07. This is the advantage of a less aggressive auction we discussed at the beginning. We can buy the necessary GEO in Push.House 25-30% cheaper :) Besides, the network offers news traffic 25% cheaper and desktop traffic at a 50% discount.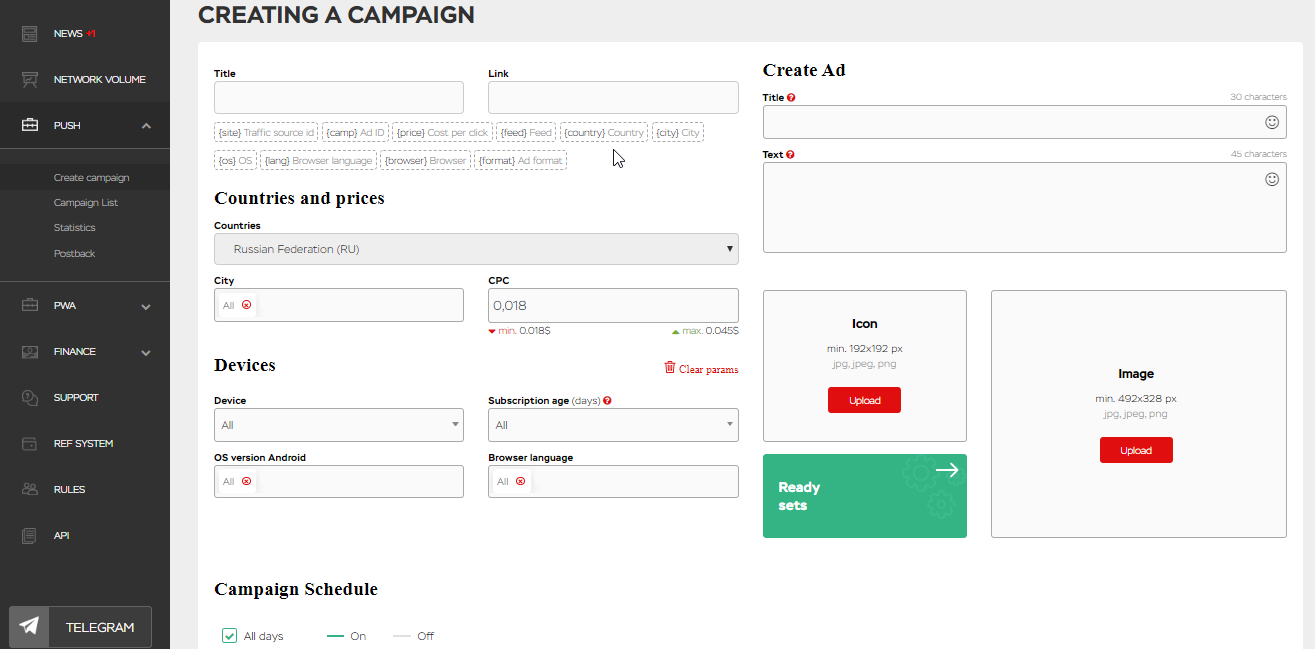 Functionality: standard push format – header (30 characters) and message text (45 characters), icon (192x192), and main image (492x328).
In addition, the network offers a convenient system for broader ad campaign settings:
You can configure the campaign schedule up to days and hours;
You can connect traffic from third-party subscriptions;
You can divide campaigns into an adult (18+) and non-adult;
You can configure the ad campaign budget and make it general or daily;
You can buy traffic from external feeds. If we see that traffic from some feed is of poor quality, we simply disable it;
You can configure the click limit;
You can set up the campaign uniqueness for an ad, link, or domain;
You can configure Black/White lists;
You can configure postback parameters with real-time conversion and ROI calculation.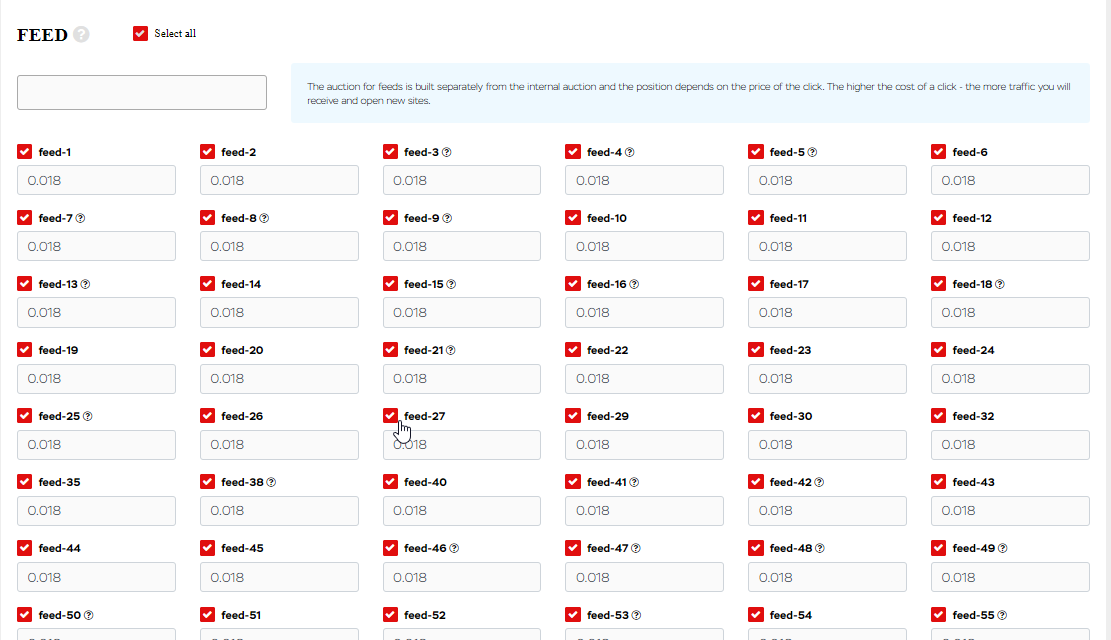 The targeting system also pleases with its variety, here you will find:
Targeting by country
Targeting by city
Targeting by device
Targeting by OS version
Targeting by browser language
Targeting by subscription age
Targeting by IP
The network also has an internal spy service "Ready-made ads" where you can view examples of current creatives. It's quite a useful feature for those who cannot find a new approach and don't want to spend money on buying a spy. Here are examples of creatives for a remedy for hypertension: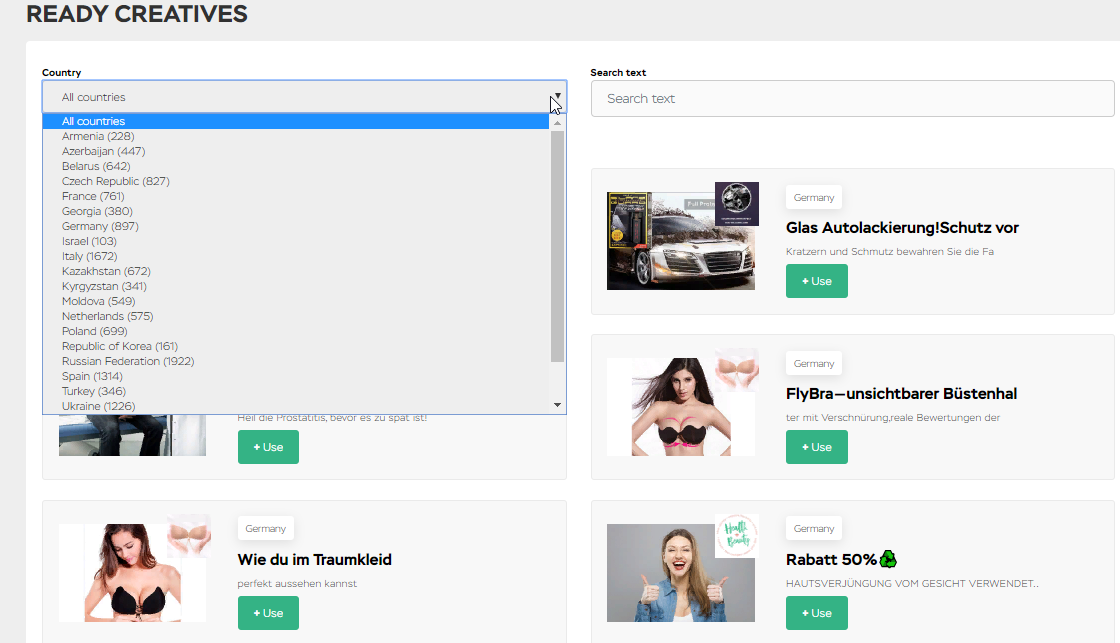 Create a campaign and get to the dashboard. It's good that traffic flows smoothly without going overboard even in Asian countries. By the way, moderation usually takes no more than 30 minutes.

Postback shows conversions in real-time. To work with data in depth, go to Statistics. Here we can view data in the context of days/hours, campaigns, countries, platforms, browsers, operators, sub-accounts, clicks, and feeds. It is nice that the network has a CTR of ads and you can adjust the bid based on the current maximum bid.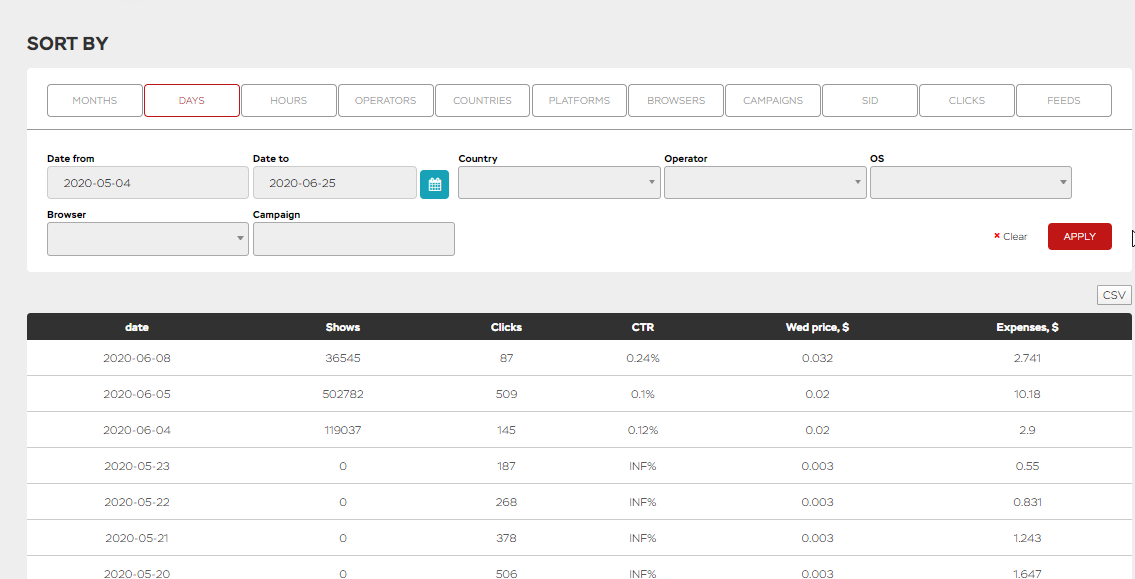 The network is integrated with the following trackers:
https://www.adsbridge.com
https://keitaro.io
https://bemob.com/
https://www.cpatracker.ru/
http://octotracker.com/
https://peerclick.com/
https://binom.org/
These are the affiliate software that will help you in tracking, managing, analyzing, optimizing, and as a result in monetization.
To top up your balance, go to the Finance section. The advertising network uses the following payment methods:
Direct transfers by means of WebMoney, Bitcoin, ePayments, and Safe Charge.
Transfers via Intercassa: Advcash, Bank cards, PAYEER, Perfect Money, QIWI, and Yandex.Money.
The minimum deposit is $50.
There are also bonuses from 1% to 10% for deposits from $1000.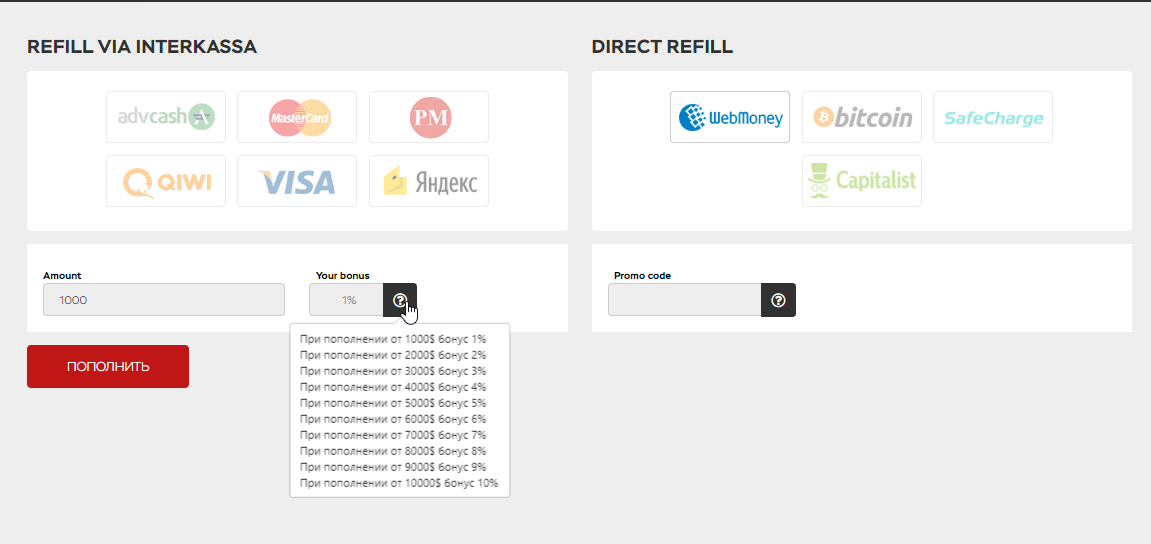 Push.House has a referral program - 3% of your referral's deposits. Bring your friends and get a penny to your budget.
Support is based on the system of tickets on the site, but you can also communicate with representatives directly in Telegram - in a chat or with your personal manager.
We've got no problems with the support team. Guys are really responsive if you have any problems while working. They try to solve them all fast. They are also glad to give a piece of advice to newbies and tell what works better. Although having a spy, a newcomer can check this him/herself, and the verticals are quite standard for pushes – they are Health&Beauty, Sweepstakes, Gambling, Dating, and Microlenders.
Instead of conclusion
In 2021, pushes are more than alive and continue bringing good profit to webmasters. If you haven't worked with this format yet, we recommend starting with small volumes with further scaling to reduce possible losses at the start.
Push.House is one of the networks good to start with. The advertising network offers a pleasant working environment: adequate bids, a good volume of traffic for all the most popular GEOs, a low barrier to entry, a good set of functions (postback, black and white lists, ability to work with feeds), bonuses (when depositing or participating in the referral program you get discounts for desktop and news traffic), and responsive support. We can recommend the network for use - we tested it personally.
We wish you all a high CTR, high-quality traffic and of course profit.
Share the article

Read. Learn. Do. Earn more money on Affiliate Marketing
Don't miss