Push subscription is going to remain one of the affiliate marketing trends in 2022. While thousands of advertisers are buying out push traffic, there is a downside - webmasters whose earnings are based on subscribing new users to ad network databases are getting a stable income.

What are the benefits of working with Push notifications? 
When working with RevShare you generate a source of passive income for yourself and with enough traffic, it can become a full-fledged asset. Now, browsers are busy with the regulation of the ad format, but so far this does not hinder anyone from earning. The main thing is to be flexible and be able to adapt in time to market changes.
Returning to the topic of push subscriptions, affiliate programs usually offer 2 formats of work: CPL - a one-time payment for a subscription (the amount of payment depends on the country), RevShare - a percentage of the sale of your subscriptions (from each click on your database). The first option - buy cheaper, sell more expensive and your profit is the difference. The second is the formation of a source of income and long-term work: usually, the payback period for traffic is about a month, sometimes two. It depends on many factors - GEO, traffic activity, network rates and monetization (frequency and number of mailings).
If you want to get the most out of your traffic, we recommend that you conduct split tests of several push affiliate programs in order to find the most profitable one. Of those that are rumored, Partners.house, a partnership program of the Push.house network, which we did previously, is making a bold statement about themselves. Partners.house team claims that the revenue in their network is almost 2 times higher than that of competitors! Is it real?
Yes! We don't know what the secret is yet, but this was reinforced by the recent split test of the webmaster, in which the affiliate continues to maintain leadership in profitability:

Is it interesting to start earning from push subscriptions?
We suggest that you register with Partners.house and see what the affiliate program offers for its webmasters.
Partners.house is an affiliate program where you can earn from push subscriptions.
In your personal account, you will find that the interface is very user-friendly: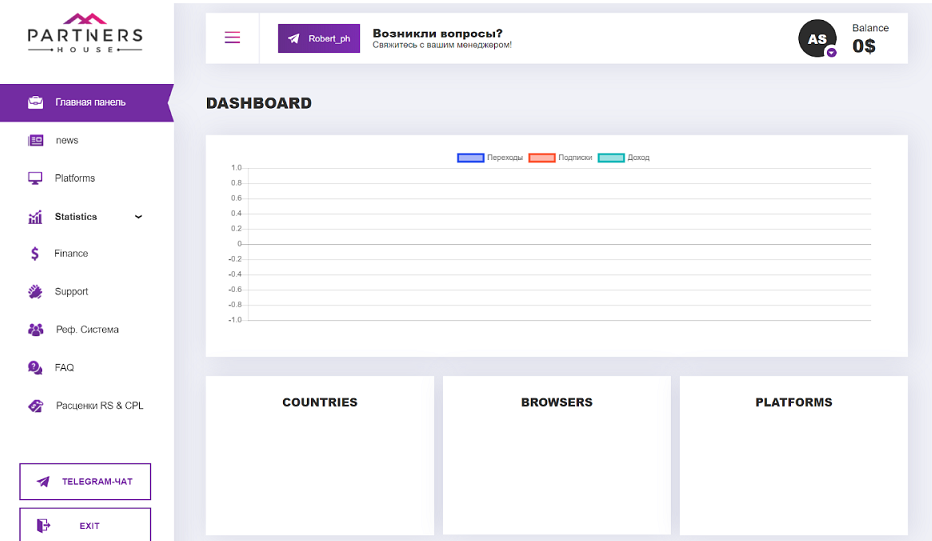 When working with the panel there are:
The main panel with data for the last period;
News (we recommend that you follow this section and launch new landing pages that the affiliate adds - during innovations from browsers this can save or significantly increase your earnings);
Sites - sites from which it will collect subscriptions;
Statistics;
Finance;
Support;
Referral program;
FAQ
Current bids by country and type of traffic.
The first thing you need to do is to create a platform.
Go to the appropriate section and select the format of work: Affiliate marketing - if you attract traffic to affiliate landing pages optimized for maximum conversion to subscription, you can work on CPA and RevShare; your site - if you have your own platform with an audience where you install a network script and start building a database, you can work on RevShare and CPA.
Why do many choose RevShare? 
Their work model is intended for a long-term campaign, unlike CPL, this format allows you to receive income throughout the subscription period. Depending on the quality of traffic, you have the opportunity to earn up to 4 times more than on CPL.
You can monetize both sites on Http- and Https-, the corresponding script is automatically generated.

Now, let's get to work. Create the site, select the format (in our case, "affiliate marketing") and create a stream - enter the name, work model (CPA or RevShare), and select the landing pages (if you selected several landing pages at once - they will all be in rotation, thereby you can automatically spend split test):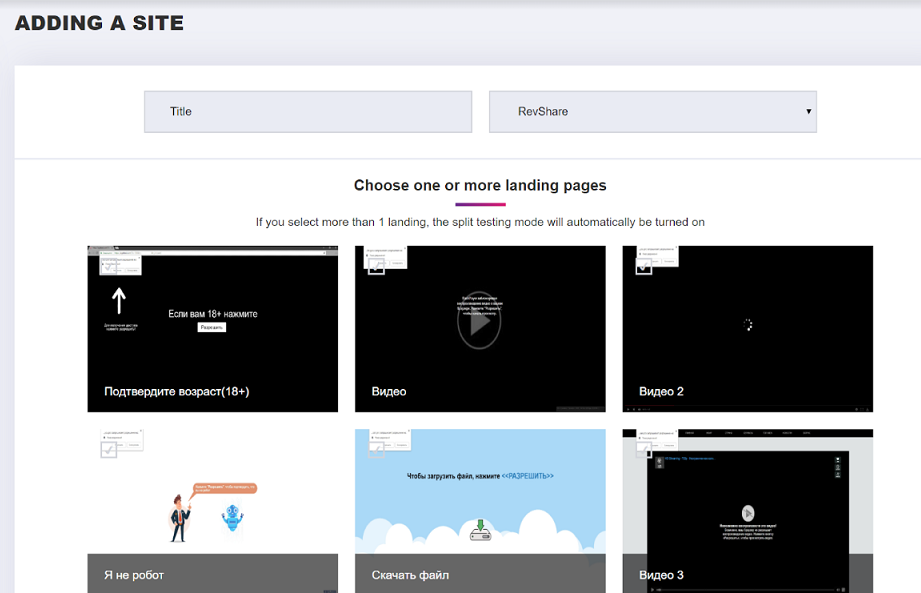 32 landings are available on the network, all landings are automatically adjusted to the user's browser language, you can also discuss with your personal manager the creation of a custom landing specifically for you.
They recommend traffic sign upon subscription and upon refusal for additional monetization - after a certain action is taken, the user will be redirected to the website. We recommend using offers with the widest possible target audience, or niche smartlinks.
They also recommend the postback and the parameters that they want to pass to the statistics:

Save the site and get the affiliate link:

Follow the link for the test - everything works.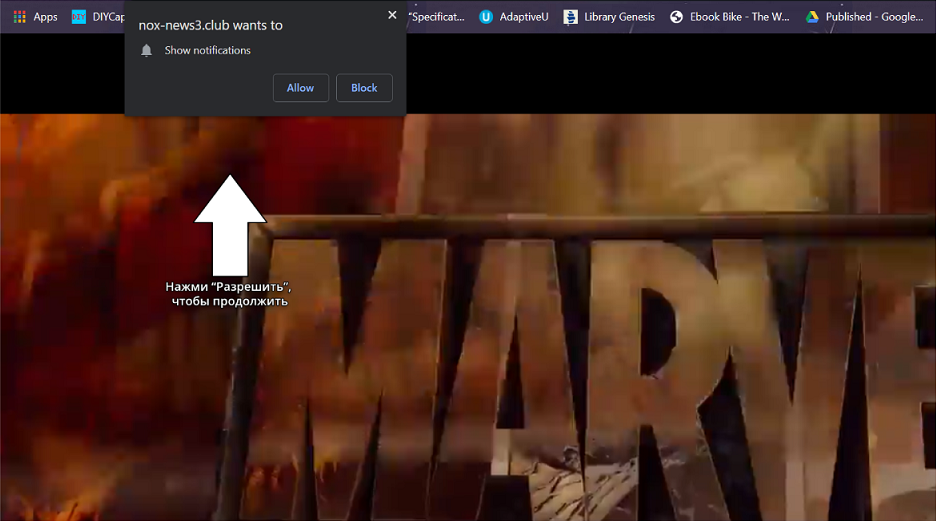 Test transitions are already waiting in statistics. Statistics are updated in real-time without any delays.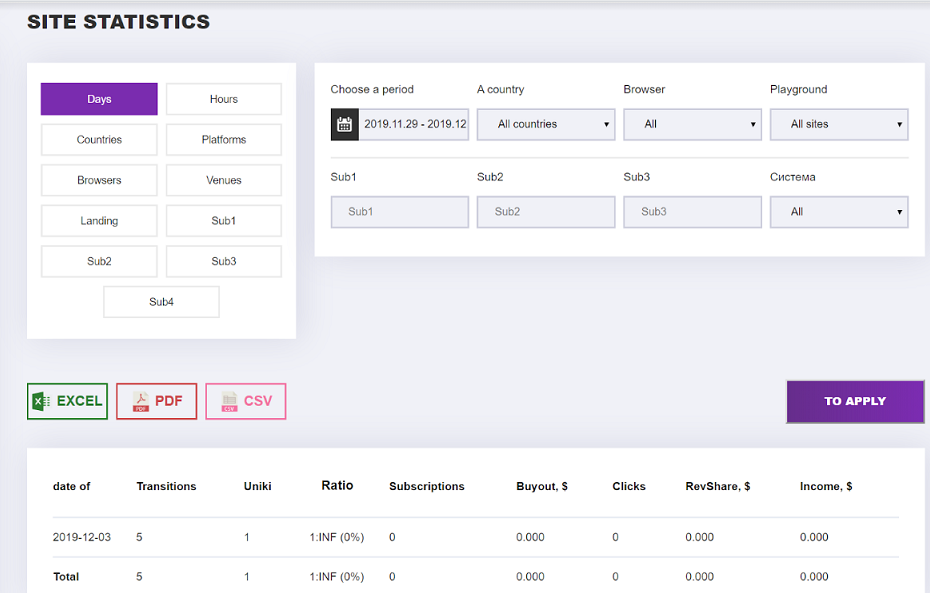 Here, you can track all conversions, clicks, subscriptions, ratios to subscriptions and revenue. Statistics are conveniently filtered by country, browser type, sites, sub-tags. You can also analyze by days, hours, platforms, landing pages, browsers - in general, everything is very informative and convenient with statistics.
Reports can also be uploaded in a format convenient for you.
If you have your own site that you want to monetize using push subscriptions, when creating a site, select "your site", enter the site name, URL, site category (mainstream or adult) and work format:

Save the site. Next, fill the archive in the root of the site and set the code in , after specifying the delay before the offer to subscribe and the level of background dimming: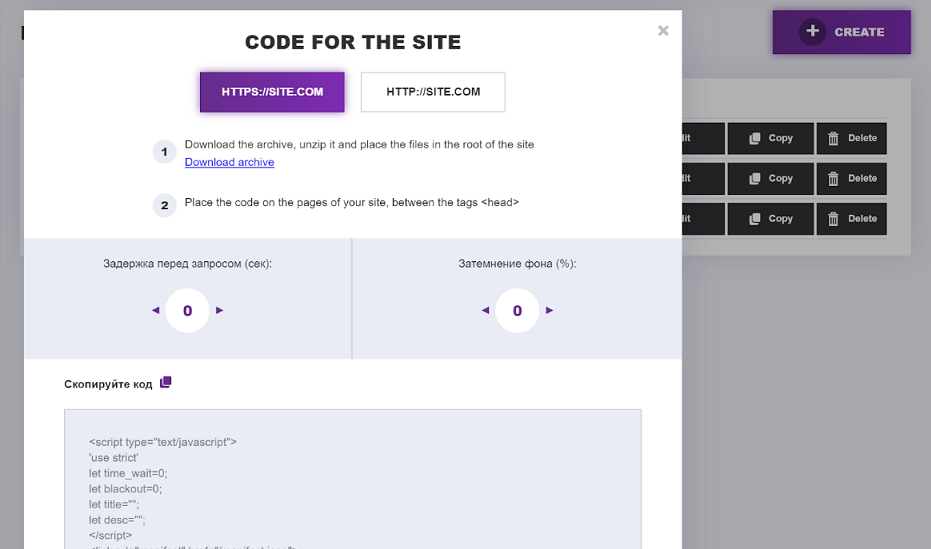 As mentioned earlier, the cost of subscriptions for each country can always be found in the appropriate section. As in any network, the priority is on mobile traffic (desktop traffic is not so well bought out, and generally not popular with advertisers), the desktop network is bought only by RevShare - 80% of the cost of the click.
Before work, we recommend that you study the current rates for countries: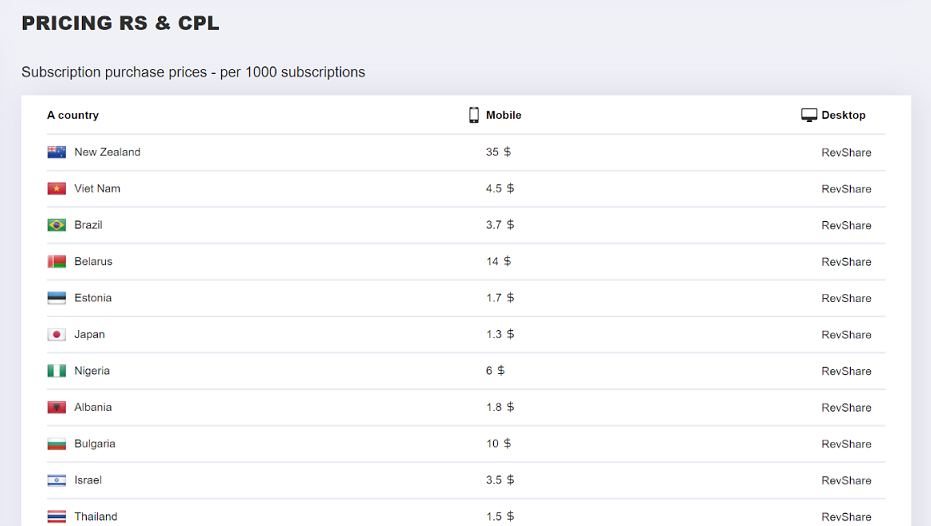 If we talk about traffic sources, the most popular (cheap and with a large volume) is the popunder and clicker, although now it has been touched enough, and many are switching to more "clean", but expensive sources - social networks, applications and other formats of advertising networks. In any case, for starters, we recommend that you always consult with the network manager - about landing pages, GEO, traffic sources and find out the situation at the moment.
Support
The manager is almost always in touch in the telegram, there is also a general chat affiliate program and a ticket system on the site. For any questions you can contact, they respond fairly quickly.
Payments at Partners.house
Earned funds can be withdrawn to payment systems convenient for you - WebMoney, Yandex Money, QIWI, VISA / Mastercard and Bitcoin. The minimum withdrawal amount is $ 50. Hold is up to 7 days.
If you have friends who work with push subscriptions, then note that the affiliate program has a referral program - 3% of the earnings of your referrals. With a good volume, you won't be left without profits
Conclusion
Push subscription is a good way to make money. Despite the fact that it has been working for more than a year, and browsers are starting to put strict regulations, there is money. And as the split tests show, the traffic pays off perfectly. For beginners, subscriptions can be a starting point: a small entry threshold, a simple targeted action, ready-made landing pages in affiliate programs and support will greatly facilitate the work.
Share the article

Read. Learn. Do. Earn more money on Affiliate Marketing
Don't miss