The average cost of digital advertising is anticipated to amount to about 276 billion dollars. All this money is being distributed among various advertising formats. Today, we would like to pay attention to the interstitial traffic.

Just recently, PropellerAds has introduced new interstitial templates and this encouraged us to consider the format itself and the introduced templates in particular. We are glad to share a case study of using these very templates. Stay with us to keep up with the news!
What are Interstitials?
From a visual point of view, Interstitials are interactive transitional advertising that is being shown full-screen in a mobile app or on a website. It's being shown between the content and is located in the natural points of transition or in the breaks between the user's actions. A set of elements is quite usual – it's made of a big image, a title, and description. All of them can be easily customized.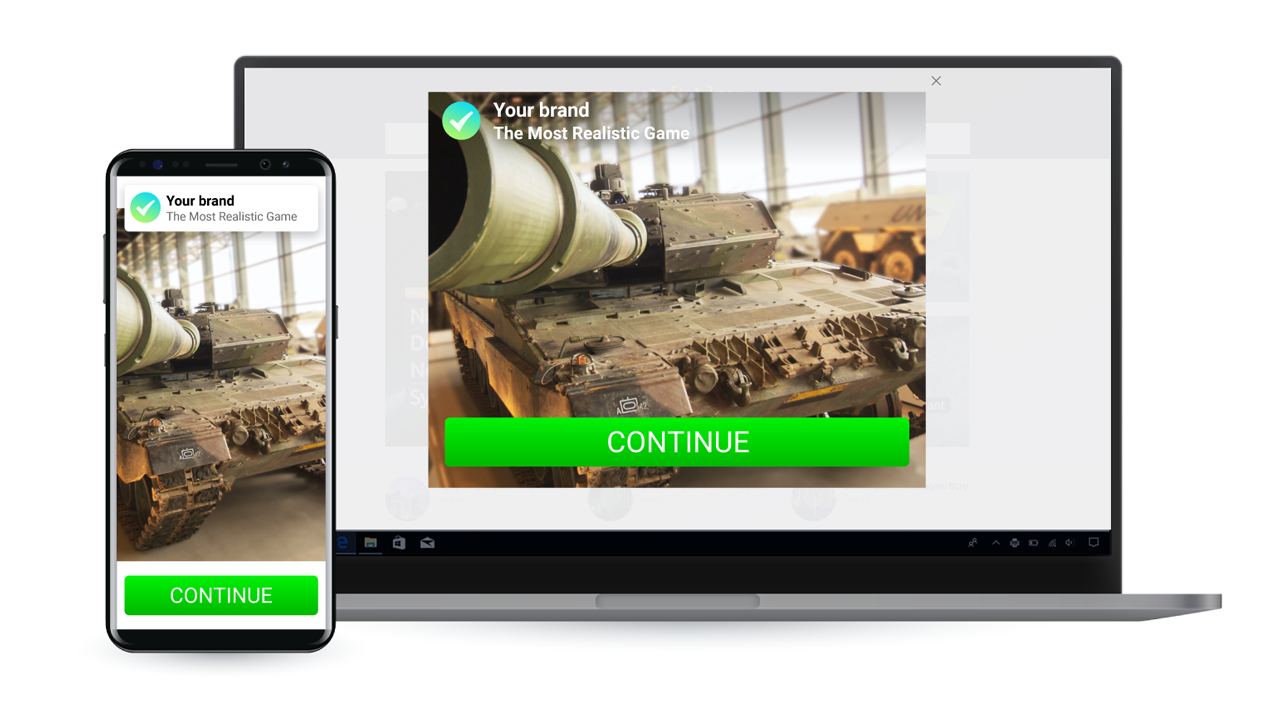 Strengths of Interstitials
Everything is as simple as that. Big size means a higher impression on a user. A higher impression means higher CTR. Higher CTR means a higher conversion rate. Interstitials are really well clickable as they are being shown full-screen. It's naturally that they catch more attention. And that's what makes it different from pop-under, native or banner advertising. Another goodie of their being big is that you have enough space to convert your ideas.
Everything you need to succeed with Interstitials
Verticals that work best with Interstitials
Speaking about mobile interstitial traffic, iGaming, Sweepstakes, Utilities, and Finance are likely to give you the highest profit. In general, everything that may excite a user or promises something for free is a nice thing to use – here you have gift cards, prizes, free spins, bonuses, and whatnot. As for the desktop format, Games of all kinds and Extensions are the best places to integrate Interstitials.
USA (US), Great Britain (GB), Saudi Arabia (SA), Myanmar (MM), Brazil (BR), South Africa (ZA), Malaysia (MY), India (IN) are now showing the highest conversion rates.
Mexico (MX), Indonesia (ID), Philippines (PH), Japan (JP), South Korea (KR), Germany (DE), Italy (IT) boast huge traffic volumes for scaling.
As for CPC, the minimum bids here start from $0.001, for CPM the price tag starts from $0.01.
As we said, Interstitials have quite obvious advantages, but when we are speaking about them as a means to monetize websites, there is a need to be careful not to fall under sanctions by Google. For example, the time when an Interstitial can't be clause by a user shall be properly chosen. Such ads shouldn't disturb users when they go to some important page to get some important information or even when they make some transactions. Don't be afraid, restrictions here are not more severe than somewhere else in digital advertising. So, if you follow the Google policy you will easily avoid any problems.
Coming closer to practice.
Case Study + Overview of the Templates
We are glad to share our experience of trying the PropellerAds Interstitial templates. We have already had some positive experience of working with Interstitials but there were some problems with scaling.
Push notifications just seemed to have already proved their efficiency.
In May 2020, PropellerAds introduced 4 new templates and we got interested in giving Interstitials another chance. We chose the Classic template (which is an old one), the new "Blur Dark", and the "Prize". We got especially curious about the "Prize" that had a lot to offer with its animation.
Offer & Conversion
First of all, it worths saying that you can't launch an advertising campaign with a number of templates. You will have to launch a separate campaign for each separate Interstitial. That's what we did.
We couldn't wait for some long-term results so we chose a single opt-in (SOI) sweepstake offer. iPhone 11 Pro was promised as an award. There were no problems with the conversion flow. With the one-stage confirmation of subscription, a user just had to sign up, and here we had the conversion.
The advertiser's landing page looked like this: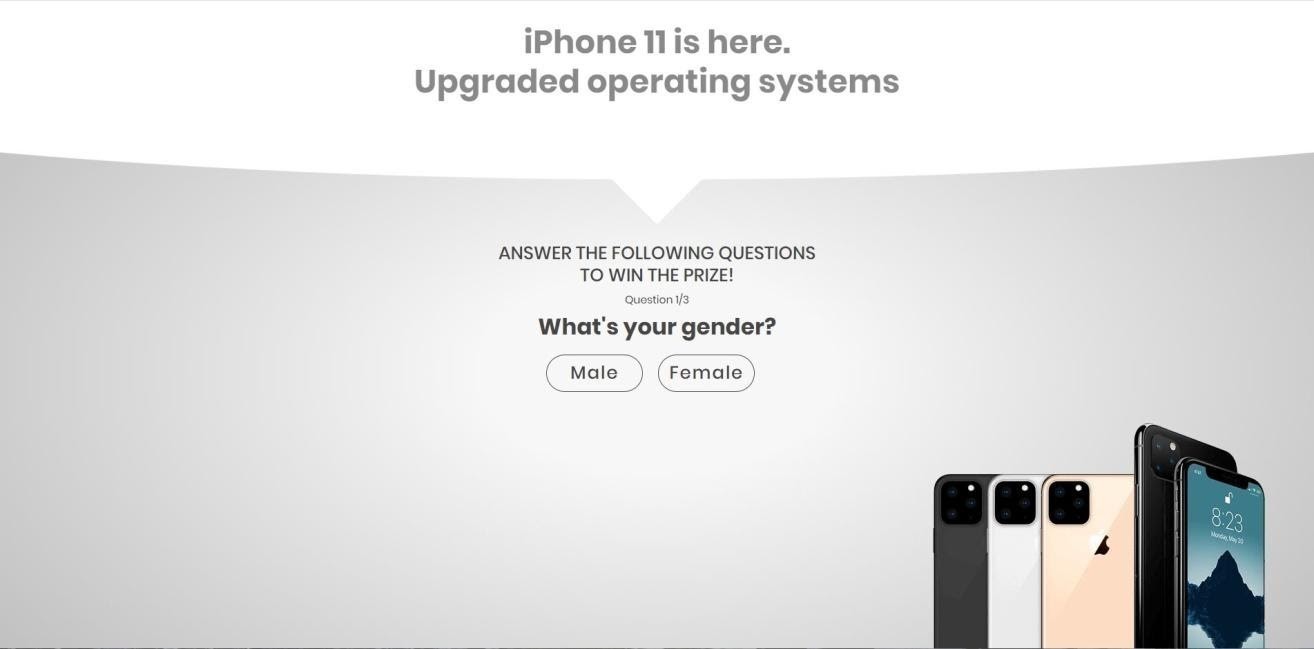 Pre-landing page was the following: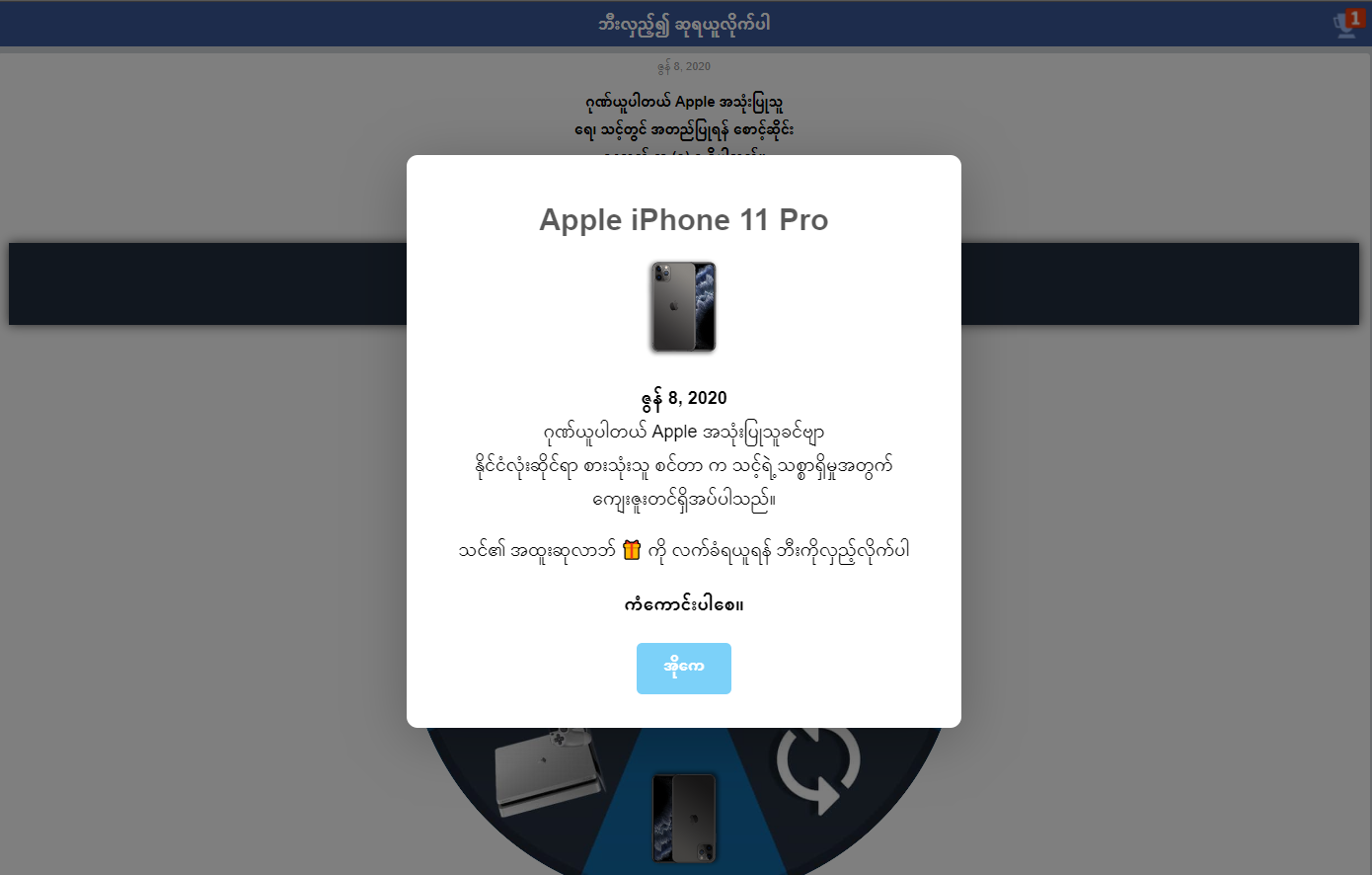 Creatives & Settings
Let's start with the Classic and Blur Dark templates. We took one and the same text for both of them. It was quite simple: "You've got a chance to win an unclaimed prize! Look what's in the GiftBox". Also, we took the same image as a gift box.
Classic
We considered the "Classic" template first. As you can see this banner template is made of an image itself and a description that is given in 1 line.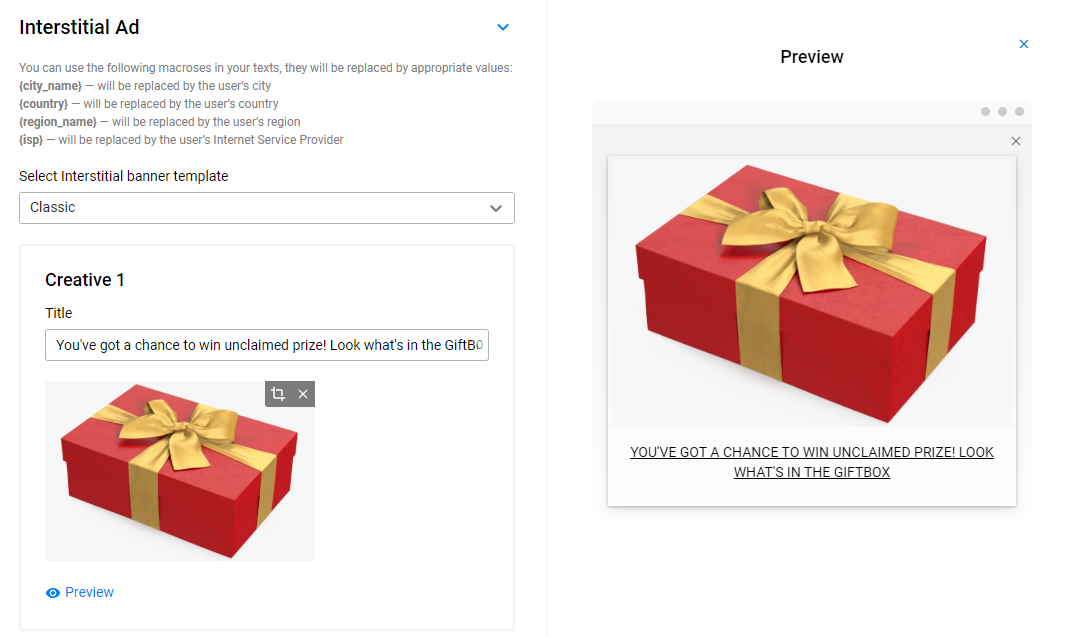 So, banner and description can be customized but you can't change the format and placement of the text.
Dark Blur
This template offers two separate spaces for the text - you can give the title and description. So, we inserted the "prize" text in the title to attract the users' attention and we put the rest in the description. Besides, the template provides a green button that is going to enhance CTR. That's what we got.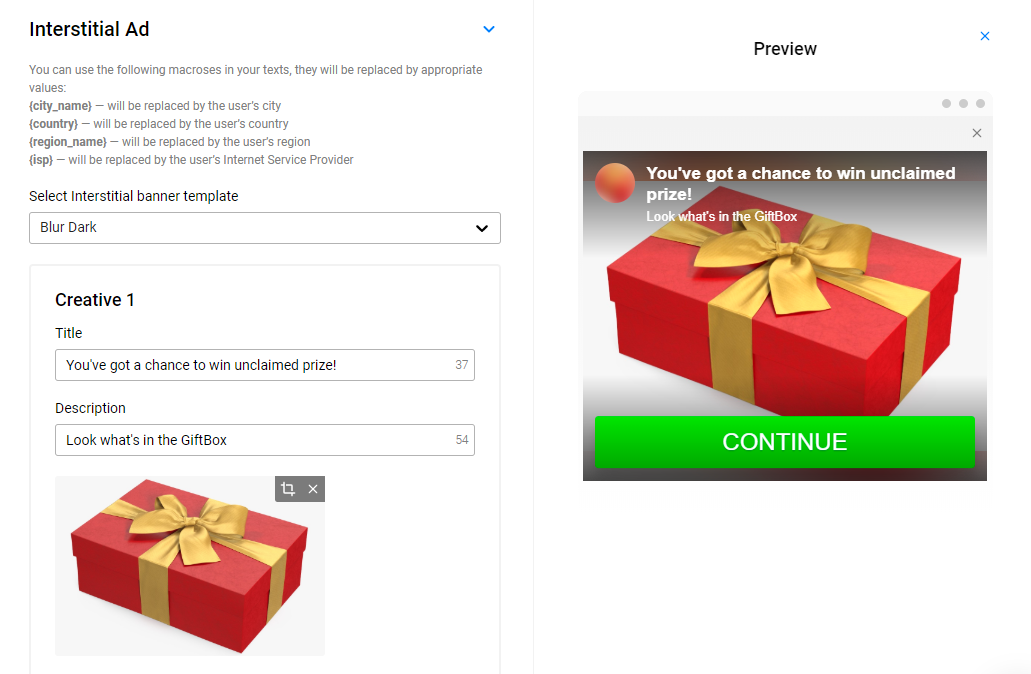 Banner, title, and description can be customized and button text, color, and placement are predefined.
Prize
The last template under our research was the "Prize" template. It has the following features:
nice animation, just as the developers promised (you can upload whatever you want);
description some part of which is pre-set;
quite a native form that looks like a mobile OS message.
The customization of this template took a bit more time and effort. First of all, we put the main text in the "Title" field. The text appeared in full on the preview but when we started inserting the description we saw there was some predefined text.
As it turned out, the "Prize" description should contain the name of the gift only, not the whole text.
As for the targeting, we had to connect to the PropellerAds technical support to ensure the predefined text would be automatically translated into the users' browser language.
Finally, that's what we got: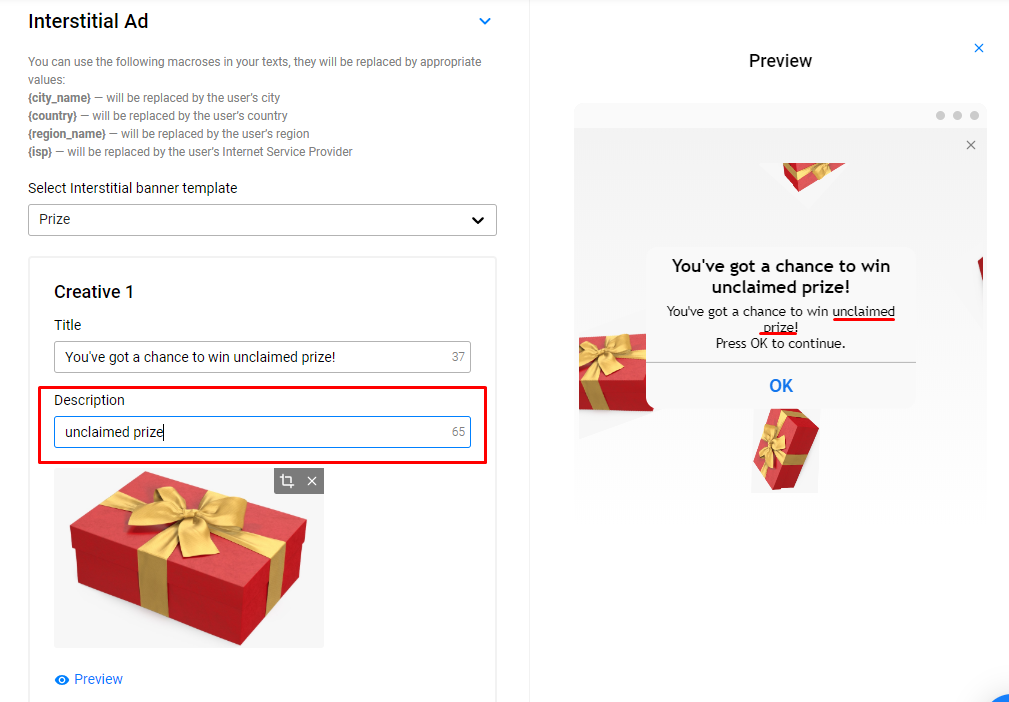 You can customize the banner, title, and part of the description. Some part of the description text (You've got a chance to win) is predefined.
As for the translation, the Support Team shared the following inside information: the default text is automatically translated into the language of your user's browser. Arabic, Chinese Mandarin Simplified, English, French, German, Italian, Portuguese (Portugal), Russian, Spanish, Thai are available.
Final Settings
We chose Myanmar (MM) as GEO as the traffic there is quite cheap, CPC as a bidding model, Android as an operating system, and the mobile type of the OS.
Outcomes
What we wanted from the very beginning is to conduct a RON test of the templates and see the outcomes as soon as possible. Each creative cost us $50. 2 days after, everything was quite clear. We got the winner.

As you can see, the campaign made with the "Prize" template has shown the highest CTR of 29.77% and 194 conversions which is really good. It was also clear, that even with the bids reduced by 3 times or so in the "Prize" campaign, there still would be a good amount of traffic thanks to the number of clicks.
Just as we thought, animation works best to attract the user's attention. Together with the native look, it makes a user click on the button. The only thing is that sweepstakes seem to be the only possible vertical. On the other hand, why do you need anything else if it shows really good outcomes...
"Blur Dark" goes second and shows the CTR of 18% and 82 conversions. That's what we got without that magic green button that the "Prize" template has. But, you can turn to any vertical with "Blur Dark", not only sweepstakes.
The lowest CTR and CR were found at the campaign with the old creatives. Nevertheless, even they showed 74 conversions. As a result, we got a white list of well-converting areas.
What you can do next is to make a list of all 3 campaigns and further study the "Prize" template that has produced the best results.
Share your experience of trying interstitials in the comments!
Share the article

Read. Learn. Do. Earn more money on Affiliate Marketing
Don't miss