What is MaxBounty?
MaxBounty is a media company that has specialized in internet marketing. It is one of the most famous 'Cost-Per-Action' advertising companies globally. It is an important resource for web publishers who seek to receive advertising revenue from their search engine, websites, or email lists marketing efforts. It offers them a network interface that links them to thousands of quality advertising campaigns.
Notably, MaxBounty works as a legitimate intermediary between sponsors who want to purchase advertising and over 20,000 affiliates. Affiliates place the ads on their websites or online stores. MaxBounty works with major advertising partners. It sells several millions of dollars in advertising each year.
A Brief History
JP Sauve and his brother, Steve Sauve, founded MaxBounty in 2004. Since 2004, MaxBounty has grown into one of the main performance-based affiliate networks globally. It has specialized in maximizing return on investment (ROI) of both advertisers and affiliates. Its headquarters are in Ottawa, Ontario, Canada.
MaxBounty is a cost per action (CPA) affiliate model that allows affiliate marketers to earn money or income when they bring website visitors. Affiliates bring visitors to the website through their affiliate marketing efforts. Visitors have a simple task of submitting their zip code or email address to get more information about vendors' products or services.
It is made up of thousands of campaigns and thousands of affiliates. MaxBounty has an adequate volume to fulfill the needs of modern-day affiliate marketers. Currently, the platform has over 2000 offers, over 20000 vetted affiliates, and over 350 advertisers.
Overview of MaxBounty
MaxBounty has grown into one of the main CPA networks globally for the past 15 years. Also, the performance marketing industry has become more competitive and professional. Companies in the performance marketing industry have to show continuous professionalism and strategy.
MaxBounty's values are security, balance, proactivity, and integrity. The company works with advertisers and affiliates to generate millions of dollars each year in revenue. The revenues have been growing annually. It has 89 employees and an annual revenue of $50 million. Matt McEvoy is MaxBounty's CEO. In 2014, Facebook announced its bid to acquire MaxBounty for $550 million. Facebook was looking for an affiliate network that would be integrated into their business model.
You will be required to fill out an application on the MaxBounty website. Although most CPA instantly approve all applicants, MaxBounty focuses on affiliate marketers who have a particular level of affiliate marketing experience. MaxBounty was Facebook's primary target because it had adequate experience marketing to Facebook users.
You are more likely to gain approval from MaxBounty if you have a website that has been registered for a few months. Also, a MaxBounty employee will call you after a few days and conduct a phone interview. The phone interview will determine the promotion and marketing techniques that you will utilize in promoting MaxBounty. After approval, you can log in to the MaxBounty website and get some links for CPA offers that you will be promoting.
MaxBounty Offer Types
MaxBounty's payment models have mainly cost per lead and cost per action. Also, they have revenue sharing models for certain products and brands. The traffic types allowed on the platform are mobile, email, native, contextual, social media, display, incentive, and search. 
If you prefer promoting the offers through push notification ads, ensure the offer accepts mobile traffic for push ads in mobile devices, and push ads for desktop. Also, if you would like to promote offers through incentive traffic, you have to indicate it on your profile. Offers listed on the platform fall under the following niches:
Sweepstakes
Automotive
Surveys
Biz-opp
Real estate and home improvement
Business to Business (B2B)
Psychic
Dating
Mobile subscriptions
Downloads
Mobile Apps
E-commerce
Legal
Education
Insurance
Email submits
Holiday and Travel
Finance
Health
Giveaways
Gaming
Selecting a Profitable Niche In 2020
You have an understandable need to make money in 2020 than you did in 2019. Deciding which niche to stick with and which ones you should explore is a decision that is made by any experienced or new affiliate. It is a decision that you will continuously make in your online career. It should be a decision that could have a great impact on your success. 
There is an overwhelming number of offers and niches available to promote. Some of the new ones are continuously rising in popularity. Making a choice on the best niche could be a difficult task. The article will offer you some guidelines that will ensure your decision process is more professional and organized. It will direct you to a niche that best compliments your skills and passion.
The first step is not being swayed by noise. You may be tempted to google, "What is the best-selling niche in Affiliate marketing in 2020?" You may end up with a lot of conflicting information. Making your own calculated decisions after detailed research is a preferable decision. One affiliate may be good at something, but you may be good in another niche. You should learn how to evaluate and filter information when conducting research in affiliate marketing.
However, if you would like to get some suggestions from affiliates, join affiliate marketing communities and forums where you can freely ask questions and get feedback. It will allow you to get more information about what other affiliates are doing. It will give you information as you conduct your personal research.
Most people believe that you should avoid a saturated niche market. You may believe in being an affiliate in a new market. However, choosing a niche that few people are unfamiliar with could end up wasting your money and time. Also, the target market could be too small, even if you are good at setting up your campaigns.
High competition in a market could be a sign of a large and prosperous market. Utilize online tools, such as Google Trends, to assist you in identifying the popularity of a niche. You can also analyze how it compares with other niches over time.
Promote a niche that you know and love. Promoting offers in a niche that you love could give you a great competitive advantage over affiliates who lack passion. When you are passionate about an industry or product, you are more likely to understand what would appeal to customers. Some of the questions that you should ask yourself before identifying a niche include:
What knowledge do I possess that could help me stand out in the target market?
Why are potential clients attracted to this niche?
What will keep clients attracted to this niche in the long-term?
Notably, there are "tested and true" niches that have always been profitable for affiliates. It is the main reason they have a constant stream of repeat buyers who are willing to buy these services or products in the long-term. 
If you are a new affiliate, you can start with the larger and more stabilized niches and then reduce to a sub-niche. It could be effective in nudging you in the right direction. The following are the MaxBounty campaigns that have converted well for its affiliates:
Health and Beauty: muscle enhancers, fat burning supplements, diet/fitness programs, and skincare products.
Financial: credit scores, payday loans, and general loans.
Survey: different geographical locations.
Even after you have identified a good sub-niche, think of some strategies that will help you stand out and combat oversaturation. After identifying a niche, consider ways of generating traffic. If you are unable to identify the best strategy, MaxBounty has affiliate managers who are responsible for affiliate marketers. Affiliate managers are highly responsive and helpful. Talk to them about your traffic, and they can tell you which affiliate offers may have a better chance of conversion according to your traffic sources.
All in all, use your judgment. There is no predetermined strategy for choosing a profitable niche. However, the above suggestions will improve your chances of identifying the best niche. Conduct detailed research, focus on your skills and passion and do not fear to promote offers that have a good history. Every time you log in to your account, evaluate it and learn something new. Identify the trends that work best for you when deciding to run campaigns on new niches.
The dashboard is unique and user-friendly. It is easy to navigate. After you log in, you will have a quick view of the list of offers currently available. Also, it contains a view of your earnings and a list of the most popular offers in MaxBounty.
How to Create an Account in MaxBounty
The website gives you an option to work with MaxBounty by becoming an affiliate or an advertiser.

If you decide to become an affiliate, they explain the benefits of working with MaxBounty. The benefits include 2000+ active campaigns, feature-rich dashboard, weekly payments, committed affiliate managers to assist you, performance bonuses, and international campaigns. They also give you an option to register with MaxBounty.
Click "Register Now", and the next page is the Affiliate Signup. The affiliate signup is divided into six main menus: Basic Info, Security, Contact, address, Experience, and Terms. Fill in your Basic Info and click "Next."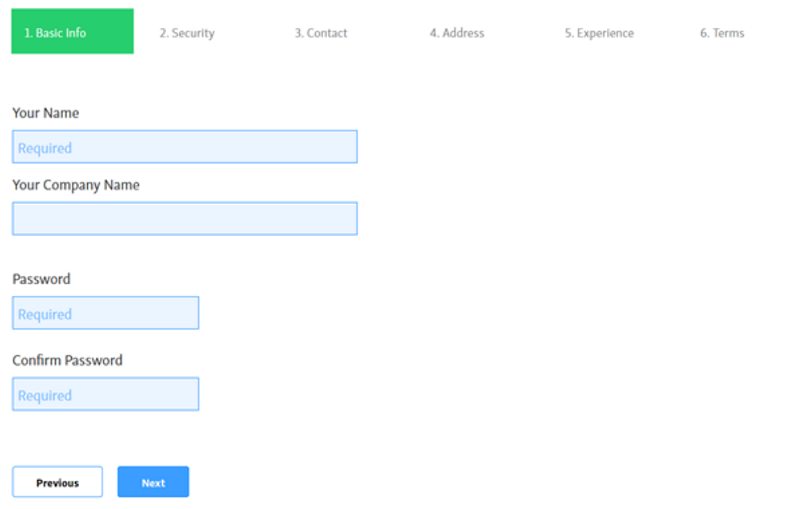 The next menu is security. Fill in the details and click "Next."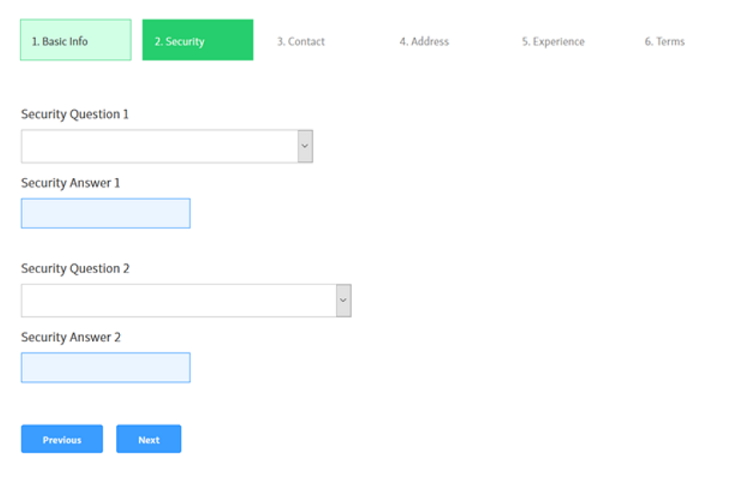 Fill in your contact details and click "Next."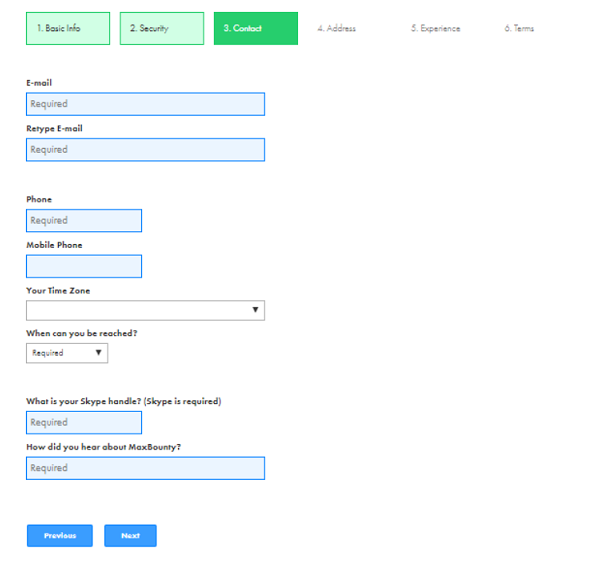 Fill in your address and click "Next."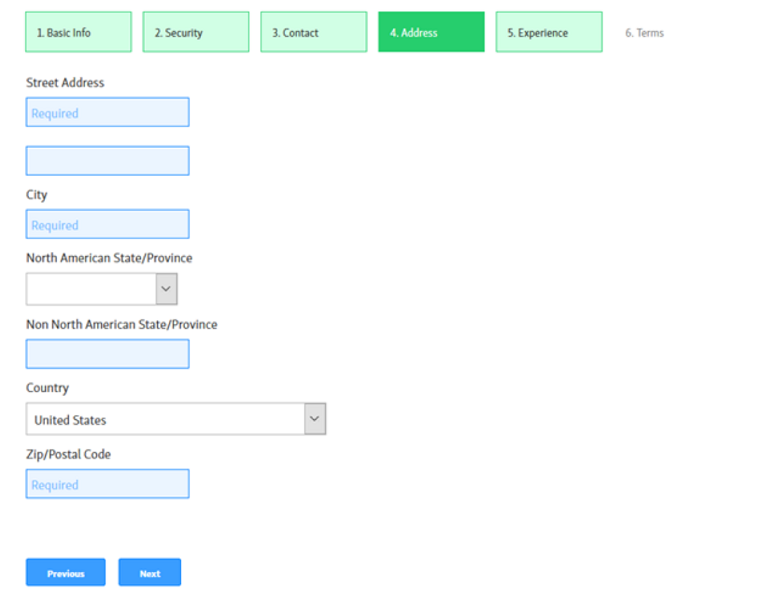 Fill in your experience carefully and click "Next."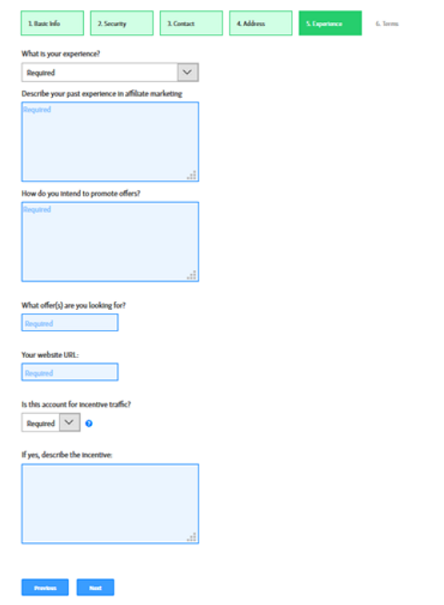 The final step is terms. Check the boxes if you agree with the terms and then click "Finish."

You will receive a notification that you have completed the Affiliate signup. Also, it explains the verification process and the next steps.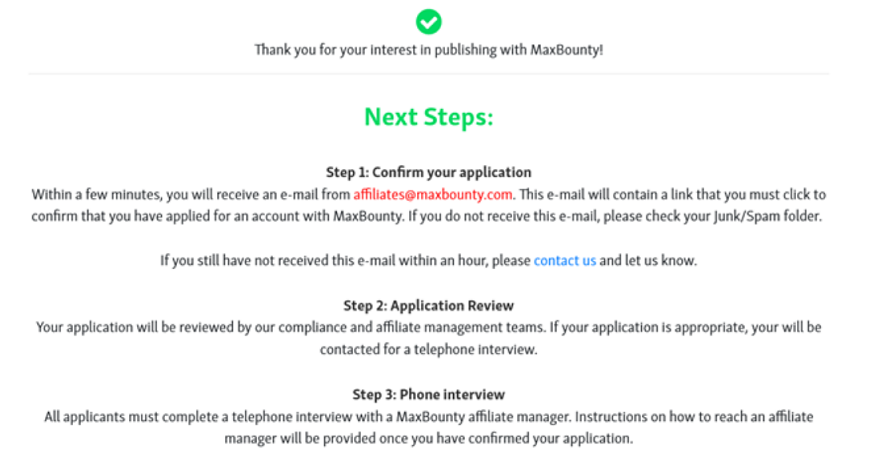 You will receive an email from MaxBounty. Verify your email.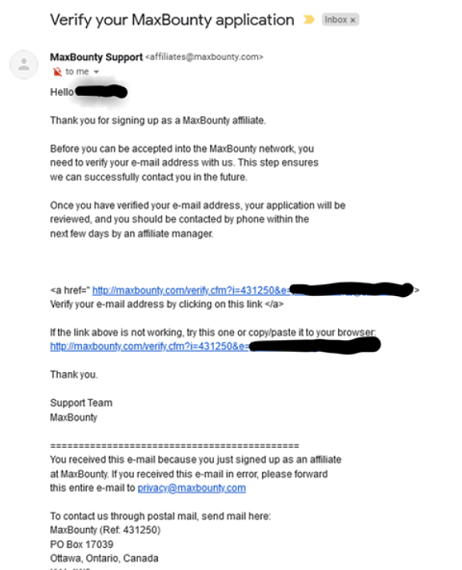 MaxBounty will send you another email after you have verified your email.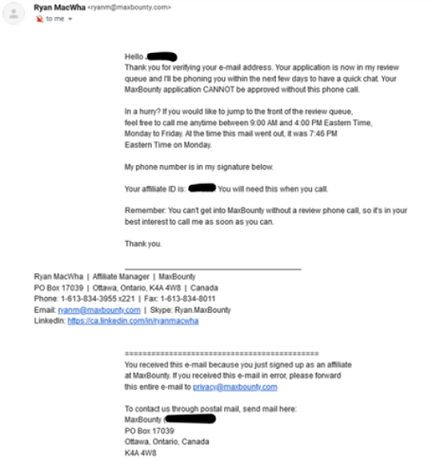 After receiving the email, ensure that you call the number highlighted above (1-613-834-3955 x221). Call the number using your phone. A robot will receive your call. Ensure you type the extension number (x221). After the manager receives the call, the phone interview will begin. Ensure you prepare for the interview adequately. Some of the interview questions may include:
How long have you been working with affiliate marketing?
Which network do you work with?
What is your affiliate ID?
How do you promote offers?
Why did you choose MaxBounty?
Which offers are you looking for?
If the phone interview is impressive, you will receive an email approving your MaxBounty application. It is very easy to get an approval on MaxBounty. Ensure you answer the questions carefully. Fill in the questions using fluent English even if you are not from an English speaking country.
Ways of Promoting MaxBounty Affiliate Links and Offers
You need to identify techniques that will help you promote a MaxBounty affiliate offer. There are free and paid ways of generating traffic. One of the techniques is making a good website. A simple site with a landing page and a basic blog will do the job. You could also use a Facebook page to promote your MaxBounty offers. You should identify a specific niche. Develop content that is relevant to that niche and start sharing the content on Facebook. After you have developed a basic audience, start building up traffic.
You can develop a YouTube promotion account. Promoting videos can be surprisingly effective when generating traffic. You can link people to the articles on the MaxBounty website. Blog commenting is a simple way of generating free traffic. You can post authoritative content on some blogs and refer people to the website.
You can also write large comparison articles. People like having options and want to monitor who has the options stack up against others. You can then put a landing page or link people to the MaxBounty website. You can also generate traffic by creating themed Pinterest Boards that have unique offers. Pinterest has been largely ignored by people, but it's a good way of getting a good chunk of traffic. 
Instagram is one of the most effective techniques for generating traffic. The platform has over one billion monthly users. It allows targeted advertising so that you can reach your target market and refer them to the MaxBounty website. Google Ads can allow you to reach millions of people daily. Although you can promote an affiliate link directly, you can use a landing page to generate traffic.
Also, you can use a mailing list. It is an advanced technique for affiliate marketers. Building up a mailing list requires quality and trust. Send quality emails and then refer them to the MaxBounty website. There are many ways of generating traffic. You just need to identify the sources that are more effective with your niche and target market.
MaxBounty Advertiser Tracking Interface
MaxBounty has an advertiser tracking interface that provides users with a reporting platform. Using the data and proven network, it will give you adequate access to campaign analysis and insight. The new platform provides great insight to both newcomers and advertisers regarding performance marketing. The new platform places emphasis on:
Providing control and insight over your campaign, its creatives, and details.
It allows you to track your campaigns.
Provides the ability to track source stats and analyze campaign performance.
It guarantees robust and accurate reporting.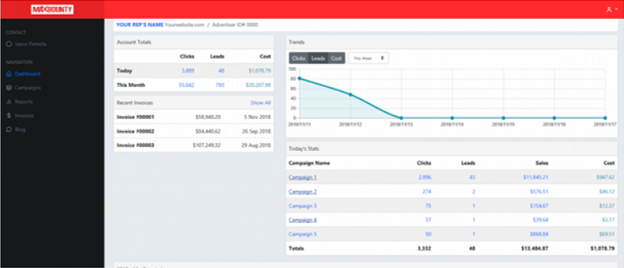 According to the opening dashboard, it is clean and easy to use. The large trends chart is on the right side of the screen. Also, it displays the overall campaign stats for cost, clicks, and leads over a given time period. It also provides a list of key metrics according to individual campaigns. The left of the screen contains details, such as recent invoice dates and amounts. The left side of the panel allows you to have easy access to your campaigns and reports.
The Campaigns page offers easy and valuable access to all the details of your canceled, individual, inactive, and current campaigns. It provides advertisers with quick insight into how campaigns are presented to over 20000+ affiliates. It also provides quick and accurate insight into individual campaign performance.
The Reporting page is the core of the advertiser tracking interface. It allows you to easily and quickly build reports that monitor and analyze campaigns. It evaluates campaigns to ad creatives, individual affiliates, and individual affiliates. It allows you to understand how affiliates are performing, the source of leads, and the conversion rate. The home Dashboard also contains links to an Invoice Section that provides your entire account history. It also links you to the MaxBounty Blog and to a page where you can edit your personal details.
MaxBounty Case Study
One of the affiliates, Imogen Rose, made over $20,000 within 6 months after creating an account with MaxBounty.
Vertical: fashion
Type: Double opt-in (DOI) leads
Offers: clothes, shopping
Tracker: MaxBounty Advertiser Tracking
Ad Networks: SnapChat
Target Country: United Kingdom (UK)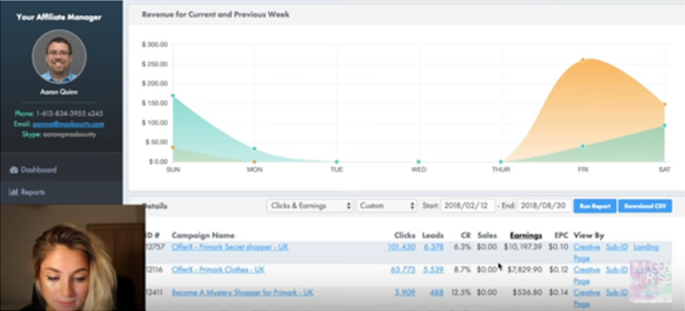 Rose grabbed all the necessary information, such as allowed traffic types, CPA rates, and rate descriptions. She then created a landing page and set up a new campaign. She mainly uses social media to generate traffic, especially Snapchat. She has more than five campaigns. Primark Secret Shopper campaign had 101,430 clicks, 6378 leads, 6.3% conversion rate, $0.10 earnings per click (EPC), and her total earnings were $10,197.39.
One of the techniques that allowed her to generate a lot of traffic was giveaways or rewards. For instance, there was a £1000 giveaway for one successful candidate who would review Primark. Many people like contesting and receiving gifts. 
Also, she uses herself on her ads. Its gives her ads a strong emotional appeal to the target market. She believes that one has to keep on trying until you identify the best source of traffic. Rose mentions that her video ads tend to do much better than her image ads. She is confident that video ads on social media are quite attractive to the target market and are more likely to generate traffic.
Conclusion
MaxBounty is one of the main Cost Per Action (CPA) affiliate models. It allows you to take advantage of marketing campaigns to generate income. You can earn money at the comfort of your home. Although getting a MaxBounty approval to become an affiliate or advertiser is challenging, the benefits are worth the effort. MaxBounty pays its affiliates weekly to ensure that you have adequate money to generate traffic and increase conversions.
Share the article

Read. Learn. Do. Earn more money on Affiliate Marketing
Don't miss