Believe it or not, many people consider shoes as one of the most important items in their wardrobe. In 2020, the international footwear market was estimated to be worth at least 365 billion U.S. dollars. This topic will be devoted to the top shoe affiliate programs that a webmaster can use to make money. Let's get right into it!

How shoe affiliate programs work
Every major clothing brand has its own affiliate program. Depending on your choice, it may be an in-house or a third party solution. As a webmaster, you decide what niche you want to work with, whether it's a sports brand, children's footwear etc. Then you launch an advertising campaign and create affiliate links through which you can run the traffic and receive payouts.

What shoe affiliate programs pay for
Shoe affiliate programs work using the EPC (Earnings Per Click) model and offer a commision for each sale that varies from 1% to approximately 12%, depending on the program.

Top 11 shoe affiliate programs
In this article, we take a look at 11 different affiliate programs to earn money from.

Zappos is an online shoe retail that has been in business for 20 years now. Since then, they've added clothing in the assortment, but they're still best known for footwear. For customers, Zappos covers over 1000 brands, offers free shipping within the US and all US territories, and free 365 day returns.

As for webmasters, this is one of the top-performing affiliate programs on CJ (Commission Junction) and has been for years now.

Link: Zappos Associates Program

Commission: 7%
EPC: $13.83
Cookie duration: 14 days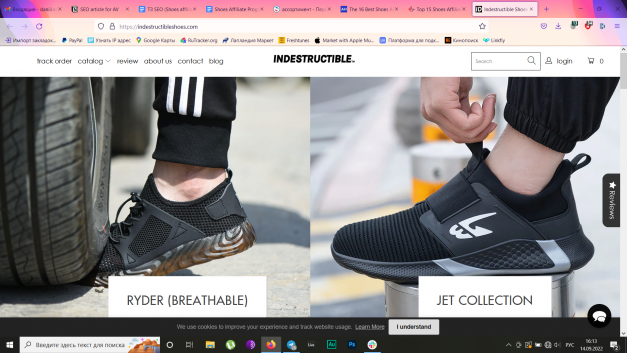 Indestructible Shoes offer footwears that are safe, comfortable and fashionable. It is made to last for years (even decades) and provide protection from workplace hazards. Their products are strong, light and very affordable. Plus, customers get free shipping WW.

ShareASale runs the affiliate program for Indestructible Shoes.

Link: Indestructible Shoes Affiliate Website

Commission: 10%
EPC: $82.76
Cookie duration: 30 days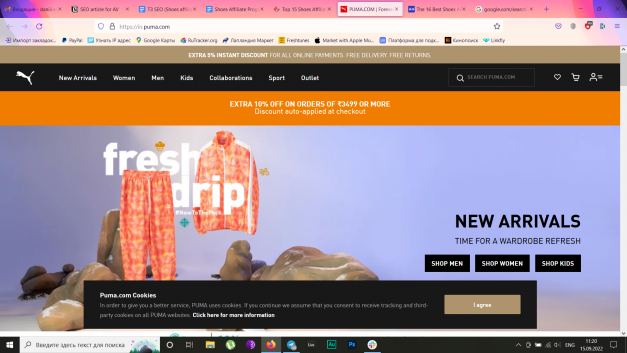 Puma is the most easily recognized and leading sports brand that has been in business since 1948. In 2021 alone, it generated around 6.81 billion euros from worldwide sales of its footwear, apparel and accessories. Being able to access Puma products makes it a lot easier to spread the word.

Pepperjam is in charge of their affiliate program. Thanks to their commision structure, your profit increases as you run more traffic and generate more sales. Also, affiliate program members have access to simple tracking and reporting tools, as well as to exclusive offers and deals.

Commission: 5%

EPC: To be confirmed
Cookie duration: 14 days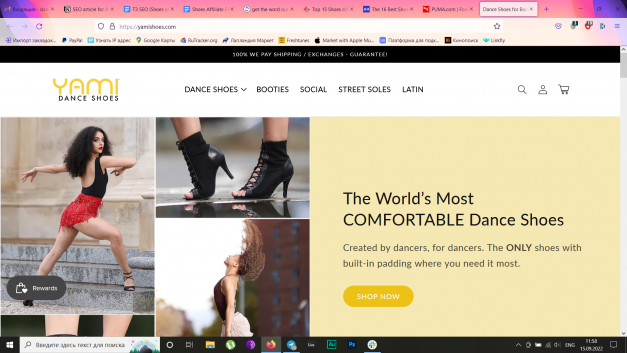 Yami Shoes doesn't offer everyday footwear, however, the dance-shoe niche is considered to be valuable and has a lot of competition. Their dance heels are shock absorbing, have an extra layer of padding and reduce lower back pain. Customers can also get free shipping on orders over $120.

As for the affiliates, they get 10% commission on all sales generated via affiliate links. You can earn from $6 to $12 per sale, depending on the price of the item.

Link: Yami Shoes Affiliate Website

Commission: 10%
EPC: $16.37
Cookie duration: 30 days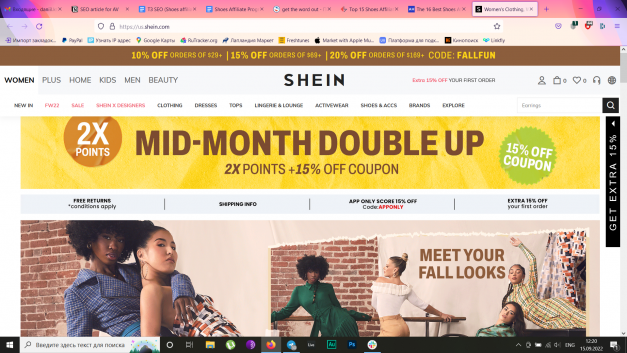 Shein is an e-commerce platform that offers affordable shoes, accessories and clothing items manufactured in Asia. Starting in 2008, it now spans over 200 countries and regions. Having over 3000 styles of footwear in stock available at any time, customers will definitely find almost everything they need here.

Shein doesn't specialize in footwear, but they have thousands of various shoes in stock. Moreover, Shein can boast of their strong performance metrics. It offers high rates, as well as high EPC.

Link: Shein Affiliate Website

Commission: 10%
EPC: $28.88
Cookie duration: 30 days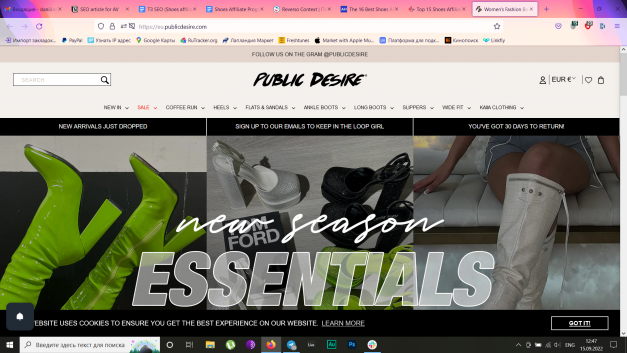 Public Desire is a global footwear brand that is based in the UK with a target market of in-style young women. It offers a wide variety of shoes: flats, sandals, ankle boots, slippers, long boots etc. In addition, they have a separate section dedicated to Perspex and clear footwear, which is in high demand nowadays.

The Public Desire program is suitable for both US and UK-based affiliates. It pays 8% commission on all item sales. Thus, assuming a $50 average order value (commonly, it has always been that way), you can expect to make $4 per sale.

Link: Public Desire Affiliate Program

Commission: 8%.
EPC: To be confirmed
Cookie duration: 30 days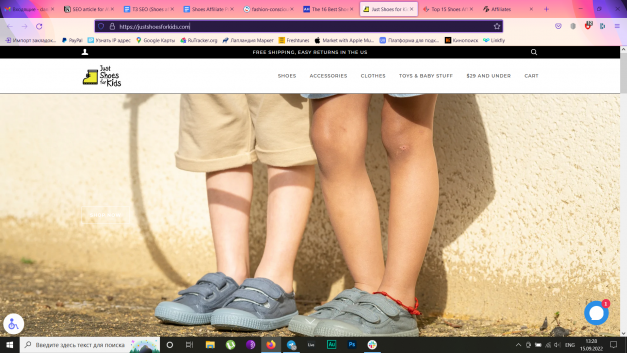 Just Shoes For Kids was made to both save time and preserve the nerves of parents who may get frustrated while bringing their children to a store. With such a brand, it is very simple to order footwear online and not feel limited in choice options: from colorful and fun footwear to formal shoes like Oxfords, for instance.

It is quite obvious that you can't measure a kid's feet online and that's where the return policy comes into play. You can easily send shoes back if they don't fit: there's free shipping within the US, but not for overseas customers.

Making business on children's footwear is profitable due to the fact that it costs a lot, no matter what size it is. This way, an average order value here reaches $77 or $7.70 in referral fee per sale.

Link: Just Shoes For Kids Affiliate Website

Commission: 10%
EPC: $88.04
Cookie duration: 45 days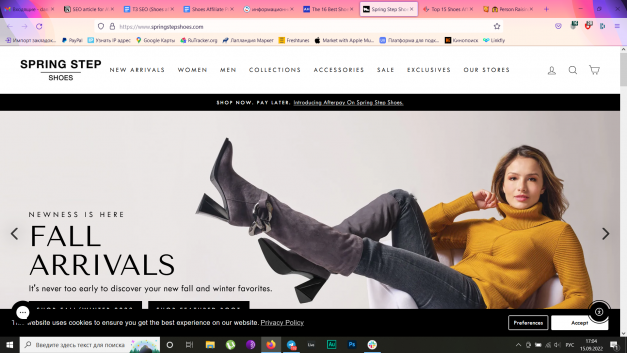 Spring Step Shoes focuses on a bit more mainstream trends, so bear that in mind when choosing the target audience for your campaign. For over 30 years they were constantly refining European craftsmanship, that's how their footwear earned the reputation.

The Spring Step Shoes program pays an 8% cut of all sales, which is good news and definitely well above average for this niche. They are also quite new to the Rakuten affiliate network – use it to your advantage by being an early adopter.

Commission: 8%

EPC: To be confirmed
Cookie duration: 30 days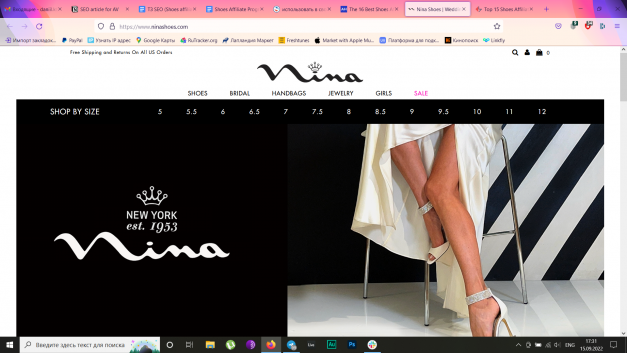 Not many people know that Nina Shoes sells around 10 million pairs each year and has been in business since 1953. As of now, the brand is recognized for offering fashionable shoes at a reasonable price. Here, customers may find not only stylish women's shoes, but bridal heels too – this sub-niche is worth considering if you want to dive into the wedding market.

Their affiliate program offers a 5% commission rate. From each transaction you'll earn about $3.95 if we start from the average price of a pair of Nina shoes.

Commission: 5%

EPC: To be confirmed
Cookie duration: 30 days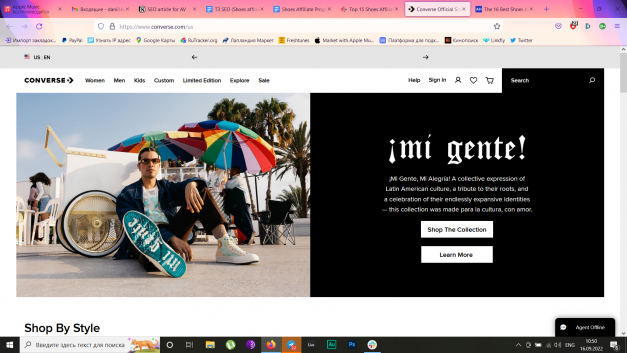 Converse is tied close to American culture, and for almost a century it has been a part of its society. Nowadays, Converse is a subsidiary to Nike, nevertheless it continues to stay authentic and original. Their online store offers a wide range of sneakers, as well as skateboarding and basketball shoes.

You'll get a 6% commission from all referred sales through affiliate links (both for mobile and desktop referrals).

Link: Converse Affiliate Website

Commission: Up to 8%
EPC: $12.79
Cookie duration: 7 days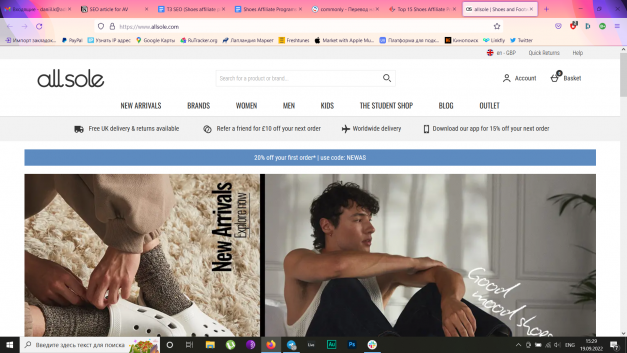 Like some of the examples given, AllSole is also situated in the UK and suits perfectly for webmasters outside of the US. But if there are some of the affiliates from the United States or Canada, don't worry: they ship globally too. The target market here are customers that are looking for name-brand footwear (like Dr. Martens, Vans, Timberland etc.) at a discounted price.

As for webmasters, you'll be paid out an 8% commission on every sale. Important note, make sure you're a member of Awin before launching an advertising campaign.

Commission: 8%

EPC: To be confirmed
Cookie duration: 30 days
How we compiled our rating
In this article, we just showed you the tip of the iceberg, the fact is there are hundreds of various affiliate programs to choose from. Our goal was to introduce you to different niches within footwear and point out stores that offer high commissions to affiliates. Nevertheless, we are not claiming that the examples above are the only to offer good rates and conditions for webmasters. The final choice must be made depending on the target audience, after all.

4 tips for webmasters who are going to work with shoes affiliate programs
1. Know your audience

Some of the customers might look for specifics while others are in search for a nice pair on a budget. Thus, you must choose your affiliate sites appropriately.

2. Gain trust

Customers who purchase high-class brand labels are not willing to take risks if they don't trust you or your affiliate website. Be sure to choose reputable affiliate programs and to help in any way possible if the customer is dissatisfied.

3. Think of discerning buyers

Some people will need to know specifics and may want their footwear to be customized or sized. That being said, make sure the affiliate program you choose suits these requirements.

4. Don't forget about heavy shoe collectors

It is quite obvious that their purchase power is promising. Shoe collectors are willing to spend a fortune, but they need to know exactly what they are paying for.

Conclusions
To sum everything up, we believe that the footwear market industry is worth giving it a shot. Footwear, in its purest form, is a necessity for the average consumer. Shoes are also an essential form of expression for many people around the world today. According to Statista, revenue in the footwear market amounts to US $381.90bn in 2022. Thus, the market is expected to grow annually by 5.88% (CAGR 2022-2027).

That's it for today, leave comments and share your experience if you've ever worked with shoe affiliate programs. Good luck everyone!

FAQ

What do shoe affiliate programs pay for?

Shoe affiliate programs work on the Earnings Per Click model and pay a commission for each transaction that varies from 1% to approximately 12%, depending on the program.

In what countries is this niche popular?

Due to the fact that the footwear industry is very closely related to the fashion world, we recommend working with Tier-1 countries, like the US and the EU.

How much can I really earn on a shoe affiliate program?

The harder you work, the more beneficial the program you choose, the better results you'll see. Like we mentioned before, the international footwear market is getting close to reaching $400 billion U.S. dollars. Think about that when deciding whether you want to work with this niche or not.

What payment models are popular in this category?

There is only one payment model used – EPC. Plus, you get a cut from all sales generated through your affiliate links.

What sources of traffic show themselves best for shoe affiliate programs?

We recommend using Facebook Advertising, Search Engine Optimization (Google & Bing), Internal Search Engines and their SEO, Instagram Ads, YouTube videos and Google Ads.
Share the article

Read. Learn. Do. Earn more money on Affiliate Marketing
Don't miss