CPC and PPC are two crucial digital marketing acronyms that have either been used interchangeably or confused some digital marketing newbies. Though interrelated - both terms are critical elements of many online advertising campaigns and metrics useful for driving leads, generating traffic, and boosting brand awareness  -,  there are key differences. We'll explain their meanings, differences, applications, calculations, and examples.
Let's dive in!
CPC meaning
CPC simply stands for Cost Per Click. It's a performance metric used in online advertising/marketing campaigns. It measures how much a single click costs in your overall ad campaign.
PPC meaning
PPC is an abbreviation for Pay Per Click. It is a pricing model used in digital advertising where the advertiser pays a fee each time someone clicks it. Ads are inserted using this kind of advertising on third-party websites, social networking sites, search engines, and other platforms.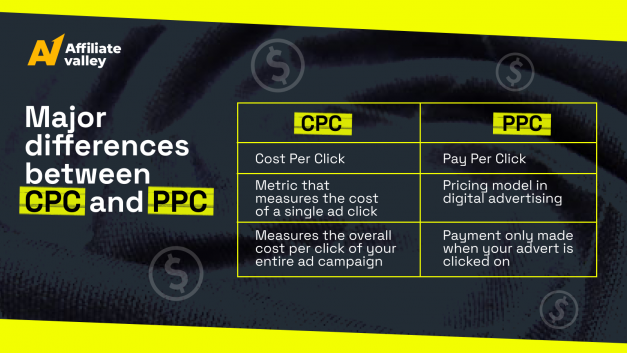 Examples, Practical Applications, Benefits and Similar Models of PPC and CPC
PPC Examples and Practical Applications
PPC is a type of advertising model and is utilized to insert ads on third-party websites, social media platforms, search engines, and the like. Common forms of PPC include Social media ads, Search engine ads, and Display banners. Google Ad is a perfect example of a digital platform that uses PPC, this is because Google's main revenue source is advertising through Google sites and its network. Within Google Ads, there are a variety of formats, such as Search Ads, Video Ads, Shopping Ads, Gmail Ads, and more. According to Reuters, overall in 2022, Alphabet reported second-quarter revenue of $69.69 billion, with 81% of this amount coming from Google's ad business. This shows just how viable the PPC model is. Facebook PPC Ads, Amazon PPC Ads, and the Buy box are other giant ad companies using the PPC model.
Benefits  
Organisations, marketing agencies, and individuals earn big using the PPC model due to the immense benefits guaranteed when run properly as a result of the high click rates, targeted advertising, and site traffic which translates to increased sales, brand awareness, and lead generation. Here's how it works:
High Click Rates and Targeted Advertising - Upon approval, your advertising will start reaching your target audience since you are able to directly choose the specific demographic you want to attract. This gives you great chances of getting clicks, which in turn leads to payment.
Site Traffic - PPC marketing is simple to track and delivers significant site traffic. Traffic is generated because your ads are prominently displayed directly to your targeted audience especially when you specific terms and keywords.
Similar Pricing Models Like PPC
Apart from the PPC, other pricing models often used are PPM and PPA.
PPM (pay-per-mille/impression) model - advertisers pay a predetermined fee for every 1,000 impressions their ad receives. Payments are made whether or not the ads were clicked. PPM is preferred by certain advertisers since it is typically less expensive than PPC.
PPA (pay-per-action or pay-per-acquisition) - this is an action-specific model where advertisers only pay a fee when their ad generates a specified action such as a sign-up, registration, or phone call. For example, Google offers pay-per-call marketing campaigns through the Google Search network.
| | | |
| --- | --- | --- |
| PPC | PPA | PPM |
| Pay Per Click | Pay Per Action | Pay Per Mille |
| Payment for every single click | Payment for 1000 impressions regardless of clicks | Payment when a specific action is done |
Differences between PPC, PPA, and PPM

Of the three models, PPC is the preferred and dominant pricing model in digital advertising and search engine advertising. Here's an example:
Let's imagine you have opened a small bookstore in Paris and decided to run a PPC campaign using a search engine (Google); when people search for bookstores in Paris, your ad will show up on their search engine, and when they click on the ad, the ad will direct them to your website, where they can make a purchase or use any of the services you provide. Each time a user clicks on your ad, you pay the predetermined fee to the search engine.
CPC Examples and Similar Models
CPC serves as a financial metric to measure the overall cost of each advertisement click for the campaign. The CPC metric can be used to measure the ad's performance, efficiency, and relevance.  It can also be used for: 
Keywords Optimization – This is set up by bidding on keywords/specific terms to make sure your ads are visible or located easily and displayed alongside relevant searches.
Campaign Optimization – This is for evaluating your marketing campaign's performance and benchmarking your campaign optimization efforts.
The primary alternative to the CPC is CPM (cost per mille) which charges 1,000 ad impressions—or views—of the display ad, whether or not the ad is clicked on by users.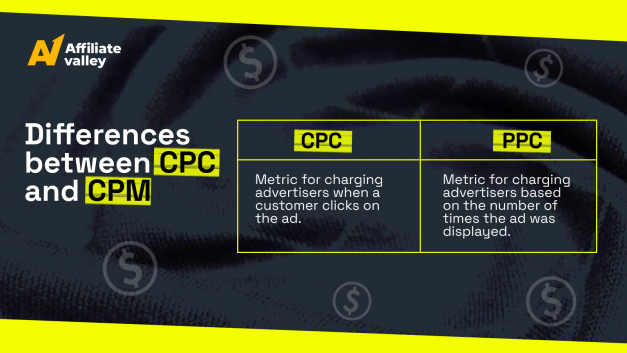 Important factors that determine the CPC of your ads: choice/competitiveness of keywords, ad ranking, the search volume of keywords, and click-through rate. Platforms for CPC include  Google AdSense, Media.net, Infolinks, Amazon Advertising, and Bidvertiser, to name a few. 
How to calculate CPC
Knowing how vital CPC is to your marketing campaign, it becomes very important to learn how to calculate it. 
This can be achieved in four easy steps:
Obtain the overall cost of advertising.
Obtain the number of clicks that were gained.
Divide the advertising cost by the number of clicks.
The result is your CPC
For example, if you spent $900 on advertising and gained 600 clicks, then you would divide $900 by 600. The result is $1.5, which is your CPC.
The best metric to use
PPC and CPC are not competing against each other. Both terms are different sides of a golden coin you need for your marketing. Two distinct but interrelated concepts! So depending on your ad objectives or marketing goals, they are both excellent tools.
FAQs
Are CPC and PPC the same?
No, they aren't. PPC is a pricing model while CPC is a financial metric that measures the cost associated with a single ad click.
What is CPC used for?
The CPC metric can be used to measure the ad's performance, efficiency, and relevance. It measures the overall cost per click of your entire ad campaign. 
What is PPC used for?
PPC can increase sales, raise brand awareness, and generate leads. It is highly valuable in digital marketing. In this model, advertisers pay a fee each time someone clicks their ad. With this ad click, the user is directed to the advertiser's website.
Is Google Ads PPC or CPC?
Google Ads is PPC. Advertisers pay a predetermined fee each time someone clicks their ad. With this ad click, the user is directed to the advertiser's website.  
What is a good CPC rate?
Ideally, ROI (Return On Investment) determines your CPC. So if you've got a high CPC and are generating low leads and conversions, something is wrong. For most businesses, a 5:1 revenue-to-ad ratio is considered acceptable. This means for every dollar spent on advertising, five dollars in revenue is produced.  
Summary
PPC and CPC are vital in digital marketing campaigns. It's important to understand the factors necessary for proper optimization and conversion to achieve the desired ad objectives. If you want to get more information on the marketing fundamentals, follow Affiliate Valley on Facebook and Instagram – more interesting guides are coming!
Share the article

Read. Learn. Do. Earn more money on Affiliate Marketing
Don't miss