As a resource about all things affiliate we're often asked one question: "How do I find a job in affiliate marketing?"


Even though Google might offer you a number of links with possible answers, the first steps still seem kind of blurry.
So, we decided to present you a whole guide on how to get employed in affiliate marketing. But let's start with what "affiliate marketing" actually is.
By the way, if you prefer watching videos to reading, check out the one below.
Still here? Then let's go!
What do we call "affiliate marketing"?
By affiliate marketing we understand an advertising model where a company pays other people (for example, bloggers) to advertise their products online. The company (advertiser) gives them special links to track every sale that comes from subscribers or visitors and pays a percentage for each purchase. However, it's not only bloggers who can advertise anything on the internet, but also different websites. If you ever pay attention to banners advertising travel destinations (e.g. Booking.com, Skyscanner etc.) and if you click on them and book a hotel or a flight, the person who showed you this banner will earn a percentage from your order.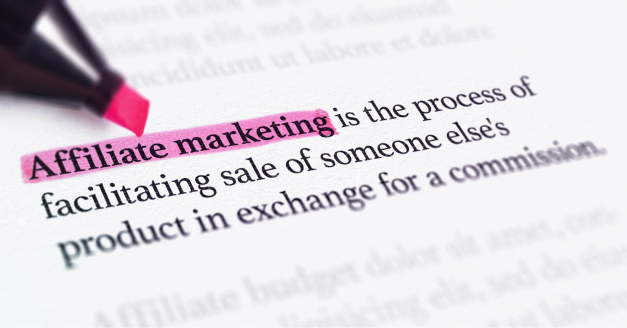 So, the methods used to advertise brands may differ greatly, but will all be referred to as affiliate marketing. The term is widely used to define different types of jobs done:
media buying;
reselling traffic;
monetizing websites;
selling affiliate links;
CPA marketing for big brands;
CPA agency services.
Even though all these jobs are referred to as affiliate marketing, they require different sets of skills and different amounts of knowledge.
What job can I find in affiliate marketing?
With affiliate marketing the choice is pretty much unlimited, it all depends on what skills you already have or where your heart lies.
Any activity where you are driving traffic to the brand's website and thus helping sell their products will belong to affiliate marketing. You can work with brands directly if you know where to find traffic and how the offers operate in general. But if you don't, you can join an agency or an affiliate network working as an account manager. With this type of job you will be earning your salary and probably some KPI from offers.
Even though it sounds fine and stable, it does not fully reflect what affiliate marketing is about. The idea behind it is that you can earn as much as you want by earning your percentage per every sale or lead. Your income will grow depending on your performance with the offer.
How do affiliates work with offers? A great number of sales nowadays are made online and the commodity in affiliate marketing is traffic (people visiting sites). There are a few ways how one can drive traffic to brands:
If you are a Social media influencer, you already have your own resource - your account in Facebook, Instagram or YouTube. You can get paid for making stories and posts about the products tagging brands.
If you are a SEO specialist and you have your own website, you can place banners and links there and earn commission for each sale.
But what should those affiliates do who do not have a big social media presence or their own website? Where do they find traffic to send to the brands' websites? They can become Media buyers.
Why should I be a media buyer?
If you don't have any resources by yourself, you can do media buying or, in other words, reselling traffic. It means, if you don't have a website, a social media account, email lists or any other resources to promote products, you can go to an advertising network and buy traffic. This is what we call media buying.
The scheme is the following: a media buyer creates advertisements in ad networks (or to put it simpler, launches an advertising campaign). Later these ads will be shown on those websites that are partnering with the network. People will click on the ads, go to the vendor's page and make purchases. And the vendor pays media buyers for every purchase that was made through their ads.
This is also one of the ways to work in affiliate marketing. What are the advantages compared to others?
You do need some knowledge (and experience) about the niche you're working with, but you don't have to know everything in order to start;
You can start with only $50-100;
You can earn a lot (and we mean, really a lot) of money when you have enough experience and skills.

Why is it not easy to start media buying by yourself?
When you first start with affiliate marketing (reading articles, going to ad networks, making research) you get instantly bombarded with so many confusing terms (CPA, CPL, bidding, cloaking, CR, RTB etc.). Not knowing them makes it difficult to understand reviews on networks, case studies or forum threads.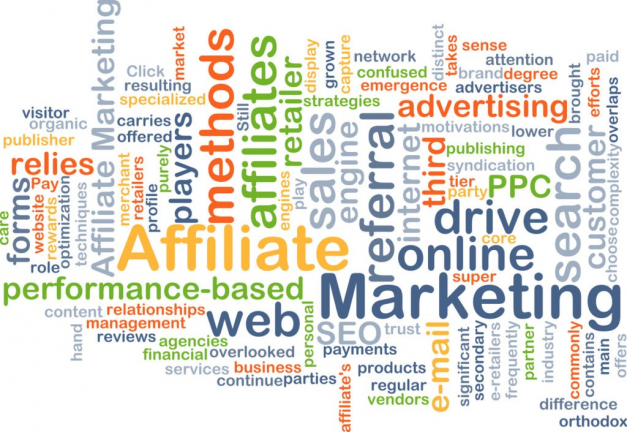 If you don't have your own website/blog, you will need some money to start reselling traffic ($50-$100). For many beginner affiliates who are not really proficient in driving traffic it might sound like some risky business. Especially considering the fact that it is difficult to get profit with a $100 start from the first try (or from the second). And for some aspiring media buyers it can be a substantial amount of money which they might not get back.
So, where do I find a job?
Now that we've established what affiliate marketing is and what jobs there are, let's go over the places where you can find them:
Online communities
Since this is all about marketing on the internet, it's only natural that here you can find plenty of forums, media outlets specifically dedicated to affiliate marketing, telegram chats, blogs etc. Now it's also becoming more common for affiliate networks and advertising platforms to share their case studies and give place for other affiliates to communicate.
For SEO specialists we have Search Engine Journal, a very popular blog with almost three million views every month. Here you can find numerous tips on SEO optimization, PPC marketing, social media marketing etc.
If you want to join a community to learn more about affiliate marketing strategies, campaign optimizations, case studies and ask for advice, you can go to:
With thousands of users, these platforms can be of great help. Some of the forums have subscription plans (like AffLift or STM Forum), others are free (Warrior Forum and AffiliateFix). Free forums are especially beneficial for beginners who are only starting and are seeking guidance without spending more money
You can also go to Facebook and join some affiliate marketing groups:
There you can connect with other affiliate marketers and learn more about their experience, success stories and what instruments they use to resell traffic.
Or you can always go to Affiliate Valley and find more information on how to Get Started. You can also find us on Facebook where we post about our latest articles (and where you can also share your experience with us and our community).
Online conferences
Affiliate marketing is a fast-developing field. No wonder it started going offline as well and gave rise to many offline events, like conferences. This is a place where brands, affiliates and affiliate platforms all come together to network, find new partners and opportunities to grow. If you play your cards right, you can find a team to join or a brand to partner with.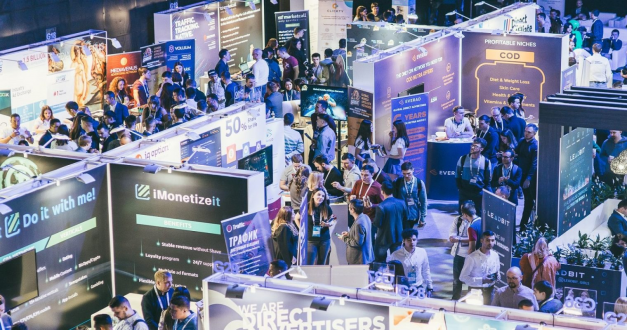 You can find conferences either in your country or abroad. Here are some of the biggest and most interesting conferences:
If you don't have any conferences near you, you have two options: either find some local meetups (or organize some yourself) or go to conferences with online tickets (and almost every conference now offers this option due to the pandemic).
Career websites
If you just go and google "affiliate marketing vacancy", you will get at least 11 mln results. Affiliate marketing being as popular as it is now has so many job offerings all around the world, you have no idea. Being officially employed with some company/teams bears great benefits as well: you will be trained, you can get more experience with how everything operates here, get the necessary skills. But don't forget to bring something to the table as well, it is not a one-sided deal.
We know that not all websites can be trustworthy in this case. So we decided to present you our personal picks:
Jooble has at least 300,000 vacancies available for online affiliate marketing jobs. It can be either internship or "start your career" jobs or places where you can apply all your knowledge and experience and get the salary you deserve. For example, here is an opening with ZOOM in their digital marketing department: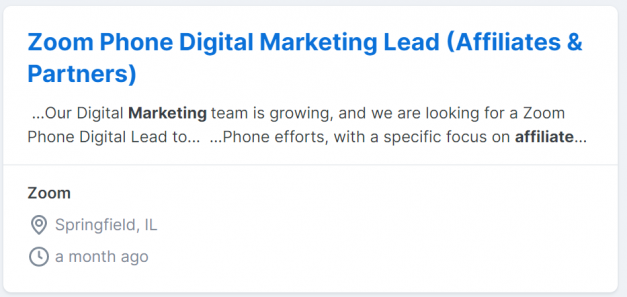 Ziprecruiter is also a very popular site to find a job in affiliate marketing (it's either remote or US-based though). All you need to do is type your request and go through the job descriptions.

Indeed. This site functions the same way as the previous two and also offers at least 4k vacancies for "remote affiliate marketing". For example, this is an opening in Acceleration partners (an advertising agency working with brands and looking for traffic):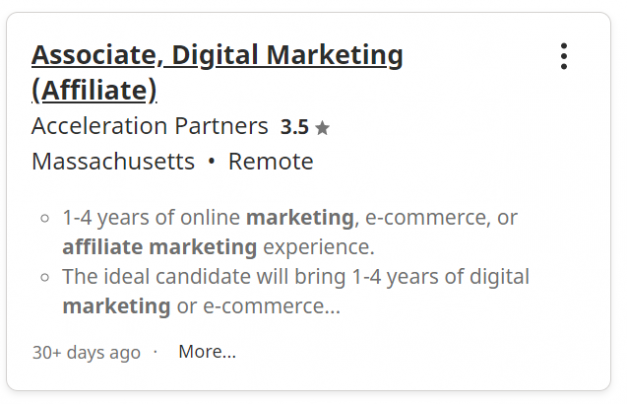 But, please, remember some ground rules:
be honest about your skills and experience (it is easy to find out eventually);
be loyal to the company and team that you work with;
be willing to learn and acquire new skills (for that you can apply for some online courses, visit webinars or read online media);
stick to deadlines and keep your promises;
act as a grown-up, don't shoulder your responsibilities on someone else;
and practice, practice, practice (since this is what you need to progress).

Summary
Media buying is definitely not easy. If it were, all media buyers would be buried in gold and never willing to work again. But it is one of the options that does not require as much money and effort as other domains in affiliate marketing.
In order for you to find a job and join an affiliate team, you should have some basic knowledge. Start with learning what verticals and offers there are, which niches are better to start with, what types of traffic you can buy, how to launch ad campaigns etc. Once you get more experience, you can look for a team to work with. And in this article we showed you how and where to start.
Share the article

Read. Learn. Do. Earn more money on Affiliate Marketing
Don't miss