DYNU IN MEDIA is a fast growing affiliate network. One of the key factors of its success among affiliates is a super responsive, professional affiliate management team. We've talked to Ms. Fiona from Dynu In Media to find out how the processes are organized in the company, how new members of the team are trained and what helps her excel in her day-to-day job. 

AV: Hello, thank you for taking the time to talk with us. Tell our readers a bit about yourself. Who are you, and what is your experience in affiliate management?
I am an Affiliate Manager at DYNU IN MEDIA network. Our priority for daily work is controlling the traffic quality and dealing with traffic problems, if any. We focus on responsive communication with our clients through prompt and substantive replies to their messages. It is important to have a wide range of offers for our partners, and we ensure this through regular checks on pending offers to match the campaigns with suitable partners. 
Not that long ago, we wrote a review of the DYNU IN MEDIA affiliate network. Check it our here.
Another aspect of our work is to review new partners who apply to the network on the platform. We receive many applications from publishers who connect with us on Skype or LinkedIn. Additionally, our partners require regular updates regarding new arrivals and hot deals. We disseminate this information weekly via email and Skype. As part of our regular duties, we work with the marketing team to develop promotion programs on forums and websites to attract potential publishers. Another important role is our coordination with the accounting department to ensure payments to partners are transferred on time with the right amounts.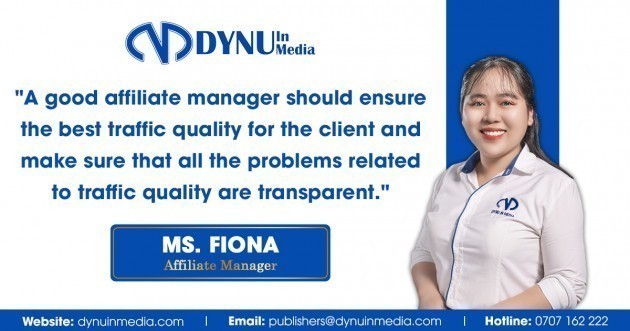 AV: What is the most important lesson that you have learned about being in account management?
I have learned to appreciate the value of being professional when obtaining knowledge. Account management requires you to develop detailed and up-to-date knowledge in the field of digital marketing. The field is highly specialized, so I utilize my knowledge to ensure success for the company and our affiliates. You need to develop a positive working attitude in account management. I have seen the value of staying responsive, friendly, honest with partners, highly organized, and determined. 
AV: Do you work with affiliates or advertisers? Or both? 
I am working with affiliates. 
AV: How do you train account managers when they enter the company? 
The affiliate manager position is a challenging one that requires being astute, quick, and communicative. At DYNU IN MEDIA, we take the time to ensure our hires are carefully selected. Once they come on board, we take the time to train them properly to ensure they can deliver for our partners. A potential affiliate manager's journey typically begins with a customer service role that involves providing support and advice to clients before, during, and after they purchase digital products or services. The person can then take on the job of account manager, emphasizing customer retention and recurrent transactions. Training an individual in the fundamentals of affiliate management and ad tracking with our standard procedure often takes 2- 4 months. Trainers are carefully selected from the pool of our experienced and knowledgeable affiliate managers. Once the account manager gains their footing, they are put on the path towards independence, and within a minimum of 6 months, they can carry out their duties with minimal supervision. Such decisions are made on a case-by-case basis. 
AV: How does DYNU IN MEDIA make sure their affiliates, especially their key partners, are happy? 
Our strategy comprises of several elements: 
We provide the affiliates with good campaigns that are diverse in GEOs and verticals. 
We are committed to offering the highest competitive payouts.
DYNU IN MEDIA uses a combination of proprietary tools to prevent traffic from being exposed to fraud and ensure well-converted offers for our partners. 
We have a dedicated and qualified account management team that is happy to go the extra mile to provide partners with clear, insightful assistance and make sure all their concerns are resolved promptly.
At DYNU IN MEDIA, making publishers' payments on time is our top priority. We pride ourselves in having never missed a single payment. The payment threshold is set at only $50. 
AV: What is the hardest request that you receive from partners? How do you (or your team) address it?
Sometimes our partners would like us to increase their daily budget for promoting campaigns while their traffic is not as good as we expected. It's tough because we're willing to allow our partners to try with a bigger budget provided they can reach their daily caps with good traffic. For such cases, we try to encourage them to optimize their traffic as much as they can and wait till the better result comes. 
AV: Why is account management important for any affiliate network? 
Account management is an important business process for cultivating long-term relationships with traffic supply partners such as affiliates, publishers, networks, and media buyers. This process is designed to accelerate all interactions with traffic suppliers to maximize the value of those interactions and reduce the risk of failure.
AV: What are the three essentials when working with affiliates? 
I would start with the onboarding process for new affiliates. Start with getting to know each other and learn about the affiliate's traffic. Help the new partners learn about the network, the cooperation terms, payment schedules, billing procedures and any other relevant information to the partnership. 
The second part involves prioritizing affiliate accounts where we focus on top converting sources that send sufficient volumes and quality of traffic.
Finally, performance tracking is important to ensure we have the required information to make decisions and craft strategies. 
AV: What are the pitfalls to avoid?
Dishonesty. Transparency in payments with publishers is critical, and each affiliate manager needs to be honest and ensure publishers receive their payments on time. Another pitfall to avoid is colluding with publishers to create dark profits. Such actions may damage the network's reputation and break relationships with other clients. 
AV: What are the absolute no-no's? 
Delayed communication. We won't make the affiliate wait on us too long for a response. Our team makes every effort to be on time for email/Skype calls and messaging with partners and strives to be consistent and proactive in our communication.
Unclear and late payment must be a big no-no because we know that affiliates won't like even a slight delay in payment or getting rejected conversions without justification. 
AV: How did you venture into account management?
I used to work at an Agency and had a passion for the account manager profession. I saw the job advertisement for DYNU IN MEDIA online and decided to apply. After a tough interview process, I officially became an official employee of DYNU IN MEDIA as an account manager.
AV: What helped an Affiliate Manager achieve success in this field? Particular soft skills or hard skills, experience with the industry, luck, this can be anything. 
I suppose a successful Affiliate Manager will be the one who:
Instead of continuously pushing affiliates towards our target, be innovative in developing proactive techniques to understand an affiliate's requirements and aspirations better and boost the affiliate's success. 
Be dedicated and truthful. Fully fulfill your obligations to your affiliates on time. Pay the bills on time, provide regular feedback, motivation through exclusive and direct offers, and provide special CPA rates and a good budget. If we cannot meet a commitment, we will try to communicate this as soon as possible.
AV: Where do you think account managers stand in the food chain in our industry? Why? 
Simply put, an affiliate manager is a liaison between a CPA network and its publishers and affiliates. Our main role is reaching out to new potential affiliates, managing their accounts in the tracking system, targeting problems before they even happen, and helping optimize ad campaigns. It's about knowing affiliates' business needs and stepping into their shoes to increase traffic volumes and reduce churn. A good affiliate manager should ensure the best traffic quality for the client and make sure that all the problems related to traffic quality are transparent. 
AV: What are three tips from you on how to stay productive and avoid burnout? 
First, always plan your daily working timetables with the checklists next to you to ensure you don't miss any requests from partners and meet the deadlines. Secondly, have weekly meetings with other departments to exchange ideas and talk about your difficulties and any problems. Take the time to share mutual leisure activities in the workplace to blow off steam. Finally, ensure you maintain a good work-life balance to help reduce stress and prevent burnout in the workplace.
---
We thank the DYNU IN MEDIA team and personally Ms. Fiona for their help in preparing this interview. If you'd like to get in touch with the team, check out the page with contacts. 

Share the article

Read. Learn. Do. Earn more money on Affiliate Marketing
Don't miss