The financial vertical is one of the most popular with affiliate marketers, as there are a lot of competing companies that fight for new and solvent customers. The two main areas within it are insurance and loans. On the one hand, the flow of potential clients is inexhaustible; on the other hand, users are more discerning in choosing appropriate offers.

This vertical is also distinguished by a very careful selection of affiliates, to prevent any kind of unfair play and fraud, so it might take some time to familiarize yourself with the code of conduct and get approval from the network. There are many universal affiliate networks, but taking into account the specifics of the vertical, we've made a list of the best ones for which finance and financial offerings are a major focus.
CJ Affiliate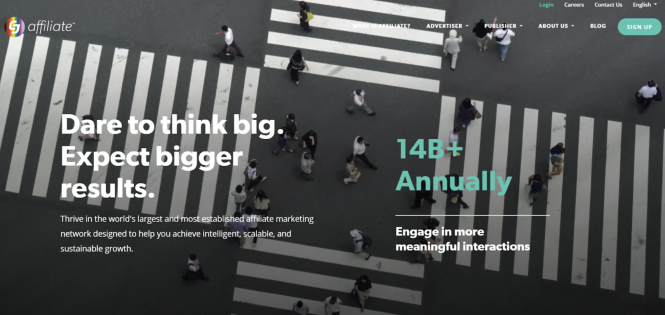 CJ Affiliate (formerly Commission Junction) has 23-years of experience in affiliate marketing. With such a long history, the company has a selection of exclusive brand offers and well-tuned tools for working with them.
Despite its long history, CJ Affiliate is quite modern inside and has a convenient interface, the registration process is smooth and straightforward as well. However, payments are not so smooth, according to reviews of the network: the choice of payment methods is quite limited, the commission is not transparent, and the speed of payment delivery is far behind its competitors. Still, CJ Affiliate is a household name in affiliate marketing and is worth checking out.
Number of offers: 2000+
Commission Type: CPA, CPL, CPS
Referral Commission: N/A
Minimum Payout: $50
Payment Method: Check, Fedex Check, ACH (Direct Deposit), Payoneer
Payment Frequency: once a month
Perform[cb]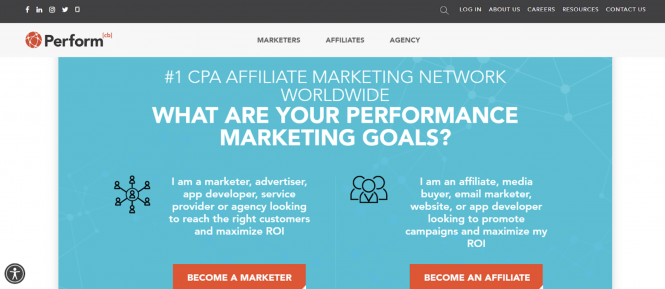 Perform[cb] is a long-established player in the industry; the company changed its initial name Clickbooth after the merger. Providing a large number of advertising services, they also have a wide range of affiliate offers.
The managerial team manually selects the best affiliate offers for each vertical, making sure they are compliant with the strict guidelines of the company. The support team is quick to answer any questions you may have. Compared to many companies offering offers in the financial vertical Perform[cb] seems like a player from a different league, but it has its disadvantages: they only focus on the US and Europe markets, and commissions are negotiated with affiliates individually.
Number of offers: 500+
Commission Type: CPA, CPI, CPL, CPE, CPS, CPC
Referral Commission: Individual
Minimum Payout: $50
Payment Method: Check, PayPal, Wire, ACH (Direct Deposit)
Payment Frequency: weekly
Lemonads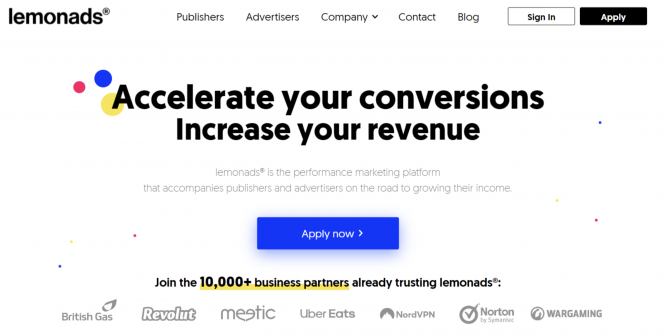 Lemonads – formerly Spicyoffers. The network's thoughtful design and achievements are immediately apparent: global reach and other metrics on the main page are updated every month, showing a decent amount of offers and a worldwide outreach.
The agency claims that it selects offers manually and works directly with advertisers and clients, which means that there are no junk deals in the verticals in which they specialize, including finance.This is ensured by the professionalism of account managers and a set of convenient tools for working with the network. For example its In-house software allows affiliates to monitor the success of campaigns in real time.
Number of offers: 1800+
Commission Type: CPA, CPL, CPS, CPI
Referral Commission: N/A
Minimum Payout: $100
Payment Method: Wire, PayPal, Paxum, ePayments
Payment Frequency: Weekly
doAff

Doaff.net was founded in 2011 and for a long time was a network with narrow specialization: it offers exclusive offers in the Health/Nutra and Finance verticals. It has recently expanded its reach, but if you're looking for a finance network, it's worth checking out.
For most of the offers, they support real-time tracking, in total the company works with 30+ countries and with the experience of launching more than two thousand ad campaigns is responsible for good results. It is worth noting a large number of withdrawal methods available to affiliates and the option to establish daily payouts.
Number of offers: 1000+
Commission Type: CPA/CPS/CPL/CPI/COD
Referral Commission: N/A
Minimum Payout: $100
Payment Method: Wire, PayPal, ePayments, WebMoney, Capitalist, Bitcoin, Paysera
Payment Frequency: daily
Fireads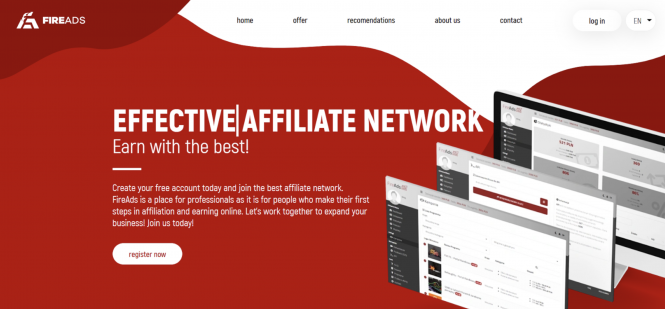 Fireads is a Polish-based affiliate network. It enters this list on the side of smaller affiliate networks, but it has its own obvious advantages: for example, their referral commissions are open and quite high – 5%. In total, the private network offers about 300 offers in several verticals.
A large number of payment methods, the low withdrawal threshold, and the ability to withdraw money instantly can also be written in its advantages. The network is beginner-friendly and seems like a good place to learn the ropes. Campaigns are easy to start and manage and there is English-speaking support always ready to help.
Number of offers: 300+
Commission Type: CPA, CPS, CPI, CPL
Referral Commission: 5%
Minimum Payout: $20
Payment Method: Bank Transfer, ePayments, Paypal, WebMoney
Payment Frequency: Bi-weekly, Instant
MyLead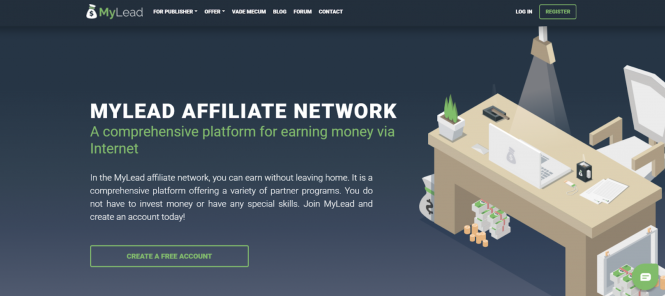 Mylead operates in several verticals, so the total number of offers reaches an impressive 3,000. Among these financial offers are some of the most popular. But what definitely sets it apart from other competitors is the abundance of information about affiliate marketing.
It has an active blog, plenty of FAQs, and guides that are all designed to answer the basic question of beginners in affiliate marketing. For the more advanced webmasters, Mylead provides enough tools and possibilities for implementation, good commission rates, and a decent choice of withdrawal options.
Number of offers: 3000+
Commission Type: CPA, CPS, CPI, CPL
Referral Commission: 5%
Minimum Payout: $20
Payment Method: PayPal, Skrill, Bank Transfer, Revolut, WebMoney, Bitcoin
Payment Frequency: Bi-weekly, 48 hours on demand
TORO Advertising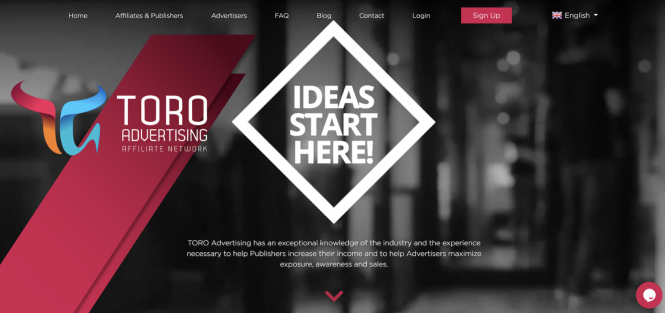 TORO Advertising is a European affiliate network. It is part of EXOGROUP, a group of companies dedicated to marketing in the digital space. Working in a number of verticals, including Finance, it has a pool of about 1,400 affiliates.
The CPA network is international, but it looks especially promising for those who want to work with European markets and Latin America. TORO's support even speaks French and Spanish, in addition to English. Speaking of revenue, they offer a 5% commission, which sounds like a good deal, but the minimum payout is comparatively high, starting from $200, so maybe it's not the best choice for a first trial campaign.
Number of offers: 1400+
Commission Type: CPA, CPS, CPL, CPI
Referral Commission: 5%
Minimum Payout: $200
Payment Method: PayPal, Payoneer, Wire
Payment Frequency: Weekly
Conclusion
This was the list of best affiliate marketing networks that deal with finance offers. Some of them have more offers, others have unique ones. You can choose a small network and establish close relations with their management or trust the big brand. The final choice is yours, we at AffiliateValley just hope that we made it a bit easier, selecting only the best of the best for you.
If we haven't mentioned any legit affiliate networks that should be on this list – write to [email protected] Let's make a list of reliable affiliate networks together!
Share the article

Read. Learn. Do. Earn more money on Affiliate Marketing
Don't miss