What is Twitch?
Twitch is a video game broadcasting and viewing platform where viewers have the option of "donating to" or "funding" their favorite players. It is a decent way of earning money. The platform allows a streamer to broadcast themselves playing a game, often with an audio commentary. Also, a chatbox assists players to connect with their audience. Active streamers are identified and invited into the Twitch affiliate program. If you achieve some requirements, you qualify to become a Twitch partner and earn more money through ad revenue. You can grow your Twitch audience through various channels, such as YouTube, Facebook, Twitter, and other sites dedicated to Twitch.

Overview of Twitch
Justin.tv was launched by Justin Kan and Emmett Shear in 2007, and it was divided into several categories. However, the gaming category grew rapidly in comparison to other categories, and it became the most popular section on the site. In June 2011, the company chose to spin off the gaming content to Twitch.tv. Within a month, Twitch had attracted over 35 million unique visitors each month.
By June 2013, the company had 80 employees who increased to 100 in December 2013. Its headquarters are in San Francisco's Financial District. Currently, the company has over 1200 employees. The company had three rounds of venture funding. They earned over $42 million from the venture funding. After 2013, the company became profitable.
Twitch's main competitor was Own3d.tv, but it was closed in 2013. Therefore, Twitch gained popularity by a large margin and some experts believe that the company is almost a monopoly. Its competitors, such as DailyMotion and YouTube, have had a smaller impact. By the end of 2013, the company had over 43 million viewers. In 2014, Twitch became the fourth largest source of internet traffic in the US during peak hours. In August 2014, Amazon acquired Twitch for $970 million. Emmett Shear continued as the chief executive officer (CEO).
In June 2016, the platform introduced a new feature called "Cheering." Cheers are forms of donations bought in a currency called "Bits." This feature allows affiliates to earn from the cheering Users earn badges on the site according to how much they have cheered.
What is the Twitch Affiliate Program?
Twitch affiliate program allows streamers to make money from their passion for streaming. After you register in their affiliate program, it allows you to earn money in three ways:
Earn revenue from the sale of in-game items or sale of games on Twitch.
Earnings from subscriptions.
Earnings from "cheering" or donations from your viewers in the form of Bits.
The Twitch affiliate program allows qualified streamers to earn a living from what they love doing, streaming. After becoming an affiliate, you can build your audience and work towards becoming a Twitch partner. Most broadcasters and streamers covet the partnership status due to its rewards. There are requirements to become a Twitch affiliate:
Have at least 50 followers.
At least 8 hours broadcast over the past 30 days.
An average of at least 3 concurrent viewers over the last 30 days.
At least 7 unique broadcast days over the last 30 days.
The Twitch partnership program allows you to earn from the subscription and advertisements revenue received by Twitch. Acceptance into the Twitch partnership program requires specific requirements, such as a minimum number of broadcasts weekly and a minimum number of viewers. The requirements include:
An average of at least 3 concurrent viewers.
At least 50 followers, over the past month.
You should have 7 unique broadcast days.
The broadcast minutes should be at least 500 minutes.
Notably, Twitch has partnered with particular game development companies to offer rewards to outstanding gamers, such as scholarships. Also, the platform allows e-tournaments to reward winning players.
How Do You Apply Or Sign Up To Become A Twitch Affiliate?
You cannot apply or sign up to become a Twitch affiliate. The company policy states that they will invite qualified streamers via an announcement, email, and notification in their dashboard. You should first register as a streamer on the site and attain the requirements mentioned earlier. If you achieve the requirements, Twitch will invite you to become a Twitch affiliate.
How to Create an Account in Twitch?
Visit the Official Twitch Website and click sign up.

After clicking the Sign Up option, ensure that you fill in your personal information correctly.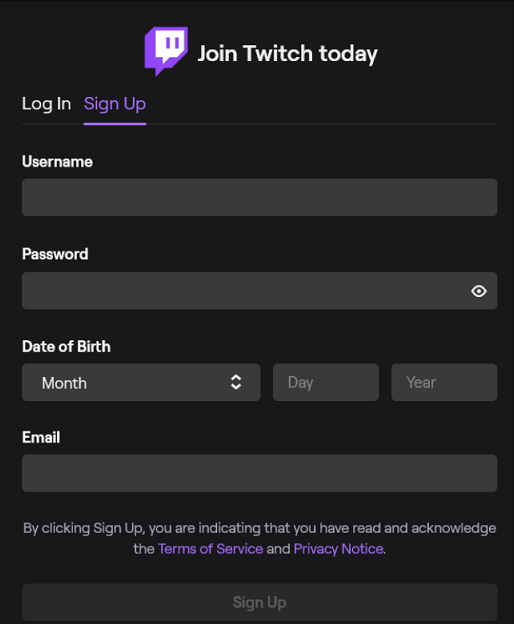 You will verify your account by filling in the 6 digit code that will be sent to your email address. After filling in the 6 digit code, click submit.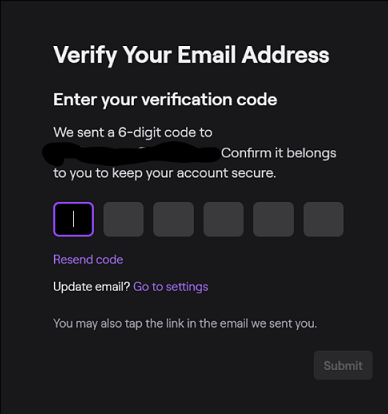 After verifying your email, you will identify and select 3 or more videos and channels that are being streamed. Identify the categories of games that you like. Click Done.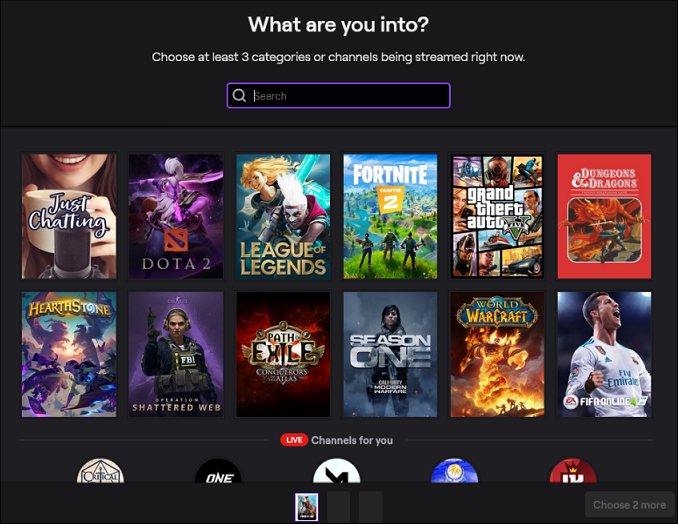 Your new account or dashboard will be created according to your preferences.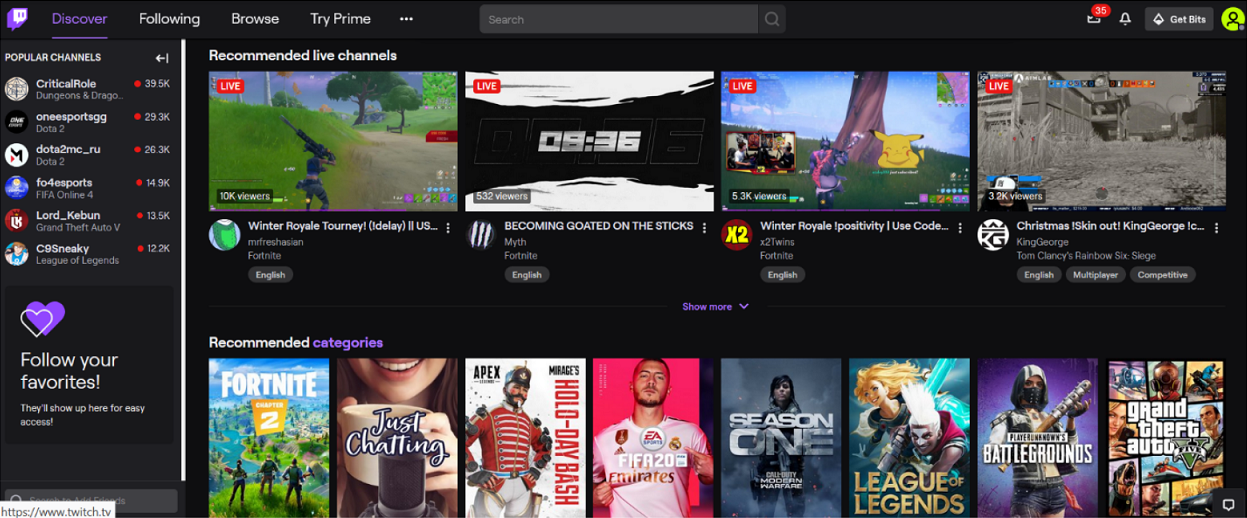 You can now stream into the live channels and start your journey towards becoming a Twitch Affiliate.
How to Grow Your Following and Community to Become a Twitch Affiliate
There are many users on Twitch, and you must create a unique personality or identity to grow an audience. What are you excited or passionate about that is different from other streamers? You can begin growing an audience from your family and friends before developing a local or even a global audience. There is no specific technique for growing a large audience. However, this review will give you a fantastic guide to grow your audience through the simple steps below.
Planning
For you to become a Twitch affiliate, you must realize that the program may get in the way of your passion and hobbies. However, you must organize and plan to avoid future problems. Proper time management will allow you to stream as much as possible.
Notably, the Twitch audience is different from YouTube. The Twitch audience prefers a stream that is longer than two hours. The longer the stream, the higher the chances of growing an audience. Use a calendar to organize your potential title ideas, schedule, and games. You can also take advantage of special events and days to boost engagement and viewership. Developing a strategic plan will give you spikes of success that will ultimately boost your channel and viewership.
Consistency
Consistency is one of the most crucial strategies for Twitch. Your stream should appear on schedule so that your audience can share the information with other users. Ensure that you make a schedule and stick to it. It is one of the most critical factors when becoming a successful streamer.
Hosting
The streaming platform allows you to host a fellow broadcaster. It usually occurs at the end of the stream, but you can do it mid-stream. It is advisable to host someone who plays the same game. Ensure that you befriend another broadcaster and identify the issues that you will discuss. It will boost your audience.
Auto-Hosting
The platform's settings allow you to auto-host. You can identify and select broadcasters who can appear on your stream when you are offline. Ensure that you auto-host broadcasters who play similar games with you and your audience.
Category of Games
As a new user, you should stand out from thousands of other streamers. You can choose a popular game, but it may have many streamers, and it may be difficult to grow an audience. However, a more strategic approach would be identifying a semi-popular game. You can play different games and identify your strengths. Identify your best game and specialize in it.
Interacting with Your Audience
Interacting with your audience is one of the best techniques for attracting and retaining viewers. It is the main selling point. You should not chat away playing a game and ignore viewers when they ask questions. Viewers enjoy asking questions when a broadcaster is playing a game.
Networking and Joining a Community
You should be part of the gaming community. Spend some time in other people's streams and learn a few things. Become a member of social media groups dedicated to streaming or the game. You can also join Twitch teams. However, do not spam other users!
Quality Video and Audio Streams
The design of your channel and live streams should be of high quality. Viewers will automatically judge your stream according to the quality of your video and audio streaming.
Conclusion
The review has given you the most complete and accurate guide to earning money as a Twitch affiliate. If you use the strategies mentioned earlier, you make money ranging from a hundred dollars to thousands of dollars. The minimum payout in Twitch is $100 per month. Join the Twitch community and start earning money in the comfort of your home.
Share the article

Read. Learn. Do. Earn more money on Affiliate Marketing
Don't miss