Playfina Partners is an official affiliate program launched by the first-tier advertiser of online casino Playfina. Despite the fact that it is a rather fresh project launched on July 27, 2022, its managing team is a well-known player in affiliate marketing. Read further to find out why Playfina Partners is worth your attention. 

Playfina Partners – What is it?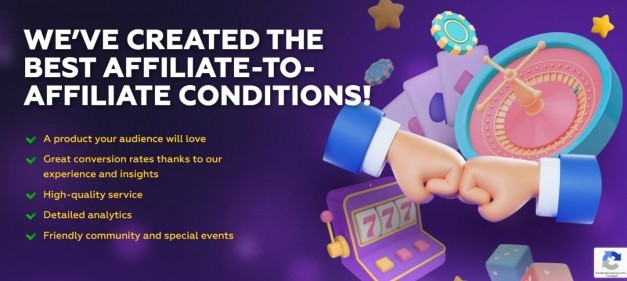 Playfina Partners positions itself as a direct affiliate program of Playfina casino created by affiliates for affiliates and offers the best conditions for its partners. The head company is a large SEO holding having a vast experience in successful implementation of all kinds of affiliate programs. It has a very clear understanding of what its affiliates want and what should be done to increase conversion rates and generate more income. As a part of its expanding strategy, the holding has decided to launch its own program in gambling with plans to add betting in the nearest future. 

The primary goal of Playfina Partners is to create a community of top professionals and experts in affiliate marketing who can get access to some really valuable and reliable data and share it with each other. The main condition for joining the club is to have a proven expertise in the source of traffic. 

Let's have a closer look at what the platform can offer.

Registration Process
Registration on the Playfina Partners is free for both rookies and professionals. Once you fill in all the required data, it is necessary to have a personal contact with the support manager – the person who approves your account. It is a compulsory step. Access to the affiliate's traffic statistical data is requested only in case when they want to work with CPA or Hybrid payout models. 

Features
The platform offers a user-friendly interface and access to all the necessary statistical data, information and built-in tools for P2P integration in one place. The data is refreshed and updated on an hourly basis which gives an opportunity to make decisions, respond to challenges, monitor conversions, and other important metrics practically in real time.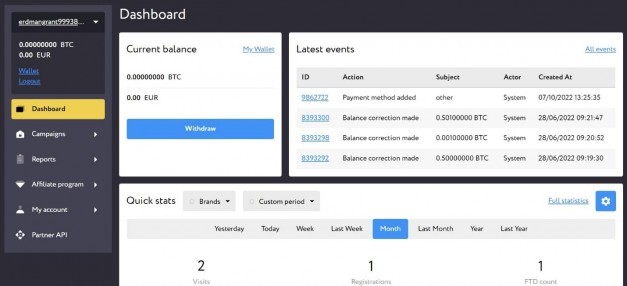 One more useful feature of the platform are the postbacks that can be configured and set up by the affiliate or the personal manager. 

Financial transactions on the deposit are also easy to follow. All the top ups, withdrawals, commission fees and their actual status are available 24/7 which makes them really transparent.

Payout Models
Playfina Partners offers two basic payout models: revenue share and CPA. And their hybrid, of course. 

Default conditions for RevShare vary from 25% to 45% and depend on the number of first-time deposits (FTD) per month. 


And don't forget that this program is really designed for affiliates! Each new partner has a 50% RevShare for the first 3 months. 

Terms and conditions on CPA and Hybrid models depend on geo and traffic type. Each affiliate is sure to get a personal approach and find some really good offers for collaboration. 

Payouts (minimum 20 Euro) are delivered on a regular basis with no delays: each 14 days for a CPA and 30 days for RevShare and Hybrid. Bank Wire, Skrill/Neteller and Crypto (ETH, BTC, USDT and LTC) are available for withdrawals.

Geos and Traffic
Playfina affiliates work in such geos as Canada, Australia, Germany, Austria, New Zealand, Norway, Ireland, and Portugal. Traffic from the first four regions is the most preferable at the moment. 

When it comes to the sources of traffic, the available options include SEO, ASO, PPC, FB/UAC, mailings, streamers and no mixing is allowed. But this list is expected to be supplemented in the near future. 

Care for Affiliates
As we have already mentioned, Playfina Partners was created for the affiliates and really takes care of them. All the affiliates get access to unique promo codes which help to increase conversion on FTDs from the traffic. And users tend to like bonuses they haven't seen on the casino website. 

What is more, if affiliates are low on budget and can't afford a designer, copywriter or a coder, they can contact Playfina support and ask for creation of a personal landing or some other promo material. Absolutely free!

Support is officially available 10:00-19:00 GMT +3 from Monday to Friday, but affiliates are highly likely to get the answers they need even during the non-working hours. Principle "affiliates first" works here as well. 

All the members of the support team have a long-term experience of collaboration with different types of customers and a high level of professional competence. 

Reasons to Join Playfina Partners
Playfina Partners has some serious advantages for its affiliates. 

Direct offer from the advertiser.

High conversion rates thanks to vast experience and insights.
Access to the private community of professionals (if you are a professional yourself).
High LTV thanks to high-quality retention (mailings, promos, bonuses, push notifications, SMS messaging, call center, etc.).
Access to detailed statistical data.
Personal approach to each affiliate is a part of the corporate strategy.
Referral payout up to 5%. 
Free services like landing creation.
A variety of available traffic sources with exclusive conditions.
Transparent financial model.
Curacao license.
If you are a member of the target audience, you can also find some pros.

Regular bonuses, discounts, tournaments, and lotteries.

System of missions and achievements.
VIP-program with a Lamborghini car as the main prize.
Superfast fiat and crypto payments.
Summing Up
Playfina Partners is an affiliate program created on a brand-new approach – affiliates-to-affiliates. Thanks to it, webmasters get better conditions for their activity which start with personal approach and finish with higher than the average commissions. 

The private community of the professionals which is being created while you are reading this article has all the chances to grow and develop on a permanent basis and drive affiliate marketing to the whole new level where people can share their knowledge, ideas, strategies and approaches and find new partners or even friends. 

Playfina Partners is really passionate about what it is doing. The company has a clear understanding of how all the processes function, grants access to high quality data and insights, offers a modern platform with a great number of implemented features. 
Share the article

Read. Learn. Do. Earn more money on Affiliate Marketing
Don't miss