Something is in fashion, something is out of fashion, and there is something that will last forever. This eternal is the Dating vertical and offers that will always be relevant – in quarantine, on vacation, at any time of the year and regardless of the situation in the country and the world. The popularity of Dating websites will never fall, and the CPA networks pay good money for the leads in dating offers. This is why Dating is one of the most popular affiliate marketing niches.
Types of Dating offers
There are three main types of dating offers – adult dating, casual dating, and mainstream dating. Let's look at each of them separately and find out how they differ from each other.
Mainstream Dating is good for those who are looking for a long-term relationship in real life. Usually, such Dating websites bring together people with common interests, views on life, religious beliefs, and so on.
Casual Dating. These websites or apps are all about one topic – sex without any commitment.
Adult Dating. This dating vertical is still one of the most popular among those who work with adult dating traffic. Adult Dating traffic is most often driven to niche dating offers, such as black BBWs, Mature, milfs, gays, lesbians, and the elderly.
When working with dating offers, such payment models as RevShare, PPS, PPL, and others are used.
RevShare (Revenue Share — a percentage of revenue). The basic principle of this model is simple – the affiliate receives a certain percentage of each user's purchase.
PPS, or Pay per Sale, is one of the most common models in affiliate marketing. It presupposes that a web publisher receives a commission from the purchases of the customers attracted by him/her.
The PPL (Pay per Lead) model can be divided into two types:
a) SOI (Single Opt-In): the user specifies his/her email address, and this is counted as a conversion. SOI leads are much easier to generate
b) DOI (Double Opt-In): the funnel is still quite simple: the user specifies his/her email address and receives an email with a link to confirm this email address. The user clicks on the link, and you are credited with the conversion.
Where to get Dating offers?
Many affiliate marketing programs work with dating offers, many of them have their in-house offers, and some act as an intermediary. The representatives of affiliate programs can help with the selection of offers for your traffic source, recommend creatives, approaches, and GEO, traffic optimization, and raise payments depending on your traffic quality. Let's consider some popular affiliate marketing programs working with dating that we believe are worthy of your attention.
Insparx

Insparx is a direct advertiser that has an affiliate program. They have developed several dating brands like Singles50, Academic Singles, Be2, C-date, and New Honey. They are eager to provide an affiliate with offers of any type (casual, adult, mainstream) and a wide range of landing pages for each of them. Their differentiating feature is that they primarily work with Tier-1 and DACH markets. CPL and CPA are used as payment methods. You can withdraw your money starting with $50 and using Wire Transfer or Paxum.
TopOffers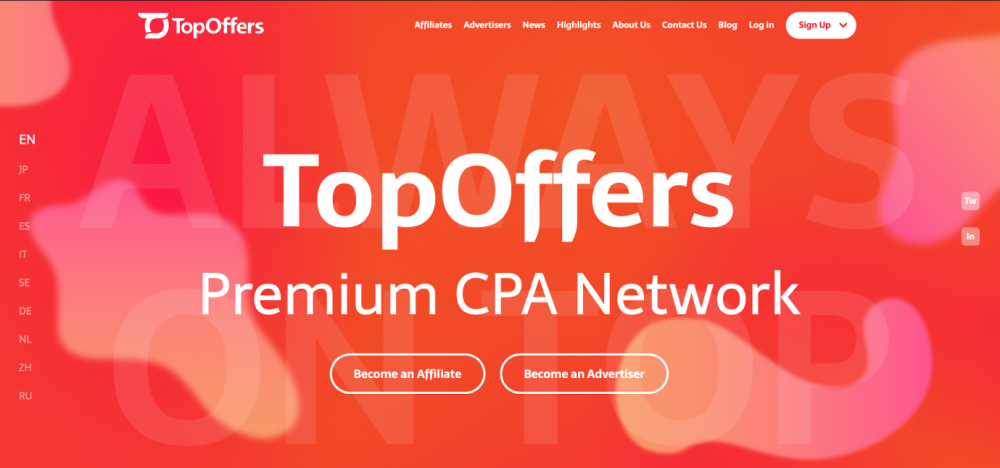 TopOffers is an affiliate network that can offer both direct and indirect offers. Again, you can choose between casual, adult, and mainstream. They have a lot of attractive landing pages for all of them. Besides, the network will give you useful feedback about the traffic you drive. In addition to Tier-1 and DACH, the affiliate network focuses on Asian offers and not only. The starting point for withdrawal is $500 for Paxum and BitCoin and $1000 for Wire Transfer.
CrakRevenue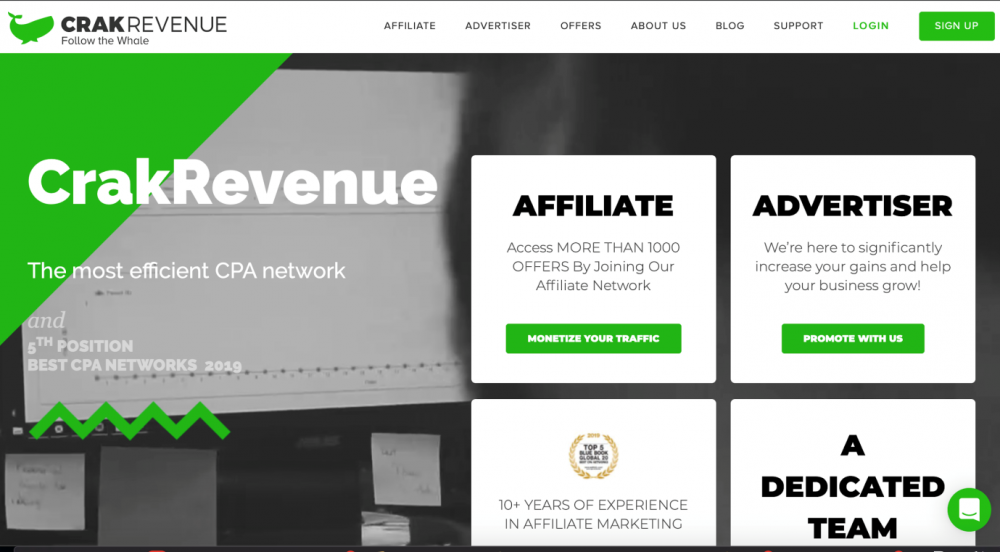 CrakRevenue has shown itself extremely well in the market of dating offers for the last decade. Their verticals are Dating itself plus Adult Games, Health and Wellness, and Webcam. These guys have reliable support that strive to assist you at any stage. Besides, they have quite low rates for withdrawal – $20 for Paxum, $2 if it's Chek and $20 for Wire Transfer.
MyLead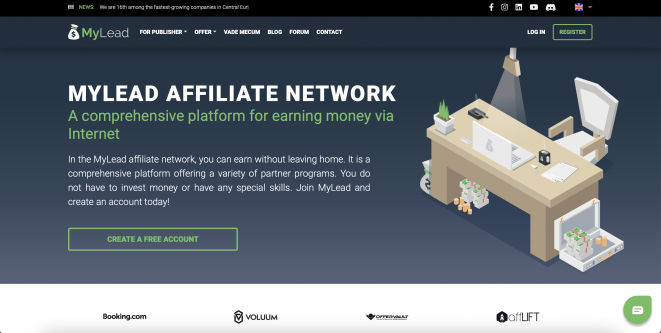 MyLead is an affiliate network that's been in the industry since 2014. What distinguishes it from other networks are the amount of free materials, like ebooks (about using chatbots for promoting Dating campaigns, bypassing Facebook limits, etc.) and an extensive blog with frequent publications from affiliate marketing specialists that work at MyLead. Apart from that, you can also find useful materials, like various landing pages that are given away for free, or free monetization tools, like Content Lockers, Smartlinks or a link cloaking system, called HideLink.

Cupid Media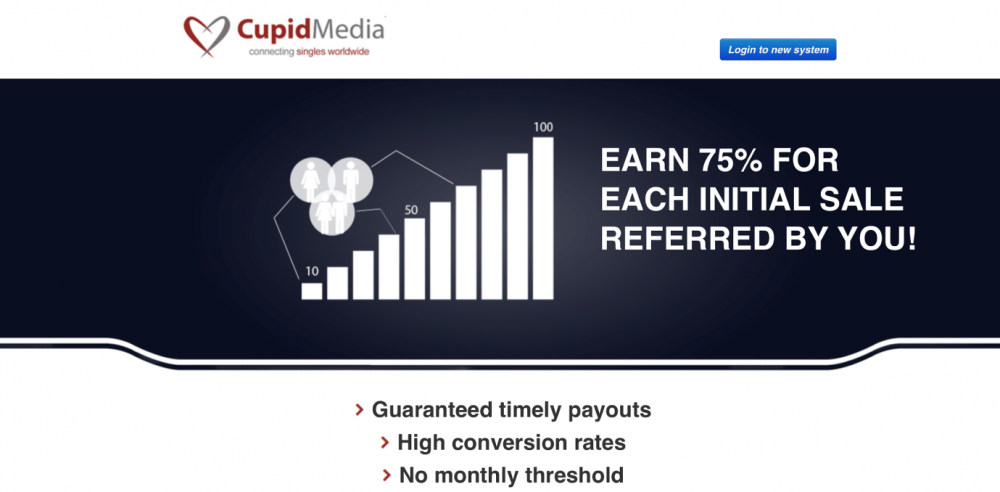 Cupid Media is one of the biggest online dating companies. They manage 35 niche dating offers developed based on ethnicity, religion, lifestyle, and certain interests. Most of these dating offers are focused on one country but you can find some niche websites that would be focused on certain topics – single parents, gays/lesbians, and so on. You can withdraw your earnings once a month using Skrill.
VIPOffers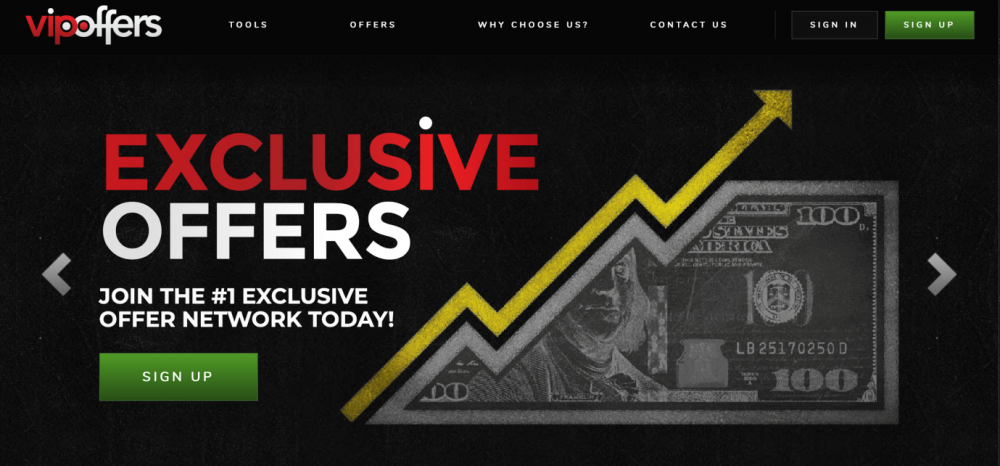 Vipoffers is a direct advertiser with a large number of exclusive offers in such verticals as dating itself, adult websites, and adult games. It's a unique creator of customized landing pages. The network mainly focuses on English-speaking countries. CPA and CPL are the payment models. They work with any type of traffic – email, pop, display, push notifications, social media, and so on. Support is extremely responsive and will even assist in creating a white label for reputable partners. You can get your money starting at $250 using Paxum and Wire Transfer.
Dating Gold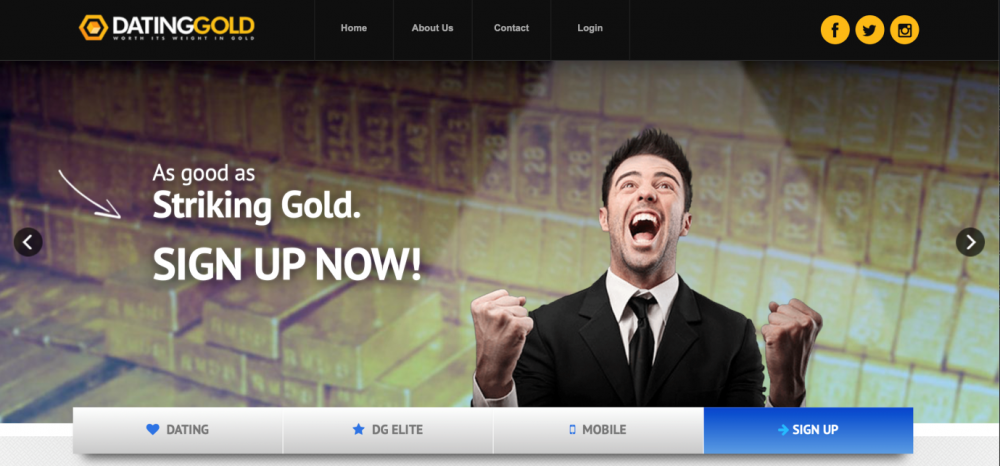 Dating Gold has been one of the most long-playing networks for the last decade, if not more. They have had a lot of time to understand how to make good conversions and not to lose clients. Thanks to their well-optimized work, they can offer the highest rates of payout in the niche. Such an optimization depends on a team of highly professional experts that have many instruments and strategies to boost conversion. Use Paxum, PayPal, Payoneer, Wire Transfer, or Chek to get your commission with a minimum of $50.
Leadbit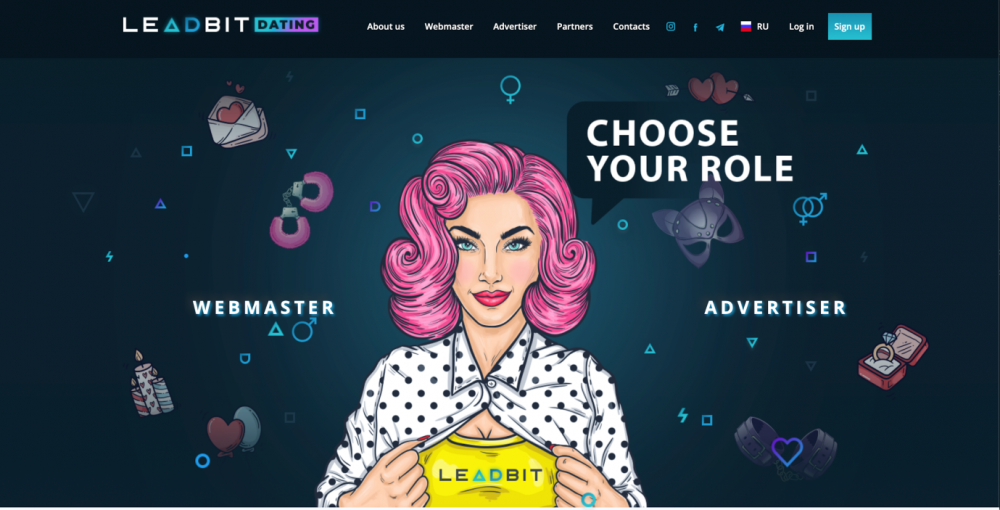 Leadbit is an affiliate network that started in 2013. This affiliate network works with a wide range of verticals, and Dating takes its considerable place among them. They have WW offers from the best direct advertisers and 30+ countries as GEOs. Their team of experts will definitely provide you with some nice creatives, effective pre-landers, and traffic optimization tools. You need to have at least $30 to withdraw from your account. You can use Paxum, Wire Transfer, Webmoney, and Capitalist to get them.
Cpamatica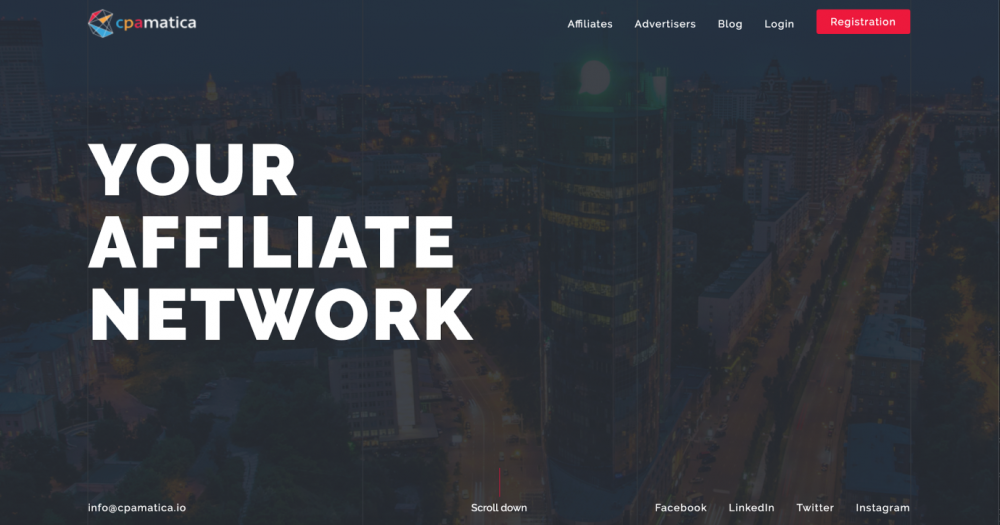 Cpamatica is an international affiliate network with Dating (adult, casual, mainstream), Adult Games, Sweepstakes, and Health and Wellness being their priorities. CPA, CPI, CPL, and CPS are the working models of the network. The team offers its own statistics collection system, sub-accounts, ready-made landings, and pre-landing pages. They have offers from direct advertisers and their in-house offers for any GEO. You can withdraw at least $50 by Webmoney, $250 by Payoneer, $500 by PayPal and $1000 by Wire Transfer.
Conversion Sharks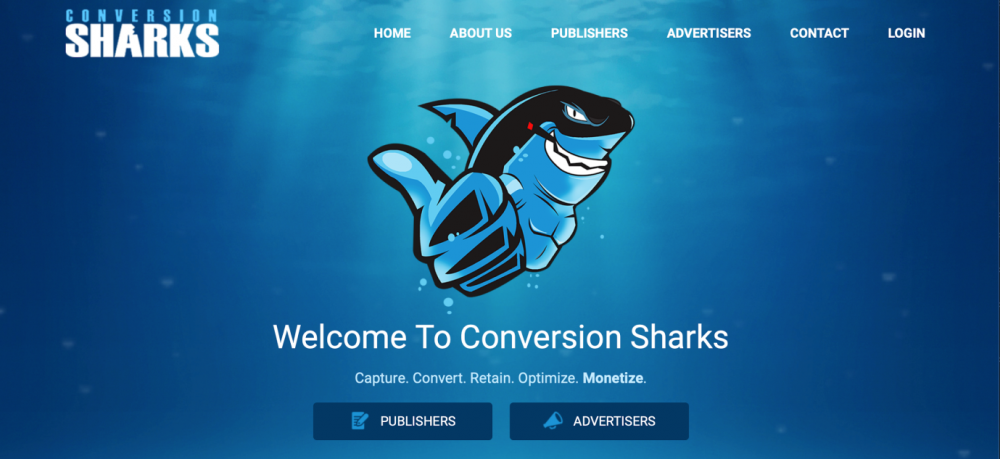 Conversion Sharks is the affiliate marketing network developed by a team of guys who have been working in online marketing for over 2 decades. Luckily for us, they have always paid special attention to the Dating vertical. Conversion Sharks has more than 300 direct offers, exclusives, white labels, and its own SmartLink with manual optimization for each affiliate. Nice set, isn't it? You can withdraw a minimum of $500 through Check, PayPal, or Wire Transfer.
C3PA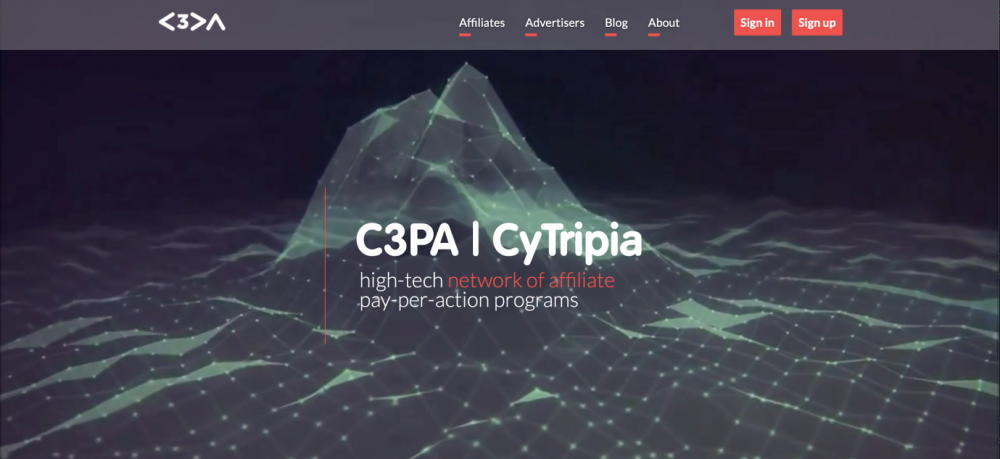 C3PA is a high-tech network of affiliate programs. They started in 2015 and by now have gathered 100+ partner programs providing traffic monetization in 12+ directions. Dating is the vertical that takes a considerable place among them and provides exclusive offers that promise good conversion and ROI. In general, the network focuses on English-speaking countries – Great Britain, Canada, and Australia are among the first ones. The guys provide some high-tech back-end solutions for their offers that can make EPC really nice. You can withdraw a minimum of $20 by Webmoney, PayPal, or Wire Transfer.
Dating traffic sources
We have reviewed popular dating affiliate marketing programs where you can choose a dating offer for any GEO and any traffic source. Now, let's take the dating top traffic sources that the market is ready to propose now.
Facebook Dating traffic
It's no news that Facebook traffic is the main source for many affiliates who work with the Dating vertical and not only with it. Affiliate marketing and social media have always been hand in hand. There are obvious reasons for this. Facebook has a huge audience, the campaign is easy to scale, it is possible to fine-tune targeting and get a lot of leads for little money.
With all the advantages of this traffic source, it is worth remembering that Facebook doesn't welcome Dating, so you will have to use cloaking and stock up on accounts for your advertising campaign. Basically, Facebook is better for experienced affiliates, it will be extremely difficult for newbies to work with dating traffic on Facebook without the support of a personal manager, experience, and patience.
Please note that Instagram ads are configured similarly through the Facebook advertising account, so there are the same introductory conditions for the promotion of Facebook dating ads just like on Facebook itself.
Social media
This traffic source is usually used by spammers. The classic approach is to create mass accounts of beautiful girls, to spam in communities, to add people to friends. For the user to see the offer, the affiliate leaves a link in the description or on the page. By the way, the same works on Instagram, TikTok, and even in the comments under the video on porn sites.
Now more and more affiliate marketing networks refuse to accept spam traffic. Before planning any advertising campaign, be sure to study the offer page or consult with your personal manager about acceptable traffic sources.
Dating traffic with push notifications
Push notifications are probably one of the most accessible sources of traffic for Dating. First, it's enough to spend $20-30 to test and find the profitable set of offer + creative+GEO here. Secondly, push notifications are configured and run very quickly. You can build a campaign from scratch and set up a postback in one and a half to two hours. Third, you don't need to think about bans and blockages.
Dating traffic with TikTok
The growing young social network TikTok can still be used as a traffic source for Dating offers. It is very easy to register an advertising account in TikTok. This is a fairly fresh traffic source that shows itself very well on different verticals, the dating vertical is not an exception.
Ad networks
Many adult sites, as well as mainstream dating websites, provide banners, native ads, pop-unders, push notifications, prerolls, and other advertising formats to various ad networks for ad placement. Advertising of adult dating offers on adult sites is one of the most relevant methods in the dating vertical because the traffic is very relevant, and the support of a personal manager helps to achieve high volumes and optimize traffic efficiently. We have made a selection of the most popular ad networks with adult traffic that you can use to work with the dating vertical.
Conclusion
The dating vertical is one of the most stable niches in affiliate marketing today. There are a lot of players on the market with countless offers in different GEOs and different categories. We have collected for you the best affiliate marketing programs with proven offers and the best support! To start working with dating, you only need a desire, a traffic source, and an affiliate program. Then its managers will help you to choose the best offer and will provide you with promotional materials.
Share the article

Read. Learn. Do. Earn more money on Affiliate Marketing
Don't miss