Is the fate of push-notification traffic at stake? Top advertising networks should not start panicking yet; instead, let's try to understand it in an orderly manner.

How it all began
Google and Mozilla took the first step towards tightening the rules for sending push-notifications, thereby making it difficult for large advertising networks and thousands of affiliate marketers who are engaged in this practice.
The reason for this was the complaints from users who received a ton of spam and aggressive advertising notifications from sites instead of the content that was promised during the subscription.
A few days ago, Mozilla announced that it had conducted a monthly beta study of Firefox to find out how users interact with push-notifications and analyze their involvement.
According to Firefox Beta statistics on push-notifications, from December 25, 2018, to January 24, 2019, only 3% of users followed the pop-up notifications. Most of the push-notifications were just closed, and 19% of visitors immediately left the site after receiving the notification.
The results of this study led to the following experiment in Firefox, designed to reduce spam in the form of push-notifications.
From April 1 to April 15, in the Beta Firefox Nightly browser, offers to subscribe to push- notifications did not appear until the visitor clicked on the site element or presses the key that activates it.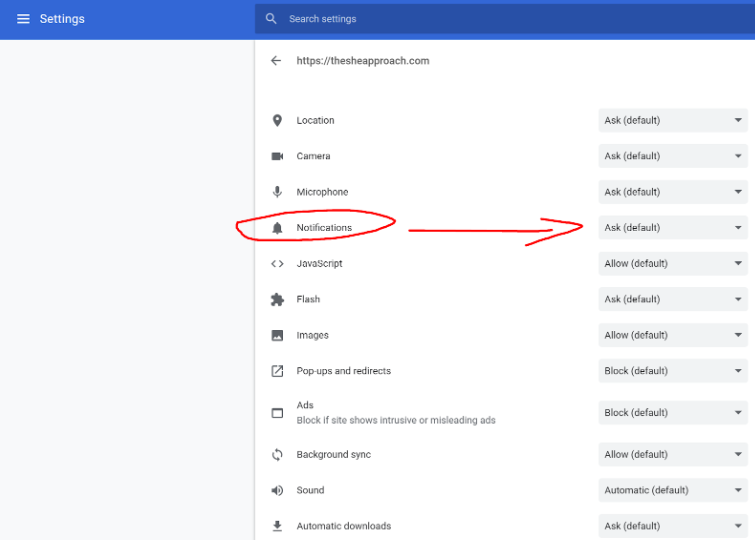 And in the second half of the experiment, from April 15 to April 29, Firefox added a small icon, that must be clicked if you want to subscribe for push-notifications.
After the experiment and analysis of the data, Mozilla will plan the next steps to optimize user interaction with push-notifications.
A similar announcement was made by Alex Russell, a senior software engineer on the Google Chrome team, who tweeted Google's efforts to reduce push-notifications spam in Chrome.
The Google Chrome team believes that only sites with a high audience engagement rating may offer a subscription to notifications. But then, everything is not so simple: engineers also want to make the possibility of a subscription solely part of the PWA (progressive web applications), one of Google's priorities. However, official statements have not yet been released.
Should I start worrying as an affiliate marketer and look for a new source of traffic? To answer this, we decided to contact the representatives of top push advertising networks - Megapush, PropellerAds, and DatsPush, and find out if they are ready for such changes, and what awaits push-notifications in the near future. 
See also: Case study: Ecospray with 171% ROI
What awaits the push-notification in the near future?
What do you think about the possible "death" of push-notifications: is it technically realistic, what regulations can there be, are you ready for changes?

Armen Kharberdyan, СОО Megapu.sh
We are ready for the changes, never standing still and always pushing forward. We add various details when creating campaigns, and use new approaches in the final push format form, as it is delivered directly to the user.
Will Google be able to close push-notification so that the advertising networks could not sell in push format? Google will never close push-notifications as a feature because it is the technology that was inherited from past generation browsers (as Google itself claims). Most likely, in the near future, Google will complicate the process of subscriptions, thereby making the subscription and any interaction of the user with the push-notifications less aggressive.
There are always ways to adapt to new changes, and we are ready for this.
You can also check our Case Study: Male enhancement offer from Dr.Cash + India from Megapu.sh = $4465

 Alexander Vasekin, CRO, PropellerAds
They talk about the "death" of Push-notifications almost from the moment of its appearance. In fact, so far, there have been no serious indications that would make us or our affiliates seriously worried about the future of push-notifications. We know this well because we monitor the market day and night and have to be aware of all possible changes in advance.
But some changes to push-notification is still of concern and here's why.
The number of push networks is growing by leaps and bounds, but not all of them monitor the quality of their campaigns: poorly written texts, irrelevant content, uncontrolled frequency of sending Push-notifications to one user, and so on. This is reminiscent of the "Wild West", which must be put in a certain framework.
I think that the process of subscribing the user to the Push mailing list will become more complicated, and the process of unsubscribing - on the contrary, will be easier for the user.
We are ready for changes because the foundation of our inventory is direct platforms that sign users on their sites and do not use elements of social engineering. Therefore, such subscribers will not be affected by the changes made to push-notifications.

 Maxim Averin, CEO DatsPush
Various ways are possible. Alternatively, browsers can fix this format. But it seems to us that this would not be logical since there is a tendency of leaving push-notifications to white resources and notifying users about important changes. Therefore, regulators will not fully stop push-notifications.
Most likely, regulations will be introduced; as an option, browsers will complicate the subscription process so that it is not abused. Firefox and Google Chrome are already working on it.
We are ready for changes and monitor the market situation. To be forewarned is to be forearmed.
How long, in your opinion, will push-notifications remain in the format we see now, and what changes may be made (it may be restricted only to white offers and also reduce the number of notifications sent)?

Armen Kharberdyan, СОО Megapu.sh
This is a bit of a difficult question because when Megapush was presented to the world at the end of 2017, or more precisely, on December 2, 2017, in March 2018, this question was asked: "What do you think, how long will this format hold and what will be after? " And as I answered before, I will answer now. This format still holds, is gaining momentum, and will continue to be relevant.
As for the transition to the white offers, then yes, you will most likely have to switch to the white offers, but you have to understand the difference, for each person the white offer is perceived in its own way. It may be necessary in time to tighten the rules and tolerances to the push format a little bit, but this will not have any significant effect on affiliate marketers.
I remind you that, unlike many other ad networks, we send 5 to 7 push-notifications per day, no more. At night we do not send push-notifications. At night, we can only send a push in the desktop format, since a notification arrives only when the desktop is turned on, it does not disturb the recipient.

 Alexander Vasekin, CRO, PropellerAds
The Push-notification market will change. How quickly depends on browser manufacturers and the aggressiveness of advertising networks with Push-notifications.
Again, the subscription / unsubscribe flow will change. But this is not a simple task for browsers: it will be important for them to act carefully so as not to kill the entire feature. Therefore, in the short and medium term, we still do not see risks.
At the same time, the only logical vector for the development of Push-notification is quality. It is necessary to take into account the interests of the user, send a small number of messages, stop annoying ads and subscriptions. Then this feature will be as efficient as possible and user involvement will be much higher.
Our company is working in this direction, we have become the flagship for the regulation of advertising content and quality in Push-notifications. We hope other players will support this trend too.

 Maxim Averin, CEO DatsPush
It is difficult to predict, but everyone knows that Google is quite slow in terms of reactions to new trends, as they have their own vision when it comes to the development of the Internet. I do not think that changes in push-notifications are a priority in their plans. Perhaps the changes will be with the release of a new version of Chrome, maybe in six months, maybe in a year. As an example, we can recall the extensions: they have flooded the browser for many years now, and Google has not actively fought against it.
Regarding the changes in push-notifications, I think, it does not make much difference to Google that they are sent and they will not moderate it. As an option, Google will make restrictions - not more than 4 push-notifications per site.
What will happen to push-notifications in a year? Should affiliate marketers working with push-notifications start learning other advertising formats?

 Armen Kharberdyan, СОО Megapu.sh
What other formats exist today that can show the same results as push notifications?
I think the answer is obvious; there is no such format. We, the Megapush team, both the project management and the staff, are not going to yield to any other formats, and if there are other formats, then I assure you, most likely we will offer them ourselves, perhaps in the very Megapush, or perhaps in another project.

 Alexander Vasekin, CRO, PropellerAds
I think that in a year we will already be working on Push-notifications within the framework of new realities. Some changes will definitely occur. There will be a consolidation of the market; small players will not be able to work in the new conditions; the large ones will change their business model and will focus on quality.
The world of affiliate marketing is in itself quite dynamic, and I know a few people who are committed to one single format and have never tested others. You can not keep all the money in one pocket, or you may lose everything at once. The more inventory and options, the more opportunities to earn money. Therefore, it is important to test, try new, and be able to work with multiple formats.
But you and I understand that there is an obvious difference between Push-notifications and Popunder. Not everyone is ready to scale the Push Campaign on Popunder, and the conditions of not every offer will fit Popunder traffic.
If you are an adherent of native formats and want to find an alternative to Push-notifications - try Native Ads. These are native widgets that already show outstanding results, even though we have just released them recently.

 Maxim Averin, CEO DatsPush
Should the affiliate marketer master new formats? I think this is the essence of the work of affiliate marketer is always to be on the wave of innovations, know the trends and work with all formats. But this does not mean that you can hammer in on the push-notifications.
Regulation is coming, tougher moderation and the tendency to change the format as a whole - does this mean that push-notifications will be more expensive?

 Armen Kharberdyan, СEО Megapu.sh
The price of push-notification is not based on what regulation is acting on them. The price is based on the relevance of the format, i.e., competition within a network. For an affiliate marketer, there is always a limit which when crossed is no longer profitable for him or her to buy traffic. If traffic is more expensive than this limit, then it will not be sold. The regulation will raise the cost for the network itself; if it is not profitable for it to do this, then it will not do it.

 Alexander Vasekin, CRO, PropellerAds
Of course, they can go up. If the frequency of sending Push-notifications drops, the price tag on the market price tag will increase significantly.
But we manage to keep the minimum CPC and CPM rates stable for all GEOs. We also do not plan to raise prices in the near future. The minimum CPM for all countries is still $ 0.01; the CPC is $ 0.005.

 Maxim Averin, CEO DatsPush
Regarding white offers and price increase, it is natural. The more complex the subscription process, the more expensive it will be to get to the subscriber. To make profit, it will be necessary to sell advertising more expensive, and the cost per click will increase.
Conclusion
Do not forget that affiliate marketing traffic is fast-paced. Flow with push-notifications until optimal conditions are created for it, the format is at its peak, and browsers have not begun to tighten the screws. You should choose an advertising network for the quality of its traffic, and make sure that the bid is affordable, and GEO is more exotic!
You can also check our article on Top verticals in affiliate marketing in 2019
Share the article

Read. Learn. Do. Earn more money on Affiliate Marketing
Don't miss