Newcomers now see working with traffic as an even more impregnable fortress. To get at least not the brightest webmasters they need to know how to use cloaking, trackers, work with analytics, configure, and scale. Besides, COVID-19 has brought even more turmoil to the industry as a whole. Still, most attentive affiliates find ways to earn money even in these complicated conditions. More than that, they don't have to risk large investments and spend a huge amount of time and effort. We usually have to select offers for the test and send traffic to them, then analyze the data and optimize it accordingly. We give more traffic to some offers, we give less to others, and we even disable some of them as they don't show any effectiveness.

Smart Direct Link from Adsterra immediately allows you to get it all right since the algorithms embedded in it constantly analyze traffic and redirect it to the most effective offers, and with the growth of the volume of processed traffic, the accuracy of the algorithm increases.
The Link allows a freshman to improve his/her skills and knowledge with less risk and effort, as well as better understand traffic and offers. As for more experienced webmasters, the Link can help them to make the monetization of traffic exponentially more lucrative.
How does it work?
Smart Direct Link is a special link that you get after signing up with Adsterra. You can place it anywhere: in the creative of an ad campaign, in a push notification, on a website, or hide it under a button. If you have already worked with such ad formats, you probably know that the "Download video" or "Go to content" forms often hide ads. This is a direct link. For example, a webmaster placed a direct link under the "Download video" button. The user saw this button and clicked on it. At this point, the system selects an ad campaign that is relevant to the user's interests and takes them to the landing page.
The AI selects the offer depending on:
Locations (country, region).
Language.
Mobile operator (in some cases).
The device that you signed in from.
Connection type.
Operating system.
Web browser.
Connection type.
Preferences and behavior.
Keywords.
Thus, the task of a webmaster is to find people who will click on direct link, and Adsterra, for its part, provides a wide base of advertisers and brings this user to the target action. This method of monetization is widely used as it gives an opportunity actually to monetize any type of traffic. At the same time, the webmaster doesn't need cloaking, services, and pre-lending pages — just a simple creative and basic knowledge about setting up advertising.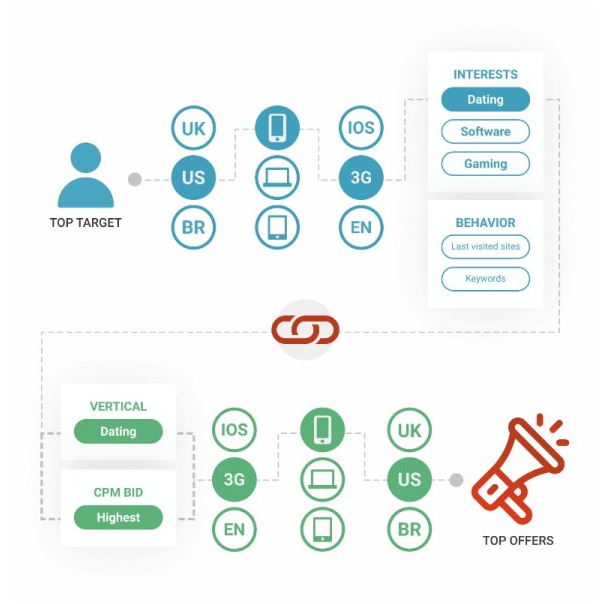 What do publishers get as benefits?
Convenience. A webmaster doesn't need to create dozens of links, select an audience on different sites, or conduct tests. Each user will get what he/she needs.
Budget expenditures will be reduced, as there will be no need to conduct tests.
Ability to work effectively with websites that don't have targeting settings. For example, you have your website or a popular page in the social network. You can't filter people who're following you, so it's difficult to select offers – the audience is too different. The AI system will also allow you to earn money from a diverse audience.
The most convenient and transparent tracking: you can see clicks, CPM, and profitability indicators right in front of you.
Time-saving. You don't need to select offers and create separate ads.
You don't need a full-fledged website; just a landing page with a button will be enough.
You can place the link anywhere on the page or the website.
The ability to use this format with any other ad formats (like native banners or in-page push ads).
Ability to filter unwanted campaigns.
Easy to use (no coding, no designing).
So, this is a great tool for webmasters. It saves time and money, eliminates the need to conduct tests, increases revenue, and makes it possible to work with "difficult" platforms.
Where is it better to put Smart Direct Link?
When using Adsterra's Smart Direct Link it's eCPM that makes the revenue. Impressions and further conversions are essential here. To make users click the Smart Direct Links a webmaster needs to choose the best places to put it. Of course call-to-action buttons show the best result.
All the options are the following:
Call-to-action buttons (Download Now, Learn More, Apply Now, Get Bonus, etc.)
Return buttons
Texts (with call-to-action)
Images and GIFs
Subscription buttons (Subscribe Now)
Full-size images previews
JavaScript pop-up forms
Directions for use
Go to the Adsterra official website and sign in as a publisher to get an opportunity to use Smart Direct Link for the monetization. Go to Websites on the left panel. Then click Add new website in the middle section. Enter the URL of your website. Choose Direct link from the Ad Units field.

The verification of URL usually takes from a couple of seconds up to 5 minutes. If you don't have a website, just enter your Adsterra login. It is also available to rent a domain to use it especially to monetize traffic and use it for the work with the direct links.

After the verification is done you will see the Status changed into Approved. Click All codes, then Get code and copy the URL of your direct link.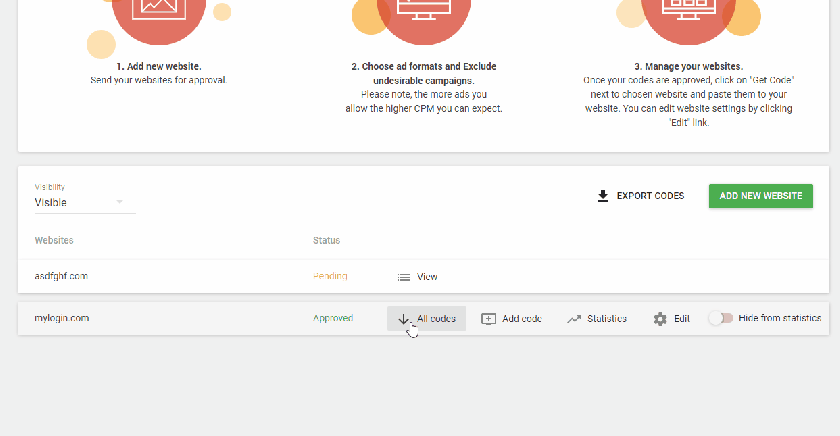 Now you can place the link wherever you want and look at it working right.
How to use the Smart Direct Link to the maximum
Let's start with the obvious things. Be creative about your texts and graphics when attracting users from paid search sources. Monitor your competitors.
Get rid of the campaigns that don't fit your traffic. Go to Websites, choose the one you need, click Edit, and then Remove campaigns with.
Try different places for the link.
If you're working with Facebook don't forget that it has really strict regulations. Make sure you won't fall under their restrictions so that your Facebook account wouldn't be banned.
If you drive traffic to one lander create a simple page not connected to any specific sphere. It's better to look like a pre-landing page with a powerful message and 1-2 action buttons.
Monitoring
Once you join, you can see Adsterra's Statistics. You can see all the activities with the Smart Direct Links and the money you're making on them. Just set the date, go to Domain, and choose your website or your login if you don't have the website. CPM and Revenue are the most interesting indicators. CPM will show the bids for your traffic. No need to explain Revenue – it's the most pleasant indicator.
Conclusion
So, that's what we've got to say about the Smart Direct Links. It's cool as it lets you monetize any traffic: Facebook, emails, AdWords, organic traffic, and whatnot. It doesn't take extra time or effort as offers are chosen with the help of AI according to the CPM rate. But don't forget that the instrument is fully automated. If you're a top at setting targeting it can only slightly increase your revenues. It won't substitute the entire work. Still, with the Link, you don't have to suffer segmenting the traffic. If some ads don't fit your traffic you can easily get rid of them.
Now when you have all the instruments go to Adsterra, get your Smart Direct Link and enjoy monetizing any traffic!
Share the article

Read. Learn. Do. Earn more money on Affiliate Marketing
Don't miss