Today, we have prepared a review covering one of the most well-regarded affiliate networks with global offers - ClickDealer. Its offers cover more than 180 geos, and the company itself has 5 large offices in different parts of the world with round-the-clock customer support. The network has been operating since 2012. In 2019, they announced and launched the Dating SmartLink. Their next step was to launch its gay variation which is very effective, giving their partners an opportunity to switch their traffic to an automated system that will select the optimal destination based on the characteristics of the incoming traffic. It was this innovation that gave us an excellent opportunity to review ClickDealer again, weighing all the pros and cons.

Well, let's get started.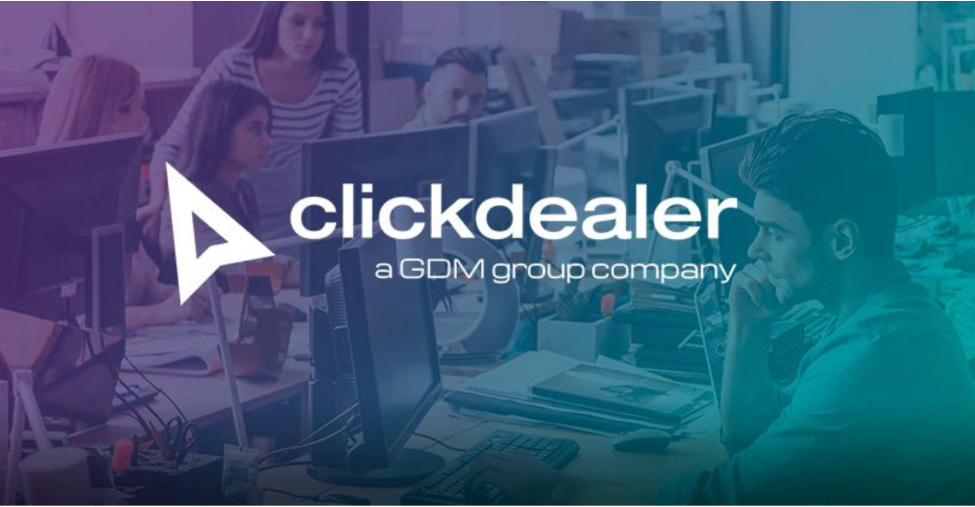 Types of offers: Dating, Mobile Content, LeadGen, Nutra, E-commerce, Crypto
Opportunities: Smartlink, Domain Parking, Capping Alerts, Postbacks, Loyalty Program
Payment methods: Payoneer, Wire, PayPal, Paxum, Webmoney, Epayments, Yandex.Money, Qiwi, Capitalist
Let's begin with a general tour of the affiliate network
ClickDealer has been working in the CPA industry for several years and is one of the market leaders. The affiliate program features over 18 verticals, the most profitable and popular are:
Dating
Mobile Content
LeadGen
Nutra
E-commerce
Crypto
In total, this affiliate program has over 12,000 offers, many of which are exclusive. It's geo-targeting spans over 180 countries, including offers without geo-restrictions, and exclusive countries such as Zambia, Malaysia, Qatar, Saudi Arabia, etc. You will be able to see the full list of countries when choosing an offer by clicking the filter in the upper right corner of the screen.
Also, by clicking the Extended search button, additional search settings are opened, which are simply too important to miss.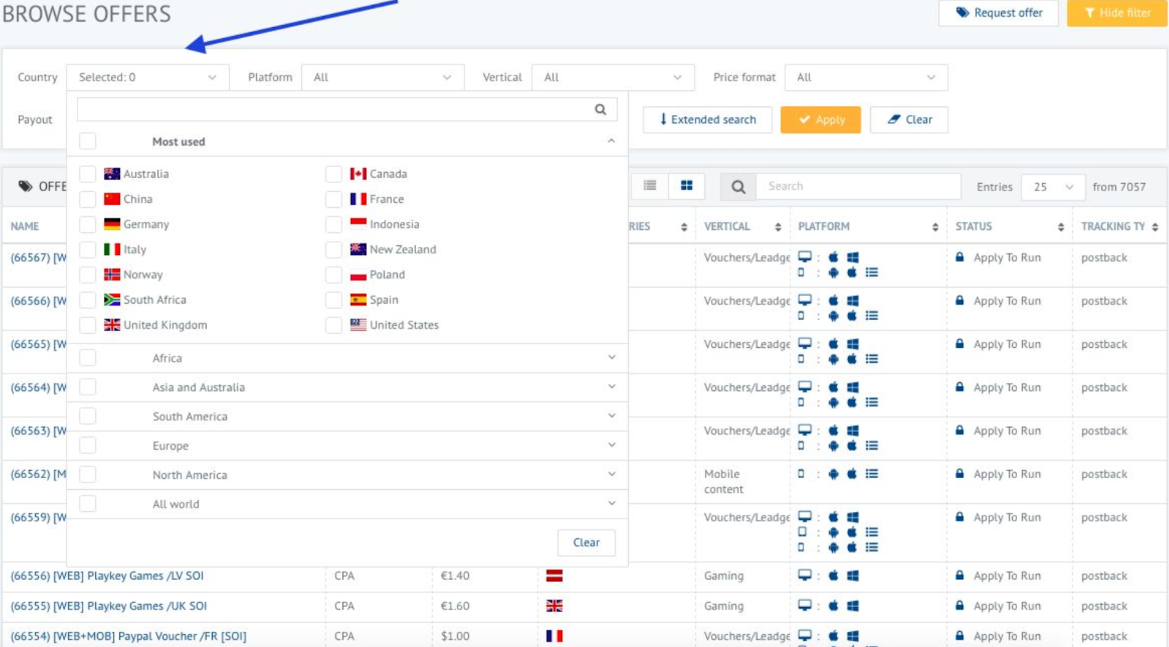 Here, you can choose not only the vertical, geo, or payout amount, but also parameters such as the type of target action, tracking, age category, the presence of creatives, a mobile operator and even the gender of the audience that the offer is aimed at.
After you select an offer, you will need to familiarize yourself with the main conditions and send them to the manager.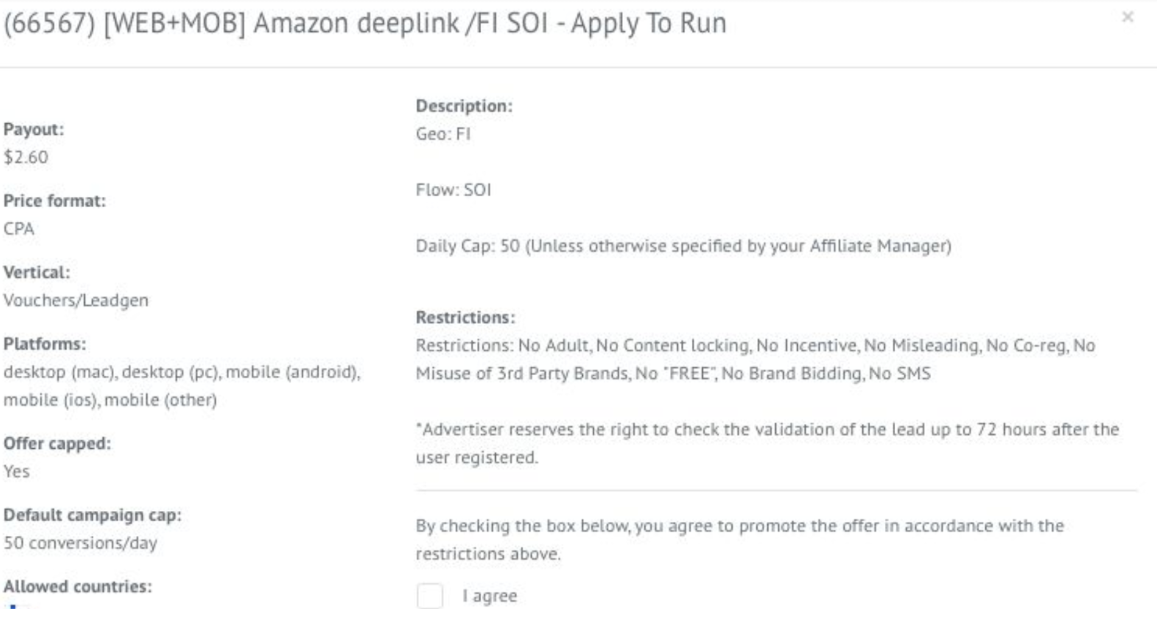 Dating has an impressive amount of offers, more than 3000.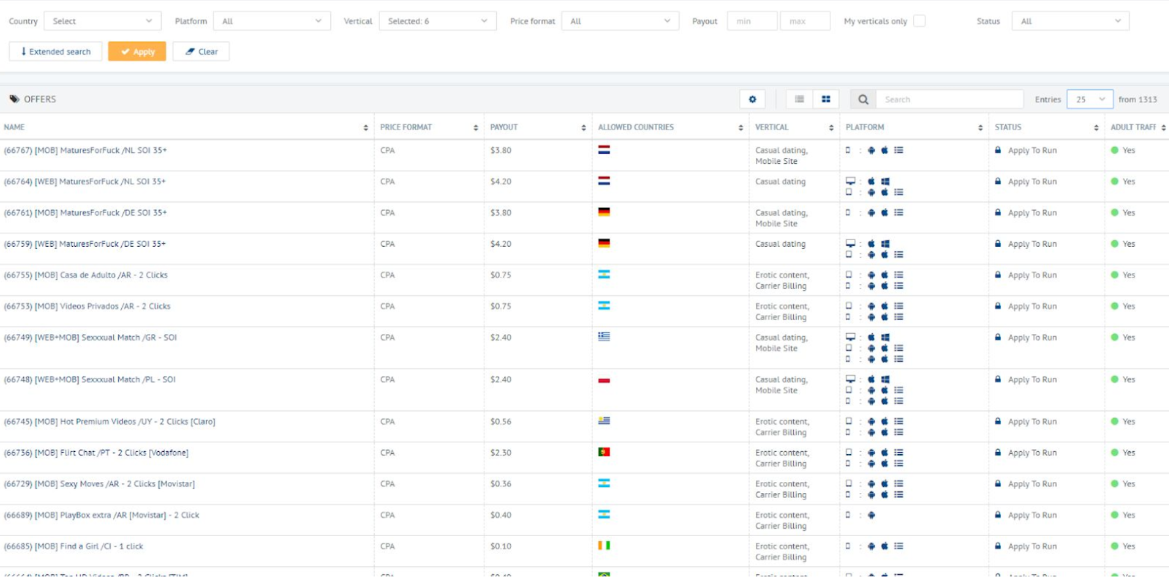 It is sometimes difficult to choose if you are not an expert, that is why they have given users the possibility to launch all at once via SmartLink.
It is very convenient because the SmartLink includes offers that cover more than 240 geos. The system immediately shows the top eCPM at the moment and allows you to quickly configure all the necessary parameters for tracking and statistics.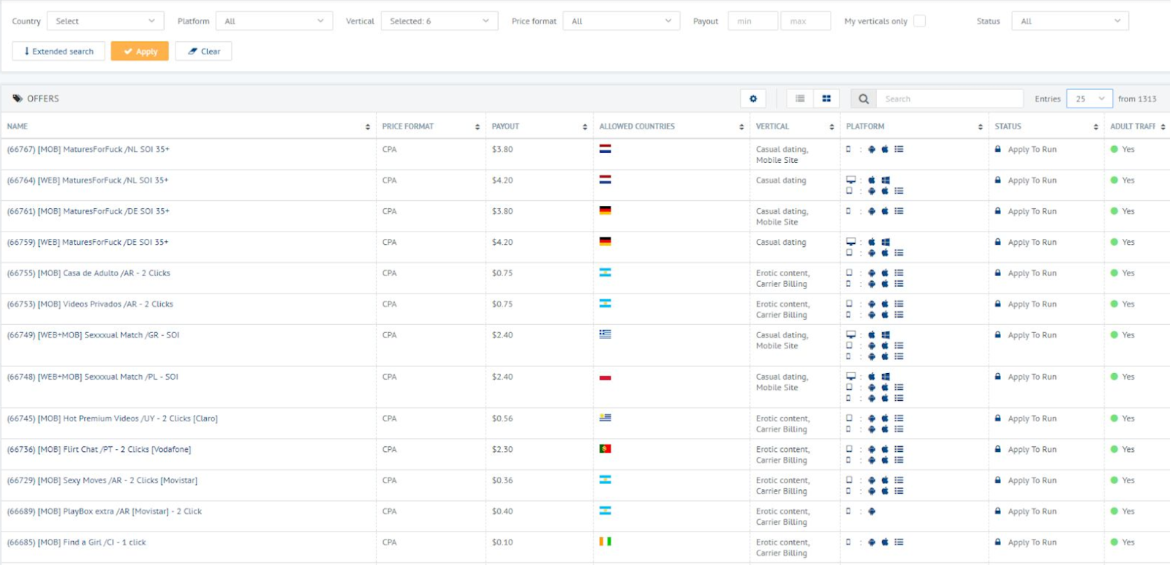 Why did ClickDealer decide to connect Dating as a Smartlink debut?
The affiliate program itself explains this by the fact that the number of direct and exclusive dating transactions that the network currently has is ideal for demonstrating the full potential of monetization of Smartlink links.
How does Smartlink work in ClickDealer?
The SmartLink link automatically redirects the user to the most suitable offer, depending on its location, device type and other parameters, including dynamic eCPM, which allows you to get maximum traffic monetization efficiency.
How is the ClickDealer Smartlink maximum profit achieved?
The creatives provided are undergoing internal testing and are constantly updated. The system automatically optimizes your campaign, taking into account the effectiveness of individual landing pages and selects the best creatives. This saves you time by eliminating the need for ongoing testing to create a working link.
Many exclusive and direct offers from advertisers: ClickDealer has been working in the dating niche for almost 7 years. During this period, they were able to acquire a large number of reliable partners and exclusive agreements. Competitive prices and excellent conditions are guaranteed.
Individual conditions: Payments via Smartlink links are no longer fixed! If your advertiser is satisfied with your traffic, the conditions on the offer will help increase the profitability of your work.
Detailed reporting: Smartlink allows you to receive real-time statistics on the performance of the entire funnel, disaggregated by eCPM, geo, type of connection, device and other indicators.
How to launch Dating offers on Smartlink?
As we mentioned earlier, the SmartLink offer is in a separate tab for Smartlinks.
Choose an affordable offer and after the approval of the managers, you can go to the flow settings to get the final link.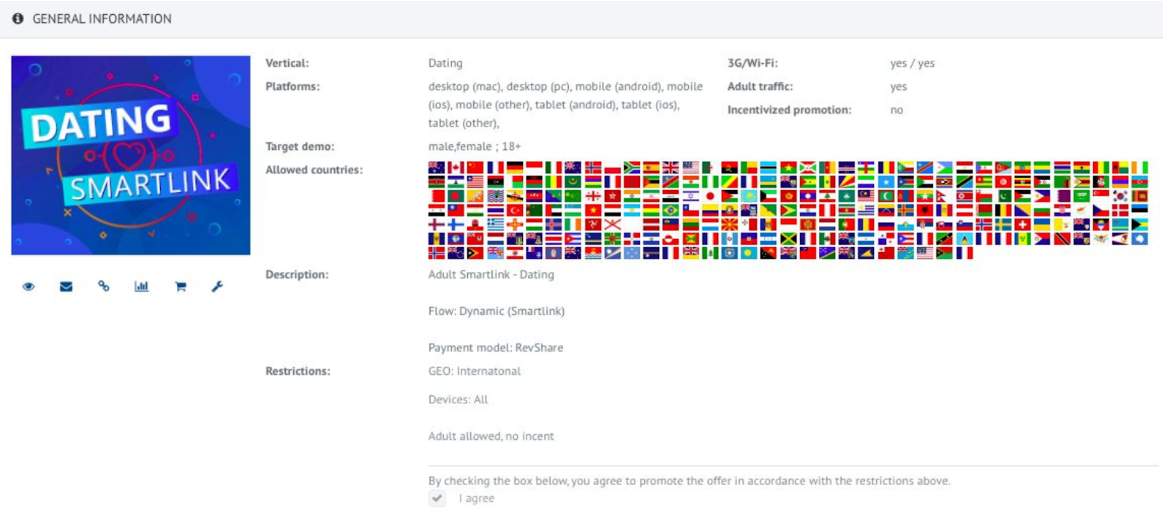 In the GET TRACKING LINKS section, you can specify macros or values ​​for your subid, as well as enable SSL and pick up a ready-made URL for use in your traffic source.

In the bottom block, you can configure Postback or Pixel to send conversion data to your tracking or analytical systems.
There is also a very convenient tool for checking the correctness of postback settings.
To do this, insert your campaign link and postback link, then click Test Postback.

In the first step, we check the campaign and the event that you want to send, then click Next.
In the second step, click on Result to see which postback was sent and what response was received on the server.

After making sure that all the necessary tools are configured, you can safely run traffic from the source of your choice.
Tracking performance is as easy as running traffic. You need to open the My Smartlinks tab and click on "View Report" or "View Conversion Report".

When viewing general statistics, you can see a visual graph and key performance indicators of the campaign.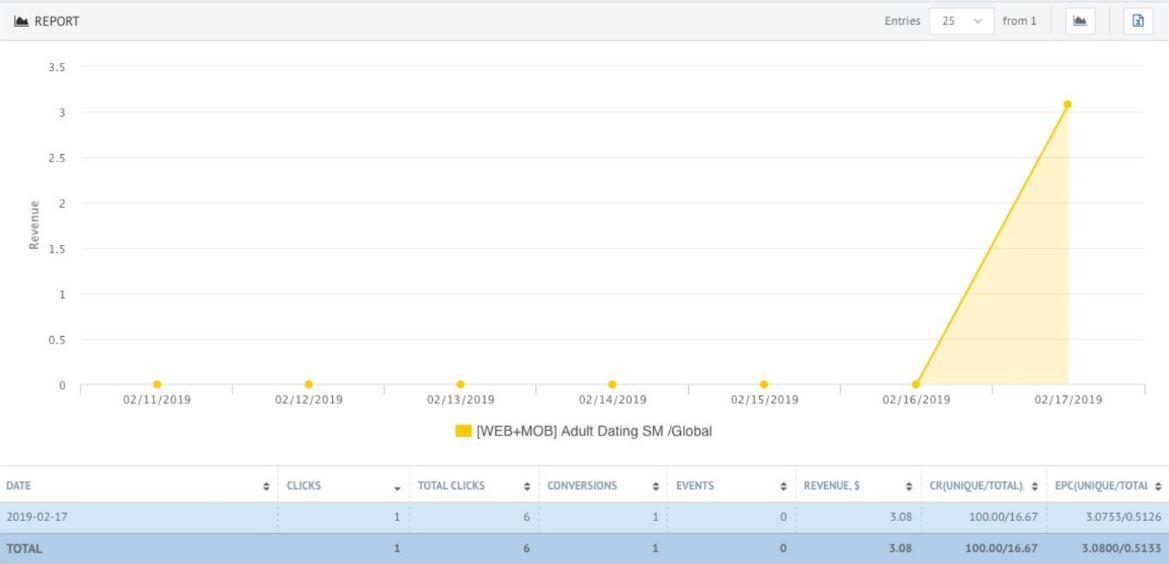 At first glance, there is not enough general grouping by geo, but at the top of the page, there is a filter that will allow you to group by country so that with impressive amounts of traffic, you can clearly analyze the effectiveness of each country.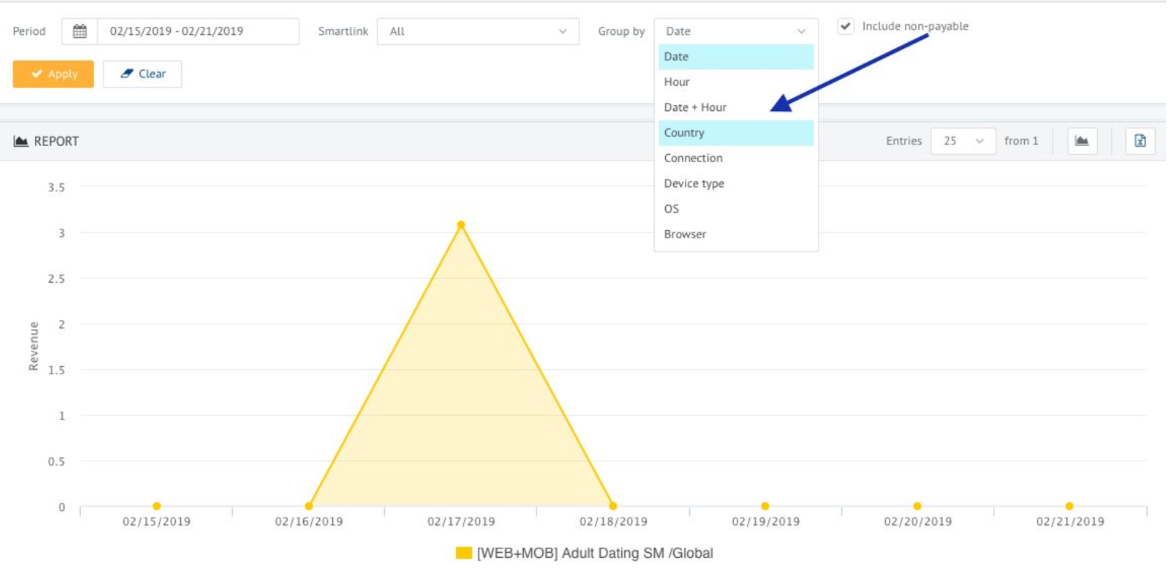 In the Conversions report, you can see detailed statistics for each click, up to the browser, operating system, and operator, which marks an excellent integrated tracking system of the affiliate network. Report columns can be customized individually.

The interface is easy to read and understand. Setting up any functionality takes a matter of minutes.
The Tools tab contains many additional settings, such as a global postback, domain parking, APIs, a kit for Ecommerce offers, and even a menu with settings for notifications about the achievement of the cap.

This functionality is able to reduce traffic loss in cases when daily capping for an offer or campaign is reached.
In addition, ClickDealer does not lag behind the trends and, of course, has its own loyalty program, where for the bonuses received from every $ 10, you can choose any gifts of your choice, from electronics to a trip to the Maldives or a ski resort in Switzerland.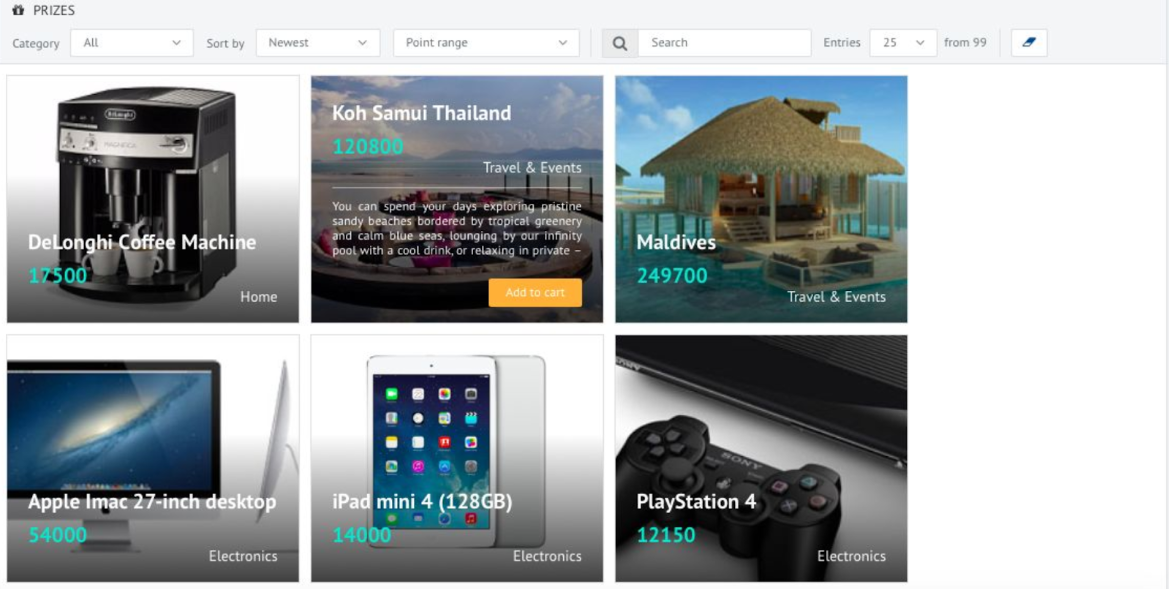 Does ClickDealer and their new Gay and Dating Smartlink work?
We can definitely say - it's worth a try. The affiliate program is far from the first year on the market and during its operation has established itself as a reliable partner, with an abundance of high-quality offers. Gay and dating SmartLink was no exception, and at launch, it showed a good set of working landing pages, with clearly working funnel auto-optimization. We tested a small amount of traffic and made sure that this functionality was working. Vangem, that not far off will appear on the network and profitable cases in this direction.
And if these offers are not included in your core area, then you can simply use the referral program and get a commission for each partner you bring.
The default conditions of the referral program are 2%, but in the 1st quarter of 2019, you can get 3%, so now is the time to attract friends!
Share the article

Read. Learn. Do. Earn more money on Affiliate Marketing
Don't miss