Pinterest is a social media platform where the emphasis is on the visual side of content. According to statistics, Pinterest is the fourth most popular social network by the number of monthly active users (approximately 450 million). It is also worth paying attention to another important statistic: 40% of Pinterest users receive an annual income of more than $ 75,000 which is more than 28% of Snapchat users, 29% of Facebook users, and 20% of TikTok users.

In this article you will read about:

How Does Affiliate Marketing Work On Pinterest?
Steps to Implement a Successful Affiliate Campaign
Recap
A special feature of Pinterest is the cross-search engine, in which something new is constantly appearing for users from different social networks or blogs that are connected to Pinterest. The content is formed in the form of a "pin" - this is an image, which is the "cover" for an external link. People save these "pins" on their boards, acting as a virtual mood board for ideas, products, or inspiration. Pinterest doesn't have social channels or, for example, feed tabs, Pinterest is in many ways more like a search engine than a social media channel. People search for "boards" with images on topics of their choice and then click on the boards they like.

It should be understood that such a business idea creates an interesting pattern. The emphasis on visual content allows Pinterest consumers to constantly consider a potential product for purchase. This means that many of the images depicted are inspirational. People often prefer to browse or search for products they would like to buy. As a result, Pinterest may be particularly important to retailers. The consumer sees something in the image that they would like themselves. Their natural reaction is to try to find this product, and any retailer that makes it easier for them to find the product is likely to benefit from increased sales.

Many already use Pinterest for marketing campaigns, whether for blogs or affiliate landing.

How Does Affiliate Marketing Work On Pinterest?
Usually, earnings from affiliate marketing on Pinterest are divided into two ways:

The first is native advertising, which is designed under "pin", but contains a call to action, that is, to purchase a product. In this case, it is necessary to discuss the nuances of promoting the affiliate program.

The second is the creation of content in the form of a "pin" containing an affiliate link.

It is best to use the second method, especially since Pinterest offers the opportunity to create a business account. Pinterest for Business offers a large assortment of marketing tools that will help you in promotion and analytics. Pinterest will also ask you to choose the best description for your business and add a link to your website, as well as help you choose a niche and start recommending your content to users.

Setting up an account is simple: basic information about you, and detailed information about your business, or services offered. Business Pinterest Account Features:

A dashboard for your business analytics, as well as all the necessary statistics;

Paid advertising campaigns on the site;
Creating a store and the ability to mark products in their "pin".
Steps to Implement a Successful Affiliate Campaign
A few steps to launch a successful affiliate campaign:
1. Develop a marketing strategy
Any successful campaign begins with defining a strategy. You need to decide on a product or service, then conduct niche research on Pinterest. When searching for affiliate programs, it is also useful to consider how well the brand is known and how high the affiliate commission is. Digital products tend to have very high commission rates (often 20% or higher). Another great feature of digital products is that they often have a sales page that can help fulfill the "selling" part for you.

Working with the target audience: When searching for products, it's important to think about who your audience is (which is why having a Pinterest niche can be important), who is the Pinterest audience, popular Pinterest topics, trends, and keywords, as well as things that users will find useful or want to buy.

It's worth remembering that Pinterest is still a more aesthetically oriented platform, so I can achieve more success with a campaign to promote cosmetics or clothing than fishing gear.

Also, it's important to look at what others in your industry are doing so that you know where you are. This will help you identify which strategies work so that you can replicate them on your own. Moreover, you can also find out if there are any gaps from which you can benefit.

2. Create a Pin
Pinterest has three main pin formats that any user can use to create content and exchange affiliate links.

Three pin formats: Standard-pin, Video-pin, and Idea-pin. Standard-pins and video-pins are relatively similar, Idea-pins are radically different from these two.

Standard-pins are the most basic pin format, which can be great for attracting traffic. This is the format that everyone associates Pinterest with.

Video-pin is a video format of standard-pins.

Standard-pin and video-pin, usually, are images or videography; they can also be ordinary images, videos, or infographics. They are better used to promote certain products: digital courses, furniture, or hobby items.

Standard-pins are best developed in Canva - one of the most accessible and simple platforms for creating a design, there are a large number of ready-made templates.

Idea-pins is a new format for Pinterest, great for attracting traffic, especially because the algorithm plays into your hands. They help Pinterest creators and Pinterest influencers grow and connect with their audience and are relatively similar to Instagram Stories. If you recall the success of Instagram Stories, then it is best to use this format to promote new makeup products that you like.

Focus on creating high-quality visual content. Remember that people also get inspired when shopping on Pinterest, so your pins should also be descriptive enough to inform and inspire your audience.

Recommendations for creating content:

Do not post images just like that, without context, otherwise you will end up misleading the audience;

Use the maximum resolution of visual content;
Focus on the vertical image format, because most Pinterest users use mobile devices;
Don't forget about the description to focus on the details of the visual content;
Use headings directly on the visual content so that the user immediately understands what the pin is dedicated to;
Constantly check the operation of the link.
Two Examples of High-Quality Pins
Whole Foods Market - a great picture in high resolution on the topic of food. The pin includes a brief description, and the image itself contains instructions. Also in the description, there is the recipe itself, as well as the reason why it is worth doing just that - an excellent and budget treat for the company of guests.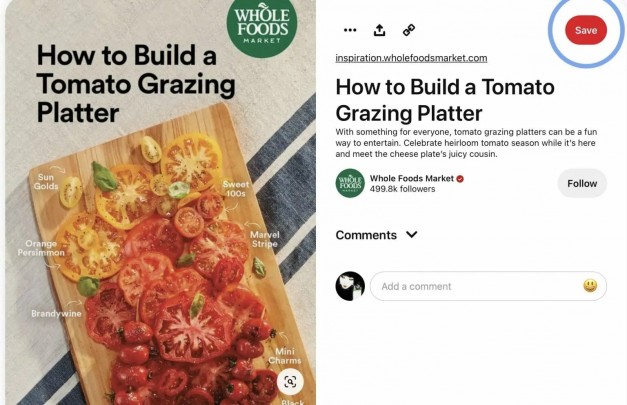 Mejuri Jewelry - the content is tightly connected with the product, and offers a solution to the problem for some: how to wear or style expensive jewelry for everyday life. The pin includes both Mejuri decorations and text. This can attract people who are interested in learning how to stack diamonds for everyday wear, and make them click on the pin to learn more!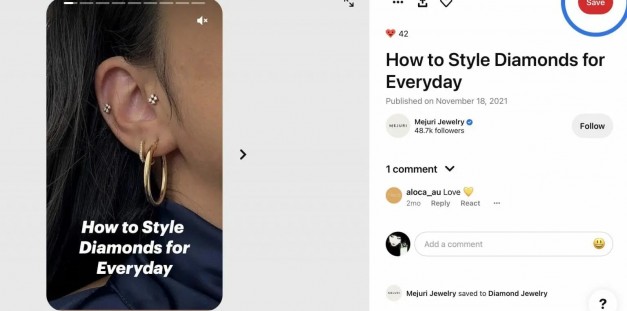 3. Stick to the Calendar Content
The better you build content publishing, the higher the chance of success. You need to constantly update your feed with fresh content that will interest your audience.

Create a content calendar, this content calendar will present all your content ideas along with a suggested schedule for publishing each idea. The calendar will serve as a guide for your team to consistently develop content for your Pinterest strategy.
Many free calendars are suitable for this. You can use Google calendar or, in extreme cases, Notion. There are also social publishing tools, such as Sprout. Sprout is a visualized calendar that can be a solution for you.

Also here are some statistics from Sigrid: 8 PM and 11 PM, with the peak being at 9 PM, are the hours that indicate the highest engagement rates, the biggest numbers of likes, and the most replies per pin. Research also shows the middle of the night between 2 AM and 4 AM is the second-best-suited timeframe for Pinterest posting.

Here are some more interesting statistics: 32% of pins are posted on Mondays and Tuesdays. But as Pinterest facts mention, it doesn't mean that these are the best days of the week to post. Data shows that even though the lowest percentage of pins are posted on weekends (only 7%), Saturdays and Sundays are the best days to post your brand's content.

4. Pin Optimization for SEO
Pinterest users most often do not know which product will suit them exactly and are looking for non-brand keywords. This means that they haven't decided on the brand they want to shop from, which gives you a great opportunity to attract new customers.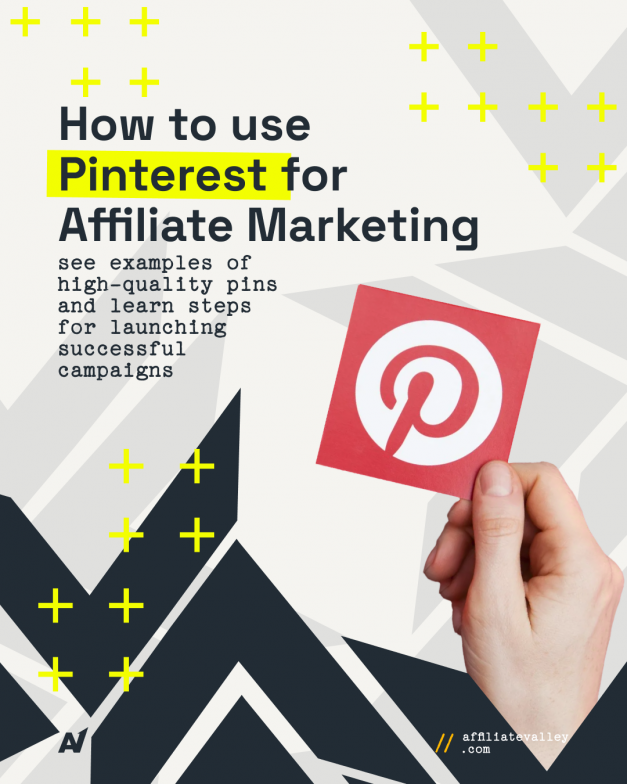 To optimize your pins for SEO, strategically use keywords in your descriptions and message boards. You can also include hashtags that are relevant to the content to further increase the chances that the pin will be displayed in the relevant search queries.
There are 3 key SEO elements for Pinterest that are important for Promotion:

Pinterest profile SEO is descriptions of key products and niches of your profile
Pinterest SEO bulletin boards are keywords for products
Rich pins - they allow you to extract information from your site and include it in your pins.
Rich pins make these changes to the content of the website, the Rich pin will also be updated automatically. Rich pins are a type of standard-pin that automatically syncs information from your website with your pins. You can identify Rich pins by additional information above and below the image when you click on the pin. If something changes on the original website, the Rich pin is updated periodically to reflect this change. They are perfect for pins related to products, recipes, and articles.

In the great example below, you will see how several hashtags were included in its description. Some keywords are also included in the title and pin description, which helps in SEO.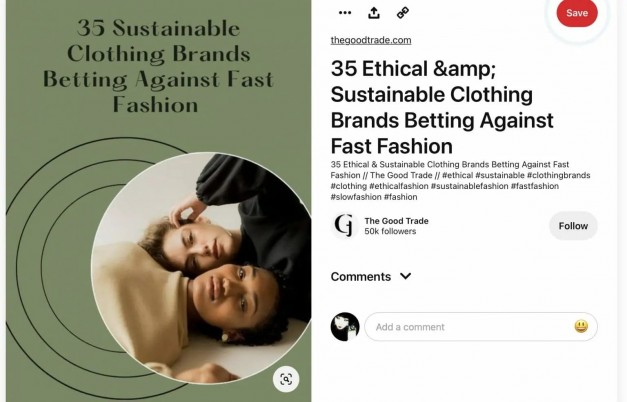 5. The Best Niches for Pinterest
Based on the data we see:

The main demographic is women (from 70% to 80%);

Most Pinterest users are between 18 and 44 years old;
The number of millennials in the US increased by 35% year-on-year;
45% of people in the US with a family income of more than 100 thousand dollars are on Pinterest;
Pinterest user demographics show only 15.3% of Pinners are men.
Using this information about the general Pinterest audience, you will be able to better understand whether your ideal audience is on Pinterest. Based on statistics, it may be worth taking a closer look at these niches:

Products:
Holidays

Animals
Art
Women's Fashion
Books
Children's Fashion
Beauty (skincare, makeup, etc.)
Gift Ideas
Weddings
Holidays
Flowers
Yoga and sports
Services and education:
Design

Education
Event planning
Finance
Food and Drinks (Recipes)
Lawn and Garden
Home Decor
Quotes about men's fashion
Personal development
Blogging
Pinterest also often suggests popular niches on its Pinterest Idea Page.

6. Build an Email List Through Pinterest
An interesting thought was expressed by Monica Lent, founder of Affilimate: "Pinterest can be difficult for affiliate marketers because people use the platform with a desire <...> Most pinners do not seek to solve a momentary problem and make a purchase for this. They are making plans for the future — the expiration date of your affiliate cookie has long expired. <...> That's why Pinterest's best affiliate marketing strategy is capturing readers' email addresses. This way, you can promote affiliate products with email advertising campaigns that spend time educating readers and whet their interest in your offer."

Therefore, it is worth enabling an email subscription to your landing page. Invite Pinterest visitors to join your mailing list by providing an incentive (lead magnet, discounts, coupons).

7. Analysis of the success of pins publication
The more you understand about pin creation, the higher the chance to launch a successful marketing strategy. It's a good idea to set reminders for monthly pin performance analysis using Pinterest analytics and any planning tools you use to create new content.

You can also contact the partner panel to find out how many people have purchased products through Pinterest.
Important indicators for analyzing campaign evaluation:
Click-through rate - which pins get the most clicks;

Conversion - which product is best sold;
Time on the site - the more time users spend on the site, the higher the chance that they will buy the product.
Recap
Pinterest is an excellent platform for expanding your affiliate marketing campaign because the average Pinterest engagement rate continues to grow steadily and is currently 7 times higher than that of Facebook. Pinterest is an excellent platform with a very low entry threshold, the platform itself promotes high-quality content. The content format differs from many platforms, but this can be a plus, because the more tools in your arsenal, the better.
Did you enjoy this article? Check out other cool articles. Follow us on social media too.
Share the article

Read. Learn. Do. Earn more money on Affiliate Marketing
Don't miss