Third-party cookies have had a monopoly on user tracking for the last 2 decades. They were a real backbone of the digital marketing and advertising industry, helping affiliates to manage personalized ads, retargeting, programmatic advertising. Throughout this time, they have been surrounded by endless debates and were often embraced as an imperfect tracking method. Now, it seems like the era of third-party cookies' reign has come to an end. One by one browser reverses the decision to stop supporting them. We asked RedTrack ad tracker to help us sort this out and understand what kind of impact such policies will affect the industry of affiliate marketing.
January 14 Google's announcement. What was that?
When it comes to affiliate marketing, you can't be 100% sure how it will change over the next half a year. On January 14, Google announced that it will stop the support for third-party cookies and thereby determined the future direction of the digital ad market. 
By the way, Mozilla Firefox and Safari have killed their third-party cookies for quite a long time. But let's not forget that 90% of searches made on desktops are done via Google. Too many fans, too big impact. On the one hand, these anti-tracking policies are made to ensure a higher level of user protection and less ad fraud. On the other hand, it means the complete restructuring of the digital advertising market. Affiliates will inevitably have to adapt to new circumstances, revise familiar strategies, and learn how to work with new tools.
Why are cookies so important?
Let's look at the technical side of the case first. Cookies are little bits of code that stick in peoples' browsers and watch their actions around the web. There are several types of cookies that have different forms of visibility and tracking mechanisms.
The first-party cookies help provide a better online experience. They are applied by domain and keep such information as your language, username, passwords, the items you add to the shopping cart. As a user, you're free to disable first-party cookies in your settings. But in this case, the browser won't be able to track your activity when you move from page to page. If you visit an e-commerce store, you would not be able to purchase multiple items from different pages in the same transaction.
The third-party cookies rely on the user's browser as well. With their help affiliates constitute long-term records of user's browsing history and build up a profile of their interests, preferences, and habits. Being officially supported by browsers they could be easily killed by users who decided not to accept third-party cookies when entering the site or use adblockers to shut them down. 
| | | |
| --- | --- | --- |
| Browser | First-party cookies | Third-party cookies |
| Mozilla Firefox | available | not available |
| Safari | expire after 1 day if the user doesn't revisit a site by default | will be completely killed in 2 years |
| Google Chrome | available | will be killed in 2 years (2022) |
(the information is as of February 1, 2020)

How will it change the affiliate marketing industry?
Now no one can say for sure how exactly the advertising market will change and what browsers will offer to the users. Google, for example, promises to create a unique Google Privacy Sandbox that will allow ad targeting with their API alternative. The most significant and controversial point is that it is to become a place where all user data will be stored and processed. But we'll see.
The potential threats to the current state may be as follows: 
Google will become a monopolist in online advertising with the help of Sandbox and block access for other developers.
Website owners may lose some of their revenue and receive false statistics. This may force them to pay more attention to contextual and native types of advertising and look for new sources of profit.
As for ad networks, the impact of the new Google Chrome policy can seriously affect the accuracy of ad impressions and reach.
How does it affect affiliates?
These privacy changes weren't something unexpected for experienced affiliates. Most of them started looking for alternative ways of tracking long before Safari and Google announcements. While browser restrictions were not so serious, affiliates resorted to all sorts of workarounds, and off-white schemes. Currently, the best ad tracking method existing on the market is S2S postback tracking. 
Not only is it legal, but it is also more secure and accurate when compared with cookie-based tracking. Its main difference is that it is captured and stored at the client-server. It helps you to understand the entire customer journey and develop specialized attribution/compensation models that reward both contributing upstream and converting partners.
The advantages of S2S postback tracking method can be characterized as follows:
Reliability. It shows less randomness in results and always verifies if there are any discrepancies in the number of conversions.
Broader opportunities to register successful events. It can register conversion after shipping an order, or an action in the app (i.e. upsells).
Supported by all browsers across the web. In contrast to cookie-based tracking that relies on the browser, with S2S tracking, it saves the data about users on servers. In other words, this method is independent of the user's browser and works equally well with Safari, Chrome, Mozilla, etc.
It can't be deleted by users or any third-party services. It saves data about users directly to an offer provider.
Mobile friendly. 
Let's see how S2S tracking works.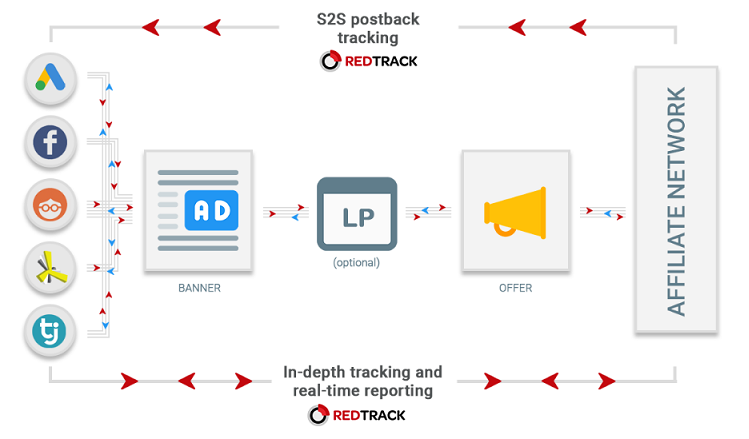 The only drawback is that S2S postback tracking requires a bit more complex set-up than a cookie-based one. S2S postback tracking is a method that is often provided by top performing 3rd party trackers. For instance, RedTrack, a tool that helps you to manage, analyze and automate your media buying, already provides 100+ templates of set-up settings with key Networks and Traffic Source. It helps you to accurately track your ad campaign performance with no hassle. Furthermore, they've recently become Google's Tech Partner and set up S2S postback integration with Google. You can pass all the information about conversions back to Google now, and let their algorithms work to optimize traffic distribution between different ad variables.
Instead of a conclusion… 
Google's announcement has definitely shattered the calm of many affiliates. For many of us, it would probably mean the loss of access to data we used to gather through third-party cookies. But few of us know the real flaws, like inaccuracy and unreliability of this tracking method. 
Tracking and analytics are critical steps of the digital advertising process. The good news is once the Chrome update comes in action, you still have two options to choose between. You can decide if you wanna rely on Google's Privacy Sandbox or a 3rd party tracking tool, like RedTrack. The choice would likely depend on your needs, if it just tracking, or you're looking for an ad tracking and management platform. 
Share the article

Read. Learn. Do. Earn more money on Affiliate Marketing
Don't miss