Hi! Let's get through some basic questions: how did you get into affiliate marketing? How much time did it take for you to learn the ropes and be able to give advice to publishers? How much time are you working there?

Hi! Well, it all happened by a stroke of fate: there was a small banner at the university saying they needed people with a good level of English. It turned out to be an affiliate network specializing in mVas and Sweepstakes. There we learned the basics. Then I worked with gambling and betting, even became a marketing manager, but then returned to the roots - mVas.

It took me roughly a year to learn most of the things. I've been working at ADLEADPRO for two years now, recently marking the anniversary. And 6 years in affiliate marketing in general. All I can say is that an affiliate manager is always learning because this market is so fast and dynamic you always need to keep up.

What does an affiliate manager do?

I would say, an affiliate manager is a Jack of all trades. You have to be quick on your feet and creative so that you can memorize lots of information (from the id of the offer to the stats numbers). You also need to be patient, ready to take risks. Some accounting would be great, a bit of programming skills, design, linguistics. Besides technical aspects you would need to understand the psychology of an affiliate marketer and keep up with the news so that you are on the same page with your affiliate.

Are there any benefits in working as an affiliate manager?

Absolutely! The most fun for me - conferences (usually more experienced managers go there), practicing other languages and just talking with interesting people. WFH was also a thing even before COVID, and when it came, most companies remained remote.

Sleeping in is fantastic. Most companies offer flexible hours because of different time zones. Also you can always do some part of work from your phone, you're not that tied to your computer.
If a media buyer wants to become an affiliate manager, what should he/she expect?

Mastering patience. Amen! I believe it's actually harder to go from media buying to a manager than to start with no knowledge whatsoever. It's a lot harder for solo media buyers: they need to find a way to approach each publisher, find some common ground, and create a rapport. And this is the key to success of most campaigns - a good relationship between a manager and a publisher. I've actually known some cases where publishers switched managers.

Do you work around the clock? Do you get up in the middle of the night to answer an affiliate?
Oh, absolutely. There was this one time when I had to get up at 4 in the morning to hop on a call with a Chinese team. But this is a lifestyle. Most holidays and weekends don't really exist: not a day goes by without working a couple of hours. WFH always means odd hours.

The strongest survive (laughs).
Jokes aside, you really have to love your job to live with a schedule like this.

Newbies, conferences, personal access and funnels
Let's go over the current state of the market, shall we? What do you think, has the abundance of videos from popular bloggers spiked the interest in this sphere?

Absolutely. When I started working, everyone was doing mVas. Then providers forced so many limitations that a lot of companies just switched to other verticals. Not all survived. Now we have more and more mVas offers appearing. Even in the advertising world subscriptions are becoming more popular. Long live Wapclick!

Any common problems for newbies in the sphere? Or are all newbies different?

I can only speak from my own experience with mVas. Basically, newbies fall into two categories: those who worked with other verticals and those who just started out with mVas.

I don't think it's a good idea to start out with mVas: there are so many difficult points, restrictions from providers and advertisers. To be able to work with all that you need to know some basics. The second group has it harder: you need to learn everything fast. The only problem here is that you need to find a good funnel and traffic source. You'll have to do it yourself because even the most experienced affiliate manager doesn't know all the secrets of professional affiliates. If we knew, we'd have way more pros.

How do you help newbies? Are there some things you won't explain to an affiliate?

As I said, you need to know the basics. I can explain some peculiarities of working with a specific offer: what converts better according to statistics, what landing page to use, time frame etc. But explaining basic things, like where to put a link, is just too much.

Do you have a lot of solo media buyers with great profit? Or is it mostly big teams?

Now I have two teams: a big one and a media buying team from an affiliate network. From experience, you earn more working in a team. We do have solo affiliates, but not that many.

How often do publishers ask you about ready-made traffic methods? Do you even have them?

ALL THE TIME. But, unfortunately, I can't help with that. Successful publishers don't share secrets, managers can only speculate on what they really do.

What about private offers? Is there a point for publishers in asking for access to them? Do you get more profit with them or is it just a myth?

Yes, there is. At ADLEADPRO all offers are pre moderated and only a manager can decide which publisher can have access to it. It works both ways: a publisher can ask for any offer, but it's still up to the offer's manager. Some free advice - be friends with your manager.

Each network has a list of offers they can give everyone to test out. Then, if a publisher shows great results, they can give him some private cap (regardless of other publisher's results, you will always have this limit) or even a private offer. If a network has great communication with the advertiser (like we do), they can offer an exclusive deal.

Those offers do have more profit, obviously. When everyone has access to this offer, the overall quality of traffic is lower and CR/ROI suffer as well. This makes the advertiser use filters and antifraud systems that limit traffic. After that a publisher has to spend more and the margin becomes lower. So, making an offer private solves this problem - lower expenses, more profit.

You went to MAC'21 with a booth, right? I saw it on Instagram. How did you like it there?

I loved it. We had a booth, yes, so there were lots of people coming up to us. mVas was really popular there, there was lots of entertainment and merchandise. We didn't even have time to eat, but it was super productive.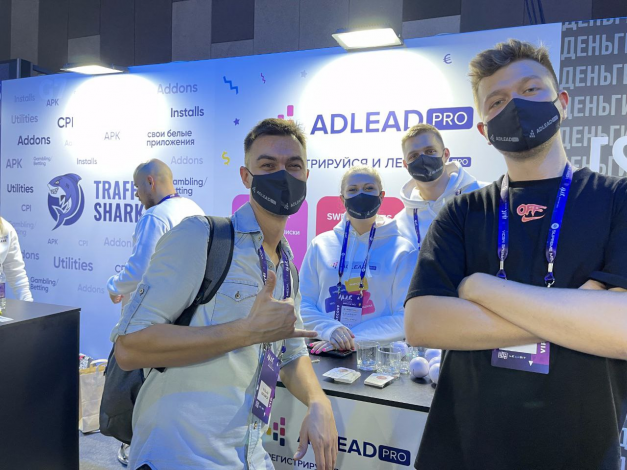 mVas - is it still alive?
As I understand, you consult affiliates that work with mVas. Let's stop here for a bit. Can you explain in several words what mVas is and what offers you can find there? Is it a white-hat vertical?

mVas is basically paid subscriptions to different services, the payment is made to the mobile provider. Offers differ, everything depends on the criteria we consider:

GEOs;
providers - lots of providers work in different GEOs;
flows - 1-2-3 click, otp, PIn, click2sms, IVR (click2call);
category - adult/mainstream;
genre - education, funny videos, games, horoscopes etc.;
billable/non billable (billable - conversion = subscription payment, non-billable - conversion = subscription)
Is it a white-hat vertical?

Mostly, yes. It depends on the genre of the service and the way you drive traffic to it. For example, there are auto subscriptions (or the so-called 0-click where a user didn't do a thing, but money was sent). These are some underhand methods.

Is it easy for a newbie to succeed here? How big is the competition?

If you have some media buying experience, you won't have many problems making profit from clicks. More complicated flows could pose some problems for newcomers. The competition is obviously there: there are not many good sources. With the same type of traffic a lot of publishers use the same sources. This also complicates the matter. But, as always, the devil is in the details.

TOP sources for working with this vertical?

PopAds, PopCash, TrafficStars. Those who want to work with pop/push traffic, you can get promo codes here.

What GEOs are the most profitable? Tier-1 or third world countries?

This is the difference between mVas and other verticals: in mVAs GEOs don't stay on top for long.

For now we have the following picture: TH Dtac, BR TIM, CL Claro, PK Jazz, PE Entel, CZ O2, DE Vodafone. I know that ZA is also popular, but we don't see it here. We mostly specialize in LATAM, MENA, Asia, Europe.

To wrap it up, what advice would you give to a newbie who wants to work with mVas?

Talk to your manager, other publishers online or during conferences. Read all the information you can and always follow updates. When you are on the ball, it's easier to make a profitable campaign. And good luck to everyone!

Find us here:

Facebook: https://www.facebook.com/ADLEADPROnetwork
Telegram: Support ADLEADPRO
Email: [email protected]
Skype: Join conversation
Share the article

Read. Learn. Do. Earn more money on Affiliate Marketing
Don't miss