Facebook is a pot of gold for all types of businesses. In this digital age, you are able to reach millions (or billions as with the case of Facebook) of people all around the world. As an affiliate marketer, you should not miss out on this opportunity to be able to promote your affiliate links and make a profit on Facebook. One of the key tools in this process is the Facebook ads manager.

What is Facebook Ads Manager?
It is a tool in Facebook that lets you create and manage your campaigns. Within this tool, you will be able to do the following:
Build your Facebook ad campaign
Create new ads and ad sets
Manage your ad bids
Reach out to various audiences
Optimize the ad campaigns you have created
Keep track of the performance of your campaigns
Split test your Facebook ad campaigns
On Facebook, you see a lot of things; there is the Newsfeed, the sidebar with many other options, you can also see your ads. The ads section will not show unless you have an ad account. In other to do that, you need to create a page.
Creating a Facebook page
To create a page, you need to click on the downward arrow next to the Quick help button. Then, click on Create page.
On the Create page section, you will see various categories of pages you can create. Some examples are Brand or Product, Local Business or Place, Company, Organisation or institution, Entertainment, etc.
Now, you need to input the credentials of the page and click Get started.
Now, your Facebook page has been created. (if you are helping out any type of businesses, they need to have a Facebook page.)
Once your page is created, you need to optimize everything on it. So that is it more attractive to visitors.
You can click on See all tips on the Facebook page for more information on how to optimize the page. We highly recommend that you go through all of it.
So, you need to upload a picture(s) and a cover image. For this, we recommend you to use Canva. It is a nice tool for creating your images to upload on Facebook.
Once you are done optimizing your page, it is time to create the Ad. This will take you to the Facebook Ad manager.
Creating your Ad
Click on the downward arrow next to the Quick tip button and select Create Ad. This will take you to the Facebook Ad manager.
You are going to see lots of options on that page which we are going to go over: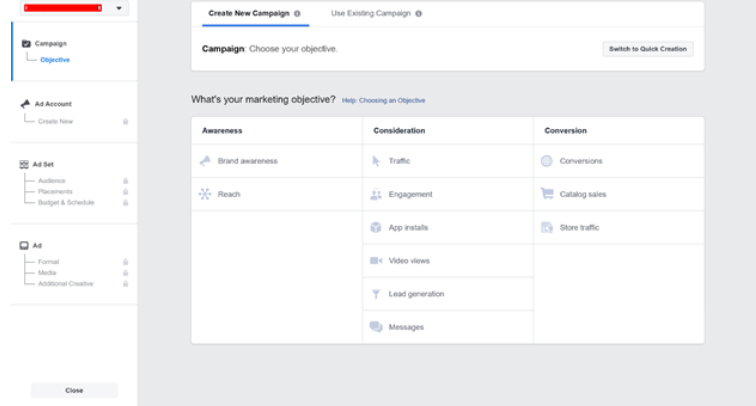 Brand awareness: it is basically when you want more people to know about your brand.
Traffic: this is the most general, most widely used type of campaign on Facebook. You can do anything here, you can drive people to a Facebook page, Instagram, to your Shopify website, a landing page to collect email, etc. it is what you want to use if you are targeting cold traffic. Traffic is your first line of action after you build some engagement. It takes your ad to a different destination rather than Facebook. So, it helps takes visitors from your Facebook to your website or blog.
Engagement: it is very important. You want your ad to have some engagement. You want to have people commenting, and sharing the ad. For example, when you see an ad on Facebook that has lots of shares, likes, and comments. This automatically makes you interested in the ad and you want to know more about it. It shows how people interact with your ad. You will be able to manage like, comments, and others.
App installs: use this option to get more people to download your app. If you are having a mobile app, whether it is iOS or Android, you can send your audience ads that will promote the app and link them to the store.
Video views: gives you the option to show your videos to more people.
Lead generation: Lead generation came up recently, but it is really important. Here, your email list is very important. Creating an email list is one of the most important things you need to do to create a long term business. Here, Facebook give you a template to collect email addresses or drive more sales leads, etc. Use email addresses to drive more sales to people who are interested in your business.
Messages: Get more people to send notifications to your business using WhatsApp or Messenger.
Conversions: once you have gotten people into your ecosystem. Once they have started visiting your site or making purchases, then you can use what is called a conversion campaign. So, here you tell Facebook to optimize the campaign based on all the data they have collected to convert for a specific set of people. For example, all those who have visited your website or made a purchase. They will send your ads to the most likely people to purchase your product. Get more people to buy the service or product you are selling on your website.
Catalog sales: Create ads that automatically show items from your catalog based to the audience you are targeting.
Store traffic: get more people to go to your physical stores by showing ads to people who are nearby. This option actually helps if you have a physical store and you want people to know about it and visit the store. It is actually good at targeting users within the same geolocation as the store.
Name your campaign
Once you have selected the type of campaign you want, it is time to name it. This may sound easy, but it is a very important step in creating a successful campaign. It is important to properly name your campaigns because it will help you organize them well when you have many others. It will also help you to analyze the results of your campaigns better. For example, including the date range of the campaign in the campaign name can be useful. Other useful additions could be Client name or website, Custom Audience, Target Audience or location, Creative Type, etc.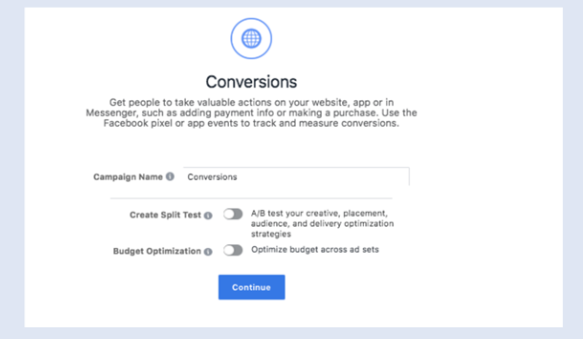 Provided you selected the Conversions campaign, this is what the naming page will look like. It is also important to create a split test on your campaigns because it allows you to experiment and know the best performing features. To know more about split testing, check out this article.
Targeting your audience
Facebook provides you with lots of good ways to target your audience. Here, you will be provided with 2 options; to create a new target audience or use a saved audience. You will also be able to use a custom audience you created previously in the audience manager. This will give you the possibility to create audiences using Facebook Pixel based on your website traffic. With the Pixel tool, you will be able to build audiences and also helps to track events. Here is how the page looks like: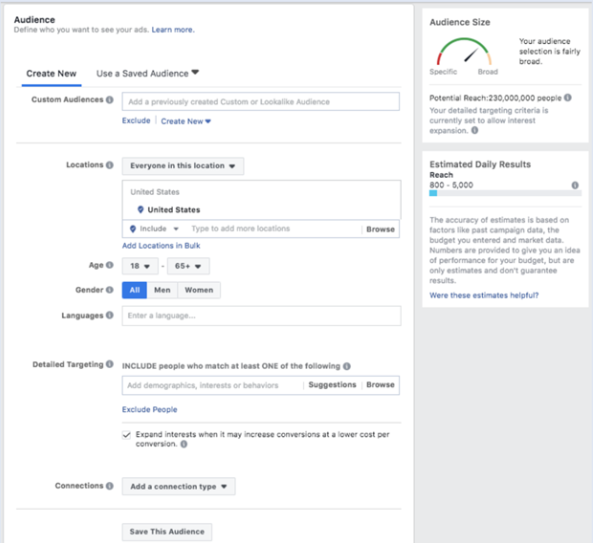 As you build the audience, you will be able to know if your daily reach is too big, small, or normal using the Audience Size meter. You will be able to target "Like", demographics or behaviors to create a specific audience for your campaign.
As you build the audience, you will be able to know your GEO population, your main focus men or women based on the product/service you promote. You can also target the large audience, like male+female, 18-65 age, without specific targeting, etc - going well with the travel products for example. But if you promote wrinkle mask, your audience will be only women, 45-60, with detailed targeting - healthy, beauty, etc. Facebook tries to make your campaign as specific as possible so that you do not waste resources. For example. If you are promoting makeup products, Facebook will be able to show you what percentage of men and women, what age group, location, education level, relationship status are using makeup tool. You can see all this data by checking the Audience insight section. To access it, input 'audience insights' in the search box and press Enter. In the Audience insight section, input Makeup in the Interest box and press Enter.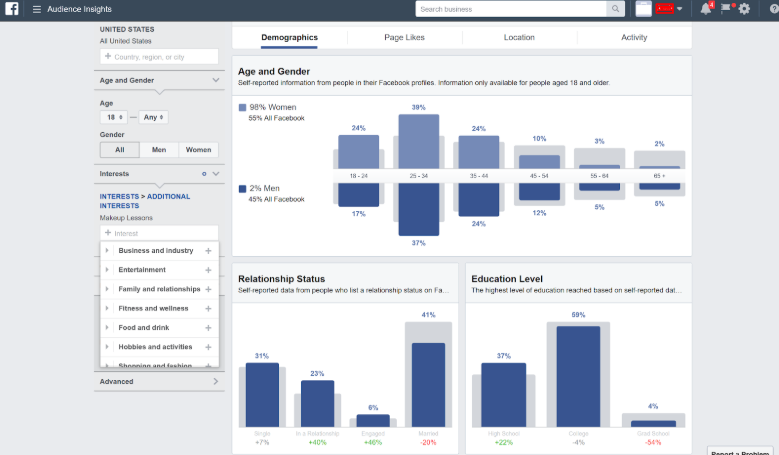 As you can see, Facebook has given you all the data you need to be specific for demographics.
You can also check the location. Let's say we want to use Ukraine as our market. So, input Ukraine in the Country box and press Enter. Then, select Location. You will see something like this: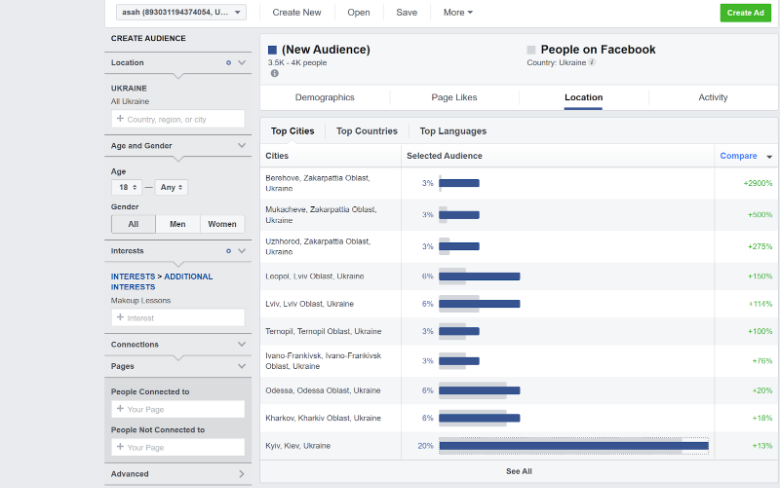 You can see the location in Ukraine to target specifically for your campaign.
You can also see the same for the Activity.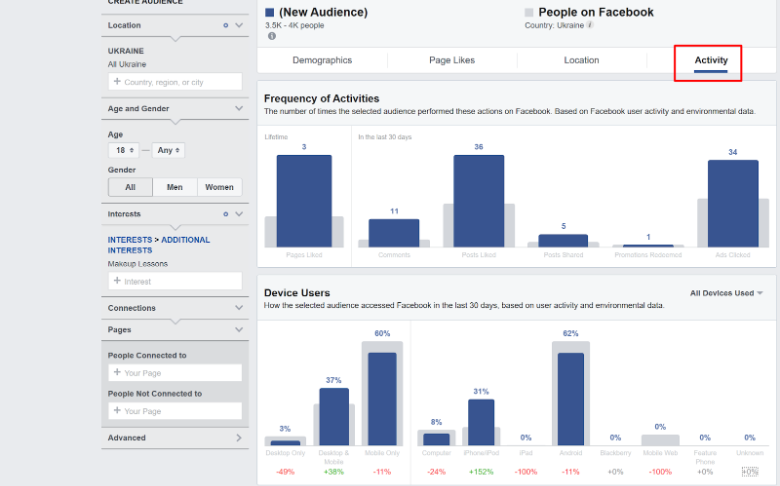 Once you are done researching and setting up your audience, save it and continue with setting up your campaign.
Setting up your Ad Placement
Facebook will automatically set placements for you by default. The Ad placements here include Instagram, Facebook, and Audience Network. But the placements you have optimized will be prioritized to give you the best results. This means that you can decide to make changes to your placements if you have data on the ones that give better results. Here is the list of Placements:
Facebook
Feed
Instant Articles
Right column
In-stream videos
Stories
Marketplace
Instagram
Feed
Audience Network
Stories
Rewarded videos
Native, banner and interstitial
In-stream videos
Messenger
Selecting your Ad placements
Placement is the place where your advertisement will be displayed. Facebook allows you to postpaid publications on your website (in the news feed or in the right column), on Instagram and on the Audience Network, which is a network of Facebook partner resources — for example, websites or applications.
You can either allow Facebook to display ads at once on all resources by selecting the Automatic Placements option, or select them manually. You can also choose whether publications are shown only to PC users, only to mobile device users, or to all. Below you will find advanced options, where you can only include people using a specific mobile OS (up to a specific device model and OS version), as well as those who have logged into Facebook using Wi-Fi.
We recommend that your use Automatic Placements if you are setting up your campaign for the first time. However, we also recommend you to remove the Mobile Newsfeed, Audience Network, and Instagram placements if you want people to convert on your website and it is challenging to navigate on mobile.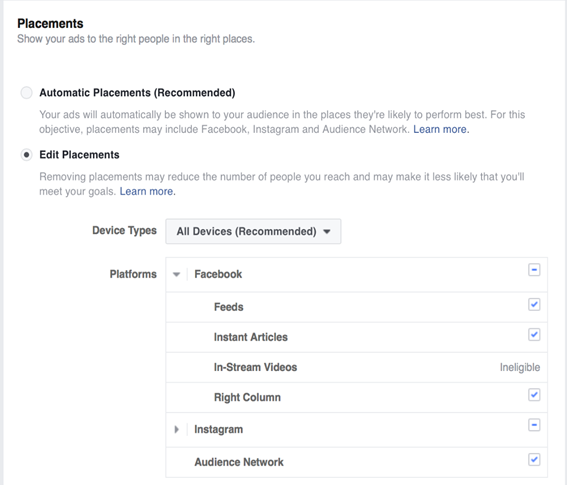 Here are the Facebook ad placements recommended for your campaign objectives:
Brand awareness: Facebook and Instagram
Engagement: Facebook and Instagram
App installs: Instagram, Facebook, and Audience Network
Video views: Instagram, Facebook, and Audience Network
Traffic: Facebook and Audience Network
Conversions: Facebook and Audience Network
Product catalog sales: Facebook and Audience Network
Setting up your campaign budget and bidding
Setting the correct budget for your campaign is very important for your success.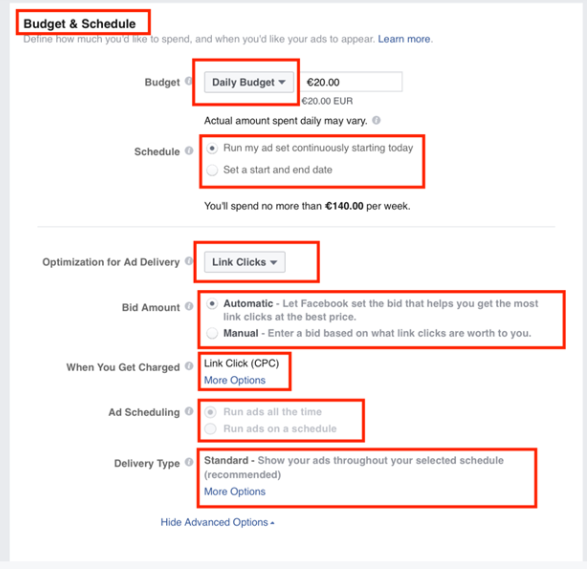 Here are the Facebook budgeting options
Daily budget – this is what Facebook will spend every day delivery your ads to your audience. Facebook has a system which can spend up to 25% more than your daily budget when it spots high-potential opportunities. It can also spend less on low-potential days.
Lifetime budget – here, Facebook will manage your total campaign budget across all your campaign dates. You will need to set the campaign dates so that Facebook can calculate your average expenditure per day.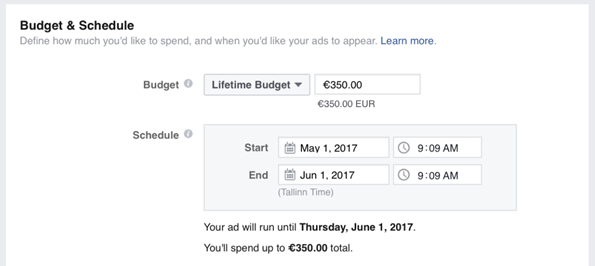 It is advisable to set a daily budget with an unlimited campaign duration. With this, you will be able to edit the size of your daily budget and put the campaign on hold when necessary.
Facebook Ads bidding
You are not the only one who wants their ads to reach the targeted audiences. Thousands of other affiliate marketers are competing for the same thing. So, Facebook uses the auction feature. The affiliate marketer with the best relevance score, best bid, and estimated action rates wins the bid.
There are two types of bidding; Automatic and Manual. If you are a newbie in Facebook affiliate marketing, we propose you to use the automatic option because you do not need any kind of knowledge about the average cost-per-result and average bids. You should only use manual biding if you know the worth of your results.

Adding your ad
Once this is done, we move to the Ads. This is what people will see on Facebook, so you need to make it captivating.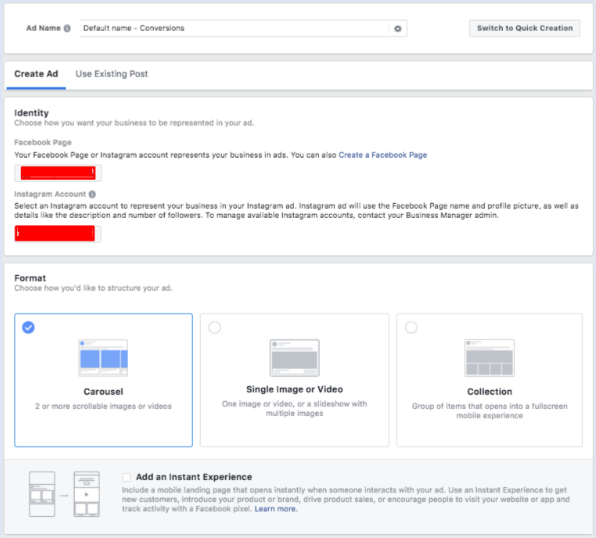 Here, you will be able to add the page you created to represent your business or choose your Instagram account. Once that is done, now you can choose the format/structure of the ad. It could be Carousel, Single image or Video, and Collection. Now, finish adding all the details for the type of ad you have chosen, and you are good to go.
Facebook ads is a very useful tool for affiliate marketers, and you should take your time to go through all of its features. Most of your success depends on it. We hope that his article has shown you how to launch your first successful campaign. Share it with others in need of such information.
Share the article

Read. Learn. Do. Earn more money on Affiliate Marketing
Don't miss