All of us will remember 2020 not only because of the pandemic (be it wrong) but also because of the new generation of dating offers. Self-isolated, as we were, felt boring, little lonely and definitely had a lot more spare time. The need to socialize caused a splash of dating services. The advertiser seized the opportunity and rushed into the market with our offer.

We believe that professional success requires keeping your ear to the ground. That's why in their private channels Galaksion team has been collecting all the hot and happening news of the market. Recently they decided to make the channels public as another way to show you their care. You can subscribe here.
Offer details
Vertical: Dating (Mainstream)
Offer: split of different offers (Profitsocial, Rebbl, Advidi, Lospolos, etc.)
GEO: DE
Traffic source: Galaksion
Format: On-page Notification
Payment model: CPC
Tracking: Peerclick
Period: 04/01/ 2020 – still works
Financial details:

Budget: $2083
Net profit: $1172
Broken out recently, On-Page Notification format hasn't become tedious by being seen too often and now demonstrates good results almost with all verticals and offers. Ad unit looks like a standard push but appears in the browser window, and that by the way brings a user closer to the desired action. More important, the format is available on iOS.
Creatives
On-Page notification ad format usually requires an image 192х192 (both mobile and desktop) We decided to use the photo of an attractive girl. Texts don't differ from classic push, so we added the name, age, and CTA-phrase. We also inserted dynamic token [[CITY]] into the header. Statistics shows that such tokens have more credibility with users and customize your ads.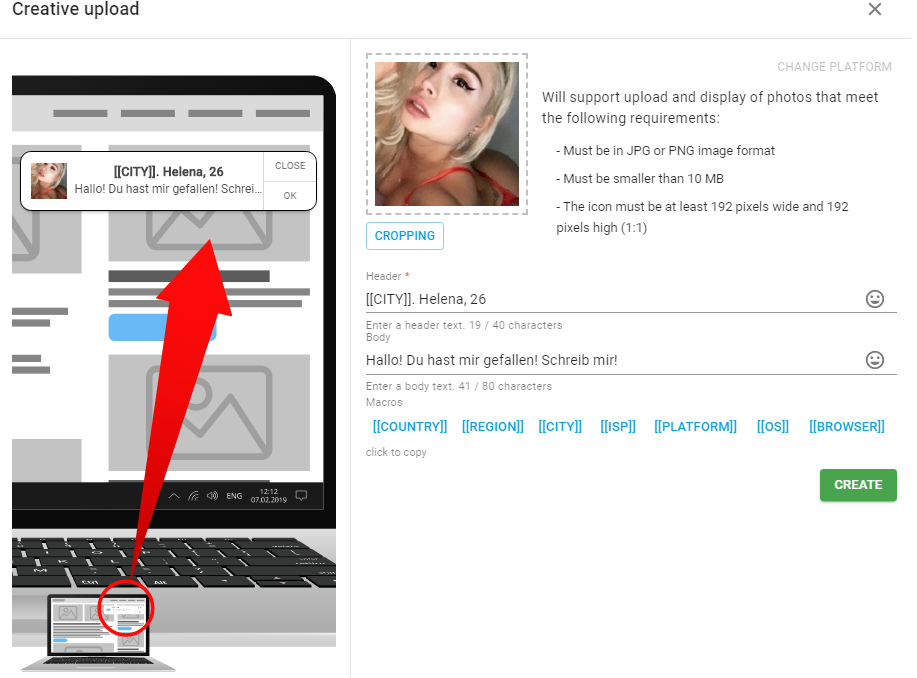 So our ad unit looked like a notification from one of the messengers and immediately caught an eye.
Continued to customize the campaign:

Platform: all
ОS: all
Browsers: all (IE and Edge excluded)
Languages: all
Frequency: 3/24 (3 imp per 24 hours).
CPC: from 0,01$
Launched.
Few days after we optimized our campaign by zones. And that was all, no more corrections were made. The campaigns were getting traffic and conversions automatically, the team had a good slack.

The results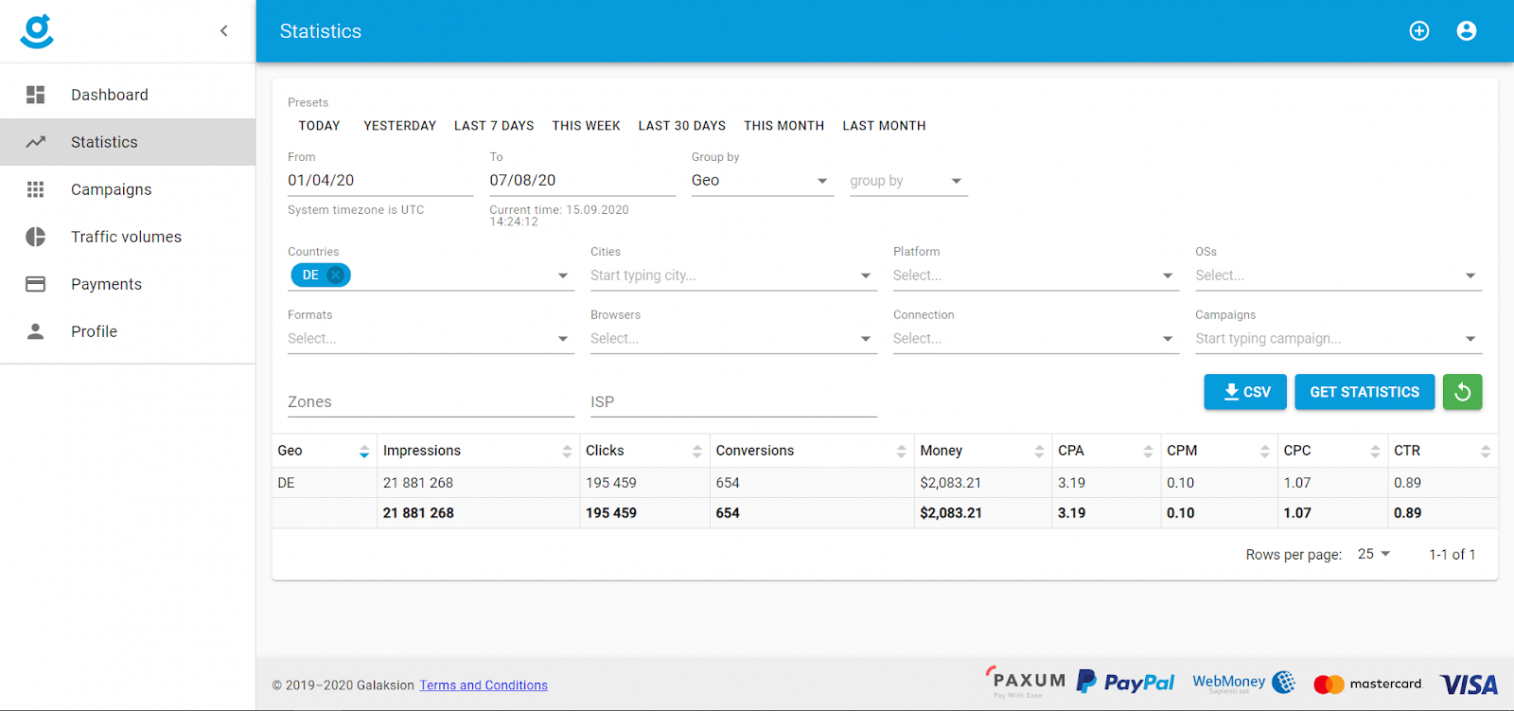 Over the whole period, we have spent $2083 with 1 cent average CPC
Received 654 conversions which cost us from $4 to $10,5 (depending on the advertiser, offer, and device).
Earned $3255
Net income is $1172 (ROI 56%)
Peerclick tracker stats: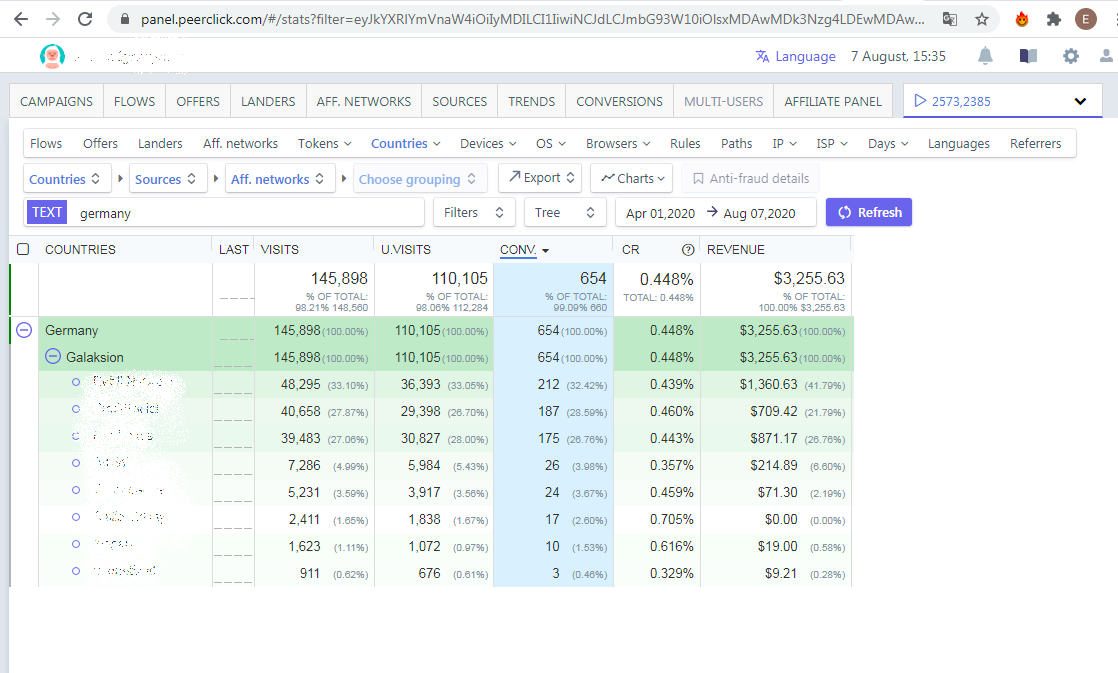 In conclusion
The team has a huge number of other cases with higher ROI but all such campaigns usually require more time, more corrections, and constant attention.

We wanted to try something that would let us get profit almost passively.
My team is satisfied with Galaksion On-Page Notification, with the appropriate optimization its traffic performs finely on all devices and OS. Traffic volumes are quite enough, plus, you can reach IOS users. We have been successfully using other Geos and the offer is still on.
Share the article

Read. Learn. Do. Earn more money on Affiliate Marketing
Don't miss