It's the middle of 2021, the gambling industry is still popular among affiliate marketers. COVID-19 affected offline casinos last year. Specialists predict that the share of online casinos in Europe will increase to 33% this year. 

New tendencies and offbeat approaches to casino offers make affiliate marketers worldwide invest more and more money in such campaigns.
In this article, RichAds will dwell on running casino campaigns with push traffic and making a profit easily.
If you want to know more and ask inside experts of the industry, register for our FREE Webinar with the Gagarin group:

Topic: "RichAds & Gagarin Group: Boost your Casino campaigns in 2021"
When: June 3, 15:00 GMT
Speakers: Anastasia Kazakova, Head of Customer Service at RichAds, and Julia Vaskovych, CMO at Gagarin Group
Trends of 2021
Mobile gambling
In 2017 only 10% percent of all online gamblers used mobile devices, but this rate increased significantly for the next three years, and now almost half of all users joined casinos via smartphones or tablets. 
Moreover, the time people use smartphones has increased as well. Mobile operators focused on the apps, and now telecommunication quality distinguishes with high capacity and usability rates. 
VR casinos
Virtual reality is a new milestone in the development of online gambling. Many casinos implement this technology to their platforms allowing users to communicate with each other. 
The gameplay is held in a special studio. It is live-streamed with 3D cameras that ensure complete immersion into the process. 
This year, VR technologies will be implemented on mobile and tablets as well. But there are also some problems. Mobile VR technologies require serious financial investments due to special software. The second issue is the cost of equipment. It may reduce the number of players.
Introduction of blockchain technology
Some casinos think about the full relocation of their clubs to payments via bitcoins. Now lots of casinos allow paying via BTC, but this is just one method. 
Many users positively consider full BTC casinos as it may help to remain anonymous. Instant payments are one more advantage of casinos with blockchain technologies. 
Gambling push campaign: start and optimization
Even experienced affiliate marketers often face difficulties with choosing a launching and optimization strategy. Here are some tips that will help make a profit from the start and get data for otimization. 
Set up conversion tracking
Don't forget to set up tracking under any circumstances at the launching stage. Postback is the best way to track the success of the campaign. 
It allows tracking as accurately as possible and getting the complete data for optimization. This step is necessary if you want to make a profit and perform optimization. 
Upload 5 creatives from the start
It's the easiest way to know which approach converts better. After identifying the most effective approach, it's time to make all possible creatives with the same method. You will use a new creative when the last version burns out. 
Explore spy tools and analyze creatives there. Each detail does matter — even the color of the creative or some small elements on it.
Choose English as the language of your creatives
Most gamblers perceive English best. Nevertheless, European GEOs (Germany, France, Italy) also have potential. If you are bilingual, it's your competitive advantage in Latin American countries. Language skills will help you to make your creatives more unique and original.
Split campaigns for 3G and Wi-Fi
It should be done as the Internet speed may differ seriously, and if you create just one campaign, some users may not see your ads at all. This vital approach will increase your CPA. Later you can track performance for each campaign and leave just the Wi-Fi version.
Set up Google/Facebook Pixels on the landing page
This trick allows gathering information about the gender, age, or interests of the user. Push traffic sources do not include this option, but using pixels, you can get data and later modify creatives and landing pages to get more leads.
Casino creatives approaches: RichAds Top 10
Happy people with their winnings
This approach always attracts users. Try to make as bright images as possible. But at the same time, don't forget that your images should be live and real, resembling usual people.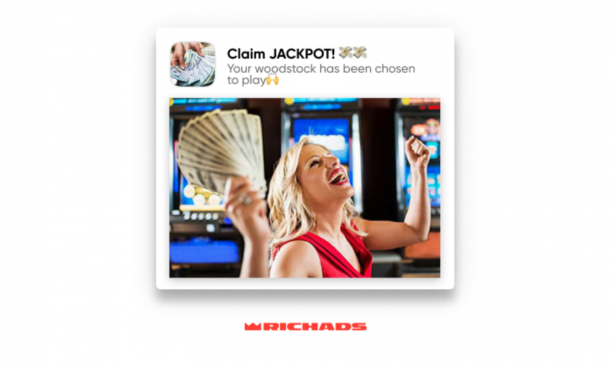 Offer to entertain in a casino
Many gamblers join casinos as they feel bored or exhausted. That's why it's a great approach to offer them some fun playing poker or slots. As an icon, you can use a new message and add remarkable slots and a happy gambling woman in the main image.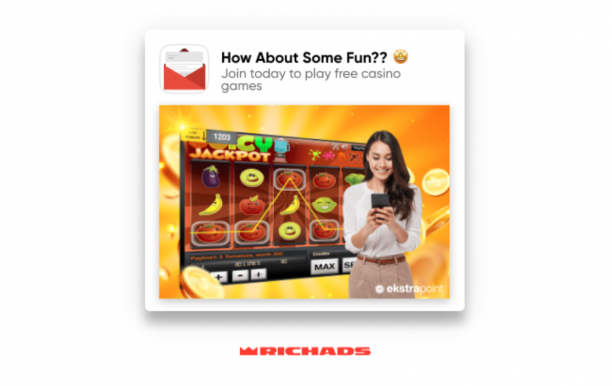 Bonuses, bonuses, bonuses!
Different kinds of bonuses are a standard and always working approach. Large sums of money, free spins, and many symbolic emojis will help increase the conversion rate. Welcome bonus? Yep, it's a great tip for newbies.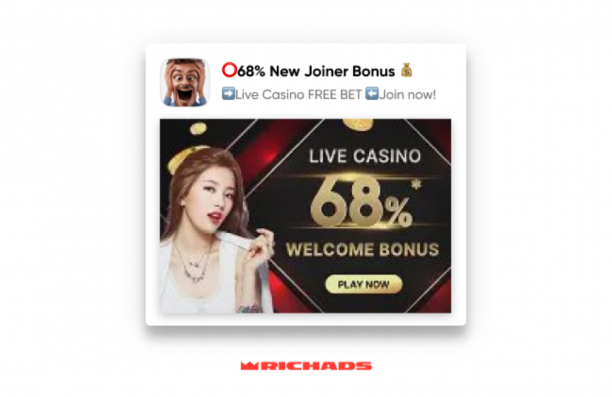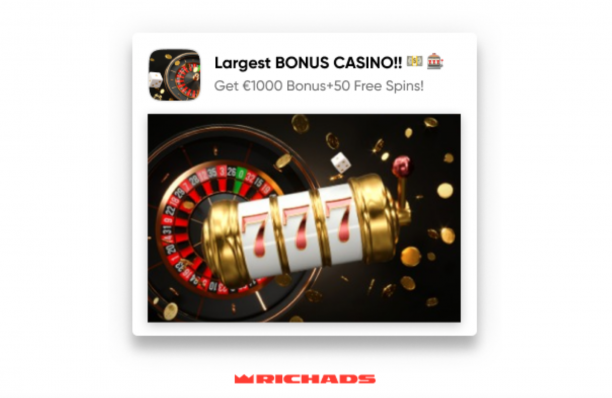 Create an illusion of low competition

The easiest way is to announce a new casino. Users will think that there are fewer gamblers there, and the possibility to win will be higher there. Add money to the main image and CTA like "try your luck".



Let people think that they can earn from home
Yep, they need not even go somewhere to win. By the way, it's one of the most popular advantages of online casinos. Add the message in the headline and use images with happy players.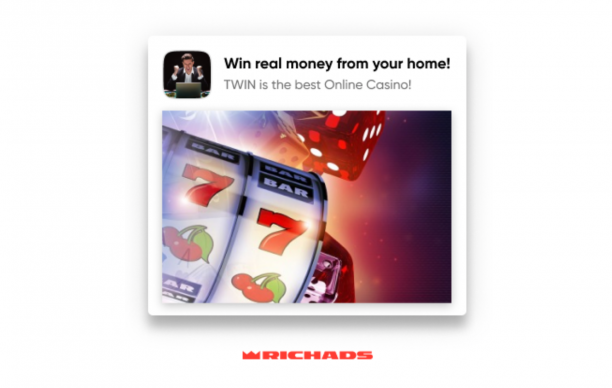 Various winning hucks designed like success stories
Inform users that somebody knows the tricks on how to win huge sums of money via gambling. To make the creative local, add the winner's name and the casino that is popular in your GEO. Use a real photo of somebody in a casino or with cash.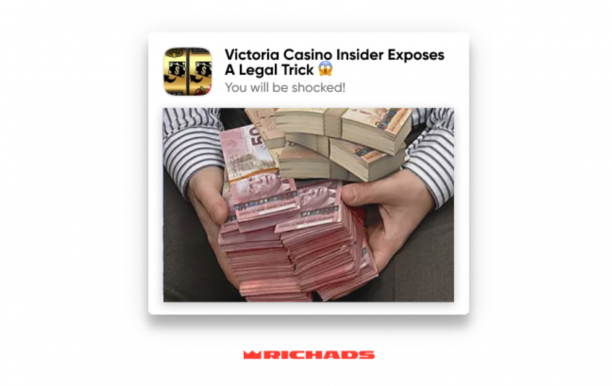 Show real deposits via screenshots from the casino panel
This advice focuses on the approach to show the real statistics of the player. Make a screenshot with large deposits, add the person's name and the place the winner is from. Yep, it's one more localization trick.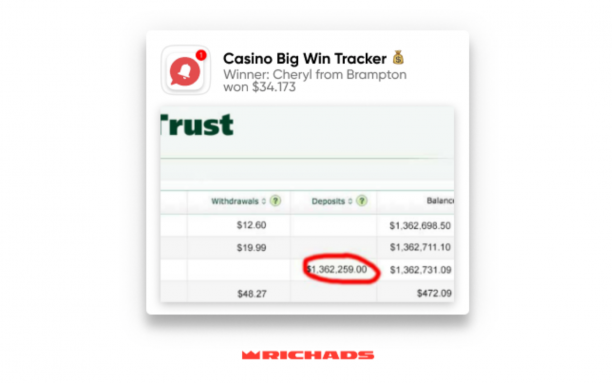 This approach is quite shocking, and that's why it makes people click immediately. Design your creative in the style of some casino and add vivid CTA to the main image.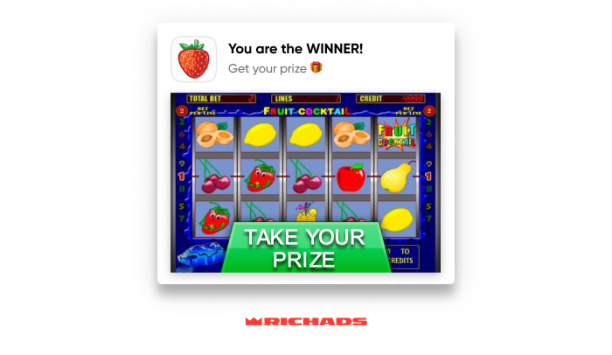 Focus on mobile campaigns 
If you launch a campaign on mobile devices, make a creative with the emphasis on it. The best way is to find an interesting image with a smartphone and include the text parts' standard bonuses approach.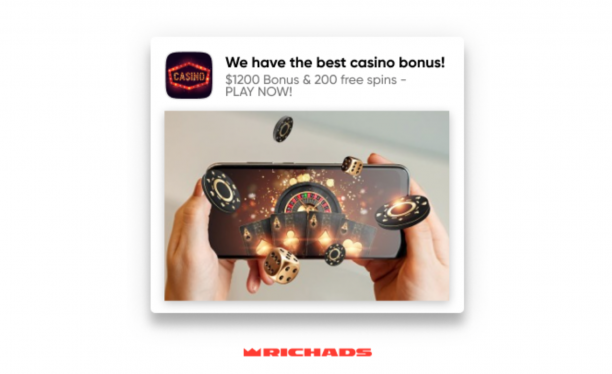 Don't hesitate and start running your gambling campaign right now, implementing hacks from our experts!

Want to know more? Join our FREE webinar that will be held next Thursday with one of the best experts on online casinos from Gagarin Group.

See you! 🎰
Share the article

Read. Learn. Do. Earn more money on Affiliate Marketing
Don't miss