Partner networks: Traforce, Leadbit, Advertise, Takeme.love
Offers: Jolly, Sexy Lovers, Takeme.love, Lovena24, Navsegda, Navechno.
Traffic source: Google Ads
Period: 27.07.2020-14.10.2020
GEO: Russia and the CIS
ROI: 200%
There is nothing supernatural in this case since it's about attracting traffic using Google ads using web view applications.
As you can see, the work was done with three partner networks, one direct advertiser, and several offers. The approach is that when installing the app, users are being directed to their landing pages. There are several buttons placed on them. They divide people by age.
For example, there are three buttons in the case -18+ (leads to the Sexy lovers offer), 25+ (Jolly, Takeme, Lovena24), 30+ (Navechno, Navsegda). Why do this? The answer is simple – you do not lose the audience. Besides, you can get a bump over time for each offer separately. All of this will allow you to increase your ROI.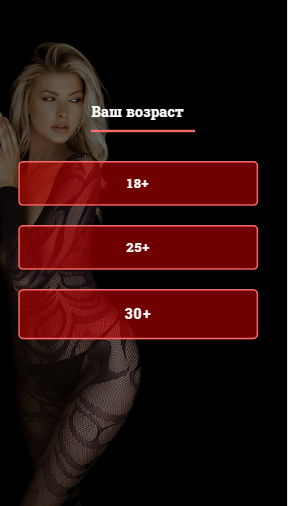 Creatives
The main focus was on video as in this very case study it was only the video that gave traffic, nothing like this with images.
Headlines and descriptions are the banal ones:
"Lonely? Dating nearby»;
"Look for love here" and so on.
One can even use simple "download the app", or "install the app". The conversion rate was not affected in any way, but advertising is no longer restricted by the "adult-only" rules.
If you use apps that are not placed in the "Dating " category in Google Play, you may encounter the fact that when advertising, when displayed in the Google display network and search, your ads will receive not quite targeted traffic.

The solution was the following — insert emojis, brackets, or other symbols instead of phrases in titles and descriptions. After moderation, ads will be rejected due to violations of the "Punctuation and symbols" rules, and they will not be displayed. But the video can be approved without any problems. It will be a video that will give visitors who are interested in Dating.
The videos are simple, and you've probably seen many of them. Some were tough, some fairly neutral. The monitoring in the process showed that this also does not affect the conversion rate and traffic volumes, so there were only neutral videos in use. YouTube channels are not banned, people complain about advertising much less there - nothing but advantages.
I don't use direct words about Dating in creatives at the moment. This is since after the recent update of Google advertising, the video very often is not shown just because you mention Dating. Perhaps this is a problem that occurs just once and you will have no problems. The quality of traffic has not changed, and advertisers do not complain. On the contrary, recently they gave bump again.
What to do when the number of installations drops?
In this case, simply duplicate ad groups. Or you can make new creatives.
What to do when you launch ads from a new account or app?
It's 10 campaigns done with small budgets, about 50$, and increase the installation price until the videos start playing on YouTube. The next day, lower the bid and see how the ad behaves. If it keeps on giving some conversion even if the volume is less, let's leave it until the next day. That's how it will work until obtaining the right price for the installation.
Where to get advertising accounts?
Register Google mail and go to the service of fast debiting. They give out a ready-made account. This is convenient as there is no problem with finding payment methods, and part of the VAT is sometimes compensated by bonuses from such services. And if your account is banned, you can immediately withdraw the money that was on it and transfer it to another account.
By the way, about the ad account ban. Many of the accounts created through such services are banned in the first days. File an appeal and the account is back in service. And somehow advertising starts to accelerate faster with such an account. Funny observation.
Where to get apps?
Probably one of the most pressing questions is where to get apps? I don't use apps from partner networks, I don't rent them, I make them myself. But if you don't know how, you can ask in the partner network. LeadBit has apps, and Alfaleads seems to have apps too. There are a lot of rental offers in the webmaster's chats in Telegram. You can also find a freelancer who will make the app for you.
Additional monetization
If you order an app, ask that it has the ability to integrate Google Ads ads. I always insert Google ads in my apps. This doesn't affect the conversion either but it does bring in additional revenue. For example, in September, there were additional 500$. Right now, ad impressions are limited but I don't know why, and that's another story).
Using your prelanding you can try to insert the commercial offers. We can say that the conversion rate for Dating has not sunk, and the approval for the commodities is still at the level of 30 percent (if you close your eyes to trash). Offer – Titanium (for those who understand). Partner network – Offerum. Nothing to say for the quality yet, as they are on the test just for the last few days. Will see, how the advertiser will evaluate the quality of traffic in General.
Results
At the moment, driving traffic to Traforce keeps on going. It's the total satisfaction, payments are made on request, bids are periodically raised, and most important thing - they have very responsive support. They treat all the guys the same – whether you are a newbie or not. They respond quickly.
Paid

Traforce — 19 000 $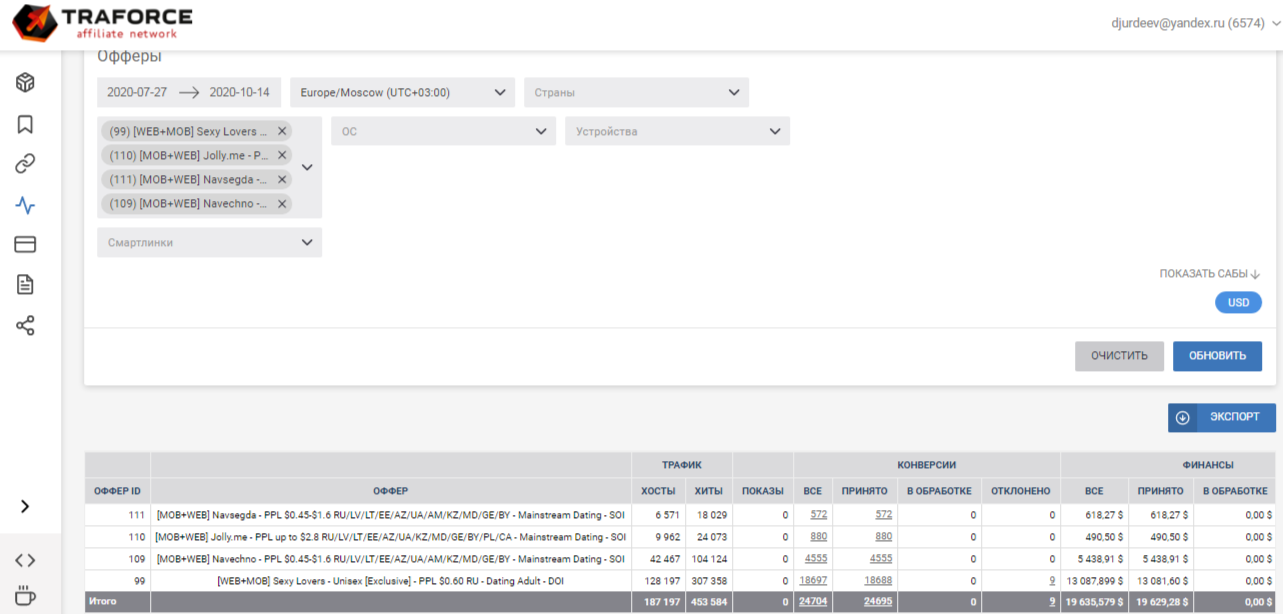 Leadbit - $1348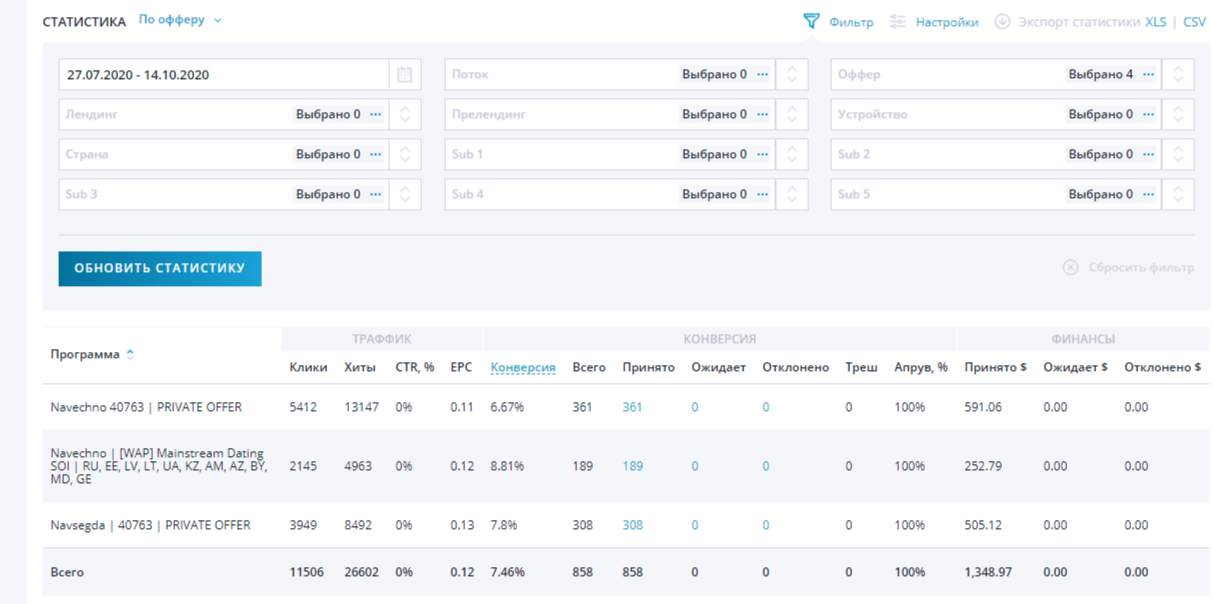 Advertise - 348000 RUB (approximately $4563)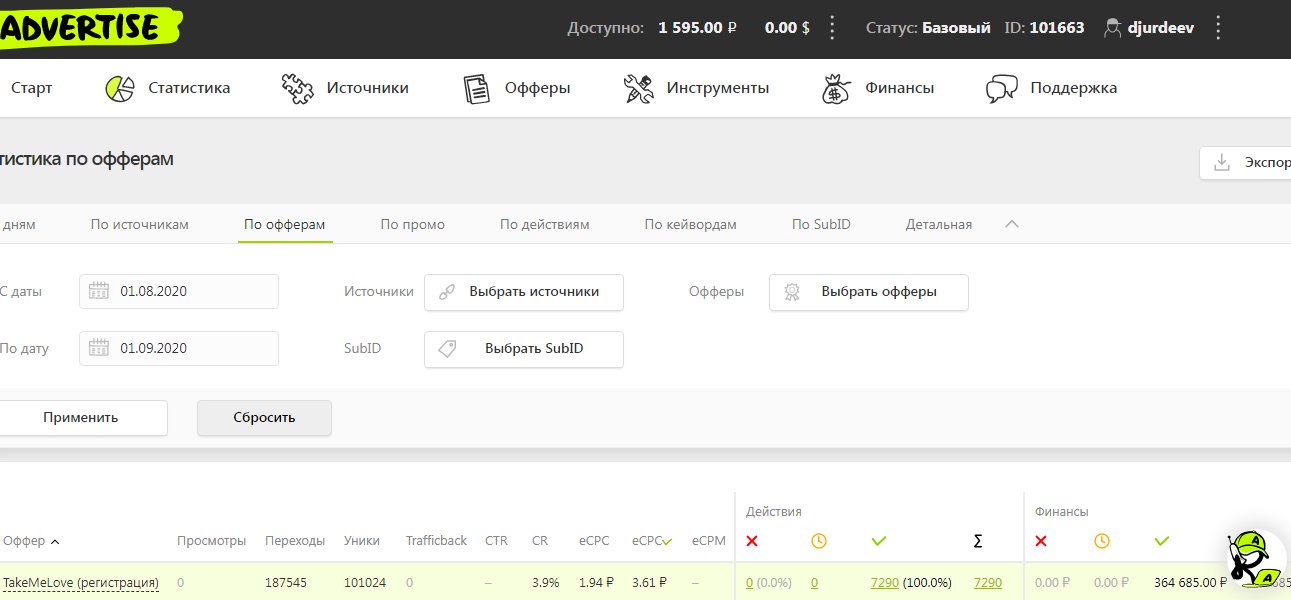 Takeme.love - 780000 RUB (approximately $10230)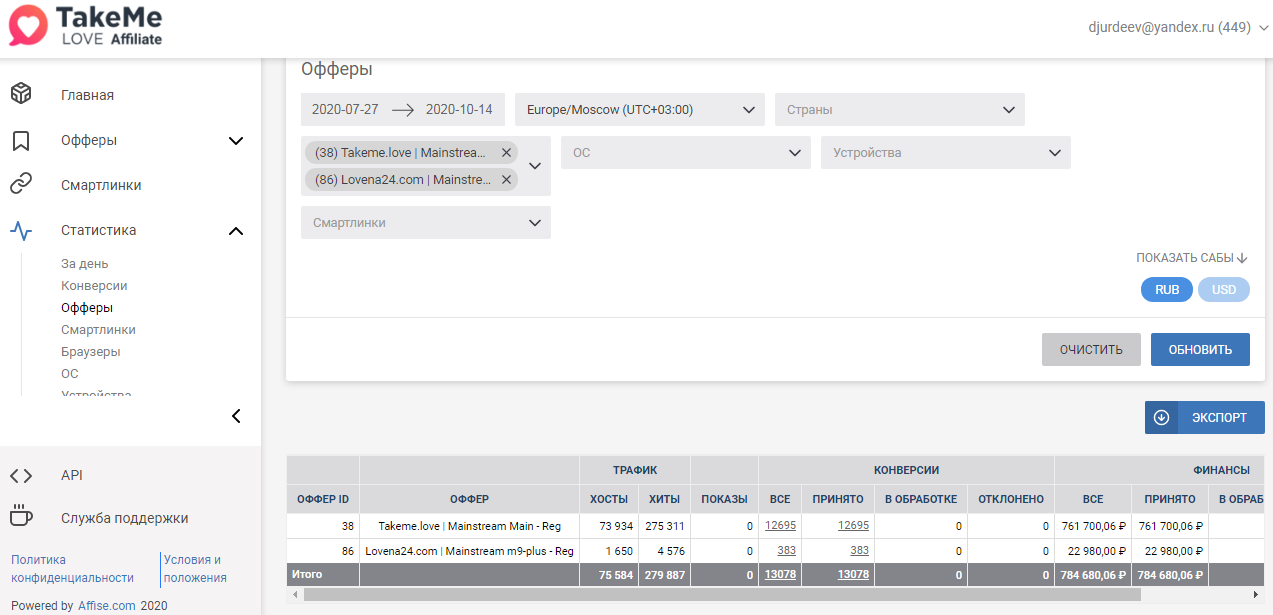 Author of the case - Alexander Djurdeev. Write me if you have any questions.
Vk.com — @djurdeev
Telegram — @djurdeev
Share the article

Read. Learn. Do. Earn more money on Affiliate Marketing
Don't miss