The global sports industry has maintained steady growth for years and is expected to reach $599.9 billion by 2025. Access to live events and broadcasts has never been better, and key events have recorded huge viewership numbers recently. Emphasis on wellness has lead to the growth of the sports nutrition and supplement industry, which only adds to the allure of the sports niche. 


The sports industry's future looks bright with increasing corporate sponsorship, esports, and internet accessibility. The opportunities in sports are limitless due to the many segments available for marketers. Corporates have dedicated significant funds to sports due to the passionate nature of sports fans. 
For traffic owners and marketers seeking to promote sports offers, there is plenty of good news. The lucrative opportunities will only increase because brands understand the power of sports in influencing purchasing decisions. You can choose to promote offers from well-known brands such as Adidas, Nike, and Puma or stick to lesser-known brands with lucrative commissions of up to 30% per sale. 
Let's look at the top 20 sports affiliate programs. Most offers on this listicle are CPA-based, with the action being a completed purchase within the indicated cookie period.
Company

Commission (Per sale unless indicated otherwise)

Cookie Duration

Adidas

7%

30 Days

Nike


7% (non-incentive publishers)

4% (incentive publishers)


7 days (incentive publishers)

30 Days (non-incentive publishers)

Fanatics

8%-10%
7 Days
American Golf

6%

30 Days

Under Armour

5%

30 Days

GoPro

5%

Unknown
Dick's Sporting Goods

5%

14 Days

New Balance

4%

30 Days

Fitbit

3%

Unknown
Puma

6%-8%
14 Days

Skechers

5%-10%
30 Days


FanDuel

35% Recurring (Revshare) or $25-$35 (CPA)
Unknown
Fabletics
$2-$20
30 Days

Callaway Golf

6-9%

Unknown
Mountain Hardwear

10%
21 Days

Paragon Sports

8%

30 Days

OnlineSports.com

10%-14%
60 Days

RDX Sports

3%-10%
Unknown
Osmo Nutrition

10%

30 Days

Chirp

2%

30 Days

1. Adidas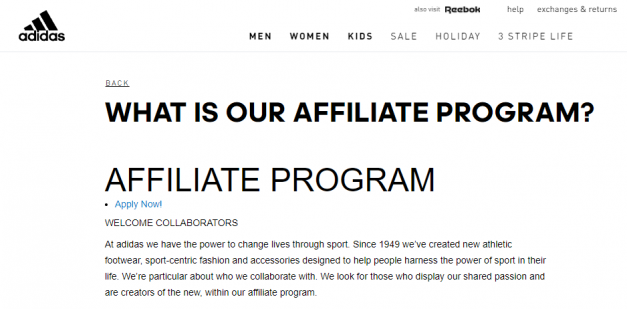 The Adidas affiliate program offers the opportunity to promote offers from a well-known brand with a wide range of athletic and leisure apparel. The program's standout features include: 
Application review within 48 hours. 
Payment via Impact Radius on the 20th of the month following the lock date (60 days after a sale is confirmed). 
Promotion via sub-affiliates provided you are transparent about the sub-affiliate's traffic sources. 
Publishers are prohibited from using the Adidas name or other trademarked terms in paid search ads. 
A 7% commission on every successfully referred sale. Affiliates are encouraged to use coupon codes provided through the program to promote Adidas offers. 
A 30-day cookie period. 
2. Fanatics

Fanatics cashes in on fans' passionate attachment with items associated with their favorite teams, players, and sports events. The affiliate program's features include: 
A 10% commission on every referred sale. 
A 7-day cookie period. 
A one-month lock period for all actions. 
Payouts every 30 days (note that customized payment terms are available for proven experts with the option of getting daily payment via direct deposit). 
Affiliates are required to have websites for approval. 
Access to tracking technology that ensures real-time updates on the state of all your referrals. 
3. Nike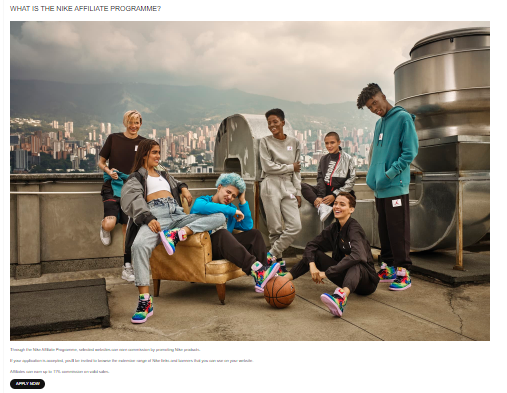 Being a Nike affiliate offers you the opportunity to promote offers from one of the world's widely recognizable athletic equipment, clothing, and footwear manufacturer. The brand actively works to provide its advertising partners with the Nike toolkit that details the new promotions, drops, and launches to ensure you have enough information on offers you can promote. Here are other key features: 
A 4% commission for vouchers, loyalty, cashback, and deals-focused websites. If you promote promotional deals for Nike products on social media, you also fall into this category. This group also gets a 7-day cookie period. 
A 7% commission for all other publishers (the classification is done during the approval process). The group enjoys a 30-day cookie period. 
Denial of usage of brand names and any Nike trademarks as keywords in PPC search engines. 
Bi-monthly payouts for all qualifying referrals (a 45-day window is required for every sale to cover the return period). Upon expiry, the transaction qualifies for a payout. 
Accepted promotional types: media brokers, search, loyalty, discount codes, content, community, and cashback. Email and behavioral retargeting promotions are prohibited. 
4. American Golf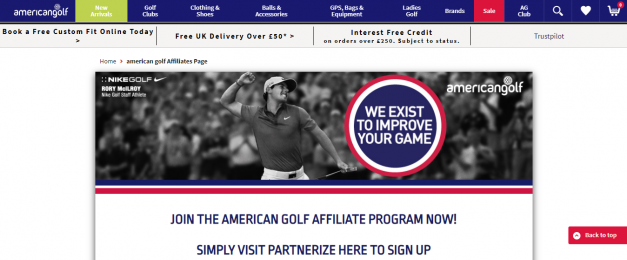 The American Golf affiliate programs offer you the chance to promote offers to lovers of the sport that saw its popularity rise in 2020 and promises further growth. Europe's largest golf retailer's affiliate program includes:
A 30-day cookie period. 
Custom commission rates on sales starting from 6%. 
The latest product feeds, regular deals, and banners to aid your promotion efforts. 
5. Under Armour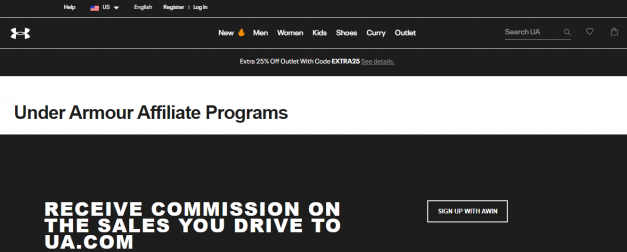 Under Armour is in the footwear,  sports, and casual apparel industry and is the second-largest sports brand in the US after Nike. The program's key features include: 

Monthly payouts. 
Access to affiliate partner tracking and reporting interface to view traffic and earning reports. The interface also offers insights on performance indicators to help you optimize your promotion efforts. 
Deduction of commission for returns and unaffected in case of exchanges. 
A 5% commission on successful referrals with a 30-day cookie period. 
Cross-device tracking. 
Zero commissions for PPC promotions and use of brand names or trademarks as search terms in paid ads. 
Accepted promotion types: loyalty, behavioral retargeting (needs prior approval), coupon codes, content, community, and cashback. 
Unacceptable promotion types: email, search, and media brokers. 
6. GoPro

GoPro specializes in the development of action cameras, video-editing software, and mobile apps. Your role as a marketer will be to promote its offers to people with active lifestyles that enjoy documenting the exciting things in their lives. Some program features include: 
A 5% commission on successful purchases. 
Application approval within 24 hours. 
Prohibition of direct linking or trademark bidding on search engines. 
Access to reporting and tracking tools. 
Bi-monthly payments on the 1st and 15th of every month with a $25 minimum payment threshold. 
7. Dick's Sporting Goods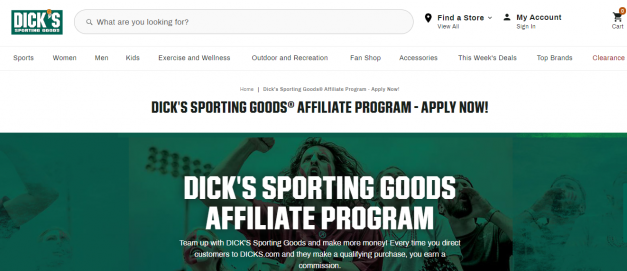 Dick's Sporting Goods boasts of its position as one of the leading sporting goods retailers with products ranging from footwear, apparel, sports equipment, and other related accessories. The programs standout features include: 
Affiliates must be located within the US. 
An in-house affiliate management team to handle all queries via email. 
Signing up for the program requires registration via the Impact Radius affiliate network. 
Daily reports via Impact Radius on clicks, impressions, and commissions earned. 
A 5% commission on qualifying purchases with the 14-day cookie duration. 
Monthly payouts for approved commissions (a 60-day lock period applies to all commissions to allow returns). 
8. New Balance

New Balance is a leading footwear and apparel manufacturer with operations in over 120 countries. The company is valued at $4 billion and offers affiliates the opportunity to promote offers related to its sports and lifestyle products. Some of the program's features include: 

Affiliates can sign up through the Rakuten Linkshare network 
Affiliates can be located anywhere but must cater to a US audience since the company only ships within the US. 
Access to text links, banners, and other creatives. 
Monthly payouts
Recurring commissions starting from 2% for qualifying purchases within the 30-day cookie duration. Commissions are higher for demonstrated exceptional performers. The average earning per click is $.40. 
Dedicated program managers to handle affiliates' inquiries. 
9. Fitbit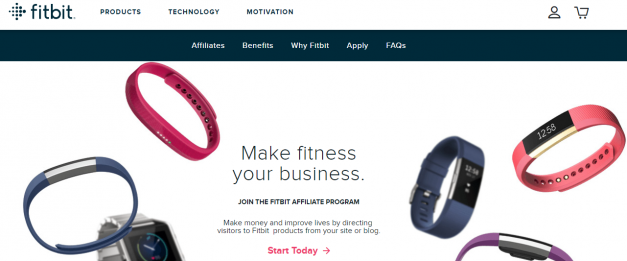 Fitbit is a world-renown fitness brand that commands 72% of the connected health and fitness market alongside Apple and Samsung. Affiliates based in North America (the US and Canada) are eligible for the program. Key program features include: 
A valid website is required for an affiliate to be approved. 
The commission starts from 3%, with high-volume affiliates attracting higher commission levels. 
Access to a creative library that has all the latest Fitbit and seasonal banners. 
Cross-device tracking. 
10. Puma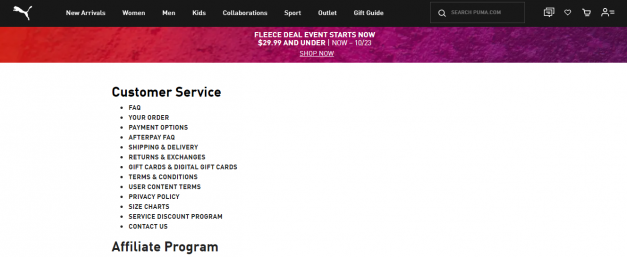 Puma boasts its position among the market leaders in apparel, footwear, and accessories. Your role as an affiliate will be to promote exclusive deals, promotions, and special sales. Here are the key features: 
A commission structure based on performance. You get a higher commission when you generate more sales. 
A 14-day cookie duration. 
Bi-monthly payouts on the 1st and 15th of every month. The minimum payout amount is $25. 
Access to reporting and tracking tools from Pepperjam. 
Access to offers exclusive to affiliates. 
Direct linking and trademark bidding are prohibited on search engines. 
Approval within 24 hours. 
11. Skechers

Skechers operates in the performance and lifestyle footwear market space and has a global reach. The affiliate program's features include: 
Accepts all promotion types other than PPC. 
Commissions on the sales value ranging from 5% to 10% for tracked links within 30 days. 
A mobile-optimized website to ensure you can capitalize on the growing mobile browsing crowd. 
Open door policy to discussing marketing strategies and customizing them based on your strengths and preferences. 
12. FanDuel

FanDuel offers sports fans a chance to play fantasy sports and earn actual cash prizes. 
The affiliate program's features include:
Monthly payout via PayPal, check, or wire transfer. 
A CPA-based commission structure for every successful referral ranging from $25 to $35. For RevShare commission, you get 35% of the revenue your referrals generate capped at $1000 per referral monthly (recurs for the first 730 days of play. 
Access to exclusive promos, videos, tracking links, and marketing banners for promotions. 
Access to reports for tracking deposits, registrations, clicks, and impressions. 
13. Fabletics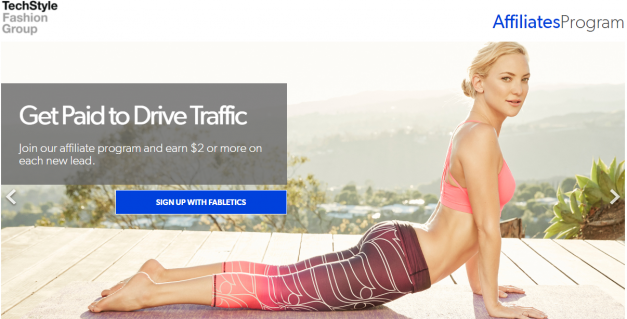 Fabletics heavily relies on its e-commerce operation to generate revenue from selling workout clothes for all genders. The active lifestyle fashion brand is the brainchild of actress Kate Hudson. The affiliate program's features include: 
A $15 commission for every sale within the 30-day cookie duration. Only initial transactions are commissionable. 
A 10-day lock period after the end of the month. 
Monthly payments on the 15th day after the approval month ends. 
Prohibition of keyword bidding, use of trademarks, and brand names. 
Prior written authorization is required for pop-under or pop-up promotion types. 
14. Callaway Golf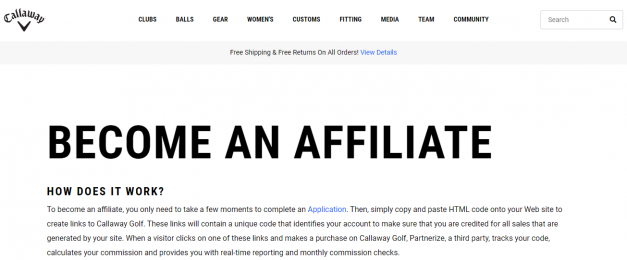 Callaway Golf is a leading golf equipment manufacturer and seller, and its listings include accessories, balls, clubs, and golf clothing. Features of its affiliate program include: 
Commissions on sales ranging from 6% to 9%. 
Monthly payouts provided you earn the minimum amount ($25). 
Third-party tracking and customized reports. 
15. Mountain Hardwear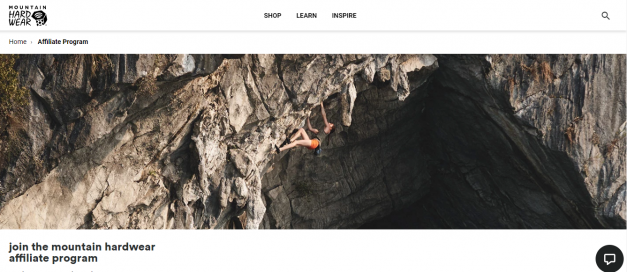 Mountain Hardwear manufactures and sells performance equipment and apparel for outdoor athletes. The affiliate program's features include: 
Commissions of up to 10% within a 21-day cookie duration. The average order value is $140. 
Access to a daily data feed to optimize your campaigns. 
Access to marketing materials, exclusive promotions, and offers. 
A dedicated affiliate manager to handle all issues and inquiries. 
16. Paragon Sports

Paragon Sports boasts a reputation of being a quality retailer of a wide range of sports clothing and equipment since its inception in 1908. Its affiliate program's features include: 
Commissions of up to 8% within the 30-day cookie duration. 
Customization of creative banners and links to suit your platform. 
Access to a dedicated affiliate management team. 
Access to detailed reports in real-time plus third-party tracking. 
Prohibition of trademark bidding or search engine direct linking. 
Bi-monthly payouts on the 1st and 15th of every month (affiliates must meet the $25 minimum threshold). 
17. OnlineSports.com 

Onlinesports.com offers its clients great value in sports gear, equipment, jerseys, and apparel. The site's affiliate program's features include: 
Commissions ranging from 10% to 14% on qualifying purchases made within the 60-day cookie duration. 
An average order value of $125. 
Third-party tracking, monthly commissions, and real-time reporting from ShareASale and Commission Junction. 
Recurring commissions for 45 days. The duration is renewed with each visit. 
18. RDX Sports

RDX Sports prides itself in the superior quality, design and technology that goes into its range of sports and fitness apparel and equipment. The company's endorsement of MMA and boxing personalities and companies have boosted its popularity among audiences. Here are some of its affiliate program's key features: 
A 3% commission on punch bags and a 10% commission on all other products. 
Monthly payouts with the minimum threshold set at $100. 
Paid search ads with brand names or RDX Sports trademarks are prohibited. The company provides a list of recommended SEM keywords and prohibits direct linking. 
Affiliates are prohibited from using promotion types such as cashback offers and shopping reward point redemptions. 
19. Osmo Nutrition

Osmo Nutrition markets its hydration and recovery products to athletes and individuals with an active lifestyle. Its affiliate program includes the following features: 
A base commission of 10% for every completed sale with a 30-day cookie duration. 
Access to marketing materials including logos and official banners. 
Monthly payouts on the 23rd of each month via Tipalti. Funds take 1-4 business days to be available for ACH/direct deposits and instant for Paypal. The minimum payment amount is $25.
20. Chirp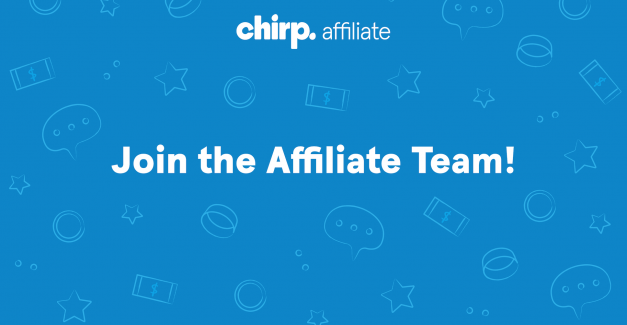 Chirp prides itself as the world's simplest back pain relief. The Chirp Wheel and other back pain relief accessories are marketed to people with active lifestyles who need the relief to maintain their high-level performances. Its affiliate program has the following features: 
A 12% commission on all referred sales within the 30-day cookie period (Top performers get the chance to negotiate higher commissions). Approval of commissions takes 75 days to accommodate the 60 days return period.
PPC bidding on Chirp brand names and trademarks are prohibited. 
Processing of commission payments via Share-A-Sale on the 20th of every month. 
Access to banner creatives and tracking codes to ensure accuracy in recording eligible referrals. 
Conclusion
The passion of sports fans and the dedication of people with active lifestyle makes the sports niche quite lucrative. Many brands have varied interests such as apparel, betting, sports equipment, nutrition, gear, and much more. Our comprehensive list offers an insight into the type of offers available for promotion. Please remember that some programs have certain restrictions on promotion types or location, so ensure you select an affiliate program that suits you. We conduct regular reviews of individual programs, so keep checking our site for updates on some of these programs. 
Share the article

Read. Learn. Do. Earn more money on Affiliate Marketing
Don't miss