iProxy.online: how to set up a mobile proxy with your smartphone. Here's a complete guide for affiliate marketers

Proxy servers are a thing a lot of people don't know they need. And why would they, especially if very seldom one talks about how it benefits a regular internet user? Let us relinquish the myth that you can easily go through life and avoid using proxy servers completely. We will talk about everything they have to offer, how easy it is to use taking iproxy.online as an example.

Proxy servers are a thing that most common people don't really need, but for affiliate marketers it's a must-have. But why do you need it? What is a proxy and proxy servers? Let's find out and learn how you can easily set up a private mobile proxy just with your Android smartphone and how you can use it as an affiliate on the example of iProxy.online. 

What is a proxy server?
Proxy server could easily be called an intermediary between your laptop/smartphone and the website you're willing to visit. 
Let's have a look at an example. You connect to the proxy with your personal computer and through this proxy go to a website. The website can see the connection through an IP address of the proxy and then will send all the content of the website (images, texts etc.) to the proxy server. All the while the website doesn't know if this data is sent any further after the proxy server (to your computer, for example). This means that with the proxy you're visiting websites with a different IP address, not your real one.

When you're working in the affiliate industry (may it be social media advertising or SEO optimization) you will encounter a situation where you will have to create many different accounts, bots and automatizations.

It should be noted though that your own IP address that you get from your personal computer at home or in the office is of high quality. Websites treat it with great amount of trust.Traffic that comes from fiber and is distributed via Wi-Fi is called "resident proxy"

However, it is practically impossible to work with many accounts through just one home IP address. If all of your accounts are connected with each other through the same IP address, the sites will quickly understand that at the end of the day all the activity comes from one person and will deem it fraudulent. Which will eventually lead to the ban of all the accounts.

This is why you need the tools to make your activity for different accounts unique:

to make your computer unique with anti detect browser and remote PCs;
to make your IP address unique with proxy servers (like iProxy.online).
Most affiliate marketers use remote virtual machines to make their work smoother and more secure. Those machines should work through unique IP addresses. Unfortunately, this is something your Wi-Fi at home cannot do, but connection through proxy will definitely be of help here.

Types of proxies:

server proxies;
resident proxies;
mobile proxies.
Server proxies are proxies that are sold by large Data centers. The companies buy a pool of IP addresses and sell them to regular customers at retail. Proxy data are mostly faster and cheaper, but still the IP address doesn't change. Which means that websites can easily identify proxies through the pool of IP addresses and attribute them to the Data center they came from.

Websites know that a real user would not use Data center's IP addresses and quickly understand that the activity most likely comes from a professional affiliate marketer that masks his/her real IP address and location. And their account will immediately fall under suspicion.

Resident proxies are the internet that you use from fiber home/office Wi-Fis. This is a quality proxy since it's quite difficult to obtain on an industrial scale. Regular internet users go online using home Wi-Fi. However, resident proxies are quite expensive and, which does happen a lot, a bit slow. IP address change with resident proxy providers will also have some peculiarities. For example, in one country it will change the city or the service provider, which does not resemble the behaviour of a real user.

Mobile proxies are the internet from mobile providers, the same that you have on your phone or USB-dongles. As a rule it is quite fast, cheap, with easier change of IP addresses and a big pool of them. Every time you switch to airplane mode and back, you will get a new IP address. The same goes for USB-dongles when you restart them. The service provider stays the same and this type of behaviour will appear as conventional for a regular user. At the moment this type of proxy is the most wide-spread and popular among affiliate marketers.

iProxy.online
iProxy.online is an Android App for setting up mobile proxy on a smartphone developed by Evgeny #SmoguVse. Having received lots of knowledge and experience in SMM, affiliate marketing, creating IT startups, Evgeny managed to create those products that would solve the problems of its users for a reasonable price.
The main idea behind this proxy application is to give the opportunity to set up mobile proxies quickly, easily and without any specific programming skills. Anyone can do that. All you will need is a smartphone and a SIM card. Besides its simplicity, the service is also very affordable: for one proxy you will pay only $5-8 dollars a month. The total amount of having a mobile proxy will be: your mobile phone plan + $5-8 per month.

iProxy.online offers high quality affordable proxies. The service would guarantee high speed and great security to its users. With more than 10k downloads on Google Play, it is constantly being improved and updated.

How does it work?
While the usual way of going to the website is Website - Device, a Proxy server creates a whole other way of connection. For example, if you use an antidetect browser, the route would look like this: Browser - iProxy server- Smartphone - Website - Smartphone - iProxy server- Browser. Why so complicated?
Affiliate marketers usually use it to hide their identity and show the website they are just regular users. The website will see only the External IP address of a smartphone device, the rest of the route with iProxy and antidetect browser will be completely hidden from it. It is extremely useful for publishers when they want, for example, to farm Facebook accounts (here is a whole guide and explanation why you would need a proxy server). 

So, with iProxy you can easily manage personal mobile proxies and make your life as an affiliate a lot easier.

How to use it?
The first thing to do would be to go to the website iproxy.online and sign up there. You will need to give your email address, your telegram account (if you have any), and create a password. We would strongly recommend getting a telegram account, if you don't have it now, as it would be easier to communicate with the support team of the app.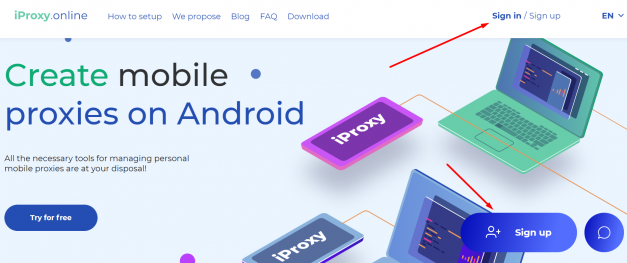 After signing up you will be redirected to your profile page. There you will need to "create connection" with the closest server. It is advised to choose the one closest to you since the connection ping will be better and the speed - higher. As you can see, they have servers in different countries, including some CIS countries,  Germany, Canada, the USA, Turkey and Peru.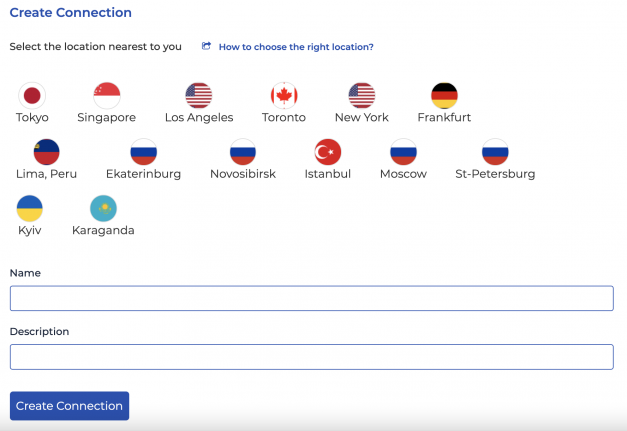 Once you create a connection, you'll find links to download the app from Google Play. 
In order to change the IP address, you need to switch the phone to air mode. This is possible with the voice assistant for regular android, or with root access. Detailed instructions on configuring the IP change can be found in the article.

For those of you not really familiar with the term "rooting a phone", let us help you out with it: rooting a phone means to get full access to all the files in the operating system so that you can change anything you want. In the case of iProxy, root access gives the app the ability to switch to airplane mode.

If you go to the web version of your profile you will see your device, IP address, type of proxy, login and password (in our case we chose "affiliate" as the login and "valley" as the password). The same will be basically available to you in the app itself.


A short instruction on how to set up the application. Sign in and click on next/continue/done.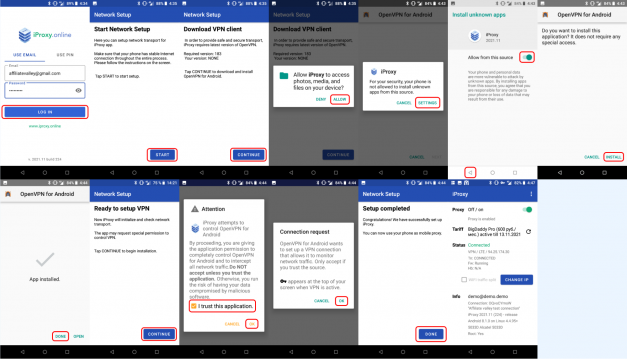 The app will also suggest setting up OpenVPN. You will download a VPN server that iProxy recommends - OpenVPN for Android. Now that everything is set up, you are ready to go and use it to its full potential.
In the "connection settings" you can find many interesting features. For example, you can: 

Add proxy accesses to an existing connection;
Select the type (socks5 or http);
Passive OS fingerprint substitution (the creators promise it in the nearest future);
Specify IP-addresses which will have access to your proxies;
View IP addresses history;
Set up auto-renewal of IP-address.
Telegram bot for notifications and changes of IP addresses
Price
iProxy provides you with several subscription plans to choose from depending on your needs:
Baby: this plan has a speed limitation (5 Mb/s) and logs last for 7 days. The price would be around $5 a month.

BigDaddy: speed limitation here is 25 Mb/s and logs last for 4 weeks. It would cost around $8 a month.
BigDaddy Pro: this plan brings the most benefits. With no speed limitation, logs lasting for 12 weeks and a UNIQUE IP feature, it is available for only $8.5 per month.
Conclusion
iProxy is definitely your guy if you are serious about making it in affiliate marketing. With iProxy.online setting up a proxy is easy and the technical characteristics such as security, anonymity to a certain degree and freedom will definitely be worth its money. 
Apart from iProxy you can also try some other projects from #SmoguVse, like push.express. It is a service that helps you automize/plan push notifications for both iOS and Android platforms, as well as the push-notifications to the websites. Push.Express has everything you need to make those push notifications work: Event support, local time, autopush after events, statistics to optimize your performance, API, customized audiences, unlimited number of apps etc. But we'll have a closer look at it in a different article. 

Go check those services out and let us know about your experience in the end!

Share the article

Read. Learn. Do. Earn more money on Affiliate Marketing
Don't miss