As we all know, you can never have enough of gambling offers. It's not only about having a choice, it's about the variety and finding what works best for you. What can be better than finding the perfect partner program with the highest payout and many other perks? So this is why we present here a review of 1win Partners with their two in-house offers.
1win: Company Overview
1win is a betting company and online casino that has won over the audience in the past several years despite its young age. Providing a variety of entertaining options (betting on any sport or esport, playing online casinos) it can easily be called one of the most popular and successful companies out there. 
1win offers a chance to play high quality casino games (and there are more than 8400 of them currently available!) that are constantly being improved. All the top slots and live games (almost 300 of them) are easily accessed and duly paid. Apart from casinos, they have a wide range of betting options for any taste. For both casinos and bets, 1win provides a great variety of activities and bonuses for active players.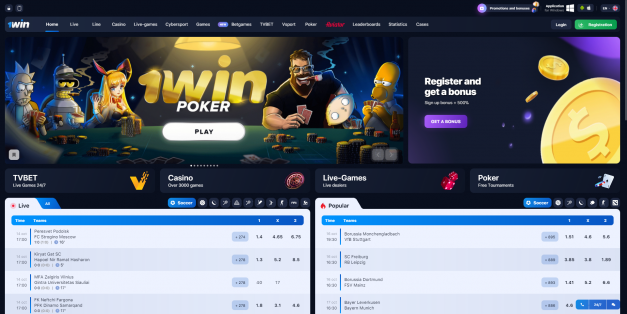 1win affiliate program overview
1win Partners is an affiliate program with two in-house offers: casino and betting. It was created in 2017 and is now considered one of the most profitable gambling programs. They started out working with Russia and a number of CIS countries, but have already expanded their influence further to other countries.
Benefits of the 1win partner program
There are so many of them, we had to compile a whole list.
1. When you first start with the program, your default RevShare rate is 50% (which is not that common among other affiliate programs). The rate never goes below the starting 50%, so you can always be sure you are generously paid if you bring in active players on a regular basis.

2. Each partner is assigned a personal manager who will help you first throughout the onboarding process and will always be within reach, should any problems occur during the active promotion. Not only are they capable of solving any problems, they can also give you tips and tricks as experts in the field.
3. 1win does everything to keep the players you bring to them. This includes standard measures: sending SMS, email newsletters and push notifications and offering constant bonuses. But they definitely go an extra mile here and provide:
a multilingual call-center working 24/7
vouchers (a no-deposit bonus) for players
discount promo codes for further deposits
VIP-statuses for special clients
money bonuses for VIP-players + individual support of such a player
4. The company is also working on its social media presence, thus engaging prospective and existing players on a regular basis. 1win has different social media accounts, some of them also with local versions for specific GEOs that perform well. 
1win partners prides themselves most on having an individual approach to each partner. Every registered member is treated like a full partner. It's not only about earning money; it's about sharing experience, getting bonuses and other perks, being able to consult qualified experts in the field. A webmaster can always count on some quality advice and pro tips.
GEOs available in the 1win Partners program
At the moment, the most popular and well converting GEOs are India, countries of Western Africa, Russia, Ukraine and other CIS countries (e.g. Azerbaijan and Uzbekistan). 1win is working on expanding the available area and is planning on launching Latin America countries in the near future.
Partners that have proved themselves to be trustworthy can be given early access to new GEOs before they are announced to everyone else.
Cooperation models
1win Partners offers three common cooperation models: 
RevShare: 1win pays 50% of its profit from each player that a partner brings in. As we have already mentioned, the starting rate is unusually high for gambling offers and you can never go below these 50%.
CPA: each first deposit from a new player can be paid up to $200 depending on the GEO and the source of traffic a partner is using. CPA payouts are usually negotiated with a personal manager and you can end up getting an exclusive deal if you drive high quality traffic. 
Hybrid: a wide spread scheme where you're paid for each first deposit and for the lifetime value of each of your players. It is difficult to say the exact rates here, as each scheme is individually discussed with the manager.
1win partner helps you monetize any source of traffic that you have and provide various instruments for achieving high results: personal bonuses for players, custom-made creatives, apps etc.
Allowed types of traffic 
Any type of traffic you want: it can be display/content, push notifications, email advertising, targeting and the like. What they absolutely do not tolerate is fraudulent activity, incentive traffic and misleading the customers. This might result in deduction of your commission or elimination from the program.
Registration: from A to Z
When you go to the official 1win affiliate program website, you will immediately see the sign up form. The process is pretty standard: you need to give your name, your email address, your phone number and, if you want, another way of contacting you through messengers (telegram, whatsapp or Skype) or your Facebook profile. 
At this stage you also give information on your traffic source and choose a preferred collaboration model (CPA, or RevShare).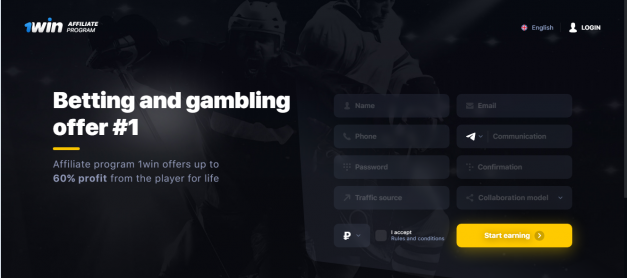 Once you've filled out all the information, you are automatically referred to your newly created affiliate account. Should you choose RevShare you will have access to all the promo materials and can start working right away. In case of CPA, your account will go through a short period of moderation where a manager will get in touch with you to get to know you better.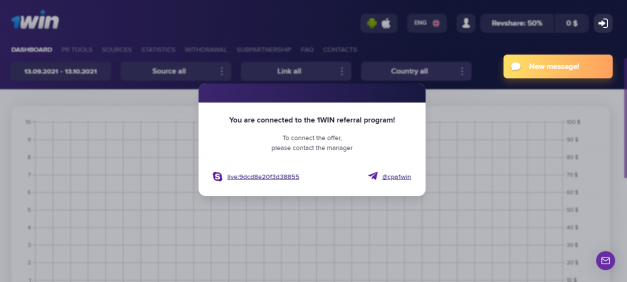 Dashboard
The Dashboard is where you can see the summary of your activity: statistics for a chosen period (which you can sort based on the period, source of traffic, GEO and links used), your current deal (RevShare/CPA/Hybrid) and current balance. The navigation is pretty simple: at the top of the page you can see all the necessary sections (Statistics, Promotional tools, Withdrawal, Sources etc.)

How to set it up? 
You can implement a global postback to track your performance with all the offers. All you need to do is to click on your account profile and choose Global Postback. There you will be given all the parameters you need to create your own postback and Save it.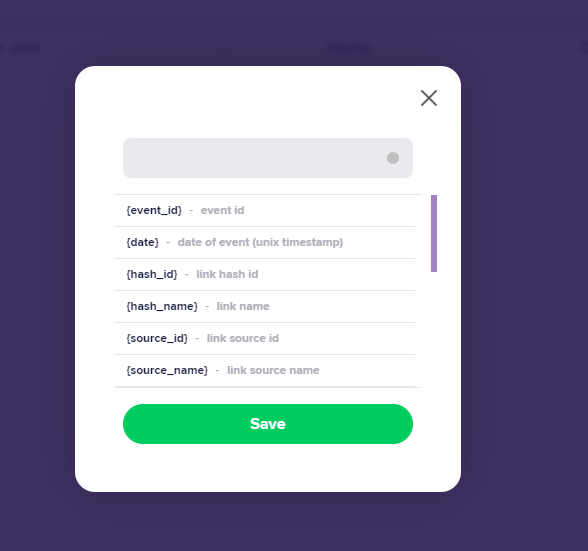 1win Partners can also provide you with direct personal domains that have proven to have quite a long life. So, you don't need to worry about your traffic and its tracking. What's more is that 1win Partners can also give you their own apps to drive traffic from. You can always ask your manager for more detailed information
What promotional tools are available?
1. You can get a direct link to any page (it can be betting or casino, or special landings for cybersport/football). To do that you need to go to PR Tools and choose Links. After you click on Create Link, you will need to choose your source of traffic, the page you want to promote and give it a name.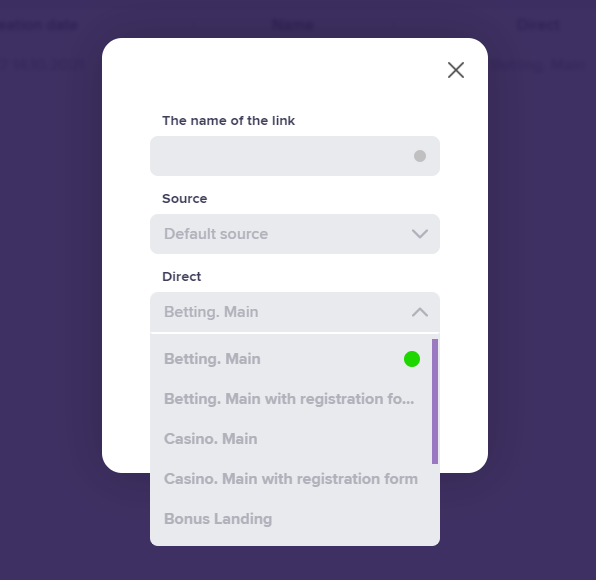 2. You can also create a personal promo code for each of your sources. Go to PR Tools, choose Promo codes and click on Create promo code. You can choose your own combination for your traffic source and hit Create.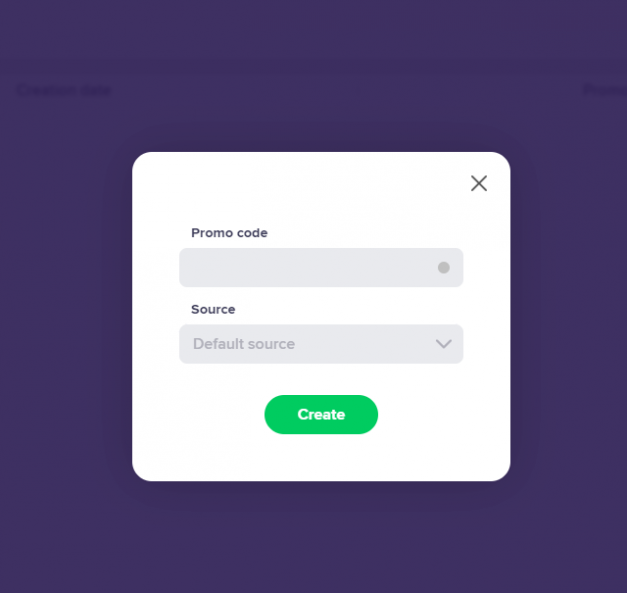 After that you will need to make additional adjustments and save links for each of the targeted actions. There's also an option to set up postback if you want to receive detailed statistics on your referred players. See below: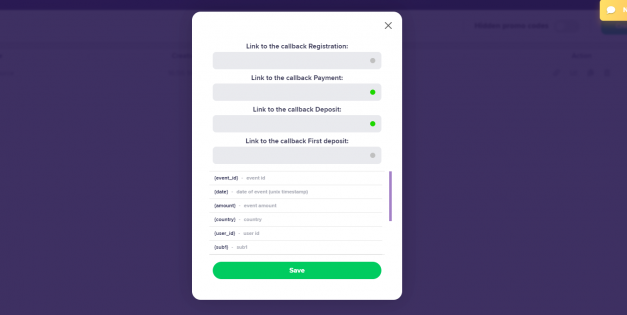 3. Banners are also available for use on the platform. If you want to take them, go to PR Tools, click on Promo-banners and there you will find different banners of different sizes. Usually partners take the banner code and paste it on their sites/apps.
Payments 
You can withdraw your money using any payment method you prefer. It can be either Webmoney, Crypto, bank transfer or any other local payment systems for different 
GEOs that are available on the website of the betting company. 
To be eligible for your first payment, you will have to bring in at least ten players with $70 worth of deposits at least. This condition is dropped from all next payouts.
For example, for India the following methods are available: UPI, Phonepe, Gpay, Bank transfer, BHIM, PayTm, UPI, PhonePe, Payment, IMPS, Perfect Money and Tether.
Payments are usually made every week (in dollars, euros or rubles). There is a hold period for the CPA model which is currently 7 days. 
For long-term trusted partners there are a number of benefits to enjoy. For example, you can send a request to withdraw money earlier or more frequently. Hold period can be either greatly reduced or even dropped altogether.
Summary
1win partners with its variety of promotional tools, high payouts and great expertise in the gambling industry will definitely be a great place for you. You can always get any help you need, have all your questions answered by professionals at 1win. A nicely looking and functional interface will make your experience even better. 
Commission types: RevShare (starting from 50%), CPA(up to $200) and Hybrid (RevShare + CPA).
Offer types: Gambling, betting
Offer GEOs: India, Western Africa, Russia, Ukraine and other CIS countries (e.g. Azerbaijan and Uzbekistan)
Tools: Banners, links, promo codes, vouchers 
Payment: WMZ, Crypto(BTC, ETH, TRON, Binance Coin, USDC, USDT, Monero, DOGE, Bitcoin Cash, Litecoin, Cardano, Zcash, Dash, NEO, Ripple, NEM, Stellar, EOS), 
Cards, bank transfer etc.
If you have any questions or you want to get a better picture of the company, go check them out on their social media. You can also get in touch through numerous contact means:
Share the article

Read. Learn. Do. Earn more money on Affiliate Marketing
Don't miss