If you are interested in working with crypto/trading offers and are looking for a great affiliate program, keep reading our Profit Pixels review. 

Now that bitcoin and other crypto coins reach their all-time historical peaks, it is only natural that crypto/trading offers are gaining more popularity these past several years. With a great program, the right strategy and a bit of investment you can earn about as much as with trading. While the last two points depend solely on you, we can help you with finding the best programs and the best platforms to go to. In this article we'd like to present Profit Pixels which specializes in financial offers (including crypto and trading) and is currently working on introducing more verticals to their platform (including nutra, loans and insurance and different others).
What are Profit Pixels?
Profit Pixels is a partner program with more than a hundred in-house offers in crypto/forex/trading and direct CPA and CPL financial offers (loans, insurance). The Profit Pixels team are professionals in the sphere of crypto/forex affiliate marketing and make it their priority to get the best payout rates possible for their partners. They work directly with reliable brokers, thus securing the best terms for a partnership.
However, they are not going to stop here. Recently they have also introduced the first direct nutra offers on the platform with incredibly attractive payout rates. Soon you can expect more verticals and exclusively selected offers.
Why choose Profit Pixels?
There are honestly so many reasons, we could not enumerate them all in one article. But here are the most important ones for your consideration:
The best payout rates for in-house CPA offers in crypto/forex/trading;
Decent handpicked offers in other verticals;
The high-tech platform with algorithms of machine learning written in it so that it helps to achieve the best conversion rates;
Smartlinks that are used a lot in advertisements (including the OneLink tool);
A big pool of landings and pre-landings ready for work;
Call-centers with native speakers;
More than 120 GEOs available;
No real limitations in terms of traffic.
If you cannot find a specific offer you're interested in promoting, you can always go to your personal manager and ask if it's possible to launch it on Profit Pixels. Most likely, they will be able to make it happen with the best deal possible. 
What traffic is accepted?
Anything that you believe can bring you and the program profit: from display banners to email advertising, to push notifications to mobile. The only thing that is not acceptable by the program is fraud/motive traffic and intentional mislead of customers. If they notice you doing it, you risk being banned from the program and not receiving any money for your work.
What are the payouts?
The rates vary greatly depending on your previous experience with the offers, your type of traffic and the quality of it. For a deposit you can earn somewhere from $350 to $1000 (for broker and crypto offers) or $10 and more for each lead (loan and insurance offers usually have SOI/DOI). The rates are discussed individually with each affiliate and may be raised if you prove yourself a good partner.
Mind it that each offer with such high payouts has KPI: the minimal sum of a deposit, the amount of trades made by a user etc.
Offers 
At the moment Profit Pixels gives you the opportunity not only to work with more than a hundred in-house offers from different financial categories (crypto/trading/forex), but also with great new offers in nutra, loans and insurance. As we have already mentioned, they are constantly working on expanding the list of available offers and launching new verticals. So, you can expect new releases quite frequently.
Here are some of the available offers that might be of particular interest: 
BTC Prestige
BTC Prestige is an online information service giving people trading signals (advice) to help them make money trading bitcoin. The offer accepts different types of traffic (including contextual advertising) from all countries. The KPI would be a minimum of $250 deposit and two trades made by the user.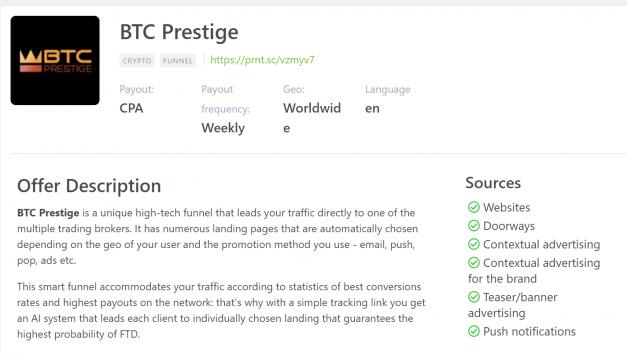 YuanPay Group
YuanPay Group allows people to trade China's official government-backed cryptocurrency through their secure trading platform. With thousands of users, this currency may be next to explode like Bitcoin or Ethereum. The terms of this offer are pretty much the same as with BTC Prestige with only difference being that the website of YuanPay Group is available in 19 languages (the most wide-spread in the world).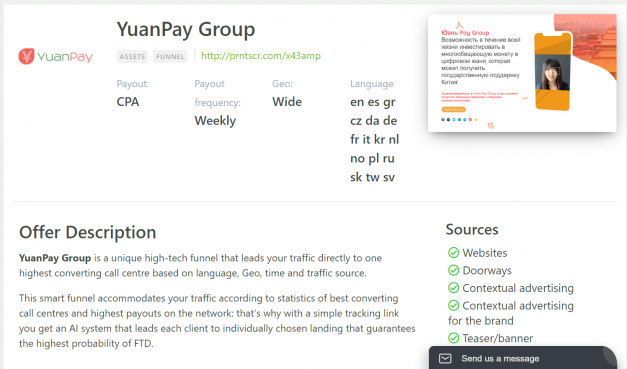 Bitcoin Era
Bitcoin Era is another tool to trade cryptocurrencies (yes, not only bitcoin). With their application available on different devices, the trading has never been easier. The application offers a sophisticated algorithm that will trade on the behalf of the user once the profitable trading opportunities are found. They pride themselves in consistent high profits of their users, easy deposits and withdrawals and trusted brokers. The landing pages for the offer are also available in 11 languages with the same KPI and high payouts.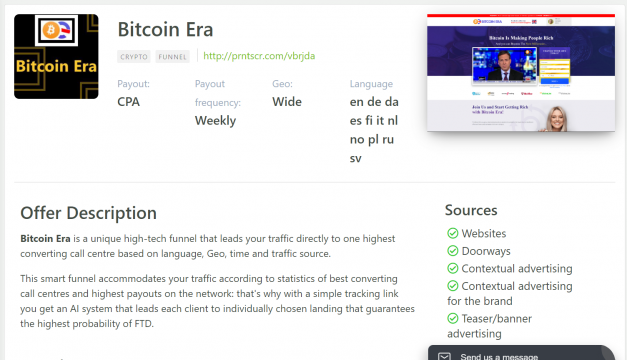 How to register
First go to the main page of the Profit Pixels program. There you will find a "Join as affiliate" button that will immediately redirect you to the registration form.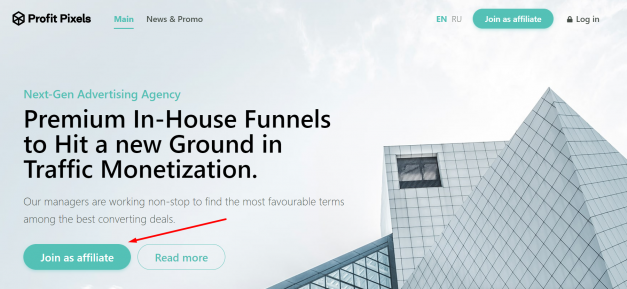 In your registration form you will need to provide your personal info such as name, email address and messenger account (telegram, whatsapp etc.). They will also ask you how you learned about them, so don't forget to mention us here in Affiliate Valley as your primary source. In the next step you will need to give some details on your sources of traffic and GEOs you would like to work with. In the third step you have the opportunity to look through the Terms of service (don't forget actually reading them) and accept them.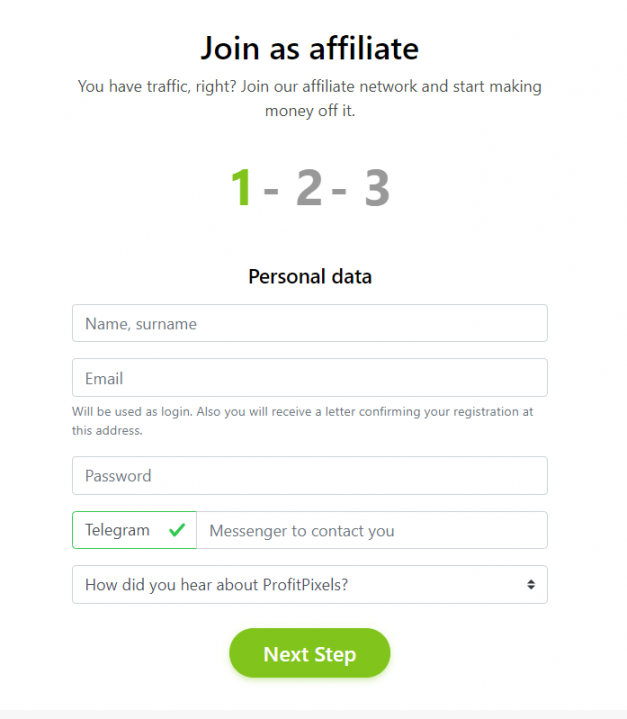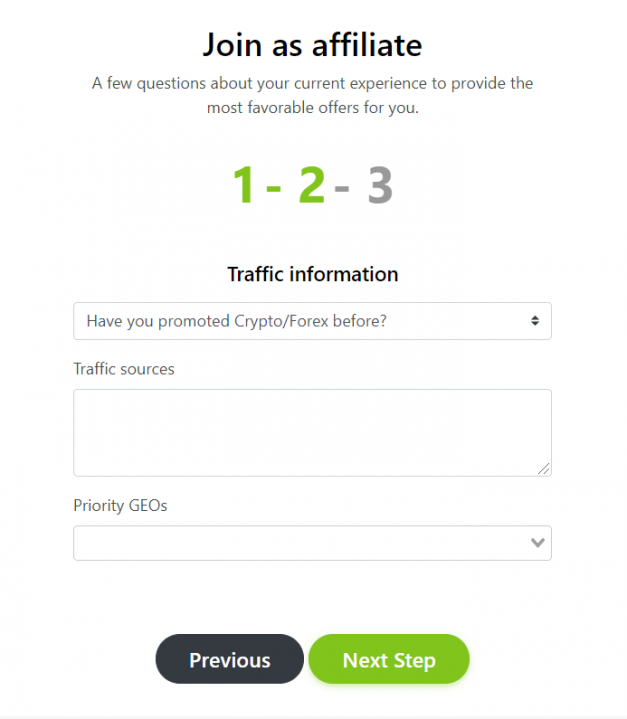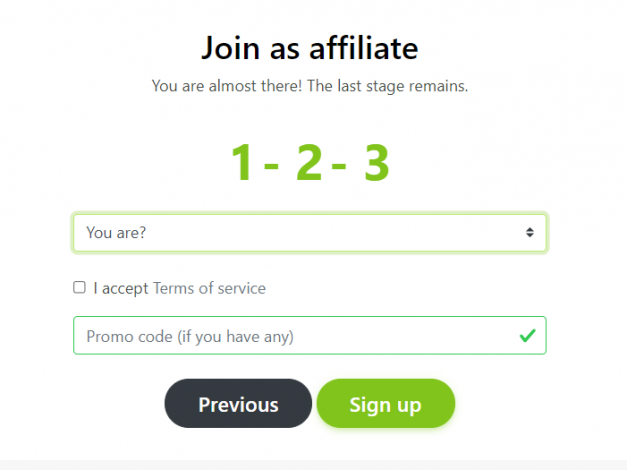 After you've completed your sign up process, you will immediately get an email to confirm your email address. You will also be contacted by a manager via a messenger of your choice who will help you through the onboarding process and will remain your personal manager after that. The manager will ask you some questions about your traffic, preferences, experience to make sure you work with the offers that bring the most benefit to you. It is the manager who gives you access to those offers and agrees upon the rates.
Dashboard
After completing the sign up process and confirming your email address, you will be redirected to the Dashboard. From here you can access any section you need: you can go through the offers available on the platform, profile settings, reports (will be more interesting once you start working with them), OneLink and Prelands and so on. The whole interface looks very stylish with their black and green colors (and a splash of orange) and is really user-friendly.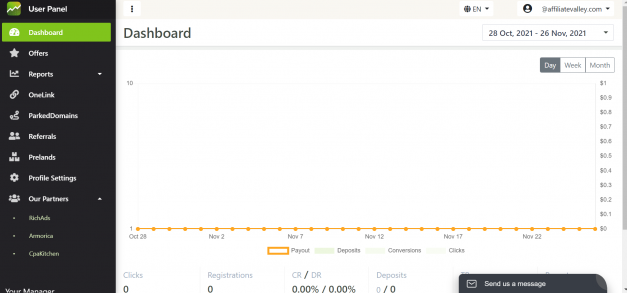 In the offers page you can see all the offers available broken down by category (funnel/insurance/broker/cannabis/crypto/loan/assets/nutra), GEOs, Language and Terms (CPA/CPL/RevShare). If you find some offers there that sound interesting, you can always request access from your manager.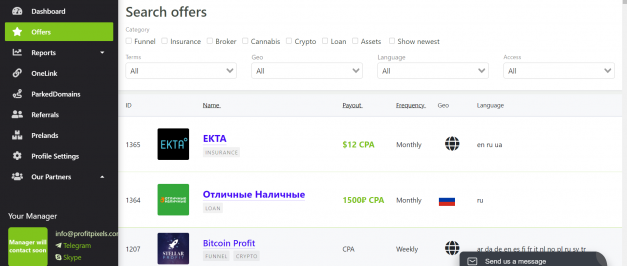 In the Profile Settings you can always access any postback (s2s) or API information and make sure everything is set up correctly. The API page contains a very detailed manual on how to connect to their API. If you have any questions, you can always ask your manager to help you with integration.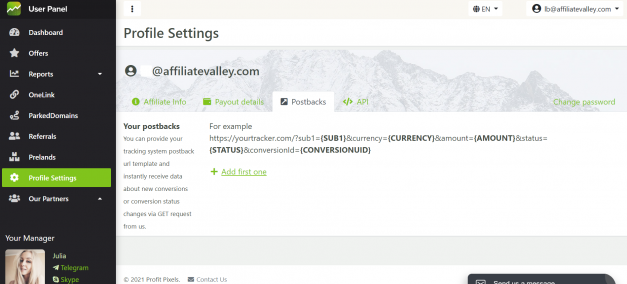 In the Reports section you will see elaborate statistics on all of your leads/deposits, including even the status of the lead from the call-center. There you can also see which GEOs and links perform better so that you can optimize your traffic.
These are not the only tools worth mentioning here. You can always create a OneLink (smartlink) to promote more than one offer. It will help choose which offers and GEOs perform best and lead your traffic to these most profitable offers. You can also add a ParkedDomain or choose Prelands to maximize the profit from the offers (make sure to contact your personal manager to get access to prelands).
Payments
Payments are made every week through a preferred payment system: Wire, BTC, USDT, Webmoney, PayPal, Payoneer. There is no hold whatsoever and no threshold for withdrawal (so you can get paid almost instantly after your leads are validated). To add a new payout method you should go to Profile Settings and choose Payout Details. And voila, you're all set.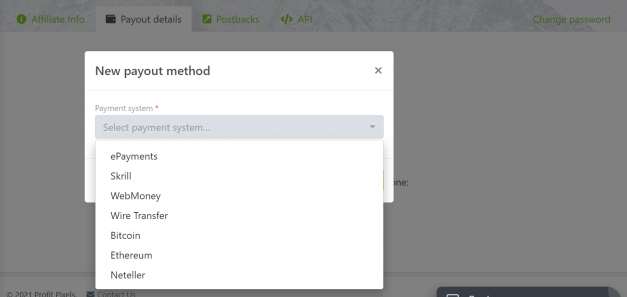 Summary
Profit Pixels is a great place for everyone willing to either try their hand at working with crypto/forex offers (or nutra, loans/insurance, if you are willing to work with them more) or those who want to explore exclusive offers from direct brokers with high commission rates. Profit Pixels are interested in your success and will give you all the tools they have to make your work easier and more profitable. 
Go check them out and let us know which offers have the most appeal!
Share the article

Read. Learn. Do. Earn more money on Affiliate Marketing
Don't miss