Today the problem of negative ROI may ambush not only newbies but also experienced buddies of the sphere. The main goal of any affiliate marketer is to get a positive ROI as this rate is the main indicator of the campaign's success. Perhaps, the more important thing in your campaign is only its profit.

In this article, experts from the RichAds advertising platform will reason about ROI indicator — what it depends on and how to increase it. Moreover, they will speak of the best flagship features that will help any advertiser to skyrocket the ROIs of their campaigns.

What does the ROI depend on?
Your ROI indicator relies on a lot of factors connected with each other. That's why it's not easy to determine what was the reason for failure.
We recommend paying attention to the following:

It's necessary to check whether it's relevant for your target audience or not and how this particular type of offer works with the traffic you use.
Traffic source of your campaign.
Check the traffic quality as bot traffic may decrease ROI and prevent you from getting profit. Traffic verification (for example from Adscore) would be a perfect solution.
Landing page's download speed.
Your pre-landing and landing page should work fast as the user doesn't have time to wait for even 5 seconds. As a result, the CR becomes lower and lower. Test all the technical issues and make your pages as quick as possible.
The time when you run campaigns depends on the kind of offer and the lifestyle's peculiarities of particular GEOs. Analyzing is the key to success here.
These are the main points that influence the ROI of your campaigns, but the case of each campaign should be analyzed taking into account the whole bundle and other specificities.

What to do?
Try to use spy tools to know what formulas convert better. Think of the catchy headlines and main texts. Try to rework your approach to icons and main images. Use call-to-actions, tempting offers, and, of course, don't forget about emojis. Moreover, we recommend adding at least 3 to 5 creatives for one campaign and testing them.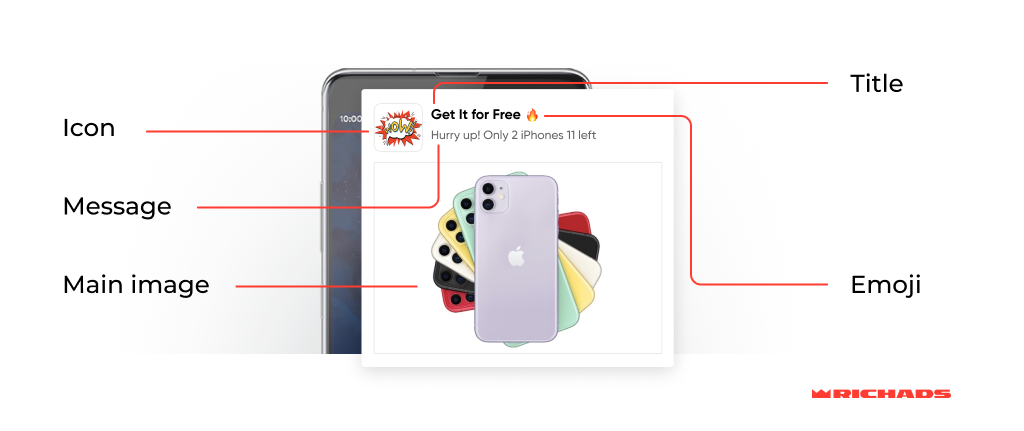 Think of the effectiveness of your pre-landing and landing pages.
The aim of such pages is to explain to users why they need to accept a certain offer. Pre-landing pages perfectly prepare customers and retain them arousing interest. All the experts agree that the elements of gamification are a key to success. They help to increase the user's engagement and CR.
Disable non-converting sources.

If some sources don't show results it's better to blacklist them. Otherwise, you can waste money and not get conversions at all. But if you think that whitelists will work better don't jump to conclusions. You can use whitelists but be sure that you've collected enough data and your campaign will not burn out. While making white- or blacklists pay attention to such indicators as spend, conversions, and CPA.
If you want to get a Whitelist special for your offer contact your account manager and he will share the most converting traffic.

Use Premium Subscribers Lists Group
Subscribers List is the largest source that consists of different publishers (publishers are made of different websites).
This structure is widely spread on push traffic and allows making black- and whitelists effectively.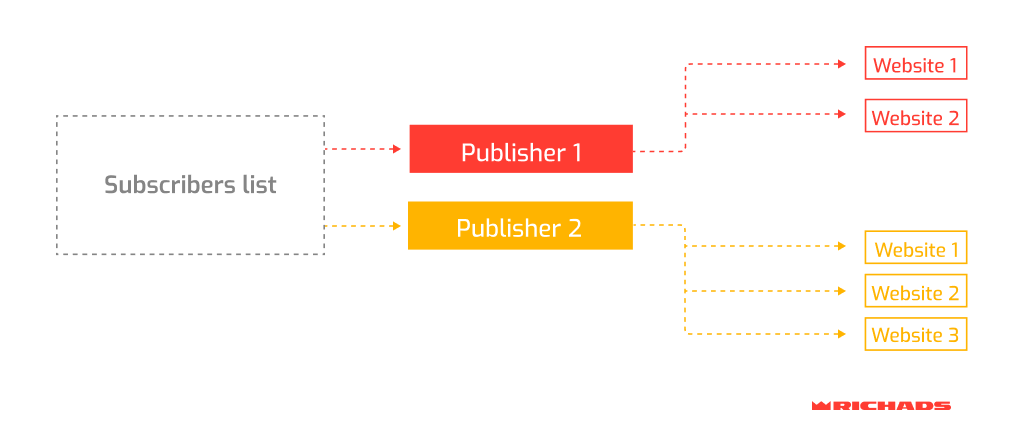 Subscribers Lists are one of the main points that influence ROI. It's obvious that not all sources convert equally. Of course, most advertisers check the traffic quality by themselves via testing. But this approach is not very accurate and even time-consuming.
How about using data that was already collected previously by specialists from the advertising platform?

RichAds traffic is already divided into 4 Subscribers Lists Group:

Premium.
Standard.
New.
Remnant.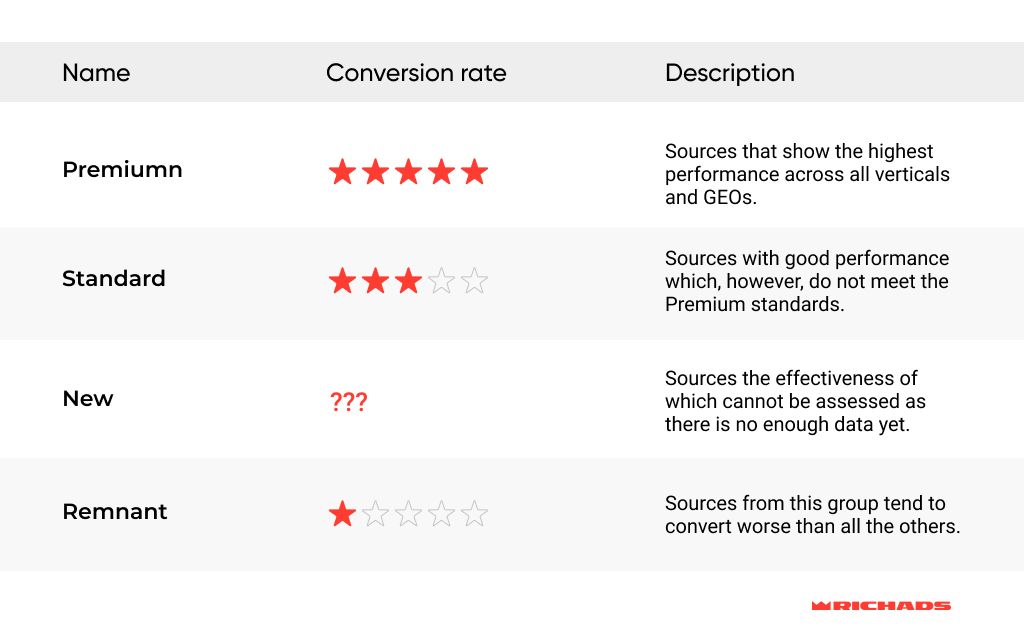 Premium Subscribers Lists Group stands out most of the others regarding the CR, sufficient data, and consistent results.
Premium Group converts 61% better than Standard one. But if we compare it with Remnant Group, the results will be fantastic – Premium converts 221% better!

Use special groups with the best sources to increase the ROI of your campaigns.

Check whether your conversions tracking is set up properly.

If you get incorrect information about conversions, your campaign will hardly be optimized properly. Accurate data is the key to successful performance after getting the first results. S2S postback is the most optimal way of conversion tracking as this way is the safest and reliable.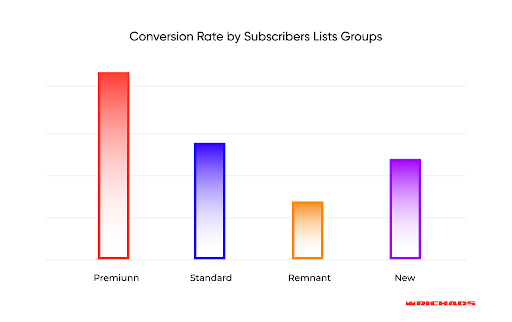 Auto-generated Postback URL
Lots of advertisers want to use a PostBack integration to get the most detailed information about their conversions. But to create a correct tracking link is not very easy as trackers may have different parameters in it.

So, in RichAds this link is generated automatically. You need to choose your tracker in the interface and then copy the ready-made link.

Apply automation to your campaign to scale up and increase performance.

Your Superpower with Automated Rules
Automated Rules allow setting parameters and actions that will be later automatically applied to certain parameters under specified conditions.

This feature will not only save your time and budget but also help you to scale up and increase the effectiveness and performance of your campaigns.

Profit for newbies:

Use them if you don't have your own custom optimization strategy.
Automated Rules allow saving time on optimization.
Use optimization features even with a low budget.
Be sure that your campaign is optimized correctly.
Profit for professionals:

Save time you usually spend on manual optimization.
Use a combination of Automated Rules and Revenue data to optimize ROI if bids vary.
Import your media buying strategies from other platforms.
If you haven't worked with Automated Rules before special presets prepared by RichAds experts are at your service.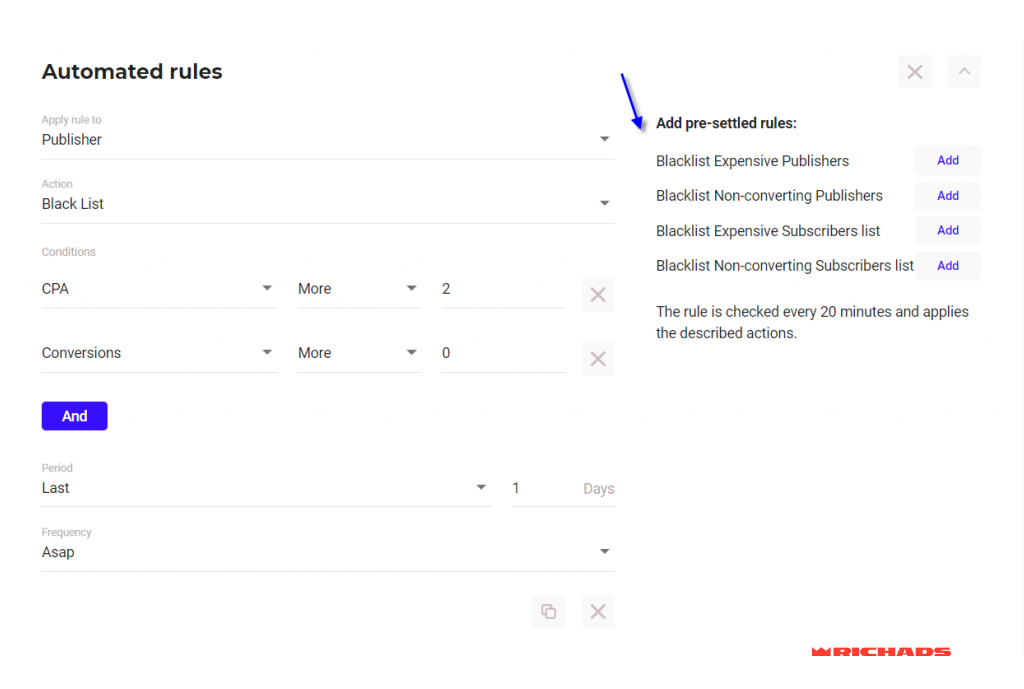 Use narrow targeting options to get the most relevant audiences.
Narrow Targeting Options for Specific Audience Segments
To increase the ROI of some campaigns with specific offers (like luxury goods, telecom, finance) it's necessary to implement narrow targeting options.

Use 17 specific options (Devices, Carrier, OS, ISP, etc.) to target your audience in the most accurate way. Moreover, iOS versions newer than 11 are now available as well.

Don't forget about GEO targeting if you work with some specific regions. Now you can use even the rarest regions and cities and put their names with original characters (for example, Łódź).

Remember that ROI is a very complex value. Don't forget to take into account all the parameters and use the possibilities of your traffic source as best you can and cool results won't be far behind! 💣💡

Share the article

Read. Learn. Do. Earn more money on Affiliate Marketing
Don't miss