Smart optimization of advertising campaigns is very important to the affiliate marketer, media buyer, and anyone who works with traffic.
There is no reason to spend lots of money on inefficient sources, campaigns or ads. The issue is particularly serious when dealing with lots of geo-targeting, mobile operators, browsers, hundreds of device models, and so on. That is why we use trackers to help analyze data and make key decisions when creating ads and campaigns.
In this article, we will analyze the top 8 Trackers and compare them to each other, and how they will serve the needs of the affiliate marketer. 
Note that we will also provide you with promo codes for each tracker in the article. 
What is a tracker in affiliate marketing traffic?
Actually, from the name, you can deduce that a tracker is a tool for tracking traffic. You can use it to track almost everything: IP, country, device type, connection type, platform, user browser and many more. In addition to user data, you also receive information on all advertising campaigns in a single interface: the number of clicks, transitions from pre-lander to landing page, conversions, the most successful creative, transit page, landing page and much more!
You can also see how your ad campaign is doing on websites and turn it off if you think you are just wasting funds. You will also be able to remove bots and hide unwanted content. The tracker is a very important tool for those who understand the importance of optimization and want to earn systematically.
We often get the same questions from newbies:  "Are trackers and TDS the same?" The short answer is No.
How does a tracker differ from TDS?
TDS stands for Traffic Distribution System which is exactly what it does. It has no functionality for in-depth analysis of traffic and statistics.
The tracker, in turn, is the next stage of evolution. It combines TDS functionality and also collects detailed statistics, allows you to work with reports, has integration with most networks, and is generally friendlier for beginners.
Trackers are of two types:  Server-based or Cloud-based. Choosing the right tracker is one of the most challenging things for newbies, but don't worry we got you covered.
Which tracker is better: server or cloud?
Let's immediately clarify - you can not compare the 2 types of trackers from the position of "better / worse." Each type has its own characteristics, advantages, and disadvantages. And now we will examine their fundamental differences.
Features of the server tracker
The server tracker is installed on the user's server. And, accordingly, requires little hassle on its purchase and installation. There is nothing difficult in this. In return, you don't have to pay for the traffic you want, as in the cloud version — you pay for the license and use it.
You also need to understand that the server tracker is tied to the server on which it is installed, and also does not allow the flexibility to change the working GEO without loss in download speed, like the cloud one. For optimal performance, you will need to buy a server for each region, and therefore another license (often, additional licenses are provided at a discount). From this we can get:
Benefits:
The cost does not depend on the amount of traffic. You pay only for the license. The price remains the same despite the number of events per day.
Fast response speed and quick work with reports.
All data is stored on your server.
Disadvantages:
The server is tied to the data center region. For example, if you work with Asia, having a server in a European data center will cause the download speed to be several times slower, the loss of traffic will increase.
Additional costs when changing to other GEOs.
Features of the cloud tracker
It is much easier to work with different GEOs when using the Cloud-based version. Your geolocation does not matter in this case. All regions are covered, no need for server installations, and maintenance. Everything is in the cloud and installed in a couple of clicks.
There is no limit to the number of events per day. Cloud-based trackers operate at a rate in which a certain number of events are included. You have the opportunity to buy an unlimited amount of traffic, but it comes at a very high price. The price tag can go up to $ 500 +. Usually, at a base rate of approximately 1,000,000 events/month. If their number is exceeded, you pay extra for each additional thousand. Working with the cloud-based version can be quite expensive. 
Benefits:
Work with any GEO without losing download speed.
Install the tracker and begin to work in a couple of clicks. 
The tracker will automatically work with the most suitable servers of the company.
Disadvantages:
You are tied to the tariff plan, and you will pay extra if you exceed it.
If you work with a small number and often change GEO - definitely the cloud-based version is more suitable. There are no difficulties. Just register, pay for tariff and start work.
If you work, for example, with pop-traffic, and the number reaches hundreds of thousands of clicks/day, then you would be wise to deploy your servers, this will reduce costs by about 50% without loss of quality.
It is up to you to choose the most suitable option. Now, let's start reviewing the trackers.
Top Traffic Trackers review: Binom, Voluum, Adsbridge, Keitaro, Bemob, Redtrack, Peerclick
For comparison, we chose the most famous players in the market, because it is simply impossible to cover everything in a single article. The functionality of all trackers is similar: detailed statistics with filtering by parameters, the ability to configure automatic rules, TDS, flexible reports, antibot, anti-fraud system, and so on. 
One of the most important indicators is usability, but the concept of "like/dislike" and "convenient/inconvenient" is different for everyone, so we will take the cost for a certain amount of traffic, additional features, and functionality of tariffs as the basis. We will also go through the localization and operation of the support. Additionally, we will leave the links to the demo versions of the trackers, so that you can independently try them out, evaluate the functionality, and make a choice.
Binom Tracker: features, price, promotional code

Type: server
Trial: 14 days
Fees: $99 per month
The number of clicks on the base rate: unlimited
The tracker is considered the best in its class in the speed of processing clicks and building reports. With any numbers (the tracker keeps millions of clicks a day without any special problems), the click is processed in just 7 ms. Its average support response is 3-4 minutes.
The interface is simple, intuitive, and convenient. Reports of any volume are built in seconds. Technically, this is one of the best options.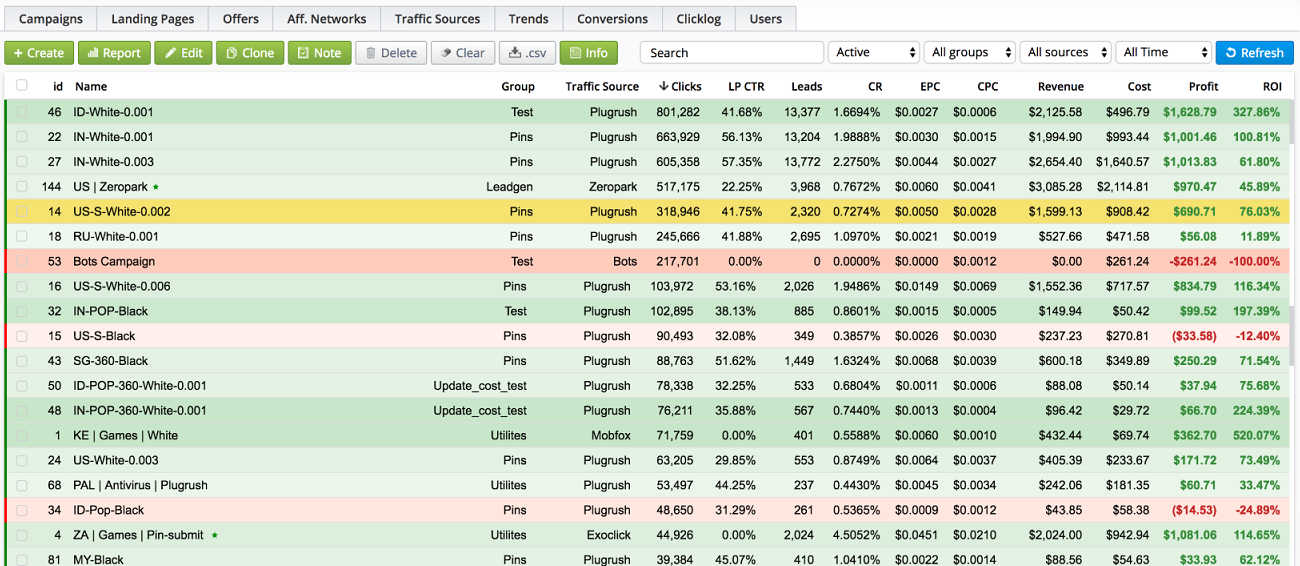 Binom tracker features
Flexible traffic distribution system: The ability to distribute traffic to more than 20 metrics, including proxy, IP range, time of day.
System event: You can use such metrics as a percentage of bots, scrolls, interaction with forms and any metrics on the client side.
Integrated Landings: After saving the landing code in the tracker, it will open without redirect to the campaign URL.
Detailed reporting on campaigns - Statistics on the methods, rules, rotations. Group reports. Over 30 click metrics.
Work with multi-level filters, filter preservation, and smart filter system.
LP Pixel: Send traffic directly to the landing without any extra redirects with LP Pixel.
The price may scare off newbies, but you need to understand that in Binom you pay for a license without being bound to the volume, you can work as a team, and in general, the tracker needs no introduction. Its functions justify every dollar.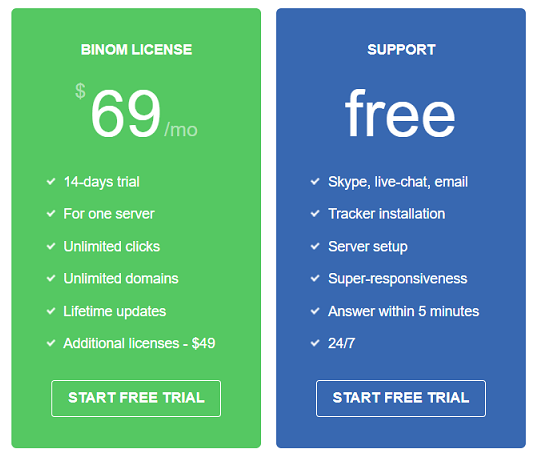 The promotional code for Binom "AffiliateValley" will give you 1 month of work absolutely free of charge, as well as a 40% discount for the second month. You can work with the demo version of the tracker and "feel" it for free.
Keitaro Tracker: functions and prices

Type: server
Trial: 7 days, limited to 2 campaigns on 2 threads with a single filter
Rates: from $25 per month
The number of events at the base rate: unlimited
It is very flexible and functional, looking more like a TDS. It divides traffic by geo, device, provider and many other factors. All reports and sources of income are formed in a convenient format. Additionally, Keitaro allows you to customize cloaking and freely moderate in advertising networks.

Features of Keitaro tracker
AB Testing, Targeting and Funnels: More than 30 filters for targeting landing pages. Testing of landing pages and offers in any combination.
Any sources of traffic: It has built-in templates and instructions for more than 100 ad networks. In manual mode, their sources are easily connected.
The average speed of redirect is 10ms, landing page shows 15ms.
To build reports, there are more than 30 metrics, multi-level grouping, and filters with the possibility to export to HTML and CSV.
The flexibility: Keitaro not only supports a large number of redirects but also allows you to perform various actions such as displaying HTML pages, displaying errors, executing JS code, and loading external content.
Multi-user environment: give colleagues access to campaigns and clients access to reports. Fine tune access rights. Create your own action scripts or macros.
Link protection and cloaking - Keitaro allows you to protect landing pages from bots. Built-in database of bots with more than 500,000 IP addresses. Updates are released once a month.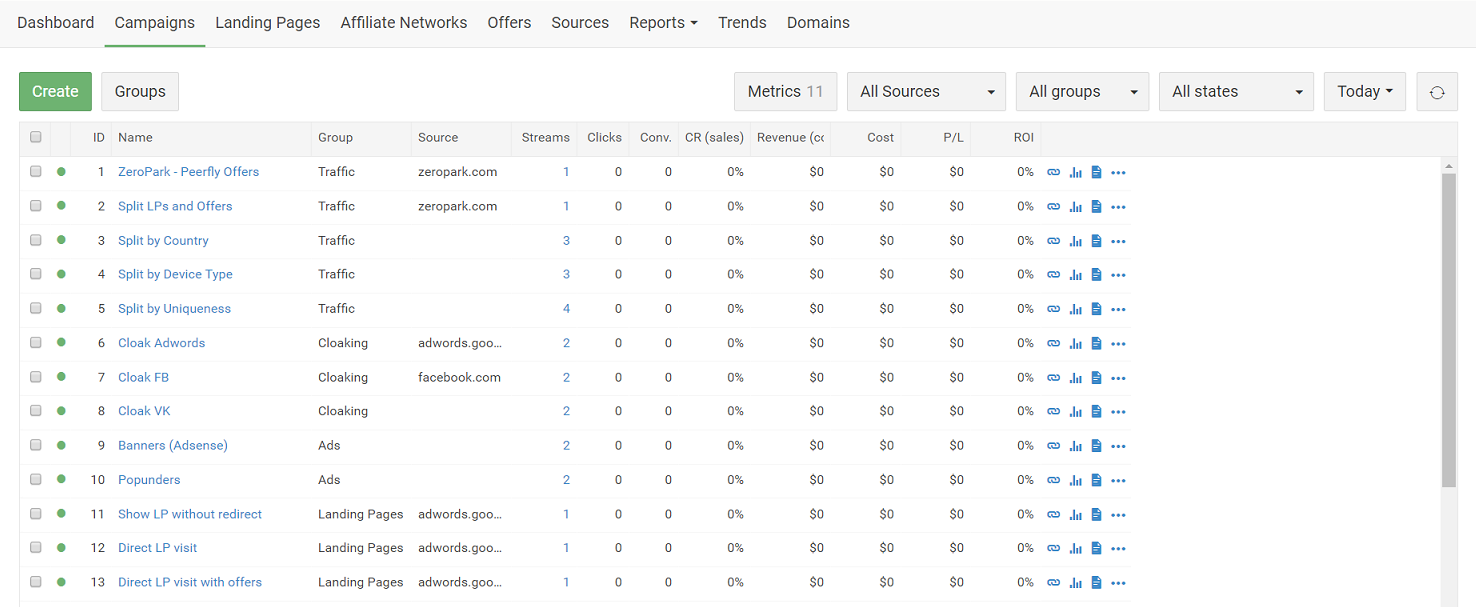 The support is not round-the-clock, but on weekdays from 9 to 19, it works consistently. At the weekend - less. Among the communication options: online chat, VKontakte, Telegram, Facebook, email. In general - the price tag and the functionality are adequate. You can see the functionality in the demo version.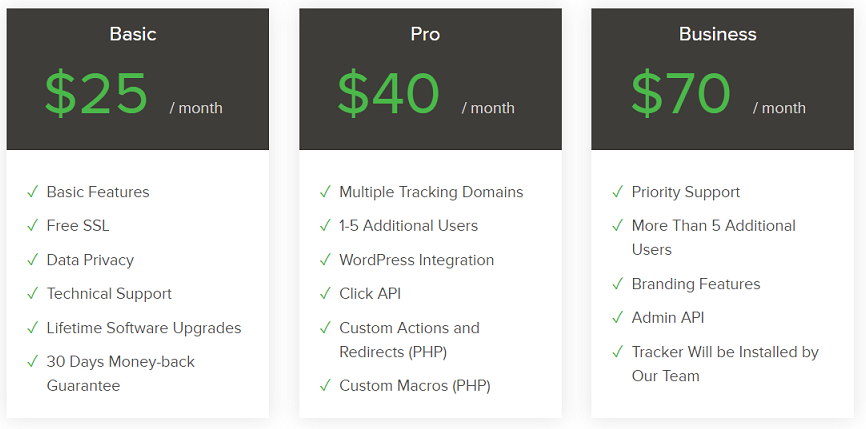 And the promo code for Keitaro "AffiliateValley20" will give you a 20% discount on the first purchase.
Voluum: functions and prices

Type: cloud
Trial: not provided
Rates: from $62 per month
The number of events in the tariffs: up to 1 000 000, up to 3 000 000, up to 10 000 000
Over-expenditure at the base rate: $ 0.065 / 1000 events
Until recently, Voluum controlled the market and represented one of the best solutions for working with traffic in terms of functionality. The only "BUT" is the cost. The cost is much higher than its cloud counterparts, for example, the tariff with anti-fraud and antibot system costs $ 209, the basic traffic starts from $ 62.
Features of Voluum Tracker
Rule-based targeting: Direct your traffic to different landing pages and offers based on individual rules. Segment your audience as much as possible to maximize your revenue.
Direct Pixel Tracking: Track traffic by direct transfer to a landing page. Accelerate the process of sending visitors to your offers and work even in those regions where there is a slow connection.
Tracking custom conversions: Set up several conversion types to track all actions taken by users during their life cycle.
The ability to manually work with data: download conversions, update costs, taking into account the loss of traffic and other data.
Monitoring campaigns in a mobile application - Access your data anywhere and get mobile push notifications to take instant action.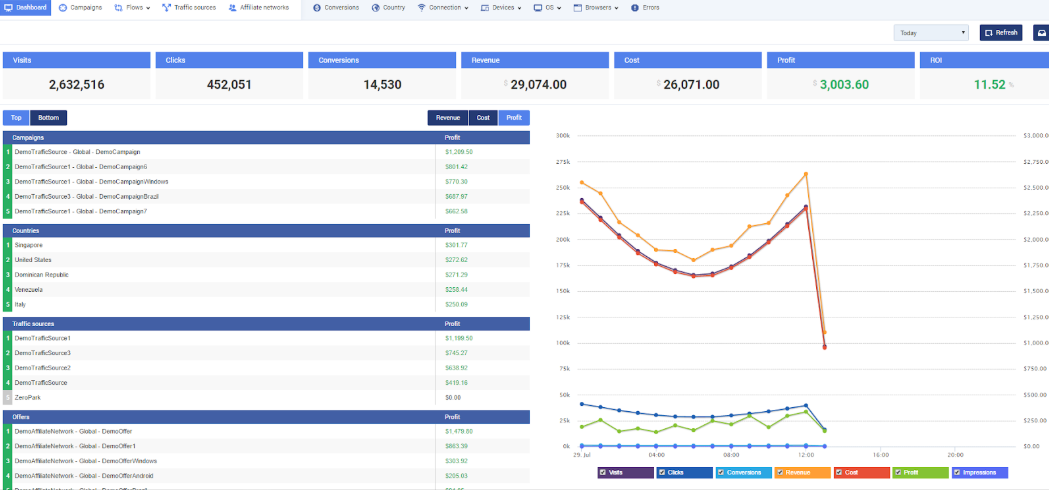 It should be noted that the statistics on the cheapest tariff is stored for only 3 months, at the baseline - 6 months. Support, as well as the product itself, is in English. In terms of speed and functionality - Voluum is definitely good, it's like Bentley among the trackers.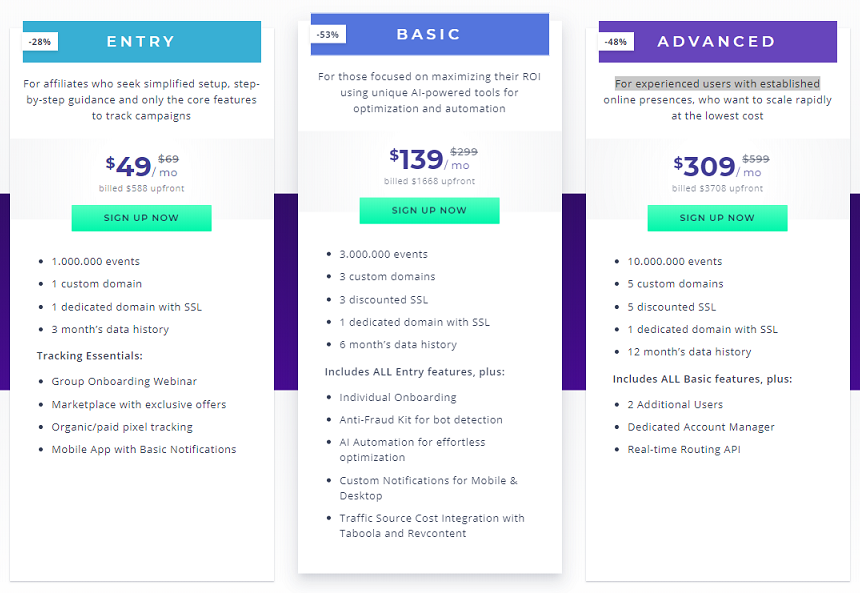 If you do not have a limited budget - you can safely choose this option. Register via this link and get up to a 60% discount! If the budget is running out, then we recommend choosing something from the cloud counterparts below – note that they are not inferior, or think about a server solution.
AdsBridge: functions and prices

Type: cloud
Trial: 14 days
Rates: from $ 89 per month
The number of events in the tariffs: up to 1 000 000, up to 4 000 000, up to 10 000 000
Cost overrun at base rate: $ 0.04 / 1000 events
It is a good alternative to Voluum. The AdsBridge team has been in the market for over 4 years, has 7 data centers, and covers more than 160 countries. In addition to the standard tracking of traffic, it works with statistics, rotators, and TDS, AdsBridge also offers a wide range of additional functionality.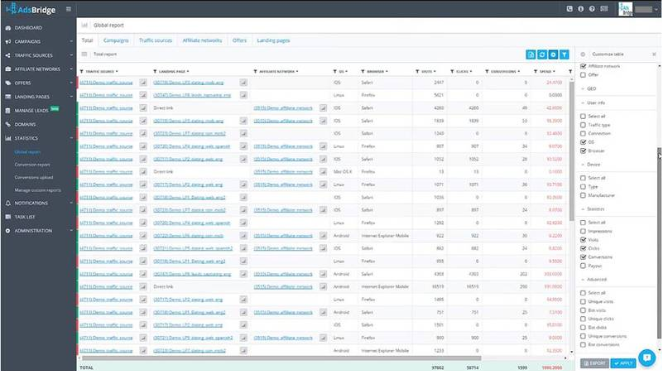 Advanced Adsbridge features
SMART Offers:  AdsBridge's SmartOffers have different verticals, which are presented as offers (Dating; Mainstream Dating; Sweepstakes; Pills; Mobile Content Adult; Gay Dating). All traffic directed to SmartOffers system is automatically distributed and most effectively monetizes.
Push notifications: All you need to do is to place special code on your landing page, which will collect subscriptions for their subsequent monetization.
Upload your own SSL certificates purchased on third-party resources in one click
Built-in editor of landing pages (visual and HTML), as well as a large number of ready-made creatives. Create landing pages right in our system and thereby avoid redirecting to the tracking link.
Creating a campaign without a redirect. You will be able to use your own link
Notification for a specific event - Receive email notifications if a certain number of visits, clicks or conversions are reached in your offer or campaign.
Customizable bot filter and proxy detector - Filter out and redirect the bot and proxy traffic to a neutral domain. Create your own rules to identify unwanted visitors to you.
The functionality is not limited to the tariff plan, even in the trial version, you can use all the functions of the tracker. Accordingly, the choice of tariff is based only on the required amount of traffic.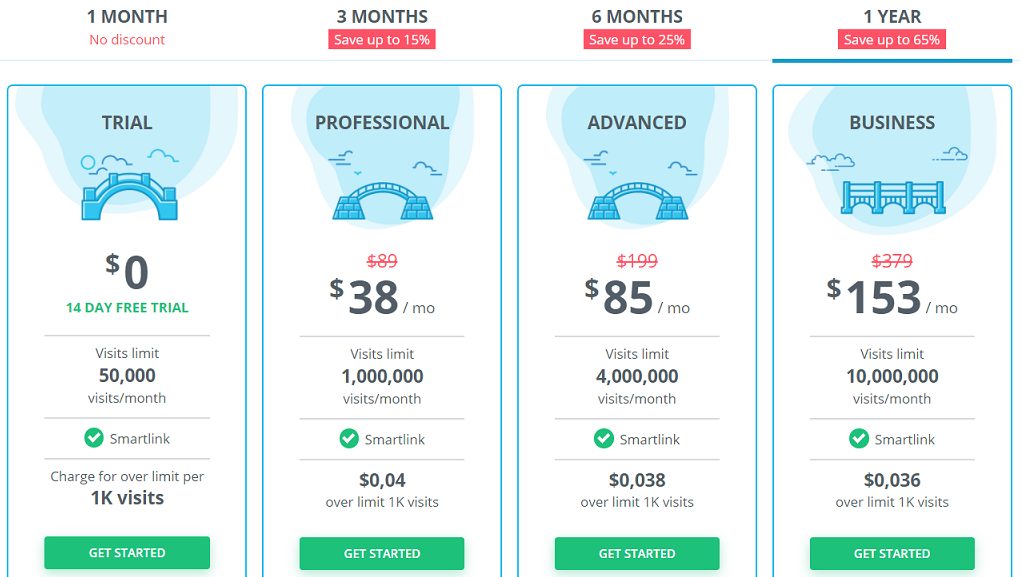 We recommend that you first take a trial to see how it works: usability, speed of preparation and flexibility of reports, work with statistics. In general, the tracker is reliable, we can recommend it. And according to tradition - Adsbridge promo code: "Affiliate Valley" - 25% discount on the use of any tariff.
Bemob: functions and prices

Type: cloud
Trial: a conditional-free tariff is provided (100,000 events per month, $ 0.16 for every 1000 events above the specified one)
Rates: from $ 25 per month
Number of events in the tariff: up to 250 000, up to 1 000 000, up to 10 000 000
Overrun at base rate: 0.03 $ / 1000 events
It is another reliable cloud solution that focuses on the market: classic features, adequate pricing, and responsive multi-language support. The tracker is ready to work with large volumes without interruptions and loss of traffic.
Features of the Bemob tracker
Instant redirects: Amazon data centers provide faster redirects and coverage worldwide.
Precise targeting: Thanks to the flexible system of rules settings, you can distribute traffic by 30+ parameters and combinations, ensuring the most accurate traffic entry.
Detailed statistics: In the tracker, you can build detailed reports based on groups of indicators in various combinations. A function of Drill-down reports allows you to get the most detailed data on individual elements of the campaign.
Free SSL certificates for domains - You can add the number of domains you need for your work, and SSL will be available automatically.
Tracking without redirect: Allows you to work with sources such as Facebook, Google AdWords, Bing without using the redirect link, sending traffic directly to the landing page.
Auto-optimization campaigns: The Sixth Sense runs automatically and is able to analyze thousands of combinations of parameters to identify the most effective ROI, CTR and profit criteria.
Free rate to get started - When registering, you are not limited by time frame or functionality. You can start working on small volumes, and then discuss with the team a suitable rate.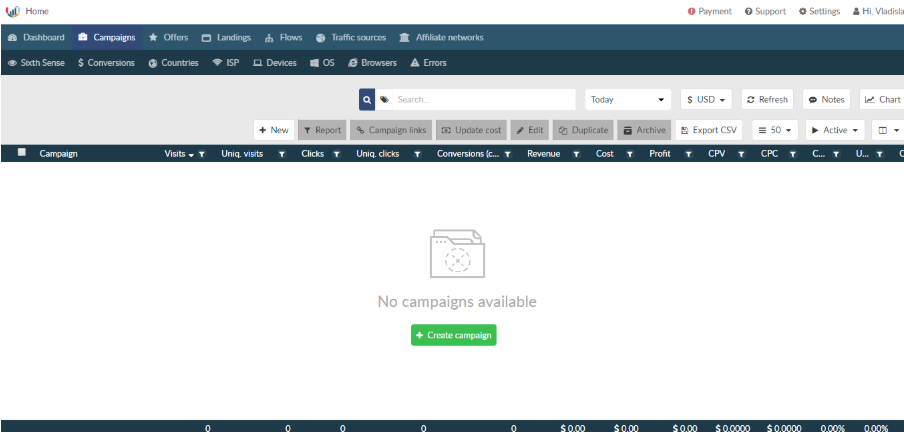 Among the features worth noting "Sixth Sense", the system allows you to analyze your campaigns simultaneously on 2000 different parameters, sounds at least impressive.
As for the cost, as indicated earlier, for a start there is a trial tariff with no time limit. For large volumes, the math is as follows:

Enter the registration code "AffiliateValley25" at registration and get a 25% discount on all tariff plans for 3 months.
RedTrack: functions and prices

Type: cloud
Trial: 14 days, 100,000 events
Rates: from $ 29 per month
The number of events in the tariffs: up to 300 000, up to 3 000 000, up to 15 000 000
Overrun in the base rate: 0.06 $ / 1000 events
It is an excellent cloud-based option with an English-language interface. There is no problem with the other language support and a structured knowledge base. In terms of functionality, Redtrack is not inferior to more expensive counterparts. It is almost on the same level as Voluum in terms of speed, practicality, and functionality.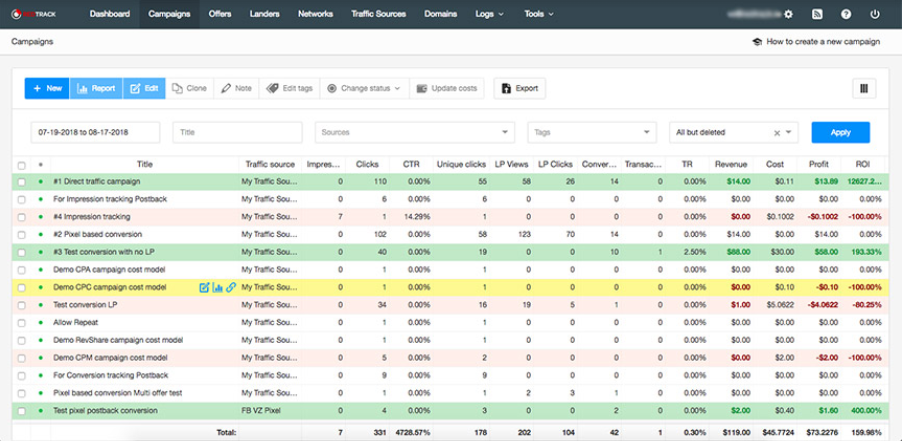 Additional features of Redtrack
Improved tracking without redirects - RedTrack provides an opportunity to work with those traffic sources that ban redirect (Facebook, Google AdWords, etc.) and at the same time receive detailed statistics on all views, clicks, and conversions. Improved tracking without redirect allows you to track traffic to your landing page from all sources + organic visits with just one LP pixel.
Multi-user access - Multi-access in RedTrack allows you to most effectively work on advertising campaigns in a team. Set access rights (view/edit/ export) to campaigns, offers, landing pages, traffic sources, and grids. As well as the ability to restrict individual users' access to campaign financial performance.
Redirects for unique visits - With RedTrack, you can set limits on the allowable number of unique calls to offer per day/week/ month. The user does not see the same offer twice but goes to the other one. Thus, the ability to turn each entry into the conversion increases significantly.
Flexible postback settings - The tracker offers 4 possible options for registering a repeated postback - a function for the most fastidious, but definitely necessary for obtaining complete information on conversions, especially for work in the companion and gambling.
Cookie-less tracking - Do you work with mobile traffic? Safari and Mozilla block cookies? Are you driving traffic from Facebook and Google? Our new LP pixel algorithm allows you to seamlessly track all visits, even when cookies are not supported or blocked by browsers.
Check every click on quality and "botost" - As an additional feature, we offer users a Fraud Report connection. When activated, each click passes a quality check of 13 metrics. The results are displayed in the detailed statistics inside the tracker, making it possible to quickly turn off publishers who bring low-quality traffic and spend your advertising budget - read more.
Filter by anonymous and proxy IP (especially important for users who work with CPI offers - because now you can filter traffic from anonymous and proxy IP. Therefore, mobile grids give "clean" and high-quality traffic. And filtered traffic is sent to those offers where he can still bring conversions).
The ability to track transactions (in other words, upselling) - when you need to track multiple conversions for a single click ID (for example, 1st conversion - downloading an application, 2nd conversion - passing to the n-level in the application.
The main tracking functionality is not tied to tariffs, but the quality of clicks, automatic rules, and notifications are available from the Pro version.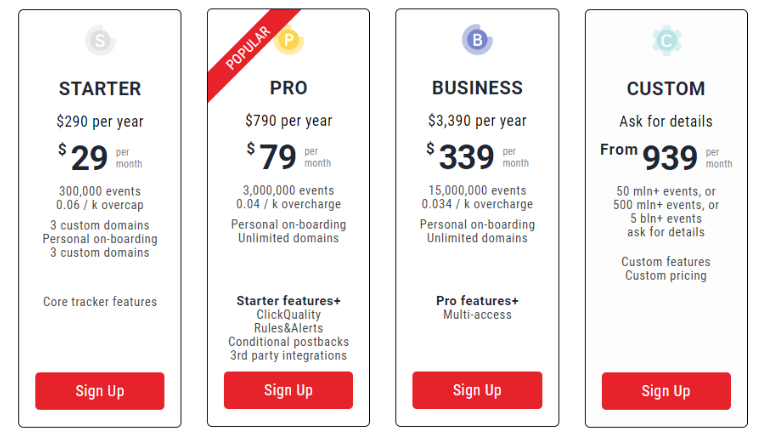 Need a stable cloud tracker? - Try a trial; perhaps this option is for you.
And on the "AffiliateValley" promo code in Redtrack you will get a 50% discount for 1 month of using the tracker.
Peerclick: functions and prices

Type: cloud
Trial: 7 days
Rates: from $ 59 per month
The number of events in the tariffs: up to 1 000 000, to 5 000 000, to 15 000 000
Overrun in the base rate: 0.02 $ / 1000 events
Despite the fact that the project is young, in terms of performance, many people call it the cloud-based analog of Binom. The tracker is able to withstand huge amounts without loss in performance. In its arsenal, it also has an antifraud kit.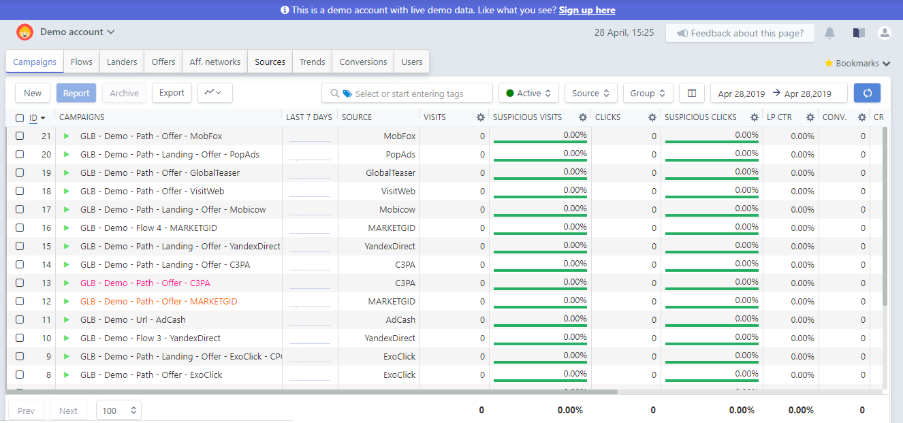 Additional features of Peerclick
Anti Bot Protection that provides maximum protection from bots and moderators, and allows you to push your offers to any sources.
Anti Fraud Kit that gives analytics on the purchased traffic. 
Smart redirection and Smart Routing. Using real-time network analytics based on each request, smart routing redirects traffic to the fastest and most reliable routes from the source to the Peerclick data center. On average, link redirection works 30% faster with smart routing technology.
Smart Routing provides the possibility of automatic redirection of landing pages for one user on subsequent transitions.
Statistics in real time: New data appear instantly and integrated into the interface. Any changes are recorded in the reports.
Instant redirects: It uses a network of its own data centers of 16 servers, which are located on all continents.
Adaptability under the user: It is possible to make groupings by 3 parameters in the reports. Flexible system for adding users with different access rights.
Work with mobile traffic: this tracker allows you to analyze and filter cellular operators, certain device models, and screen resolutions.
You can connect your own domains, so as not to depend on possible problems with shared domains.
Protection of offers and landing page from spyware programs: This functionality negates the need to hide the referrer. And it protects your landing pages from direct spyware since they will not be able to enter without going through the tracker link.
The interface is simple, convenient, with no extra graphics. It is similar to Binom. If you are out of server options, it is worth a try, especially since the trial version is 14 days.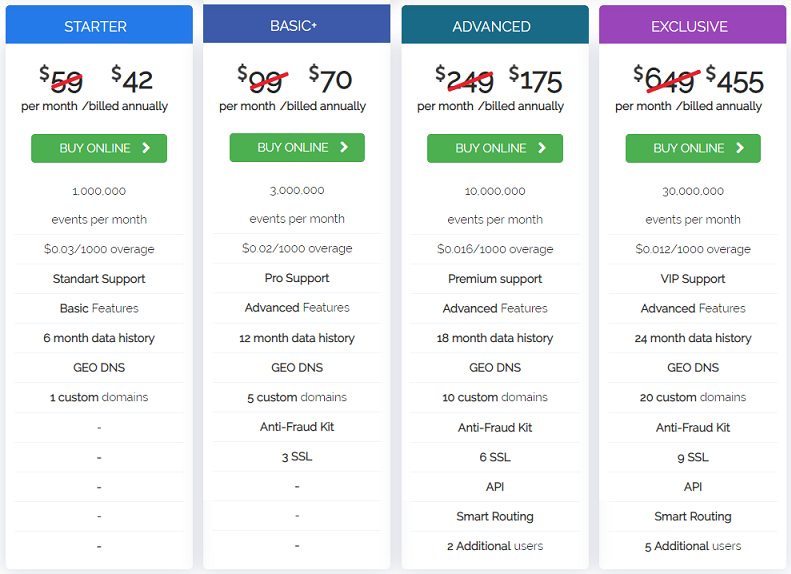 And the promo code "AFFILIATEVALLEY50" will give you $ 50 on the account.
Conclusion
Above, we brought you the most relevant traffic affiliate marketing trackers in 2019. In technical terms, each of them shows how useful they can be to the affiliate marketer. What remains is for you to get acquainted with usability, additional features, and the convenience of tools. Study the demo version, start the trial version, talk with support and choose for yourself the most comfortable solution.

Track traffic, optimize campaigns, and earn more!
Share the article

Read. Learn. Do. Earn more money on Affiliate Marketing
Don't miss