Last year, during quarantine times, many people started actively downloading various antivirus & VPN software as the time they were online increased significantly. People educate, make streams and webinars, pay for goods & services, and work remotely. All these processes require reliable protection via antiviruses and VPN tools.

Who can benefit from such software? Of course, affiliate marketers. And given that this year the trend of using such tools definitely continues Antivirus & VPN verticals is a perfect way for all advertisers to earn.
RichAds advertising platform prepared vertical's overview as well as the hottest trends for making push creatives 🔥
What is Antivirus & VPN?
These tools are made to optimize the performance of your device as well as provide you with the necessary privacy and security protection for both mobile and desktop devices.
What are the best traffic sources?
The best traffic type for Antivirus & VPN offers is definitely push notifications. Here are some advantages you can't miss:
Push format is the cheapest one (average CPC starts from $0.003).
It helps to organize one-on-one communication with users via direct messages in push notifications.
The subscription is absolutely voluntary. People can unsubscribe any time they wish.
There is a high possibility of attracting new audience (as push notifications are delivered to huge masses of people).
Multiple targeting options will save you from failure of delivery.
Converting approaches to push creatives
1. Use the images with world-famous series to say that people can watch them without restrictions. As an icon, you can use the symbols of the series' producers (Netflix, HBO, Amazon, etc.).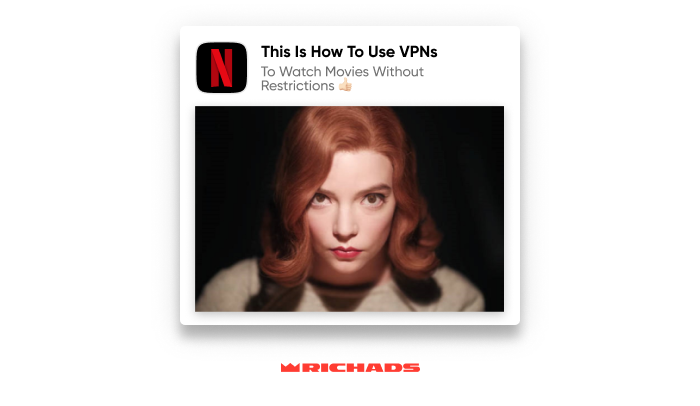 2. Make your push look like the link to a useful article that will help users find the info they need. Add numbers to attract attention and increase credibility.
Here is how your headlines may look like:
The Top 5 VPN
10 ways to protect your phone
5 best Antiviruses with free trials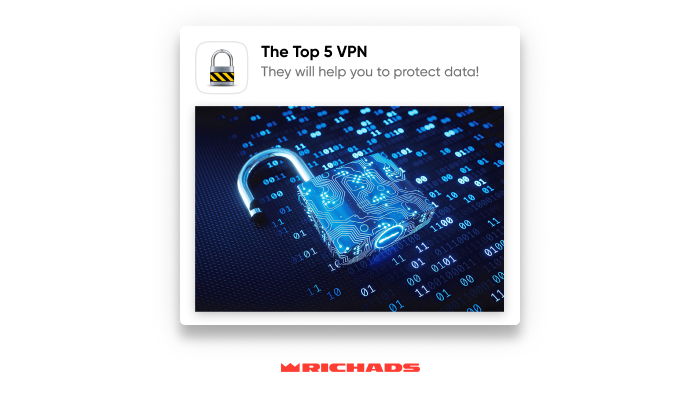 3. Use the current famous sports events that are popular in the country of your GEO. Check the schedule and make your creative as relevant as possible. Also, you can use the name of the country in the description as well as use the emoji of its flag.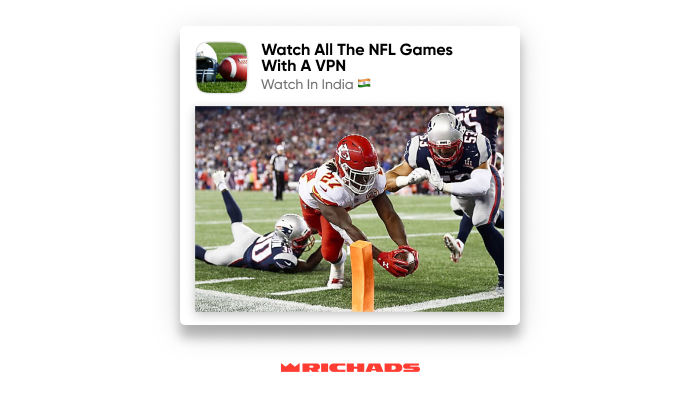 4. Attract users' attention with a strict warning to scare them. This quite aggressive approach works especially great with push traffic. Use bright images with red elements to even strengthen the effect.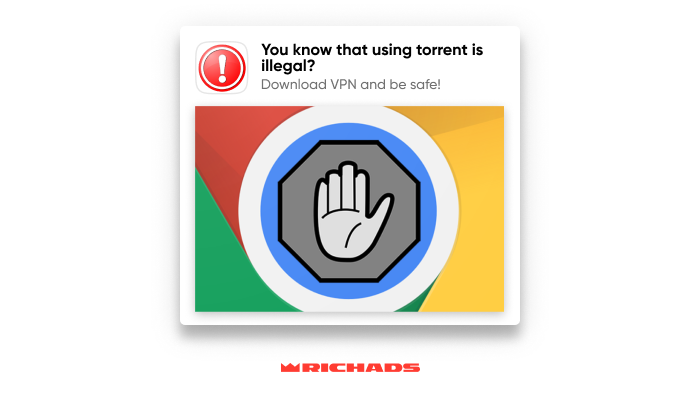 5. Motivate people to download a particular VPN (Antivirus, AdBlocker) software. You can use a popular name and make the image special for it. In the main image, you can show the CTA or any other "selling" phrase.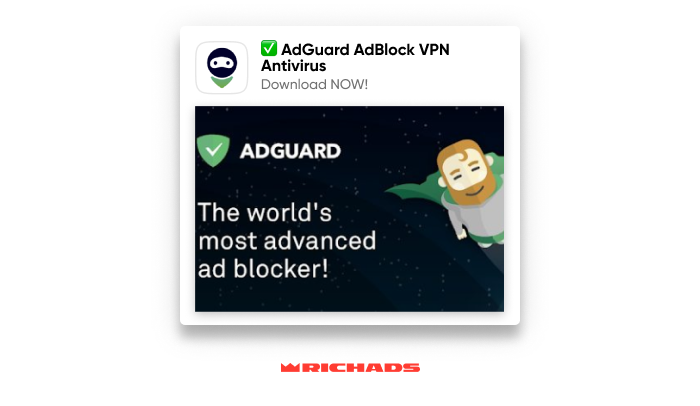 6. Offer users to try any VPN or Antivirus for 24 hours with no payment. The opportunity to use something for free always works quite effectively. Don't forget to remind about the chance people may waste in the description.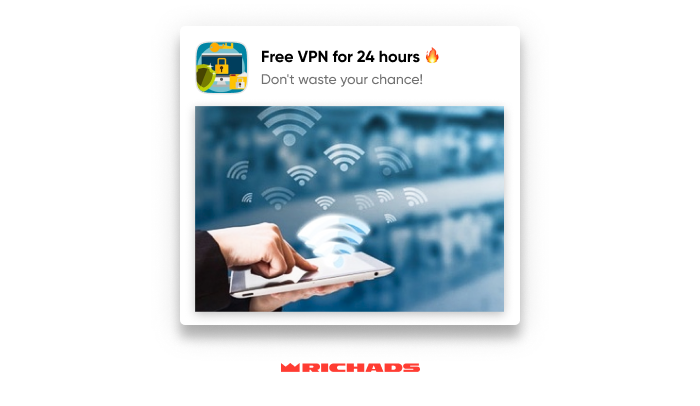 7. Use the name of mobile OS (for example, Android) when targeting mobile devices. You can let people know that their device is ill and it should be cured via downloading antivirus. Try to add the Android symbol and the images of viruses (as they are associated with COVID-19 now and may be especially appealing).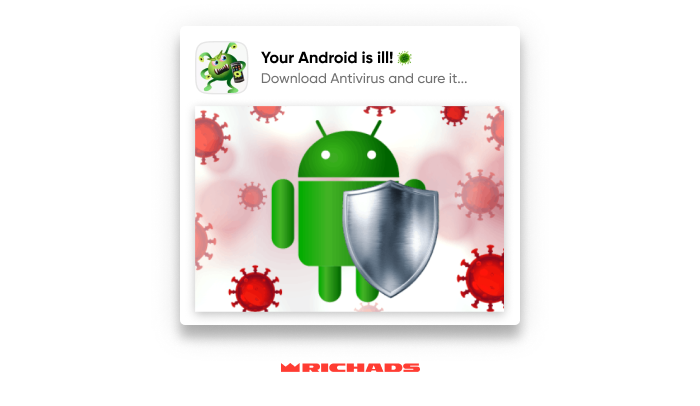 8. The same approach will also work for desktop campaigns. Use phrases like "Your PC is in danger" or "Is your device infected?" to threaten users and engage them to click and download antivirus. Use warning signs and emojis to make CTR even higher.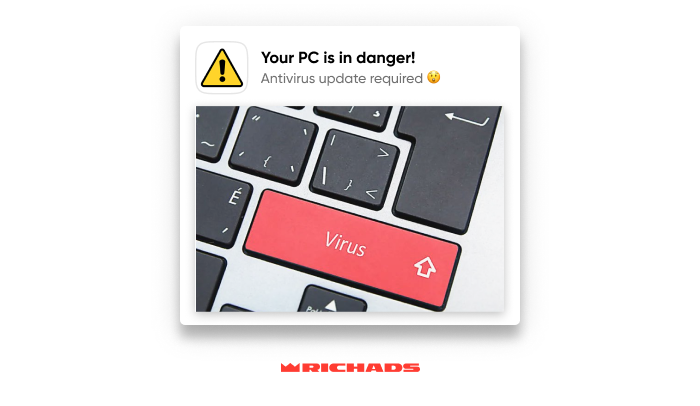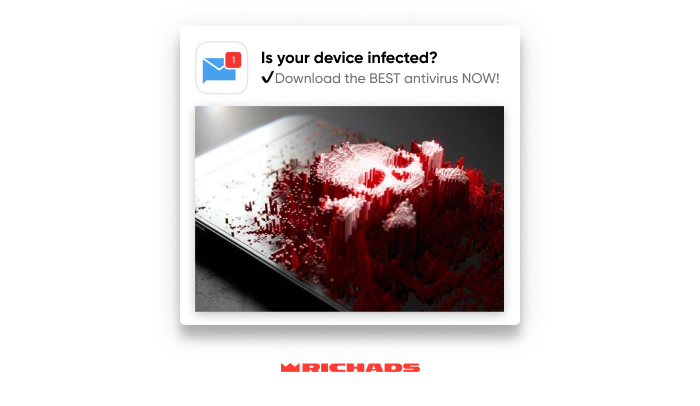 9. Offer a one-day discount for certain protecting software. The approach "Save >50% today" will show a high CTR. It's important to use well-known software in this case. Place its name and logo in the main image and an icon to increase recognition.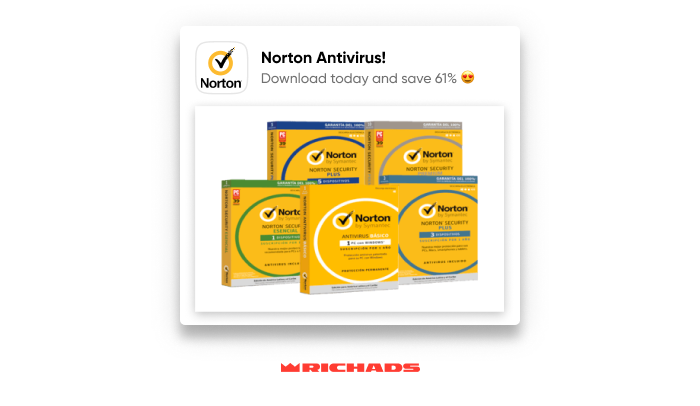 10. Tell users about the best Antiviruses of the year. You can even use the 2020 list to make people think that software was tested for a long time, and now the final results can be applied in 2021. Here we again turn to the article's imitation (we used the same approach in point 2).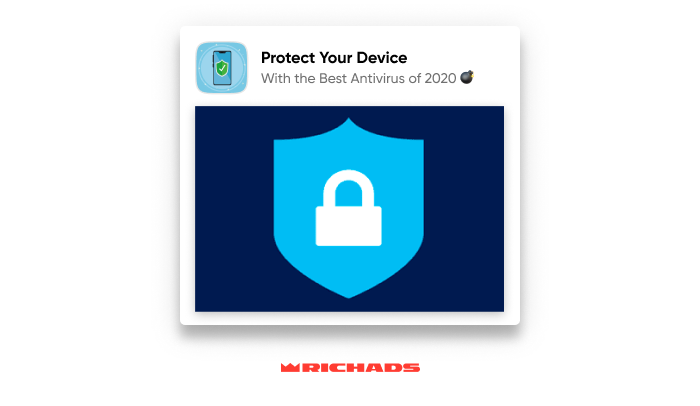 11. Often users forget to update their antivirus for a certain OS of their desktops. You can encourage them to make it using the name of their OS (for example, Windows). Of course, such creatives should be used in conjunction with device and OS targeting options.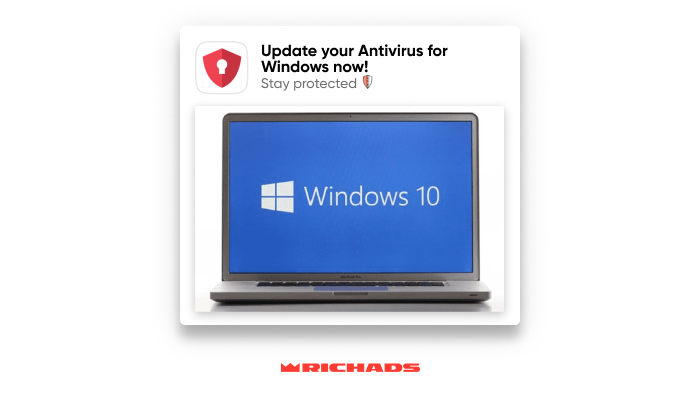 Best Antivirus & VPN offers from our partners
26319 - RO - [MOB] - Remove Viruses - SMS - $2.54
23986 - EG - [WEB+MOB] - Security Player (non-billable) - PIN - $.018
17512 - CH - [WEB+MOB] - Secure Mobile - SMS - $5.92
26294 - TR - [MOB] - Antivirus (Virus Cleaner) - PIN - $2.10
Find quality push and pop traffic for your Antivirus & VPN offers at RichAds advertising platform. Register, launch, optimize and scale with our cool built-in features 😉
Share the article

Read. Learn. Do. Earn more money on Affiliate Marketing
Don't miss