From Sakhalin to Moscow
I was born on Sakhalin island, which is much closer to Japan than to the capital of Russia, Moscow. I combined my first job at the city fish-processing plant with extramural studies at the nautical school to become a boat master of fishing vessels.

In 2002, my wife and I moved to Moscow. In one of the supermarkets in Yuzhnoye Butovo (a neighborhood in Moscow), a department of computer components was opened. There they also offered the services of repairing and setting up Windows.
After 10 years, the business was not profitable. In addition, there was a serious competition - during this time many large stores selling computer components were built in the vicinity.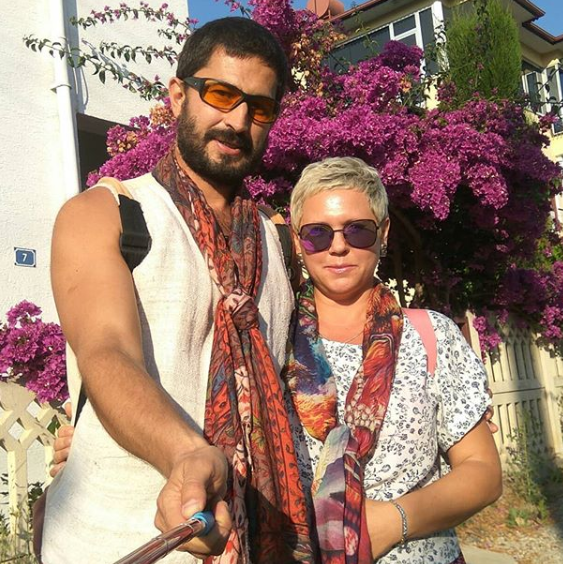 Working as a taxi driver
I decided to try myself in the taxi business. In my opinion, such work gives complete freedom of action. I needed exactly that — I wanted to be involved in my own project and be able to manage my time.
Working as a taxi driver, I got to know Moscow and the city better, I talked a lot with people. However, I never liked this job. One should work a lot in order to earn money both for food and traveling.  
Taxi driver is a dangerous and demanding job. Many taxi drivers drive the car half asleep. The worst thing for the driver is when the passenger falls asleep in the back seat. A sleeping client is the worst test for a sleepy driver.
Friend's offer and business
Before the project gosbilet.rf (госбилет.рф in Russian) I had a website gogoru.ru, which I started to build in 2011 with the help of my friend. For several years in a row, he suggested initiating some kind of joint venture. Since 2006, I've dreamed of being able to do business and travel at the same time. That year I first went abroad with my wife - to Pattaya — and we really enjoyed that place.
I saw people who lived in Thailand but owned businesses in other countries and worked remotely. For me it was fantastic.
Since then, I wanted to throw everything and move to Thailand. Unfortunately, back then I could not decide on that leap: I didn't have enough money and had no interesting ideas on setting up some business.
I thought that a flights search engine — such as Aviasales or Skyscanner — would allow me to travel a lot.
My friend asked me to calculate how much money we needed to start and promote the site so that in a few months we would start earning.
I was looking for people and companies which would help us launch the site and connect the partners. I connected with about 200 marketing agencies: some of the offers were crazy expensive (pricing reached 10 million rubles, which is over $100,000), others asked too many questions.
As a result, we hired a graduate of Moscow State University who could help us to build a website.
Project development and the new venture
We'd met with him at a cafe in the center of Moscow, and he told me that he was starting a similar website with his friends. He had the working code already and he promised to build exactly that kind of search engine which I needed. Back then, the guy was just 21 years old. He offered to buy his project for 150,000 rubles ($2,200) and work on it. He also helped us to hire a designer.
We called the service gogoru.ru. We connected 15 partners, and our largest income from fees in a month was 30,000 rubles ($460).
The developer and I have worked on the project for two years. We only had money to pay salaries to the designer and developer. I was the only person who believed in the success of the company. 
A year after the launch, the partner stopped giving money, and the website continued working with only 20-30,000 rubles ($460) from the existing partners. It was difficult to further develop the project without additional investments, and I decided to close it.
Overall, we spent 2 million rubles ($30,000) on this project and received a 20-30,000 rubles commission ($460) per month from partners.
After that bitter experience, I came up with an idea to build a website myself. I wanted to sell air tickets with the help of Travelpayouts and train tickets with the help of UFS affiliate program. In 2015, after meeting with Ivan Baydin from Travelpayouts, in their office on Phuket, I bought a domain gosbilet.rf (госбилет.рф in Russian). 
I hired freelancers who built a website on Drupal for only 30,000 rubles ($280).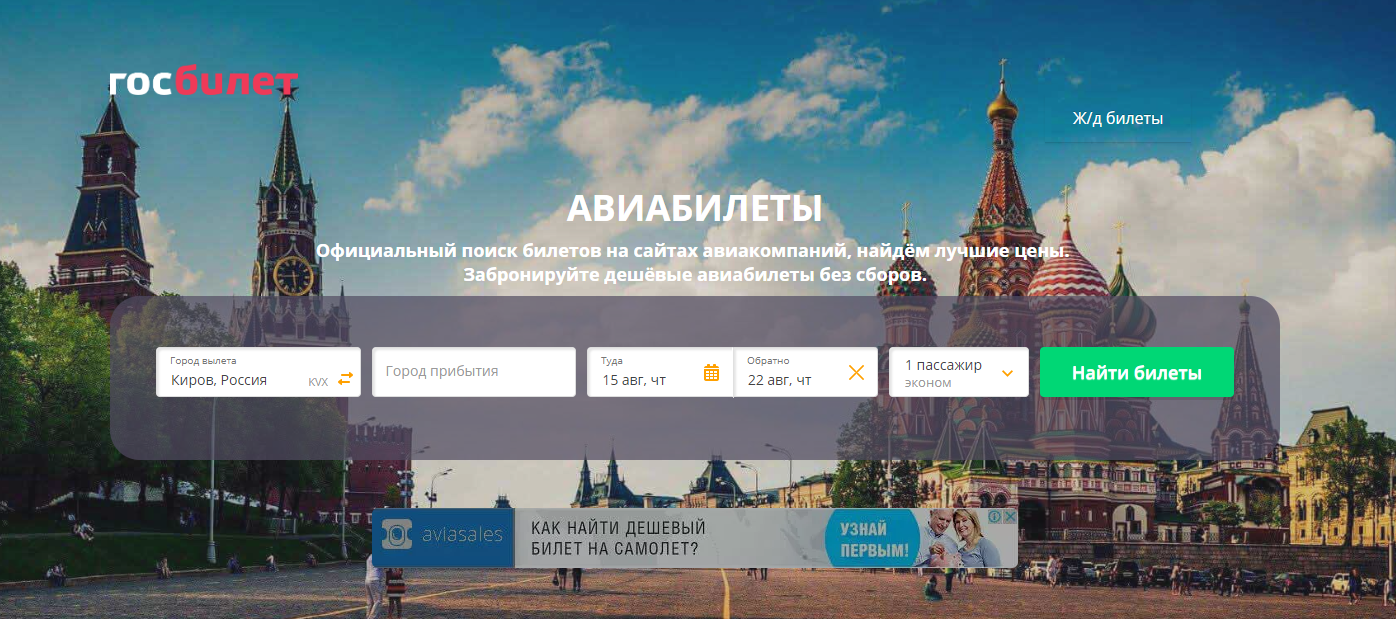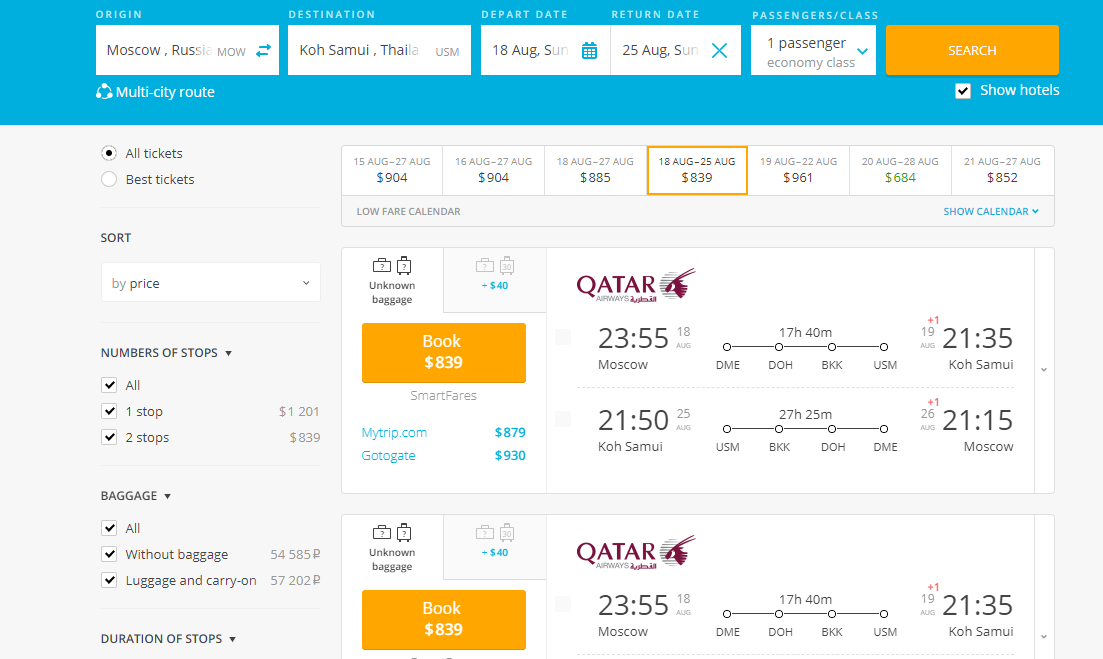 This project was focused on Russian-speaking people since I understood that I definitely would have neither strength nor time to work with other countries.
I learned how to optimize a website and speed it up at the server level. I did almost everything on my own, although it took several months for some processes.
I learned it all on my own, with the help of the manuals and support from Travelpayouts also helped me. I thought that no one would do my job better than me, so I didn't delegate it to anyone. 
I designed the website in a minimalistic way. I did not add any advertising or banners on the website. I've never liked it when someone's advertising "blinked" on the resource I was visiting; in my advertising campaign on "Yandex Direct" (think Google Adwords in Russian) I deliberately didn't use the Yandex Advertising Network.
One day, while reading the blog of an SEO specialist Mikhail Shakin, I came across an interesting thought: "In order to collect more mushrooms, you shouldn't follow the same paths which all the mushroom pickers follow." Since then, I've decided not to promote my site in the way that everyone in our niche does. I created the site pages manually (I read somewhere that those have an advantage over the generated ones) and I still do them that way.
I use the CDN service: the guys who work for this service set up a second server for a small fee so that the website functions seamlessly.
If there are any problems with the main server, my website automatically switches to the backup server. Once there was a situation when neither of the servers worked, but my site was accessible through the cache. It was very cool, and I did not lose clients.
Now I don't work anywhere else but my own project.
During the last eight years, I've learned almost everything: to create websites on WordPress from scratch, to deal with the server part, to give the correct task requirements to the freelancers and so on. Previously, I worked with link exchanges, talked a lot with bloggers, studied usability and tried to make the website as convenient and conversion centered as possible.
The job as a taxi driver has also helped me. It required great self-organization — it taught to be that if you don't do something yourself, no one will do it for you.
Results
Today, I have about 2,500 daily visitors. People buy tickets for 13 million rubles ($20,000). It seems like I'm just in the beginning!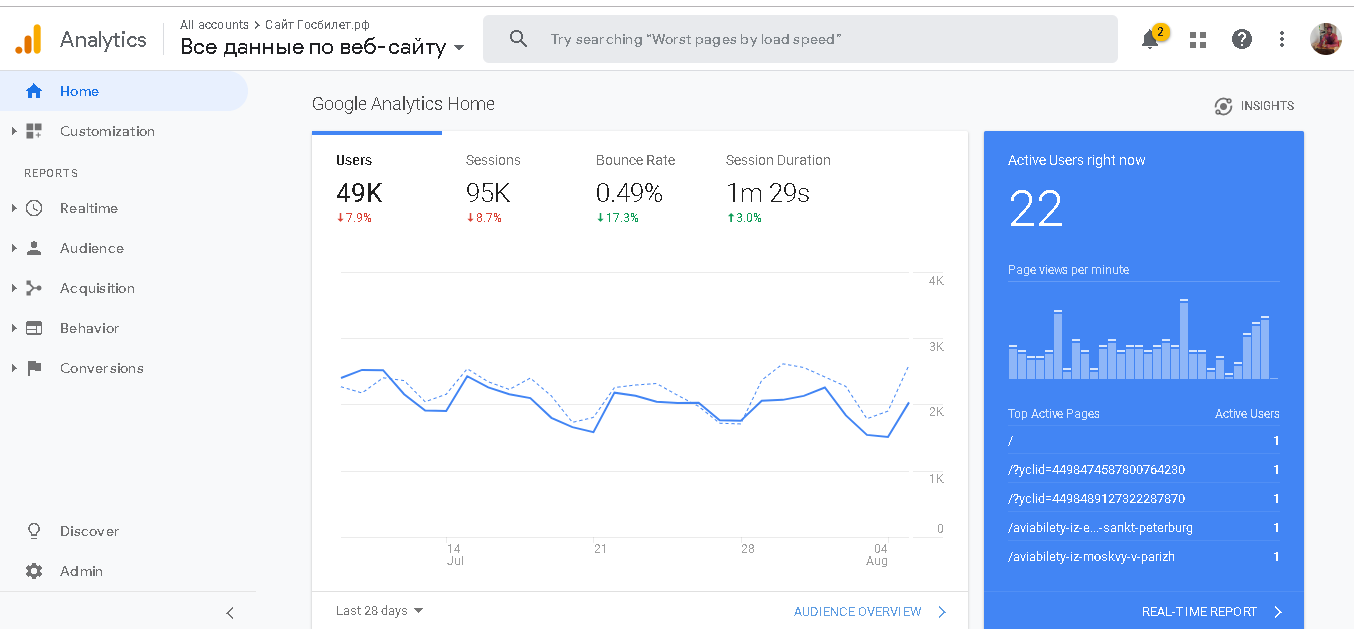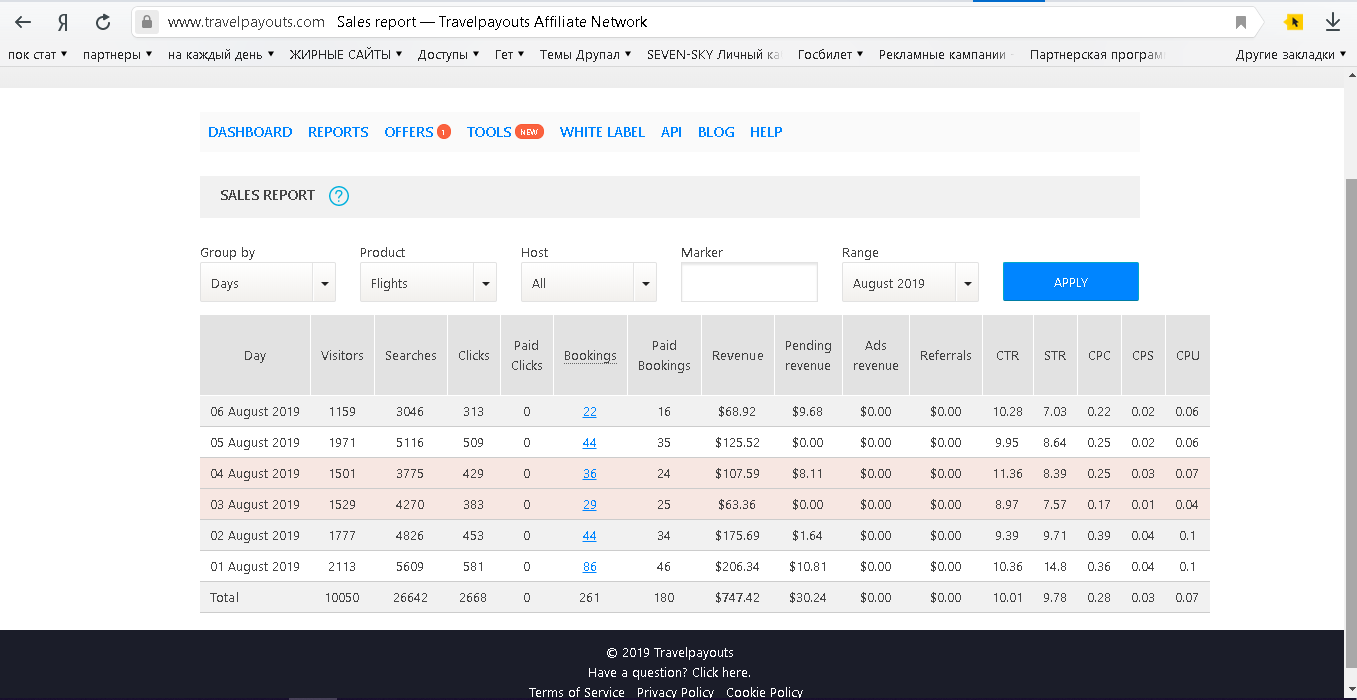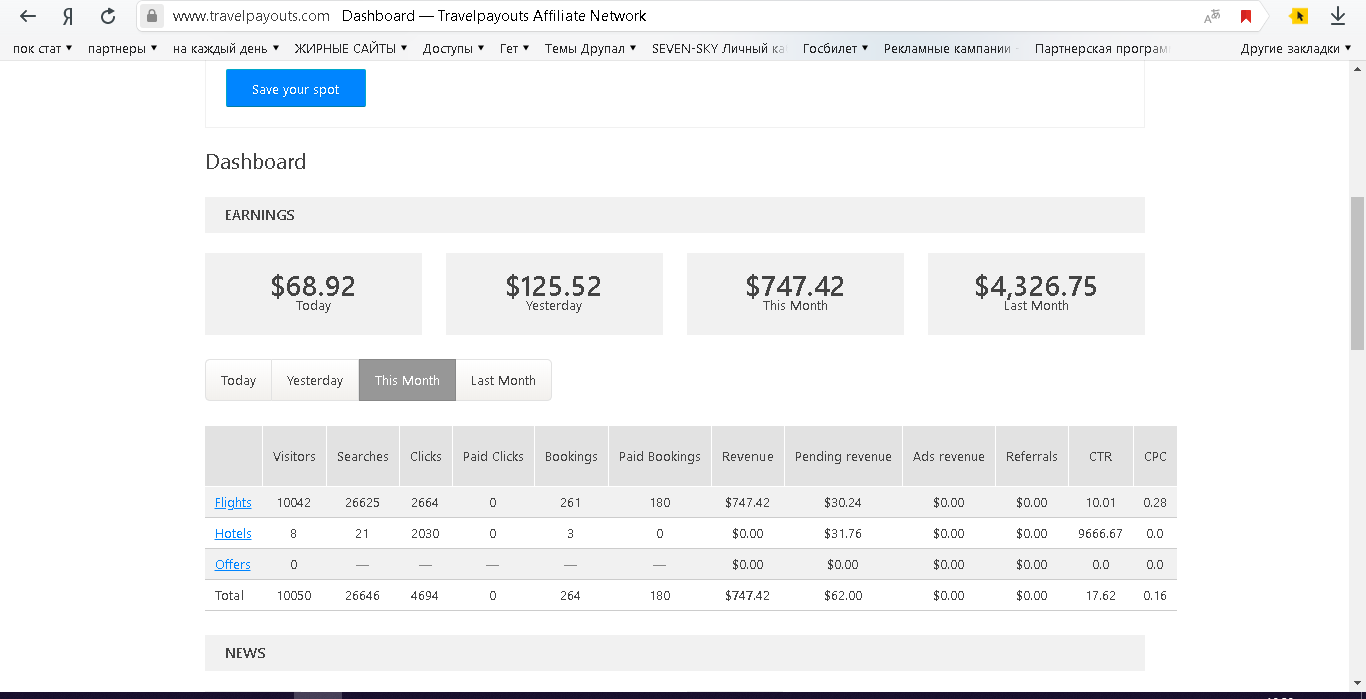 I am working on the website on Goa, a beautiful state in India, — and that's exactly what I dreamed about! For the last three years, my wife and I have come to spend the winter in India in the state of Goa for 5-6 months: it's warm, full of fresh fruits and the sea is amazing. We still return home to Moscow in April and spend the rest of the year there.
In conclusion, I want to share insights based on my experience:

Be sure to configure the site from the very beginning so that it loads quickly in the user's browser.
Personally, I looked at large and well-known sites, analyzed their design, looked at how search forms were installed, looked at how the content was located, and then I combined everything and tried to do better (at least it seemed to me)
When stable traffic has already started, I recommend setting up a backup server so that the site automatically switches from the main server to the secondary one, because anything happens, and the site should always be accessible and in my experience, even the most reliable servers have problems.
Do not expect many conversions at once, they will be, but gradually.
If there is money, or as in my case, money came over time, then you should definitely try to spend it on advertisements (try to find the time and figure out how to set up the advertising campaign yourself, my experience has shown that agencies work just fine). Try not to spend on different advertisement in different places, concentrate on one thing because there is no free money to risk. In fact, if you just start mastering advertisement it will be of benefit in later days to come. Do not regret that you wasted money on advertising, consider that you spent it on their training. All useful information is on the Internet or where you are advertising your resource (Google, Facebook or elsewhere).
Share the article

Read. Learn. Do. Earn more money on Affiliate Marketing
Don't miss