What is Zorka.Network?
Zorka.Network is an affiliate network founded in 2014 by the Zorka.Mobi agency. Its base consists of over 10,000 people together with media buying teams and affiliate marketers. Your geolocation should not be an issue because it works with offers and affiliates from around the world. 


Zorka.Network features 
An affiliate manager is provided for you round-the-clock. The support service is top-notch and readily available to answer and solve any issues you have regarding your account or the network. 
Here, you won't have to wait for long to get your payouts. Zorka.Network offers weekly payouts specifically on Thursdays. 
Automatic learning algorithms distribute traffic to your top-performing offers by means of Smartlinks.
They also provide users with API and S2S integration. 
Users can earn a commission of up to 3% for referrals.
They offer various methods of payment including WebMoney, Paypal, ePayments, Bank wire, and others. 
Users are able to target audiences from all over the world. 
Zorka.Network provides users with more than 300 CPA/CPI/CPL offers. 
Zorka.Network has been rising in popularity ever since its creation. Just within four years, they have risen from a startup to one of the most recognized and reliable platforms for working with offers. This year they have already grabbed a significant amount of awards including "The Best Mobile Affiliate Network" which was presented at the Affbank Awards 2019 and "The Best Mobile CPA Network" presented at CPA Life Awards 2019. 
Creating your Account 
Creating an account on Zorka.Network can be done within seconds. But for some reason, they ask for information during the sign-up process that newbies will not have. Therefore, this network is meant specifically for skilled affiliate marketers. Honestly, we do not understand why newbies are restricted. But I guess it's because they want to keep their reputation by making sure that users provide only the best traffic.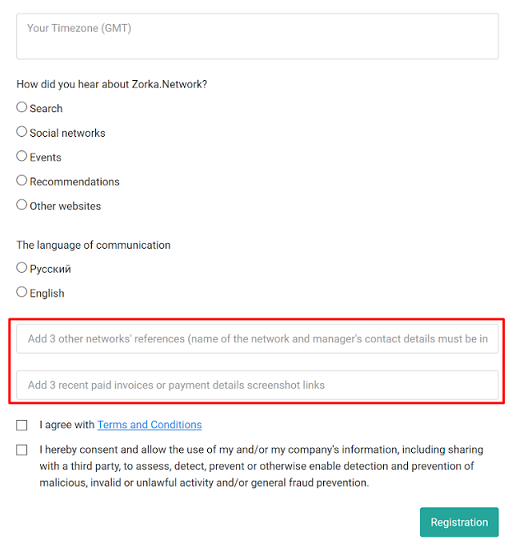 Here are some of the things that you will be required to provide:
Name, email, and password.
Your main traffic sources, geos, and verticals.
Your Telegram or Skype contacts. 
3 other network references (you must provide the name of the network and the manager's contact details).
3 recent paid invoices or paid details screenshot links.
Usually, newbies will not have the last 2 from the list making it difficult to create an account. 
Once all the details have been entered, you will receive a message stating that your account manager will contact you through Skype when the moderation is complete. The moderation can period can take up to 2 working days. Once the account has been moderated a dedicated manager will contact you and ask for information about your experience. If everything is fine, then your account is activated. 
Honestly, one of the first things that impressed me about this network was the interaction with the affiliate managers. They are very receptive, understanding, and cool. At once, you would like working with them, which is the main reason why they are available. 
When you log into your account, you will be presented with the Dashboard.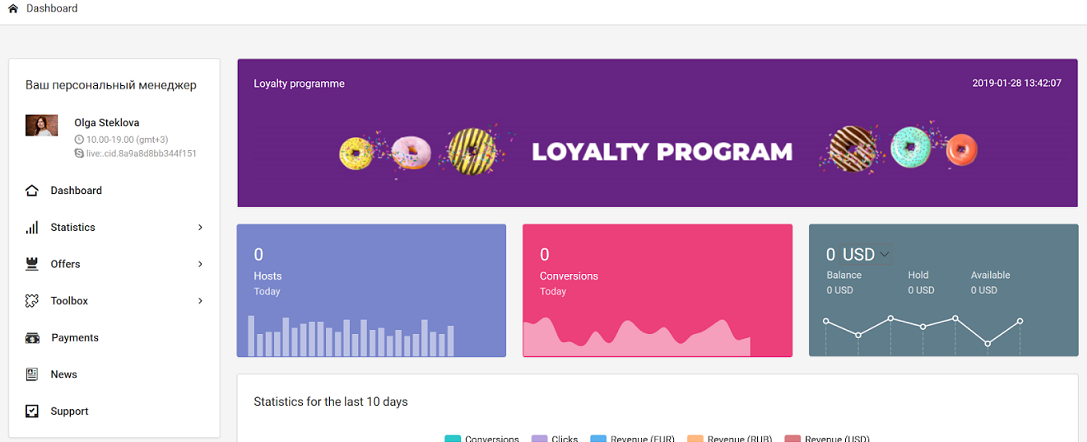 On the left side of the screen, you will notice a section for your affiliate manager and the options that this network provides. 
The Dashboard shows statistics of your host, conversions, clicks, and revenue. There, you will also find a list of the latest and best offers.
The Statistics tab provides all the information on how well the campaigns are doing. It provides all this information on a daily basis. It is possible to check your Offers, Conversions, Smartlinks, Browsers, OS, Devices, Countries, Cities, Subids, Goals, Referrals, and Mobile ISP.
The Offers tab is subdivided into All offers, Available offers, Live offers, and SmarLinks. With Zorka.Network you won't lack offers to choose from. They provide users with over 400 offers. Users are granted access to private offers only when they have run a test campaign and the quality of your traffic is good. It is possible to get access to the private offers earlier if the statistics you provided when registering impressed your affiliate manager.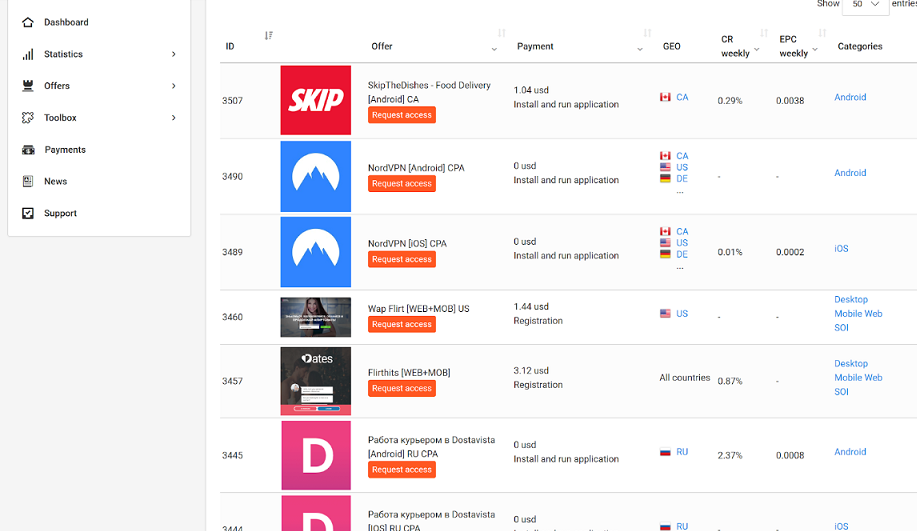 On this network, you will find all kinds of offers. However, you are required to work by the terms of the advertisers. So, make sure that you read the offer description properly. 
When you click on the offer you want, you will be redirected to the offer description page. There, you need to input the traffic sources that you plan to use, and also specify your experience with them. Once this is done, click on the Apply button. 
Another thing that impressed us with this network was that most of their offers are provided directly by the advertisers. This gives you the advantage of getting information faster to optimize your campaigns 
The Toolbox tab gives access to API. 
The Payments tab gives you info about your payment history. There, you will be able to see the Revenue, Payment account, and Status.
The News tab is another interesting section on this network. You will be able to follow the most recent and popular trends in the affiliate marketing world that may influence your decision on what campaigns to run and what offers to choose. 
The Support tab provides a section where you can raise issues you encounter while using this network. Do not shy away from the support section. You can create as many tickets as you want. They are ready to help you with any issue you have regarding their platform. 
Judging from our experience with Zorka.Network, we can confidently say that they are honest and transparent. Most of their offers are direct. You can easily agree with the advertiser on a payout increase if you are bringing in a high amount of quality traffic. Once the Zorka.Network team sees that you have a great work ethic, they can help you scale up your campaigns and maintain the cash flow. This can be done by giving you advanced payouts or even granting credit when needed. 
You should consider working with Zorka.Network if you have good traffic because they will do everything in their power to make you succeed. 
Share the article

Read. Learn. Do. Earn more money on Affiliate Marketing
Don't miss