LeadsMarket is an affiliate network in the Finance niche that was launched in 2011. There are only 3 offers that imply a CPA model of payment. The average rates vary from $2 to $240. You can attract traffic to the US and Great Britain. The traffic source can be any — the choice is yours. The only thing that's restricted is fraud.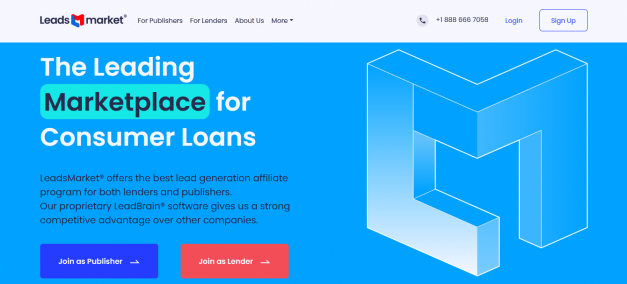 As for the technical part, the platform has a user-friendly and easy-to-use interface. The dashboard has general statistics on every campaign, reports tab is customizable within 25+ parameters. Among all the tools and instruments there are: constructors for application forms, Mobile 1st and Sub-id tracking. Besides, a personal manager is provided to every webmaster, so you can request free creatives, landing pages, and advertising banners.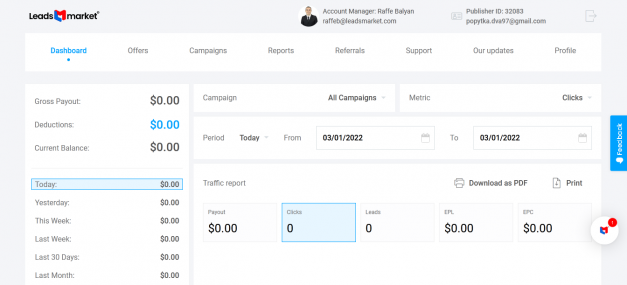 The registration process is divided into 2 steps. The first step requires you to state your name, surname, username in the messenger, email, and residential address, then you need to create a password. Next, you must confirm the email address, answer a few questions about your personal experience in the affiliate marketing industry inside your personal profile and wait for an approval. The notification about account activation will be sent shortly to your email address.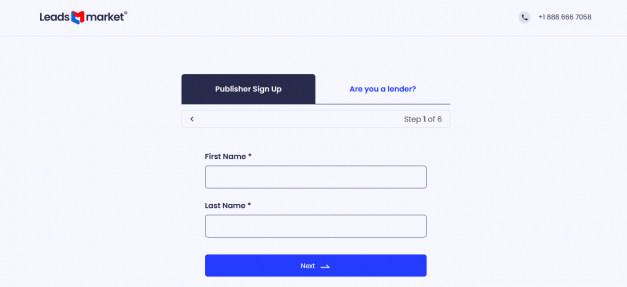 Choosing offers inside the LeadsMarket affiliate network
As we mentioned previously, there are 3 offers in the affiliate network implying a cost-per-action model. Let's take a closer look:

Personal Loans - US - $2-$240.

A banking offer where a customer can take out a loan of $100-$35,000 and pay for it on a monthly basis. The payment is received for every sold lead. Inside the US, New York is the only location where you can't drive traffic from.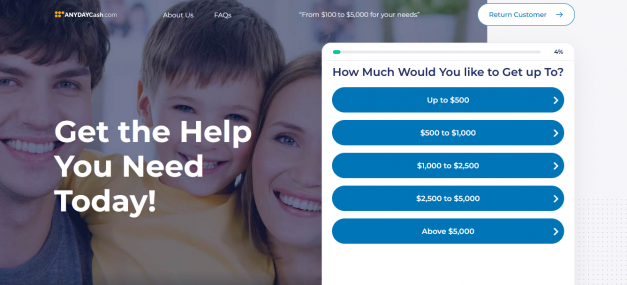 Personal Loans - UK - $1-$120.

Short term loans for citizens of Great Britain from £50 to £1,000. Payments are received within 1 week-12 months from the date of releasing the loan.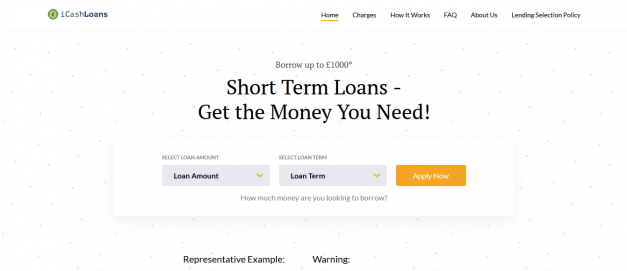 Auto Title Loans - US - $2-$20.

Loan against the vehicle. New York is the only location where you can't attract traffic from.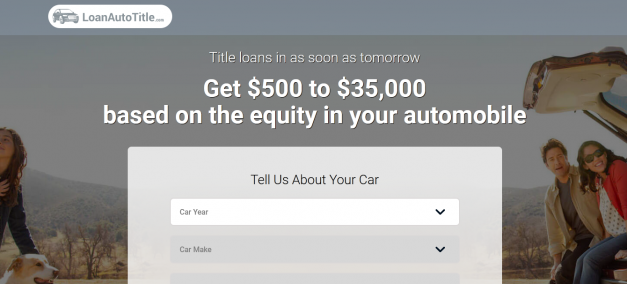 Advertisers accept any kind of traffic except for fraud. For poor quality traffic your cabinet will be banned and you will be excluded from the LeadsMarket network.

Features of the LeadsMarket affiliate network 
As usual, we've collected all the features in 1 list:

3 financial offers in the US and Great Britain with a CPA payment model 

High rates - up to $240 per lead
Free landing pages, creatives for email distribution and advertising banners
Modern tools and instruments: constructors for application forms, Mobile 1st, and Sub-id tracking
Personal management 24/7
Weekly payouts when profits surpass $100
Moreover, they have a referral programme where you can get a 3% commission out of attracted partners.

How to work with traffic through LeadsMarket
In order to connect to the offer, you need to follow these simple steps:

1. Go to the "Offers" section


2. Choose the offer you like and click "Create campaign"


3. Read the terms, enter your campaign name and choose the source of traffic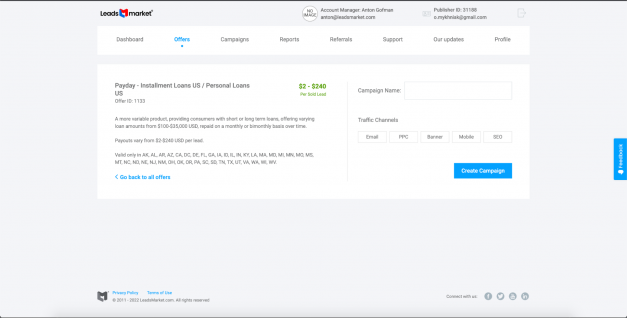 4. The last step is setting up the flow. Create a landing page, application form, choose creatives. Then press "Generate Text Link" and get your link.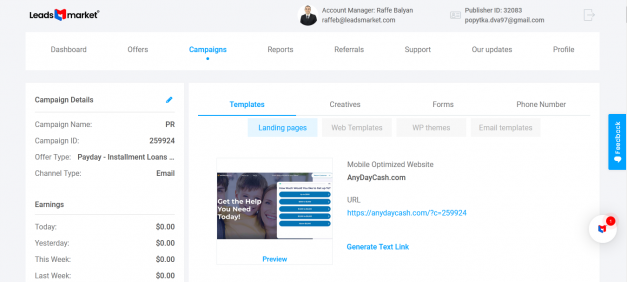 If you don't know what offer to choose or how to make a landing page or an application form – get in touch with a personal manager who will help you make profit using your source of traffic.

How to withdraw money from LeadsMarket affiliate network
LeadsMarket pays weekly. You can withdraw the funds using the following payment systems: PayPal, Bank ACH, Wire Transfer, Check, WebMoney, Payoneer, and others. To do so, you must have at least $100.

Feedback on LeadsMarket affiliate network
If you have ever worked with this network, please leave your feedback below. Tell us whether you liked this platform or not and whether it lived up to your expectations. Cases are welcomed. If you have any questions regarding the terms inside the affiliate network, ask them here:

Share the article

Read. Learn. Do. Earn more money on Affiliate Marketing
Don't miss