In 2020, the value of the online gambling market was placed at US$ 66.7 Billion. The market is expected to continue its strong growth into the near future. As internet accessibility grows and the uptake of gambling on mobile browsers and apps increases, the gambling industry promises excellent returns for affiliate marketers who venture into this niche.

Using some of the top gambling affiliate networks, you can promote bingo, poker, casino betting, and lucrative live sports betting. We provide a select list of our top five gambling affiliate networks with details on the benefits of each to help you make the choice that suits you the most.
Max.Partners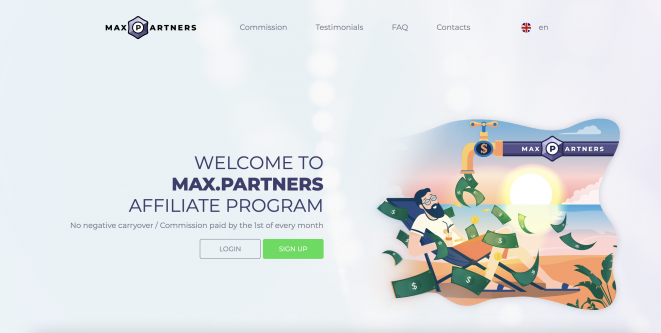 Max.Partners is a direct affiliate program of MaxCazino. After registration and account activation, you can start with one of the standard promos, all materials for which are provided by the program, or come up with something of your own - for this as all opportunities are given.
After signing up you will have a "default" commission plan, which provides RevenueShare with a differentiated percentage of 25-45 depending on the number of players. In order to get commission with a fixed Revenue Share or CPA\Hybrid plans you need to contact MaxPartners support team on the following contacts:
e-mail: [email protected]
telegram: @maxpartners_aff
Skype: live:.cid.85d46a3294856f9a
MaxCazino accepts traffic from all countries except France, Latvia, Netherlands, United Kingdom, United States, Slovakia, Russia, Ukraine and it is constantly working on improving conditions for players.
Max.Partners and MaxCazino have dozens of experienced partners from the gambling industry, campaign performance tracking is easy and convenient, managers respond quickly - so if you want to work with an experienced member of the iGaming and gambling niche, this program is definitely worth your attention.
Revshare Commissions: up to 45%
Commission types: CPA, Revshare, Hybrid
Offer Types: Gambling
Offer GEO: Whole World (except 8 countries: France, Latvia, Netherlands, United Kingdom, United States, Russia, Ukraine, Slovakia).
Tools: Banners, Landing pages, Promocodes
Minimal Withdrawal: $50 (Net30)
Payment Method: Neteller, Skrill, Bank Transfer, Bitcoin, Litecoin, Ethereum
PayV
PayV understands that publishers have varying preferences when it comes to the kind of commission offers. The network supports Revshare, CPS, and CPA on their versatile portfolio of entertainment portals, games, and other types of offers. Since 2013, the company has gained a reputation for its reliability in its partnerships with affiliate networks, advertisers, media buyers, and webmasters.
Gambling is among the site's main verticals alongside mobile, adult entertainment, sweepstakes, Nutra/health, and dating.
One exciting feature about PayV is its in-house tracking platform that offers detailed statistics and round-the-clock support to answer your queries. Also, be sure to enjoy the timely payouts and get spoilt with the wealth of choices of offers.
Chilli Partners
Chilli Partners affiliate program comes with exclusive DuxCasino and Heyspin casino offers. The platform supports Revshare and CPA and accepts the majority of the international GEOs. There are no exceptions when it comes to traffic sources, and that includes Facebook.
With Chilli Partners, you will get to enjoy exclusive offers directly from the advertiser, ensuring your share is not diluted along the way. Once you have worked with the company for a given period and have proven your trustworthiness, you will have access to special terms.
At Chilli Partners, the commissions are flexible with up to 50% lifetime revenue share or a fixed CPA rate. Enjoy the intuitive and powerful in-depth analytics that ensure you have all the information you need to focus on the most lucrative options.
MyLead
MyLead boasts of payouts of over US$ 8 million to its publishers to date. The company has more than 3000 affiliate programs available on its platform, and its publishers' database includes entities from 154 countries.
MyLead's global operation has been in existence for seven years. During that time, the affiliate network has supported CPL, CPA, CPS, PPI, SMS, IVR, SMS CHAT, and Smartlinks.
If you are in the gambling affiliate marketing niche, be sure to check MyLead's gaming affiliate programs page. The page offers a detailed overview of the industry, insight into the gaming platforms available in their programs, and promotion strategies for gambling products and websites.
Enjoy swift payments within 48 on your preferred mode of payment, including Bitcoin, WebMoney, Revolut, Skrill, PayPal, and bank transfer. Whenever you face any issue, their customer support lines are open 24/7.
Mobiglide
Mobiglide entirely focuses on mobile offers, including Trial, Mobile Lead Gen, App Install, Cost Per Acquisition, and eCommerce campaigns. The company targets local businesses to aid in their advertising strategies to reach their audiences.
At Mobiglide, publishers and advertisers have access to an experienced and diverse team of account managers, affiliate managers, and business development managers. These experts ensure that all parties maximize their returns and achieve their respective objectives.
Mobiglide boasts mobile pioneer status in North America, APAC, LATAM, Europe for new product releases and emerging markets. You will have access to over 12000 offers on the platform, and the site guarantees an ROI increase of 20-40%.
Other than gambling, Mobiglide has 19 other affiliate marketing verticals that have been proven to work and have high traffic sources.
Targeleon
Targeleon works directly with advertisers and supports CPA, CPC, CPI. CPL, CPS, and RevShare commission types. This means that you can enjoy specialized conditions that are customized just for you as a publisher.
Enjoy daily payments over various providers, including wire transfer, Paxum, Bitcoin, Webmoney, and PayPal. Targeleon accepts traffic from all sources, and its friendly and knowledgeable support team is available via email, telegram, and Skype.
When you choose to partner with Targeleon, you get access to detailed reports for every conversion generated in real-time. The company has been operational for the last seven years. It has consistently proven to be a reliable affiliate marketing partner for both advertisers and publishers.
Leadbit
Leadbit offers publishers a wide variety of top verticals with gambling and betting key among them. Other verticals include gaming, crypto, finance, dating, and Nutra. The platform works directly with advertisers and CPA-network representatives.
Established in 2013, Leadbit prides itself in offering its publishers good CPAs. The professionals on the platform are very knowledgeable in their respective roles to ensure that everything runs seamlessly and payment is promptly released.
Working with Leadbit means you will be dealing with a direct advertiser in most cases where you will access the in-house offers. The upside to this is that publishers enjoy high rates since no middlemen are taking a revenue cut.
Payment is based on the various actions, and this differs per vertical. For the gambling vertical, once the customer tops off their account balance, you will get paid.
Pin-Up
Pin-Up offers its publishers a CPA of $25 to $50 and Revshare of up to 50%. The platform supports a hybrid plan upon request for those who may prefer a mix of both commission types. You will enjoy the convenience of always having a personal manager available to you.
The Pin-Up platform is easy to use and provides detailed statistics for every partner plus unique promo material. The goal is to provide you with enough information for your affiliate marketing process to thrive.
Publishers can request their payment to be processed before the guaranteed payout period of two weeks. The supported cashout methods include Webmoney, bitcoin, bank wire, Mastercard, Visa, Skrill, Neteller, and Qiwi.
Your gambling audience will have access to high-quality brands. There are offerings for esports, sports, and casino betting. The affiliate program interface contains detailed metrics that will ensure you have the information needed to optimize your links for high conversion.
PMAffiliates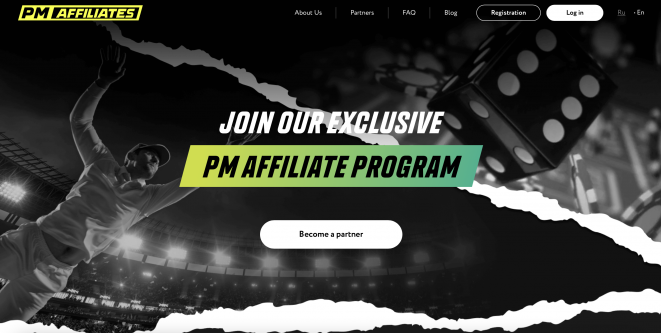 PMAffiliates has offers for apps, mobile and desktop platforms. The affiliate network is ideal for publishers since it offers direct offers from advertisers. The offers include niches such as esports, casinos, and live betting.
The commission structure at PMAffiliates is generous, with the base commission ranging from 30% to 50% for the RevShare commission type. If you prefer CPA, it is available as well. Payment is processed via numerous methods, including wire transfer, WebMoney, Yandex, Skrill, PayPal, Neteller, and Qiwi.
An exciting feature about the affiliate network is the exclusive offers from Parimatch that it offers. Parimatch has a 20-year history of being a reputable and leading brand in the gambling space.
Key Takeaways
The global online gambling/gaming industry was valued at US$66.7 Billion in 2020.

Access to the internet has significantly improved, and platforms are more accessible through apps and mobile browsers.

Many gambling affiliate networks offer publishers opportunities that promise to generate decent revenue for them.

The five listed affiliate networks are among the top due to reliability, accessible support, friendly payout methods, and comprehensive commission types.
Wrapping up
When choosing an affiliate network for your gambling vertical, you must select the one best suited to your needs. The gambling and gaming industry already commands an incredibly high market value. It promises to grow at a bustling pace for the foreseeable future. As the digital world explodes, internet accessibility improves, and platforms become more accessible on mobile and apps, there is plenty of revenue to fill everyone's pocket. Get in the game now and reap the benefits.
Share the article

Read. Learn. Do. Earn more money on Affiliate Marketing
Don't miss