What if you found out about crypto this morning? Everything you would like to discover first about a whole new world of digital money — in our first crypto digest of the #CryptoThursday series.


Imagine that you've been cut off from the rest of the world for the last 13 years. And now, when "cryptocurrency" is a buzzword of many businessmen, investors and economists, you'd like to figure out what this phenomenon is and why people call it "digital gold".
We've got your signal and prepared a short but comprehensive digest covering the most important facts and the latest news about the crypto industry. It will definitely eliminate all the gaps you may have. 
So, if you're ready, let's dive in!
What is cryptocurrency and what coins are of the most practical relevance?
According to Investopedia, the term "cryptocurrency" can be applied to all digital currencies that are secured by cryptography and issued on blockchain technology. 
Thanks to their decentralized nature - which means that they are not minted by any central authorities like banks - payments made with cryptocurrencies are immune to any form of external interference and nearly impossible to track. That's why the idea behind this virtual money has fascinated people from all around the world.
Today, there are more than 6,000 digital assets on the market, as per CoinMarketCap, one of the most prominent price-tracking websites for crypto. It's impossible to tell you about all of them. But let's take a look at the top 3 currencies currently making waves.   
Bitcoin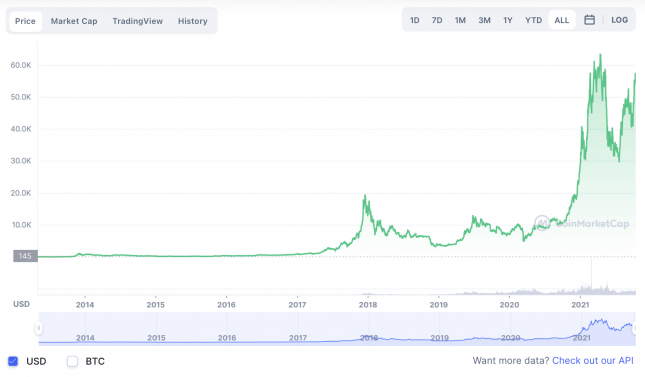 Bitcoin all-time price chart, Coinmarketcap.com
The first ever coin, which began the age of crypto in 2009, when mysterious Satoshi Nakamoto mined a genesis block (block number 0). 
The history of Bitcoin is quite volatile and full of ups and downs, but the fact is that it has eventually risen to the kind of power that makes worldwide authorities reckon with it. Now, it's the most popular cryptocurrency traded on exchanges and even used to pay for goods and services en masse.
At the press time, Bitcoin sits at over $56,000 per coin and makes a direct impact on the overall market movements. Since the beginning of 2021, it has already grown by more than 50% and even surpassed the $60,000 level twice. 
Bitcoin has been considered a "safe haven" together with gold during the Covid-19 pandemic, so, probably, it's the most appealing crypto asset to invest in, if you want to diversify your portfolio.
Ethereum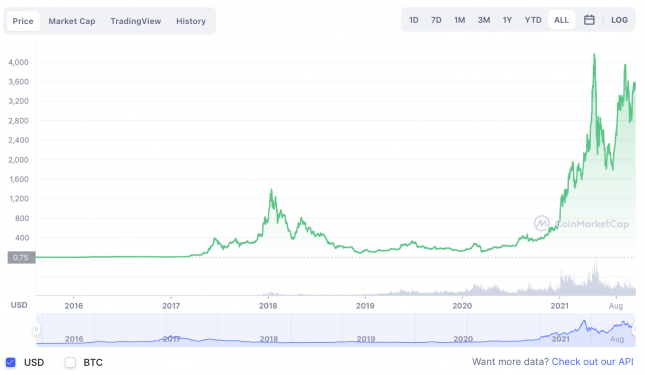 Ethereum all-time price chart, Coinmarketcap.com

The second popular cryptocurrency created by a Russian-Canadian programmer Vitalik Buterin in late 2013. 
A defining feature of the Ethereum project is that it allows for the creation of smart contracts, decentralized finance (DeFi) applications and non-fungible tokens (NFTs). The first enable an automatic execution, control or documentation of actions set in a given agreement. The second provide a vast range of financial services with no need for typical financial intermediaries. And the third make it possible to sell real-world items in a form of digital property.
Ether has much potential for growth if viewed in the context of Ethereum capabilities. However, now it has a few promising rivals like Binance Coin. Along with the latest London upgrade made on Ethereum platform, which caused a $1 billion in ETH burn, this fact is periodically shaking the cryptocurrency. But some famous crypto experts remain positive about Ether, so it may well be considered a good investment.
At the time of writing, Ether is traded at slightly over $3,500 per coin.
Binance Coin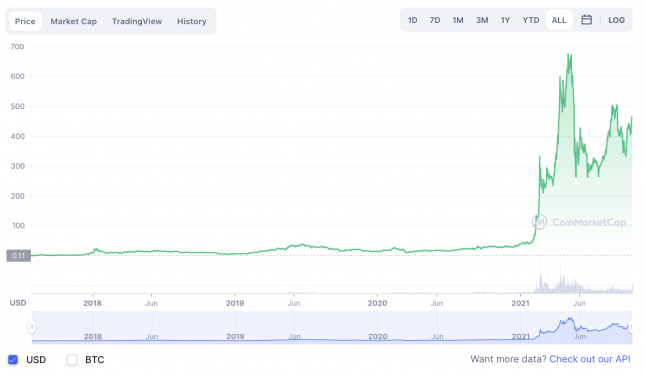 Binance Coin all-time price chart, Coinmarketcap.com

The third altcoin (alternative to Bitcoin) in the top 3 list launched by the leading cryptocurrency exchange Binance. 
We've already mentioned the ongoing confrontation of Ether and Binance Coin, and this is exactly what contributed to its popularity. Based on the Binance Smart Chain, BNB allows people to pay less in transaction fees than they do on Ethereum, thus creating more beneficial DeFi ecosystems. 
However, the issuance of Binance Coin is centralized and the cryptocurrency itself seems to be far closer to securities than anything else. You need to learn all the information about BNB carefully before investing in it,as the Binance Smart Chain structure may even be a cause for regulatory concerns.
At the press time, the price of Binance Coin is fluctuating around $430 per coin.
Initial Coin Offerings (ICOs)
Initial Coin Offerings are variations of Initial Public Offerings (IPOs) and exactly the activities that bring new cryptocurrencies to the market. 
Every crypto asset creator, who seeks funding, can get his technology put in place by creating both whitepaper and a website or app describing the system and how it works. At the present time, there's no specific legislation related to ICOs, which means that literally anyone can launch it.
Among the ongoing ICOs there are:
Defina Finance (FINA)
DareNFT (DNFT)
Moniwar (MOWA)
Zinari (ZINA) 
The latest news on crypto market
Over the last months, the cryptocurrency industry has made some noise, as the price of Bitcoin has started its spectacular upward movement to $60,000 again. Despite the collateral drops and sometimes due to them, it has become a regular news presence. Let's see what high-profile crypto events occurred recently.
More and more institutional investors are growing stash in crypto. Among them there are Tesla, MicroStrategy, Square, Coinbase, etc. 
Increasingly, worldwide known billionaires, entrepreneurs and hedge-fund moguls are advocating Bitcoin amidst the Federal Reserve's (Fed) notorious banknote pump.
China's war against cryptocurrency has warmed up. A staunch opponent of Bitcoin has finally banned all crypto-related operations within the country while working on its own digital yuan at the same time.
In contrast, El Salvador has become the first country to legalize Bitcoin. The El Salvadoran government and the president Nayib Bukele are sure that their Bitcoin project will facilitate cross-border payments as the country depends highly on remittances. 
The latest Bitcoin bull run has caused an overall crypto market capitalization to climb over $1 trillion. The crypto community stays positive in their belief that Bitcoin will continue to gain strength while also supporting the rise of altcoins.
Summary: why should affiliate marketers turn to crypto?
Despite what anyone may say of crypto, it has already become a part of our life. Increasingly, affiliate programmes, CPA and advertising networks are including digital currencies into their lists of payment methods. A good example of this trend is Tether, which you can find almost everywhere on the market.
Besides, there are lots of ICOs with their own affiliate programmes, so you can think of running advertising campaigns to promote them.
And, of course, it's impossible not to keep in touch with the world's most notable innovations that bring traditional operations to a completely new level. 
To stay ahead of your competitors, you need not only to follow the ongoing trends, you need to set them yourself. Cryptocurrency technology gives many opportunities for those who seek both fresh ideas and profit. This digest is just the beginning of your crypto journey, and once you get more experience, you'll see how promising this industry is.
Share the article

Read. Learn. Do. Earn more money on Affiliate Marketing
Don't miss