One of the main affiliates' headaches is cloaking, i. e. surpassing the moderation of Facebook, Google, TikTok, and other social networks. Cloaking.House, the new service, solves this problem. And the good news is that you don't need technical skills to cloak successfully. Interested? So continue to read this article to learn about the service.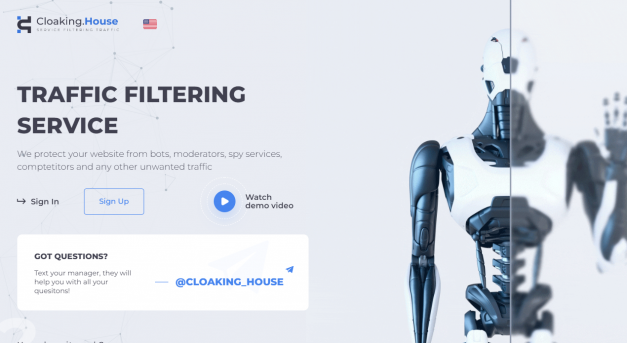 What Is Cloaking.House
Cloaking.House is a cloaking and bot filtering service developed by House Group, which is famous for its projects such as Push.House, CPA.House, and Spy.House. Thanks to this service, you can avoid bans on social media with strong antifraud systems, for example, TikTok, Google, bet365, etc. Also, bot traffic can be filtered by Cloaking.House, so you protect your prelanders and landers from spy services. 
The interface of the cloaker is very fast. You don't need to wait even a few seconds to open any section of your account as all sections are loaded promptly. 

If you have no clue how to use Cloaking.House, watch the video guide on their website.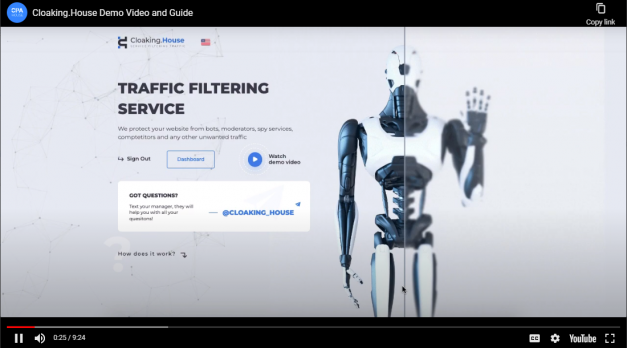 Easy-to-Use
As we've said, cloaking with Cloaking.House is as easy as ABC. You don't need technical skills to redirect moderation to the white page. You just need to paste the link to the white page, offer page, choose the type of cloaking (redirect, iframe, or load content if your white page is loaded on the hosting) and set the filtering settings. 
By the way, Cloaking.House works with all hosting providers.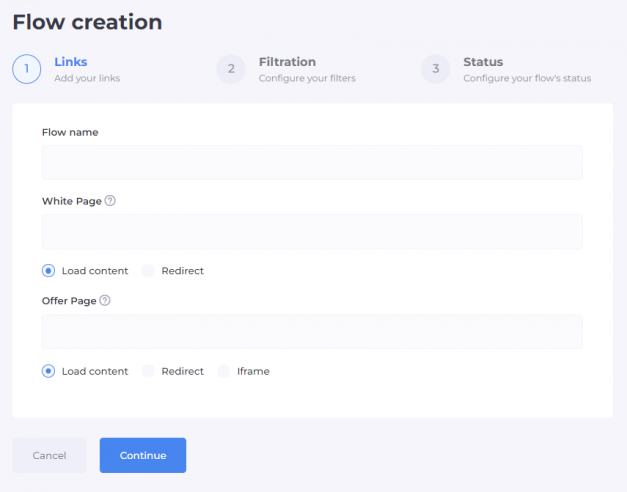 Machine Learning to Filter Traffic 
Cloaking.House uses machine learning to filter the traffic. There are several parameters by which you can redirect bots to the white page: 
GEOs — countries and cities;

Devices;
OS;
Browsers.
Also, you can disable traffic without referrer/ISP and VPN/proxy/IPv6 traffic.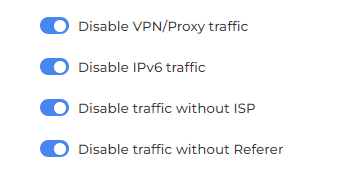 To determine VPN traffic, the service uses premium WW bases. If an IP address is in a base, the user doesn't go to the offer page. 
Moreover, Cloaking.House has a database with more than 400 bots that can be identified by the service. All bots are redirected to the white page. 

Advanced Statistics
In the "Click" section you can see all information about each click and the reason why it went to the white page or offer page.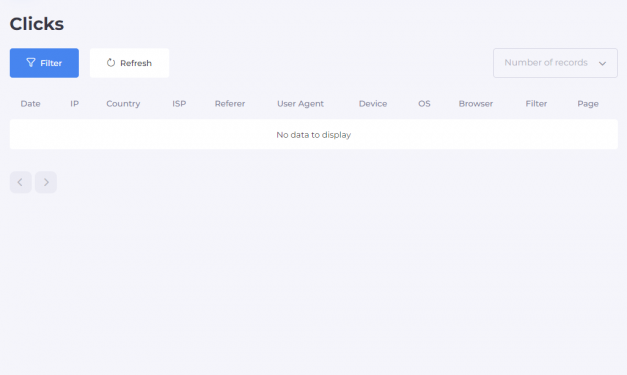 In the "Statistics" section are shown hosts, hits, the number of filtered users, and the ratio of bots and real users. You can see statistics by days, countries, flows, OS, and other parameters.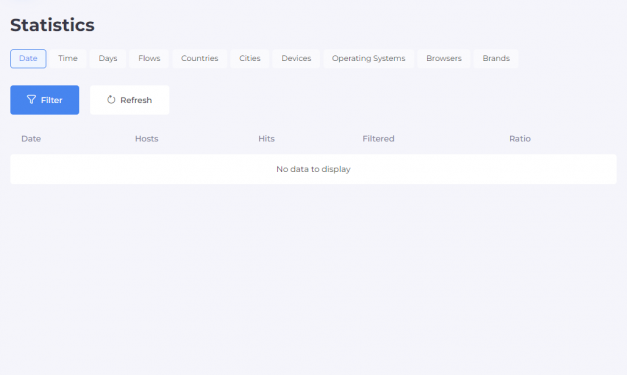 The "Statistics" Section on Cloaking.House
Prices 
Developers offer three plans you can choose from. Let's take a sneak peak what is their difference:
| | | | |
| --- | --- | --- | --- |
| Plan | Price for month | The number of active flows  | Other features |
| Starter | 30$ | 3  | no |
| Basic | 100$ | 10 | priority live support |
| Premium  | 200$ | unlimited  | priority live support  |
You can choose any type of plan depending on your volumes. As you see, Cloaking.House can be used by beginner affiliates, solo affiliates with high volumes, and affiliate teams.

If you aren't sure that this service is good for you, try a 7-day free trial version. This time is enough to understand whether Cloaking.House fits your goals or not. A 7-day free trial version is activated since you've registered in the service, and you don't need to link your card to use a free version.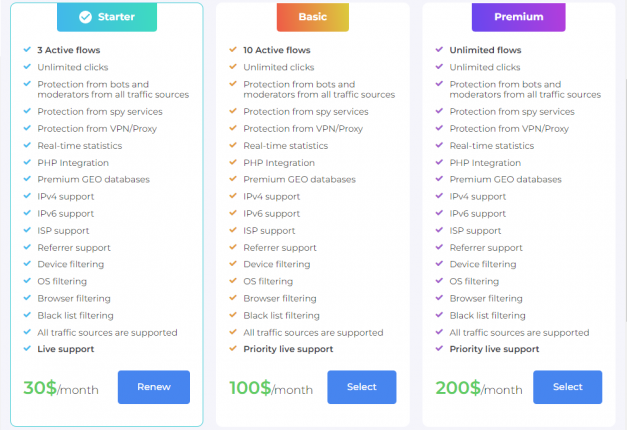 Service Plans 
Referral Program
If you like to advise services to other affiliates, it's a good idea to use the referral link which you can get in the "Referrals" section. Use it and you'll get 20% from the spendings of each referral.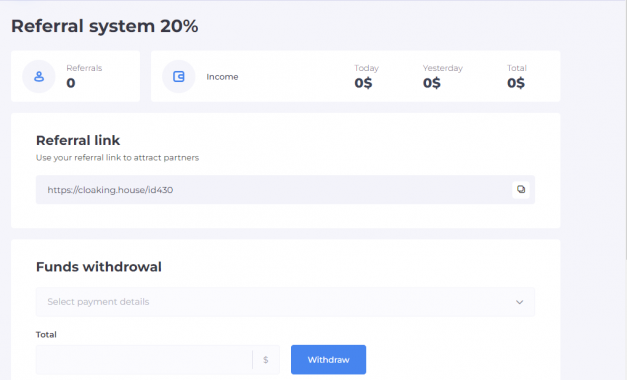 Bonuses for Users
Cloaking.House customers are provided with discounts and promocodes for different ad networks, spy services, proxy services, CPA networks, and the list goes on.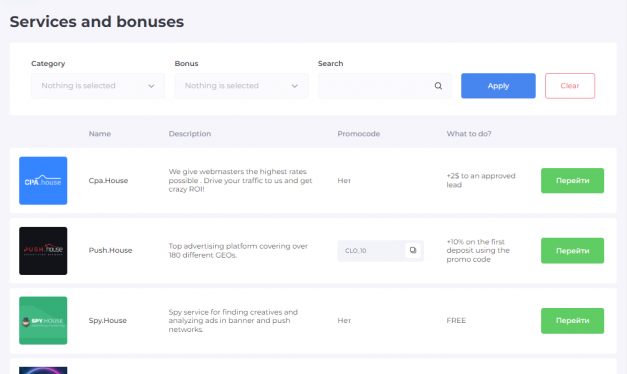 Moreover, we have a surprise specially for our readers. Enter the promocode AFFVALLEY and get a 40% discount on first purchase!
Feedback on Cloaking.House 
Have you already worked with Cloaking.House? Leave your feedback on our website👇
Join the Telegram chat of this service. Don't hesitate to ask questions and share your knowledge with other affiliate marketers! 
Share the article

Read. Learn. Do. Earn more money on Affiliate Marketing
Don't miss