Neogara is an affiliate network operating since 2014. Its own media buying team has been testing and processing all offers 6 years in a row. In 2020, the network became open to new webmasters. Now, you can choose from more than 100 in-house crypto offers for 100+ GEOs. Rates are high – up to $1 300 per lead. The traffic is accepted from any source. Fraud is forbidden.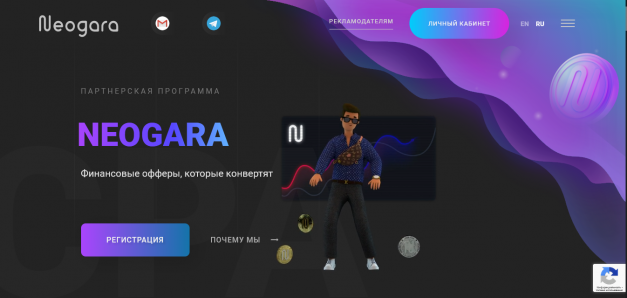 Technically speaking, everything is top-notch. Interface is user-friendly. The main page displays statistics on every campaign (you can filter them in the appropriate section) and the list of offers with the finest terms. Dashboard contains contacts of your personal manager (who is always available) so that you don't need to scroll through your Telegram chats to find someone who will help you. By the way, you can ask the manager to provide you with special services for mobile apps and even ask to find an offer with great performance. Due to inner media buying experience, you will always get relevant approaches that will solve all your problems.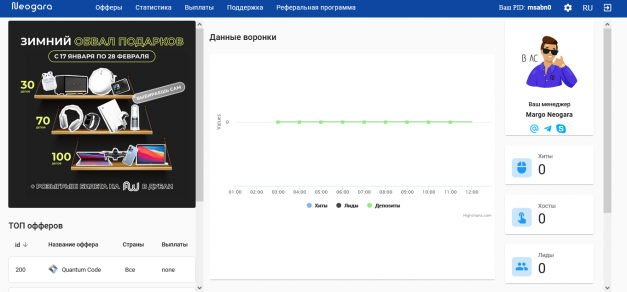 To sign up, you need to enter email, name, password, Telegram or Skype, as well as to tell about your experience and how you found out about the platform. After the registration is confirmed via email, Neogara's manager will get in touch with you, ask a few questions, and then open a personal account. Usually, it doesn't take much time: we received a response 15 minutes after the application was sent.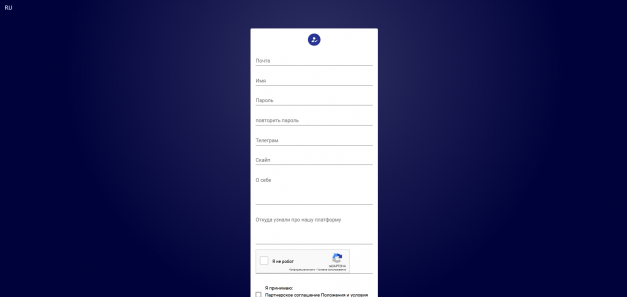 Review on offers available through the Neogara affiliate network
Like we mentioned before, there are more than 100 verified crypto offers for 100+ GEOs. Each product has relevant landing pages and photo-/video- creatives. The rate depends on the chosen GEO and goes up to $1 300 per lead. Let's dive into some of the most popular offers:
Eng — Quantum AI — FTD. It is a web program that uses advanced algorithms of artificial intelligence and quantum computing. It helps to easily invest in cryptocurrency by making the whole trading process automatic. All traffic is accepted, except for motivated traffic, fraud or spam. Minimum deposit is $250. Period of hold is 7 days. Rate is $400 for deposits from Romania, $500 for Slovakia and Slovenia, $750 for Great Britain, Malaysia, Netherlands, New Zealand, Canada, and Australia. The payout may grow if you run proper traffic and provide high volumes.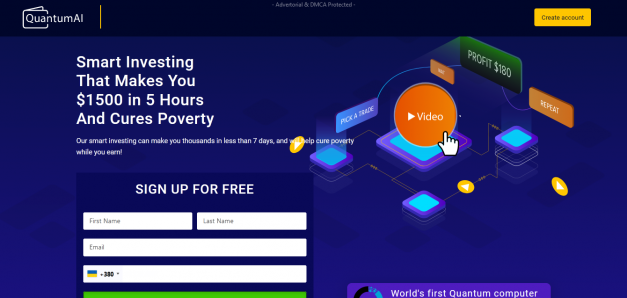 Eng — Tesler Ap. This is a program containing algorithms that monitor prices for bitcoin, etherium, and other popular currencies based on technical analysis and indicators that give you short-term prediction of future price movements. Then they execute deals on behalf of a trader. There are no limitations on traffic volume. The rate depends on the chosen GEO. The highest one equals $750 for users from Singapore, the lowest is $200 for Nigeria and India. The offer has 2 pre-landing pages;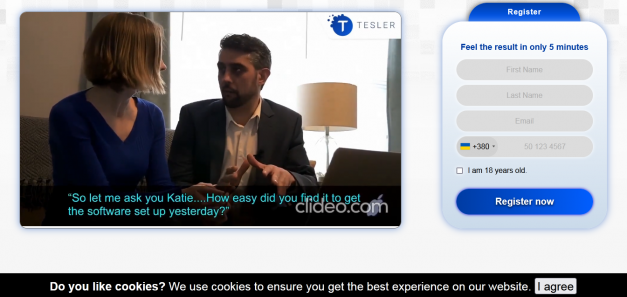 Esp — Bitcoin UP — FTD. This is a software that was developed to collect news about cryptocurrencies and analyse further trading trends based on this information. All types of traffic are accepted, except for spam, motivated traffic, and fraud. Minimal rate is $250. Period of hold is one week. Two pre-landing pages are available for the offer. Minimal rate is $200 for users from Uruguai, the maximum one is $600 for users from Spain;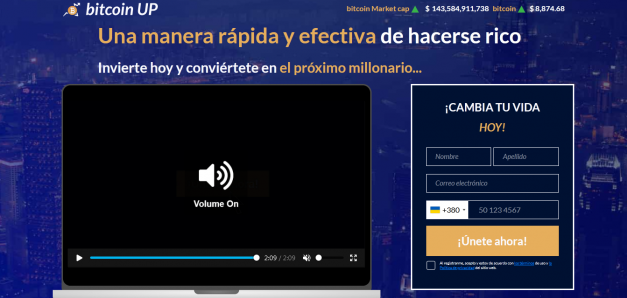 Eng — Bitcoin Bank — FTD. It is a tool for passive online income that uses an automated platform for executing deals on behalf of the user. Terms are similar to previous offers – all types of traffic are accepted, except for spam, motivated traffic, and fraud. Minimal deposit is $250. Period of hold is one week. Minimal rate equals $350 for Bosnia and Herzegovina, the maximum one equals $750 for users from 17 Tier-1 GEOs – Germany, Great Britain, Canada, South Korea, etc. The offer has 6 pre-landing pages with different advertising approaches.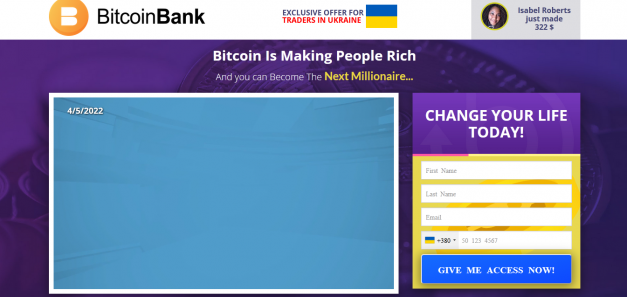 If you can't choose the offer – get in touch with your personal manager who will help with choosing a converting offer for any traffic source, provide you with creative ads, mobile proxies, and apps. If you collaborate with the network long enough and provide it with good traffic, Neogara shares with you the most exclusive offers, bumps your rates and removes the holding period.

Features of the Neogara affiliate network
Besides high rates, user-friendly interface, and responsive support, there are more benefits:
A lot of crypto offers – more than 100 offers and GEOs;
Own call centre that operates worldwide and speaks 20 languages, including Chinese, Greek, and Arabic;
Own media buying department, i.e. affiliate network tests offers, makes promos, landing pages and shares the most profitable offers with webmasters;
Minimal holding period is 7 days;
Modern tools and functions: postback and apps;
Free creative ads, pre-landing and landing pages on demand;
Individual terms for webmasters – bumps, removing of holding period, exclusive offers;
Referral programme – 5% from the income that was generated to the platform. When the amount reaches $10 000, Neogara pays 3% from every deposit.
Moreover, Neogara has its own private club for webmasters and SEO specialists – there you can find useful materials, profitable offers, and exclusive cases. From time to time, the team offers free tickets to various events, or invites to join the club's own events. Also, you can discuss the affiliate marketing news and insights.
How to run traffic with Neogara
Access to different offers is granted on demand. Enter the website address, choose the "Offers" section, click "Request access" next to the selected one, and wait for approval. If it takes much time, contact your manager. Usually, 10 minutes are required to approve everything. Offers that you gained access to, appear in the "Approved" section. Also, there is a tab that contains working hours of call centres, disaggregated by GEO.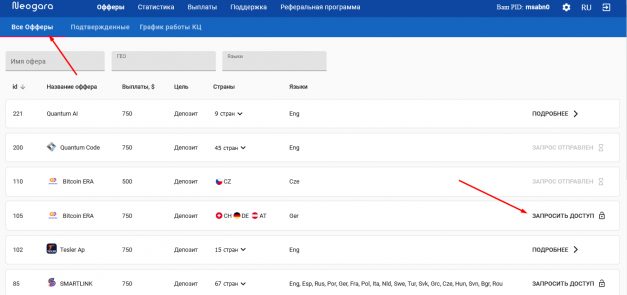 To start running traffic, open the offer card, see the terms, add subs, and take the link.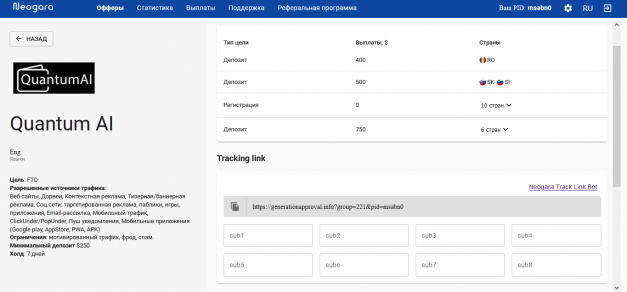 Below, you can take the script for your pre-landing page. There are instructions on setting it up, and then you can install the postback service.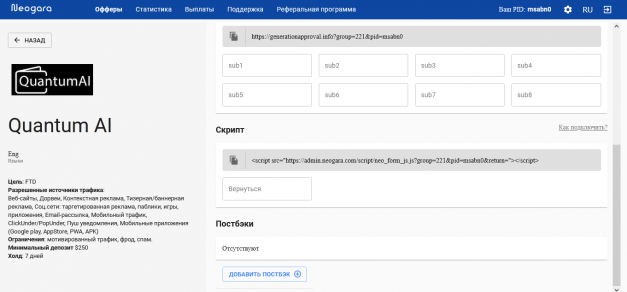 How to withdraw money from Neogara
Neogara affiliate network withdraws money daily on webmaster's demand. You can use Bitcoin, USDT, PayPal, PaySera, Payoneer, WebMoney, Wire transfer (from $5000), QIWI, YooMoney, Capitalist, and a bank card. Holding period is 7 days, but if users start making deposits from the earliest days, it totally disappears.
Feedback on Neogara affiliate network
If you have already worked with Neogara – share your thoughts in the comments below. It is also recommended to join their private club to discuss affiliate industry news, join Telegram channel, and subscribe to their Instagram page to stay up-to-date about Neogara's updates.
Share the article

Read. Learn. Do. Earn more money on Affiliate Marketing
Don't miss