There's no need in trading or reselling NFT to make profits from crypto. It is quite enough to work with the PrimeAds affiliate network. 
Let's get to know why this network is worth giving it a shot!

Features of the PrimeAds affiliate network:
200+ GEOs;

50+ crypto offers;
Creatives upon request;
Weekly payouts;
Various models of payouts – CPA, CPI, CPL, RevShare and Hybrid;
Referral system included. 5% for every referred webmaster;
Technical support works 24/7.
The affiliate network was launched just recently. Guys who did it put their hands into the development of the PrimeXBT crypto exchange. Founders brag about their experience: 5+ years of working in crypto and 15+ years of working within affiliate marketing. That's why this network takes the best of two niches at once: crypto currencies and affiliate marketing.

Overview of the PrimeAds offers
There are various payment models presented: CPA, CPI, CPL, RevShare and Hybrid, so anyone can meet their needs, whether you want to get your payout immediately or work for the future. Offers are available within the following crypto categories:

GameFi;

Forex;
Crypto Trading;
Copy Trading;
Binary Options;
Crypto Casino.
On the platform, there are some offers for PrimeXBT, as well as those not connected to it – 1WIN casino, for instance.

The affiliate network accepts all kinds of traffic, except for motivated traffic, bots and fraud. Offers that need to be approved receive the approval during daytime.

Covesting [WW] CPA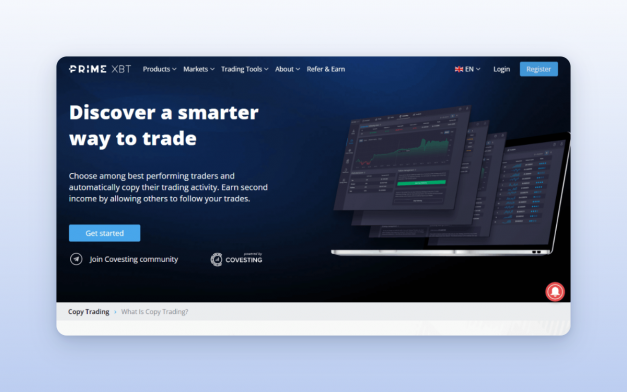 ID: 25

Payment per lead varies depending on the quantity of referred customers:

1-20 leads – $250

21-50 leads – $350
51-200 leads – $400
201+ leads – $450
Covesting Copy Trading Module is an exclusive offer from PrimeAds. This is a great start for beginners in crypto. The user doesn't need to be an expert in trading, it's enough to "bring" money to the strategy of the other trader and copy it. The trader may also make his strategy publicly available and receive a percentage of sales from people using it.

It is also possible to use a widespread targeting on those who know at least anything about crypto currencies.

PrimeXBT [WW] Revshare up to 70%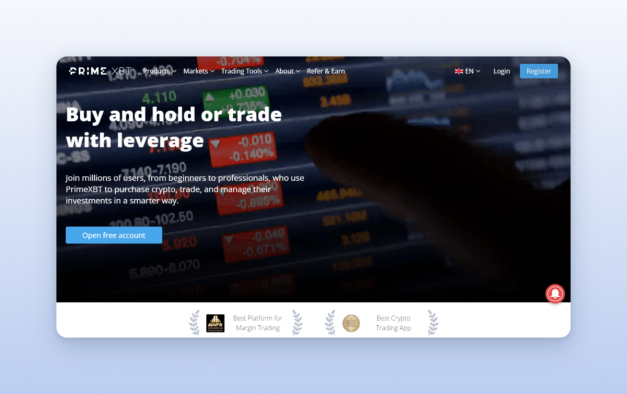 ID: 32

The percentage of Revshare varies depending on the quantity of referred clients:

1-100 traders – 40%

101-200 traders – 50%
201-300 traders – 60%
301+ traders – 70%
Working with this offer, you get the percentage of income from referred traders. The exchange has more than 50 tools for analysis and a tool for copying strategies of other traders – Covesting, so you have all the chances to boost the percentage of Revshare to 70%!

How to withdraw money from PrimeAds
Minimal amount of withdrawal – $100. The hold period varies depending on the offer.

PrimeAds offers the following ways of withdrawal:

Webmoney;

BTC;
ETH;
USDT erc-20.
Other options are discussed with the support. If, for any reason, you cannot withdraw money using the ways given above, and you want to use USDT trc-20 or Paxum, get in touch with your manager. If possible, they are willing to help.

All payments are being made every Monday, but in case there is a force majeure, you may request an early payment through support. It is impossible to do so through your personal account.

How to run traffic with PrimeAds
The registration process is open, there is no need to show statistics or answer questions. Write your email, create a password and that's it. No need in indicating your Telegram either.

Don't have time or money to make creatives? PrimeAds will do it for you, just contact the manager and determine the technical specifications.They will be given to a designer who will do it for free in a couple of hours.

Moreover, PrimeAds provides exclusive landing pages that are absent in the offer's card and gives you with smarlinks, so if you were looking for one – go register.

If you work with PrimeAds for quite a while, managers will share insides from their inner media buying.

And that's not it. If you are full of ideas and have no funds – the network gives an opportunity to test them at the expense of PrimeAds. This means that if a team has the experience in running traffic (not necessarily in crypto), it can discuss testing budgets with PrimeAds.

You can contact managers through the ticket system on the website or through email. The technical support team works 24/7.

Boost your rate +25% when running traffic to the exclusive Margin Profit Share offer from PrimeXBT. Just tell the code word "AffiliateValley" to your manager after registration!

Feedback on PrimeAds affiliate network
Have you ever worked with PrimeAds and want to share your experience? Leave your feedback on our website👇

Don't forget to follow PrimeAds on social media to always stay up-to-date!

Share the article

Read. Learn. Do. Earn more money on Affiliate Marketing
Don't miss