Affiliate marketing is built on trust and reputation. To give maximum bids and exclusive offers, the advertiser must be confident in the quality of your traffic, as they have to take on additional financial risks.

This confidence is formed at a distance and a large volume of traffic. It is not for nothing that the conditions for large teams and affiliate networks differ significantly from those offered by a direct advertiser at the very start. So, the question is how can ordinary webmasters get competitive conditions?

There is no mystery. It's all about connections. It's a fact that a face to face meeting significantly increases trust. Choosing the right affiliate network plays a big role as well. They compete with each other for working conditions just like webmasters but at a higher level. And their ability to negotiate is directly reflected in the bids that you receive.

We recommend that you constantly monitor the market for partners and offers, communicate with managers, and be the first to pick up the best conditions. For the most part, this applies to non-commodity verticals such as dating, sweepstakes, cryptocurrency, and installs. You need to work hard to find worthwhile offers, and even more importantly, a direct advertiser. We would recommend looking for offers in large and proven networks that have already earned trust in the market and confirmed the status of a reliable affiliate program. It is better to choose based on the experience of the network creators, the verticals you are interested in first of all, and the variety of offers. If the quality and variety of offers in verticals such as finance, streaming, utilities, extensions, crypto, as well as dating, and sweepstakes are important to you, then we suggest looking into Zeydoo.
If you are not familiar with this affiliate program, then just know that Zeydoo is a project from PropellerAds (one of the largest advertising networks on the market). It is worth noting that there are really exclusive offers with top payouts on the market that are available to everyone. What conditions can the affiliate network offer? Let's figure it out together.

Zeydoo affiliate CPA network: Detailed overview
The official Zeydoo launch took place at the end of 2019. The company is well-known for its extensive media advertising and vivid participation in the Affiliate World Asia conference in Bangkok. There is no question about reputation and trust - PropellerAds has been on the market for 9 years and guarantees transparent operation.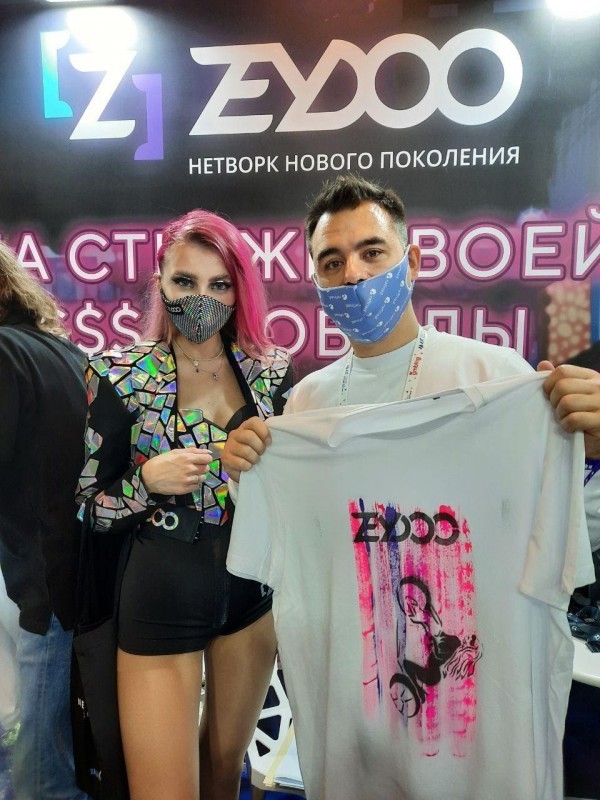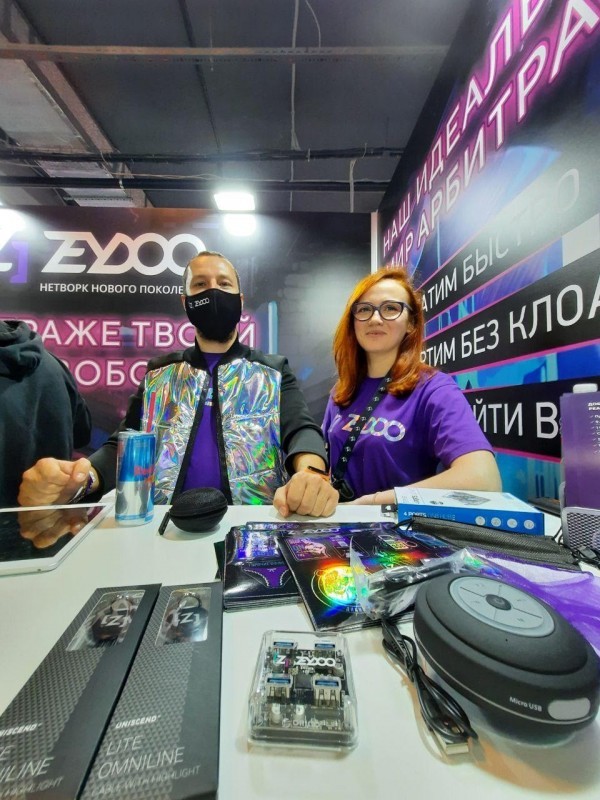 Zeydoo at MAC, 2020
The affiliate program notes that it does not chase the number of offers and adds only the best offers from direct referrals that showed economic efficiency after tests on PropellerAds traffic. However, now they have more than 500 offers.

Thanks to their own testing, managers have a lot of expertise and can help with the selection of landing pages and offer advice on creatives and optimization for beginners.

Key verticals: finance, streaming, software, utilities, extensions, crypto, collection of pushes, dating, sweepstakes, and mobile content.

Here's what we found interesting about exclusive offers:

Finance

1207 Agora Banc
Crypto
976 Latam Crypto Prelander – super high conversions!
Leadgen

1210 Claro Controle
1189 Tuenti AR
1203 Finance Survey New Feed is an exclusive offer from the affiliate program with low rates but high payouts.
1195 Subscription Multiland presents top landing pages in one offer, high payouts per 1000 users.

Soft

FlashPlayer Chrome (ID: 942) is exclusive and is not promoted through partner networks.
In general, you can find really unique offers here. We recommend that you sign up and look for relevant topics.

And if you don't find what you are looking for, then contact your manager about your wishes. Any manager will try to find the most relevant offer with the best terms for you.

It took us just 3-5 minutes to approve an account. Chat support responds promptly, in addition, all support managers respond in great detail and try to find an individual approach to everyone.

Since the end of October, Zeydoo's support has switched to 24/7 operation, which is rare with other affiliate networks.

Zeydoo runs on a self-written engine. They have a very simple and friendly interface, convenient filters and stable operation without lags. Representatives of the platform are constantly working to improve the interface and are always happy to receive comments from you about what Zeydoo lacks.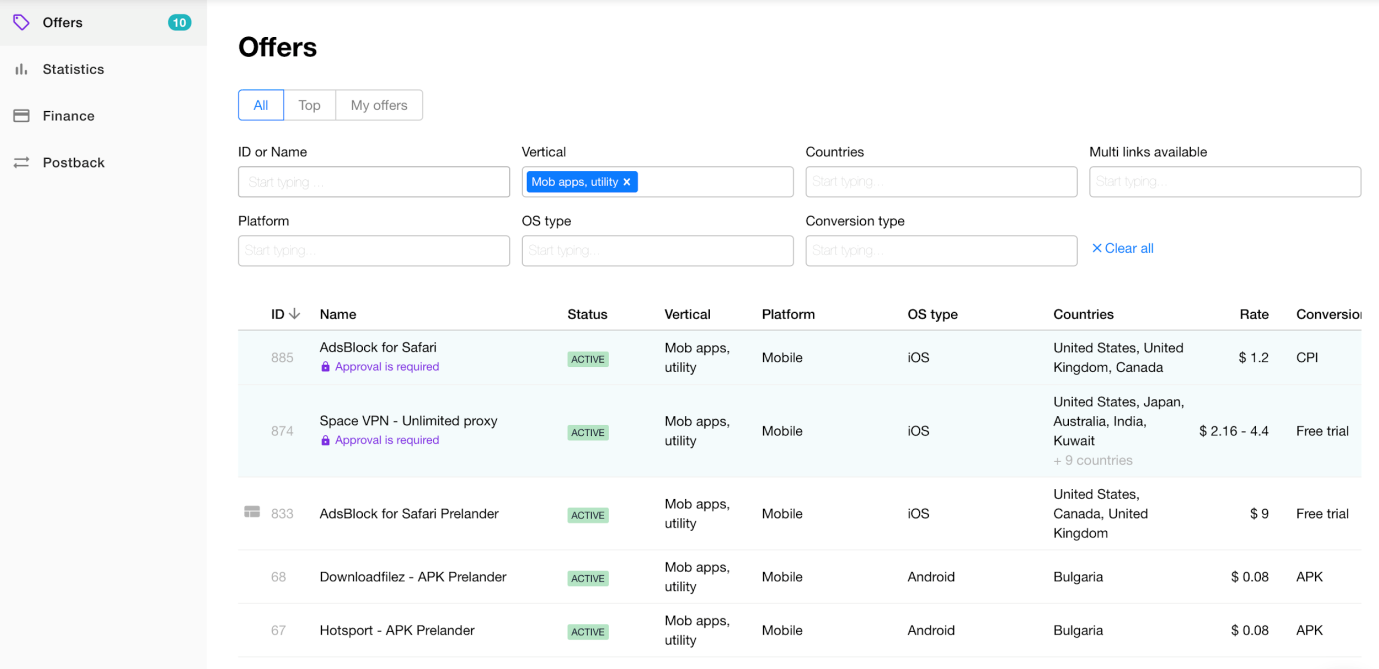 Each offer has detailed terms and conditions: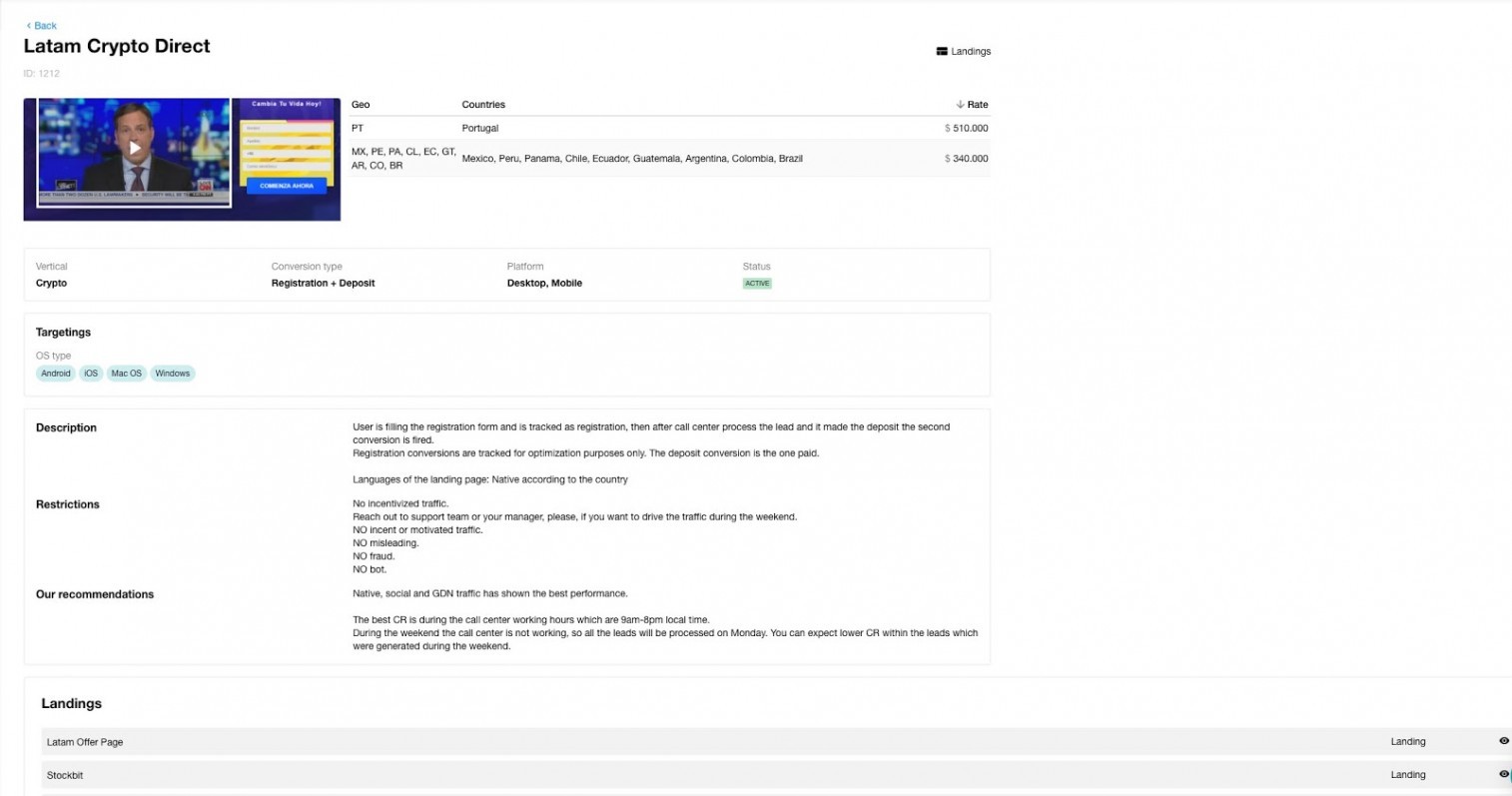 The most profitable offers require approval from the Manager but, as the practice has shown, this does not take much time, especially if there is a real case of work in this niche. With open offers, the time from registration to creating a thread takes several minutes.
There is automatic postback integration with all popular trackers like Binom, Volum, AdsBridge, RedTrack, BeMob, and PeerClick.

Statistics
As we said earlier, the network runs on its own engine, so we should focus on this section. There are basic filters for convenient segmentation of threads: country, OS, offer, landing pages and traffic sources.
The statistics itself contains all the necessary information: filters by country, OS, offer, landing page, traffic source, and zone; selecting a time period and searching for a campaign by name.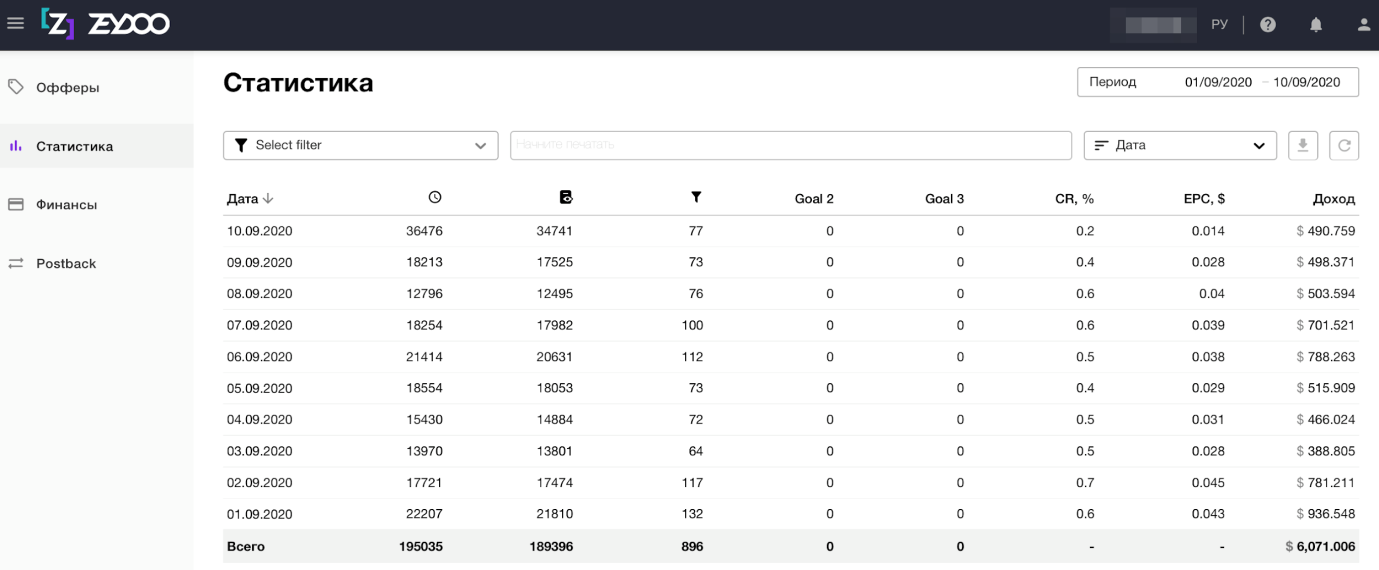 Everything is quickly unloaded even with large volumes of traffic.
Finance
Payments in the affiliate network are made automatically twice a month – on the 4th and 19th. Beginners will get the first payment within 2 weeks. The minimum payout is $100 (if it's wire it's from $1000).
You can withdraw funds to WebMoney or Yandex.Money, Qiwi, PayPal, Payoneer, Skrill, and Wire-transfer.

Support
Support is definitely a success - there is a convenient live-chat, where the Manager responds within a few minutes. Conflict situations and other things did not arise, communication is as friendly as possible.
For general questions, or just to chat, please contact the Zeydoo Telegram chat.

If the volume is good, you can also discuss the bid bump with the Manager.

To sum it up
Recent trends in working with traffic clearly demonstrate that the more the market develops, the greater the importance of the reputation of the company. In case of high competition, large advertisers choose trusted partners, giving them exclusive conditions or even an offer per person. It all boils down to the fact that it is becoming more and more difficult for beginners to get a good offer to work without a proper reputation and volume. The solution is to search for unique offers in large affiliate programs that are as close as possible to direct advertisers and build a trusting relationship with the Manager.

We do not recommend tempting fate and driving traffic to "private" affiliate programs that no one has heard of. 2020 turned out to be a difficult year for all of us, so we also do not recommend looking for extra difficulties and start working with unverified projects as scammers are on the rise!

We suggest starting out with large companies even if the conditions may be more modest at the start, but after the first hold and bump from the advertiser, it will become much easier to work with. And at a distance, you will receive offers first-hand at the best conditions. There is a great opportunity to register with Zeydoo now and while the affiliate program is growing, grow with it.

These guys have excellent support, a good selection of offers, the list of which is constantly updated, as well as an excellent reputation. We can definitely recommend them. If you have already had experience with them, please share it in the comments.

We wish you all high conversions, lucrative offers, and minimal hold!
Share the article

Read. Learn. Do. Earn more money on Affiliate Marketing
Don't miss