The content is provided by Travelpayouts, the largest affiliate marketing network focused on travel

There are dozens of useful extensions for the Google Chrome browser that help affiliate marketers work more efficiently. On this page, we've collected a list of 50 free Chrome extensions that will be useful to affiliates with different traffic sources. Some extensions have paid versions with advanced features, which will make the job even more effective.
What are extensions for:
If you use Google Chrome, you will surely find useful solutions in the below list. Chrome Extensions will help you in the following areas:
Affiliate Marketing
Website Analysis and SEO
Keywords
ASO and Mobile App Optimization
Content: Text, Video, Images
SMM
Email Marketing
Security and Ad Blocking
Office and Documents
Personal Productivity and Workspace
We have collected a list of 50 useful tools. However, please supplement our selection by sharing your favorite plugins in the comments.
Affiliate Marketing
All of the extensions on this page will help you in your affiliate business, but there are some extensions that every affiliate marketer should have in their toolbox.
1. Affilitizer
Affilitizer is a free extension that will notify you as soon as you visit a website from an advertiser.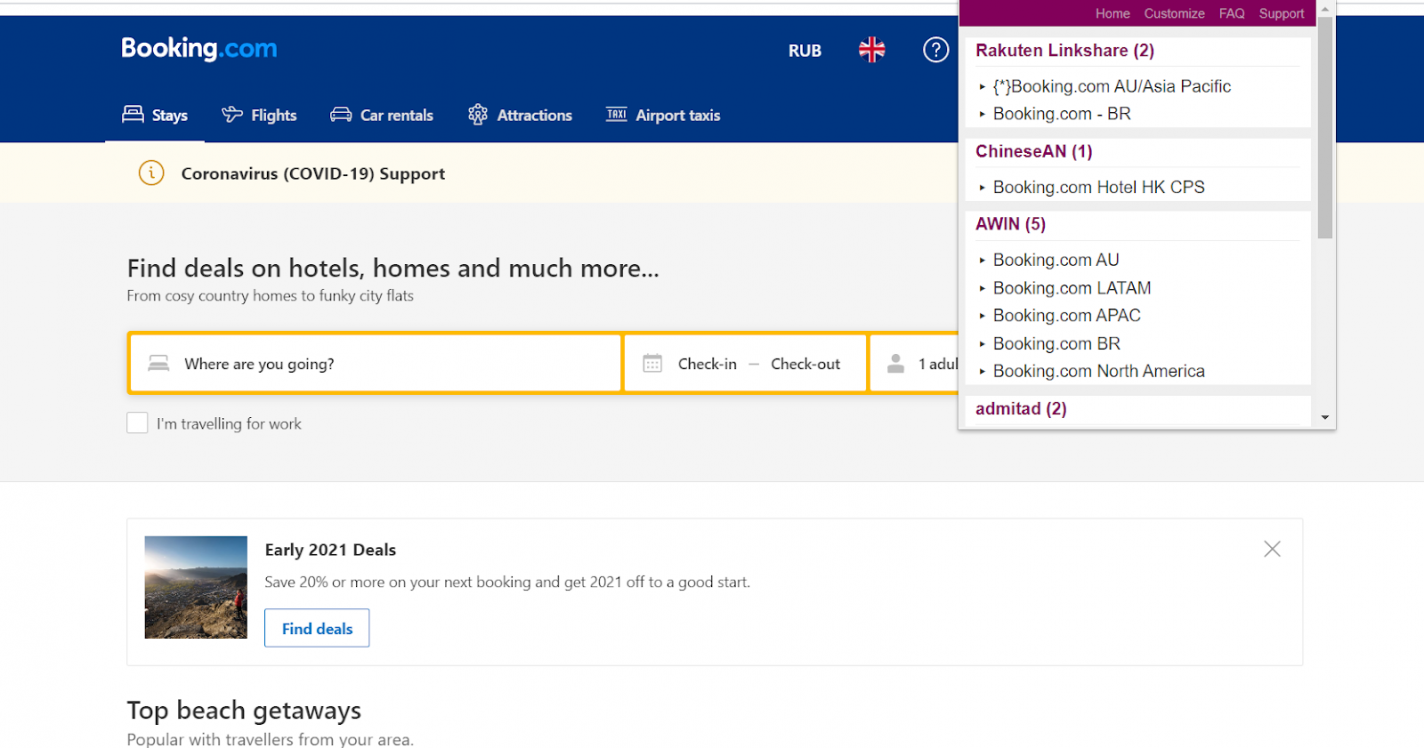 Thanks to Affilitizer, you can easily find new affiliate programs and start working with the desired ones in a single click. The database currently includes over 80,000 affiliate programs from more than 80 affiliate networks!
2. Check My Links
If you share affiliate links on your website, you must have the Check My Links extension or its alternatives in your toolbox.

Check My Links is an extension developed primarily for content editors to help find broken links, but it can also be used by affiliate marketers. The extension analyzes all the content on a given page and helps find any broken links.
For example, if you previously posted an affiliate link to a product on Amazon, but that page no longer exists, you can easily find out with Check My Links. Broken links will be highlighted in red, while working links are highlighted in green. As a result, you can quickly find broken links and replace them to avoid losing customers.
3. Travelpayouts
Some affiliate programs or networks develop their own solutions, so check to see if your affiliate program has a personal browser extension. For example, such an extension is available in the Travelpayouts affiliate network.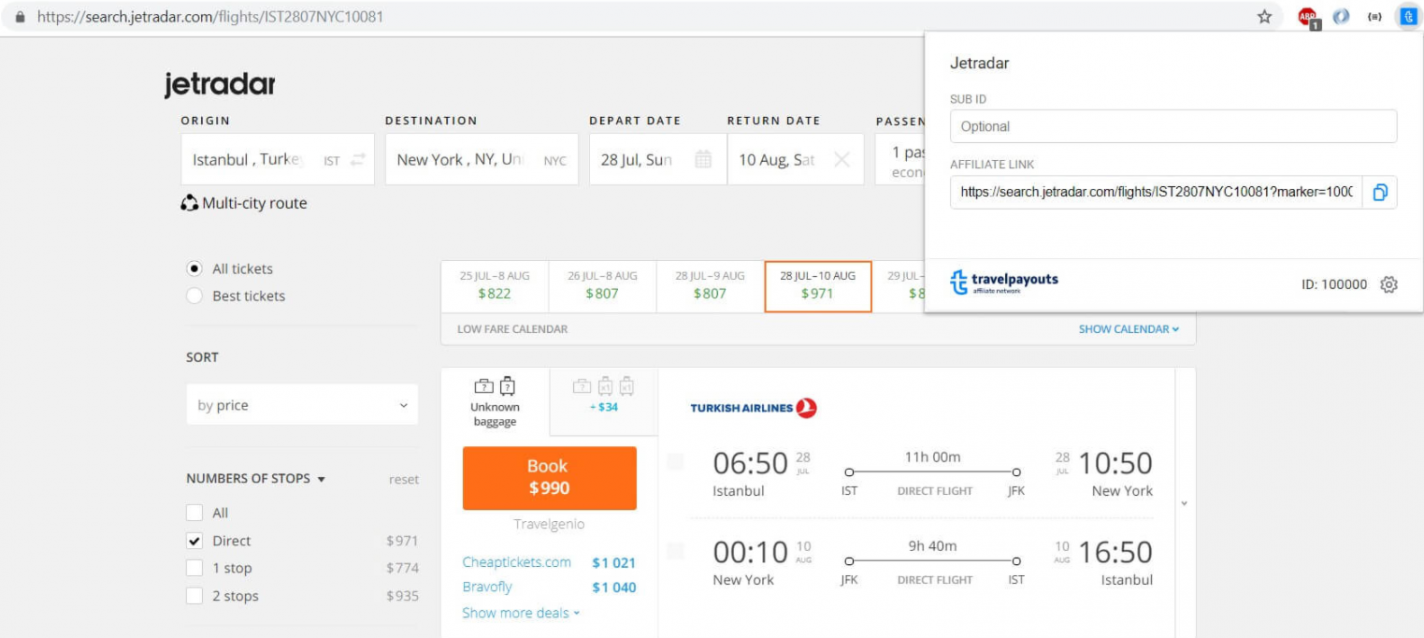 With the help of this extension, you can quickly create affiliate links right from your browser. To set it up, you should:
Enter your personal affiliate marker in the extension.
Join affiliate programs, if you haven't already.
Open the extension once you are on the advertiser's website.
You will immediately receive a readymade affiliate deep link.
In addition, you can manually select the desired offer from the drop-down list and generate an affiliate link.
With the Travelpayouts extension, you can also shorten your links by choosing from three shortening services in the settings.
4. SimilarWeb
The SimilarWeb extension will show the position of your website in the search results, how many people visit each month, where they come from, and where they go.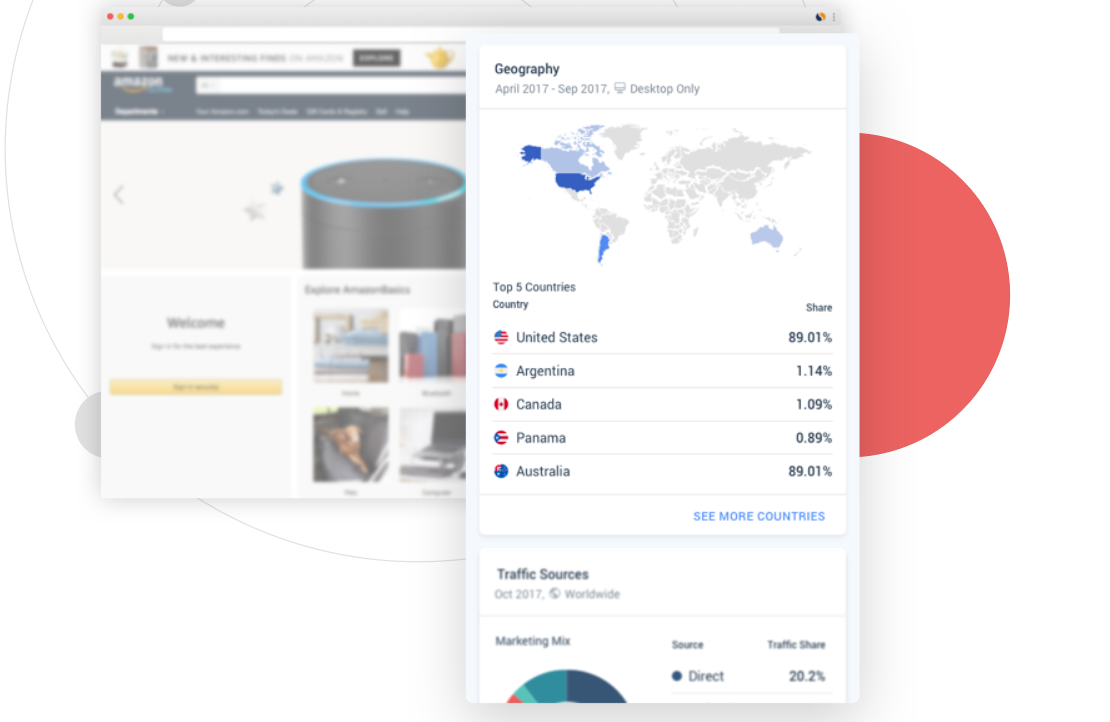 This information can be used to determine what works best for your competitors' websites, identify the most valuable affiliate networks, see where your competitors are advertising, hunt down their landing pages, see the ad networks they use, etc.
In this way, SimilarWeb helps you find growth opportunities for yourself across all channels by exploring and examining other websites.
Analysis and SEO
5. Alexa Traffic Rank
Alexa Traffic Rank is one of the most important indicators of website authority, such as when you want to evaluate a website before buying a link.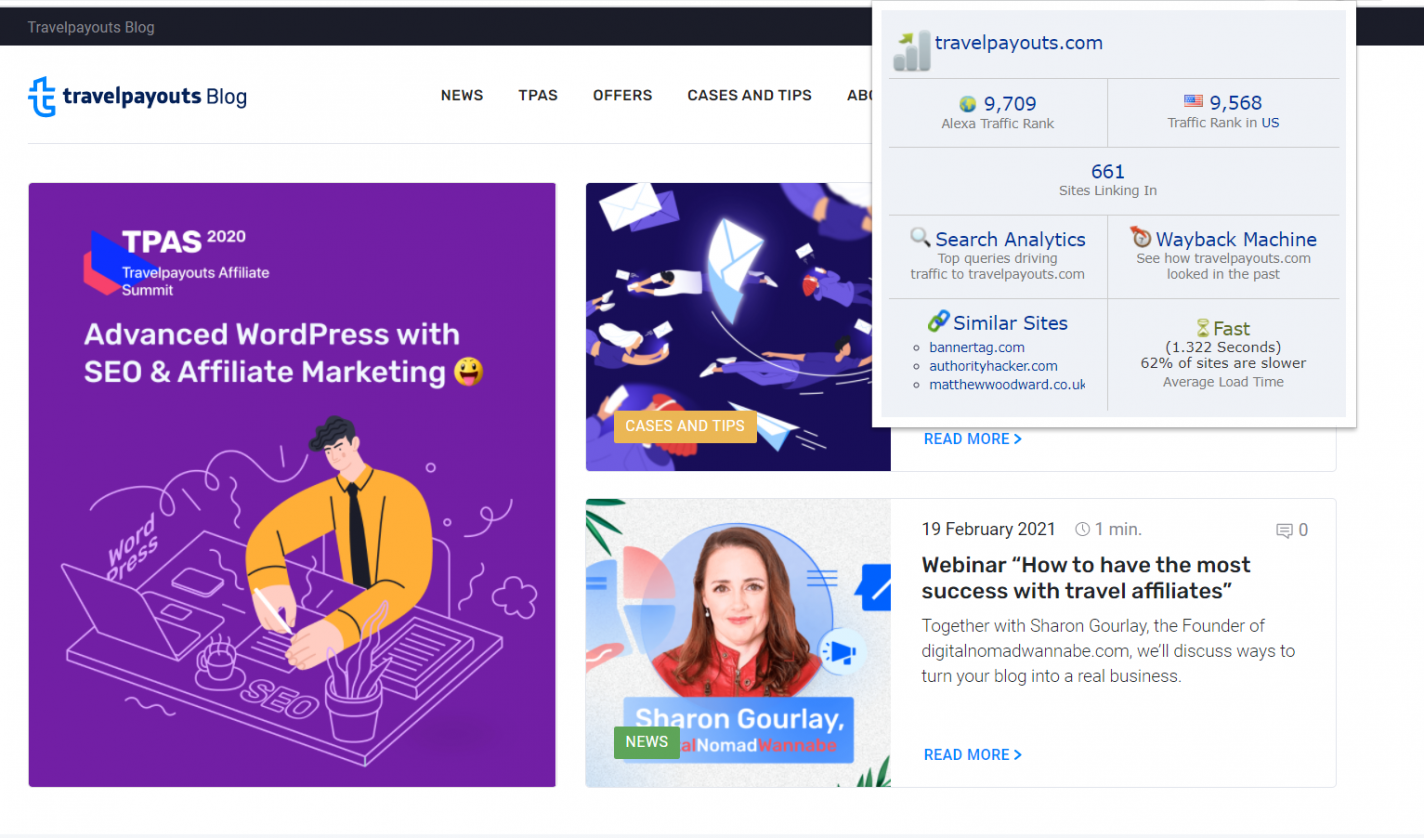 With the official Alexa Traffic Rank extension, you will be able to check a website's rank in a single click.
6. Wappalyzer
Wappalyzer is one of the most popular analytical extensions. It will show what CMS, framework, analytics system, widgets, and so on were used on a given website.
The application will help you analyze your competitors and tell you how you can improve your website, as well as how your website might look with a particular CMS. The free version contains enough information for beneficial analysis. However, the advanced version provides many more features.
7. BuiltWith Technology Profiler
BuiltWith Technology Profiler is an alternative to Wappalyzer that provides not only information about the technologies used on a given website, but also more detailed and diverse information, such as the Alexa Rank or the marketing platform connected to that website.
This extension requires registration and is free for up to five different websites. If you have more pages, you will need to switch to the paid version.
8. WooRank
Another extension that shows the technologies used on a given website, as well as how well the website is designed in terms of SEO. WooRank assigns points from 1 to 100 according to the sum of these criteria.
WooRank evaluates page structure, security, loading speed, domain expiration date, adaptability for mobile devices, etc. This is an extremely useful extension for affiliate marketers who research their competitors. However, you can also use it to score your own website to find any potential weak points.
9. RDS Bar
RDS Bar is a useful tool for performing quick analysis of website and webpage SEO indicators. This extension was designed for optimizers, but you can adopt it for affiliate marketing to find all external links or any hidden blocks on a specific page.
10. Lighthouse
Lighthouse is an open-source tool from Google that will show how the website is optimized based on the requirements of the search engine.
This extension will score your website based on several parameters and explain in detail which portions can be improved and how. This extension is useful if you want to focus on promotion via Google.
Keywords
11. Keywords Everywhere
This extension analyzes a given website by keywords and shows the keyword density, keyword usage in meta tags, and the number of keyword mentions.
Collected keywords can be downloaded in a convenient form (Excel, CSV, PF) and can be copied or even printed.
All basic functions are available for free. Paid access is only required for API connection.
12. PPC NegativeKeywords
This extension helps you collect negative keywords in Google AdWords or Bing Ads accounts.
This extension will help those of you who buy paid advertising on contextual networks.
Mobile App Optimization
To work with these extensions, you need a developer account in Google Play or the App Store. Anyone can get an account. Google charges a one-time fee of $25 for this, while the App Store charges an annual fee of $99. A developer account will also come in handy to work with and upload your own apps to stores.
13. Google Play Feature Graphic Viewer
This extension allows you to view the main illustrations of any application on Google Play on your desktop (the same ones used in the Feature Graphic section).
Typically, these illustrations are only visible on Android devices, but this extension will allow them to be seen via the Chrome browser on any computer.
14. Google Play Short Description Viewer
With this extension, you can view applications in Google Play on your desktop and description texts that are usually hidden. This will help you understand which keywords your competitors are using and how to improve your ASO strategy.
15. Play Store Reviews
The Play Store Reviews extension exports app reviews on Google Play to a JSON file and downloads them in an archive. After that, you can use this information for analyzing competitors.
This extension will prompt you to sign in to Play Services, a service that makes sure all versions of the apps on your Android device are up to date. Other data provided includes: number of stars, app version, review author, date, time, title, and review texts.
Content: Text, Video, Images
16. LanguageTool
This extension checks your text in emails, Google Docs, Facebook, and other sources. It supports 25 languages, so you can use it for more than English grammar checks.
The extension even finds speech or stylistic errors and often turns out to be smarter than the built-in Google Chrome tools.
17. Fonts Ninja
The Fonts Ninja extension will detect the font on the page as well as offer to download it. If the font is a paid one, Fonts Ninja will offer a try out option in Photoshop or Sketch before you need to make a purchase.
18. Office Editing for Docs, Sheets, & Slides
An extension from Google for those of you who do not have Microsoft Office, but sometimes need to edit or create a document in Word, Excel, or PowerPoint.
With this extension, you will open a document, sheets, or slides editor in one click. Moreover, you can simply drag and drop your document into the browser to open it online.
19. Color Tab
If you are looking for a cool color scheme for your website created according to the rules of combining colors in an aesthetically pleasing way, then install the Color Tab extension. Every time you open a new browser tab, you will see a luxurious random color scheme.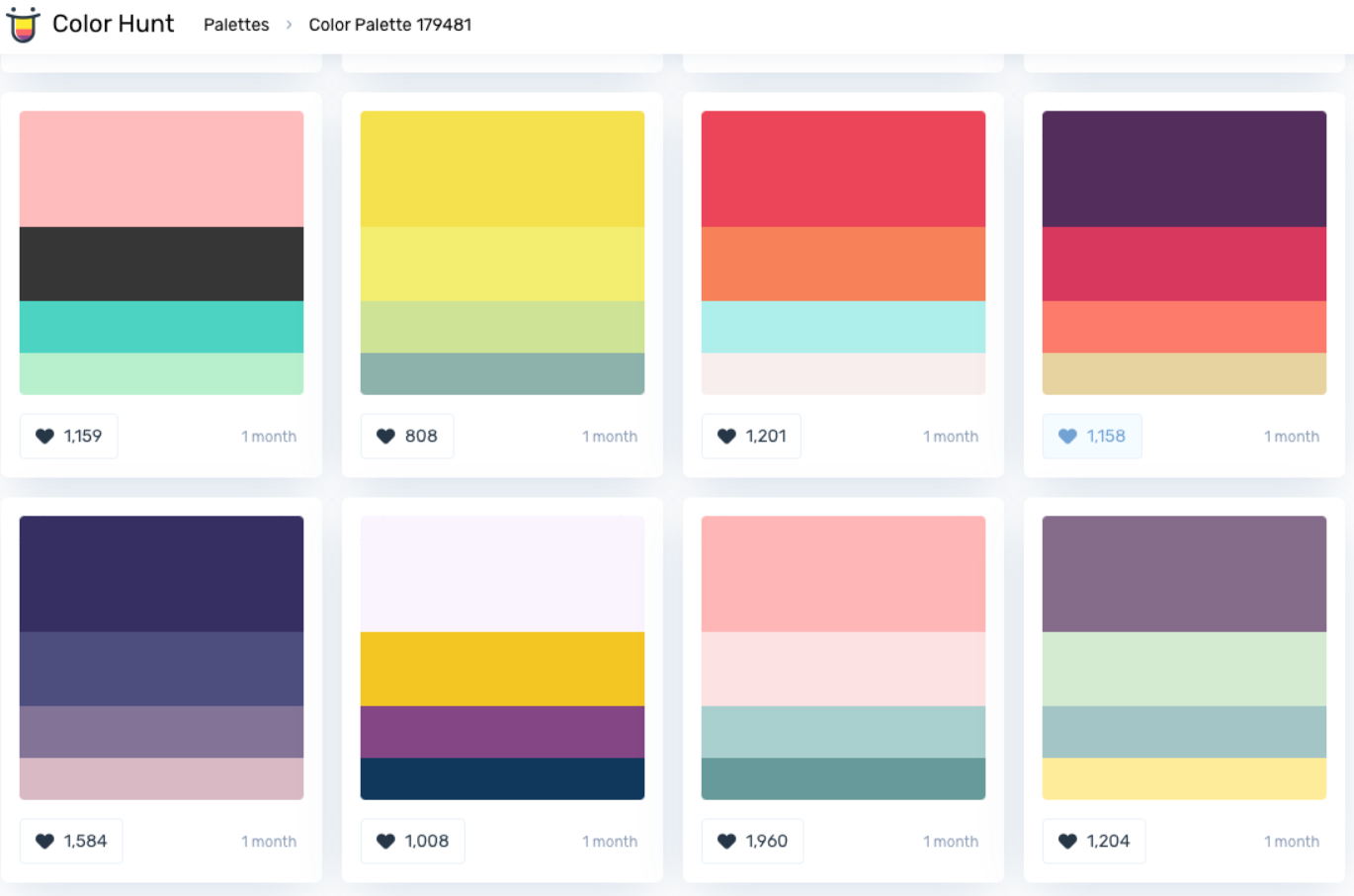 Color Tab, made by the creators of the colorhunt.co extension, helps to purposefully find a scheme in the desired shade or theme for your website (such as: sunset, spring, retro).
There are also ratings from users, so you can get insights into which color combinations people like the best.
20. Copy All URLs
Copy All URLs copies links of all open tabs in the browser and saves them to the clipboard (in HTML, JSON, or any other format that can be selected in the extension's settings).
21. SaveFrom.net
The Savefrom.net extension is useful for those of you who want to download videos from YouTube or other platforms. After installing the extension, you will see the download button on YouTube, which will allow you to download videos.
22. Downloader for Instagram
Downloader for Instagram is a tool for bulk downloading photos from Instagram. By clicking on the extension icon in the browser, the tool will collect all the photos from a given page into a tiled preview and offer you to choose what to download.
If you click the extension icon inside Instagram, you can immediately select the photos to download.
SMM
23. Popsters
This is one of the best extensions for analyzing page statistics on the most popular social networks. Popsters will show the daily engagement rates or ER dynamic if an earlier analysis of this account was already carried out in Popsters.
This is a paid service; however, after registration, you will get a free trial that may be enough to complete your work.
24. SMMBox
SMMBox finds the best posts on a topic of your choice. For example, if you have a travel website, with SMMBox, you can find relevant travel posts just in a few clicks.
Right from the extension interface, you can copy any information from social networks or work with posts to edit, schedule, or immediately publish a post.
SMMBox also works on Instagram and saves you time if you need to post a lot of content on different social networks and often look for potential post ideas. This is a paid tool; however, a free period of 14 days is also available.
25. VidIQ
The powerful VidIQ extension will show detailed statistics of YouTube channels and help you choose appropriate tags.
The number of subscribers and views (per day and per month), viewing time, engagement, several SEO indicators, a selection of tags, and recommendations are available right in the browser in the form of a checklist.
You can track the statistics of your own channel and get a lot of information about your competitors' videos. You can even track the number of commentators, subscribers, and the ratio of likes to dislikes.
But that's not all that VidIQ can do. This extension can store comment templates to allow you to quickly respond to users and much more. This extension must be included in the toolkit of every affiliate marketer who does business on YouTube.
26. Tag Assistant
Tag Assistant is an extension that helps you troubleshoot Google tagging issues with Google Tag Manager. For example, while setting up Facebook Pixels.
The extension is more convenient than the debug mode available in the Google Tag Manager (GTM). If you are setting tags through the GTM, then try the Tag Assistant.
27. Save to Facebook
Save to Facebook is the perfect solution if you want to return to some Facebook posts later.
This tool allows you to put aside any content that you like and easily find it later. For better navigation, this extension has a filtering feature that allows you to organize saved posts by topic.
Email Marketing
28. Save Email Template by SendPulse
If you like someone's marketing letter, use this extension to save it (as a .png, .pdf file, or code) or upload it directly to your SendPulse account if you use this email platform.
You do not need to be a SendPulse customer to use this extension, it's available for free for everyone.
29. Revue
Revue will help you quickly assemble a beautiful newsletter and send it without contacting specialists or even obtaining your own domain.
Using this extension, you can quickly assemble a newsletter by taking the following steps:
On the desired page of your website, click the extension icon in the browser.
A neat preview of this page appears in the letter layout on Revue.
Go to the Revue website, fill in the subject line, and add recipients (manually, by file, or from Mailchimp).
That's it. The letter can be sent from there. If you wish, you can add your own pictures and text. The email will be automatically adapted for mobile devices.
The best part is that a web version of the letter will be available with the built-in ability to subscribe to your newsletter. A link to a web version, such as a landing page, can, for example, be posted on social networks to invite people to subscribe, thus growing your subscriber base.
30. Unlimited Email Tracker
This extension will help you track your emails and transitions to links. This extension counts views and clicks, and also sends a push notification when someone opens your email. In the email client, this extension marks letters with color tags.
31. Save Emails to Google Drive
This is a tiny, but extremely useful extension that will help you save bulk emails to the Google Drive.
32. Gorgias Templates
An extension with templates for those of you who have a lot of different emails daily, including in different languages. Saves time and prevents you from being sealed.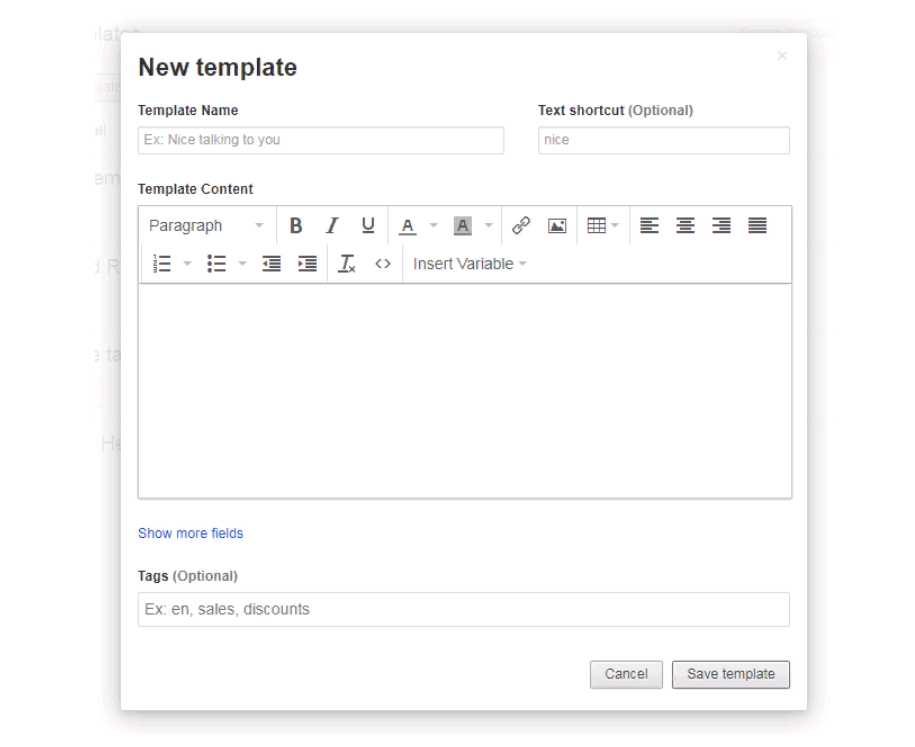 Gorgias Templates works like magic: you type one letter and press Tab, and then a whole sentence from the template appears in your email. You will have to customize the templates to fit your needs in advance, however there are also dozens of readymade templates.
Gorgias Templates will help, for example, if you directly contact buyers. It supports the most popular email services, such as Gmail, Outlook.com, Facebook, LinkedIn, Fastmail, and Yahoo Mail.
Security and Ad Blocking Extensions
33/34. uBlock Origin and AdGuard AdBlocker
Both of these extensions block ads on websites. You can use them when advertising becomes unbearable. Websites without any ads are like a whiff of fresh air after a day of working with ads.
35/36. Browsec VPN and Touch VPN
These two VPN extensions encrypt your visits, protect against unauthorized access to public Wi-Fi hotspots, and unblock websites. Spotify, SoundCloud, and other country-limited services will be available to you.
Remote Office Extensions
If you have a team, the following extensions will come in handy for you to maintain effective teamwork.
37. Loom
The Loom extension gives you the option to record your screen with sound, take video selfies from your camera, or any combination of these options.
The video is then saved to the service's server, where you can trim it, add emoji or comments, and download or simply share a link to it.
Loom is convenient if you have to make tutorials to explain to your audience or team how to use this or that service.
38. Save to Pocket
This extension allows you to save all useful links, articles, videos, and other materials for viewing later. This will be possible even without an internet connection. If one of your friends or colleagues uses Pocket, you can share materials inside it.
This extension is useful if you need to organize a shared space for your team.
Pocket cleans up the materials that you save inside it from ads and unnecessary blocks, leaving only text and illustrations. From within Pocket, you can even choose to go to the original source of an article and read it there.
The font size and background can be adjusted for ease of reading. There is also a marker for highlighting and saving important thoughts. If you immediately add tags to the materials when saving, you will get a convenient rubricator, although the service will add them automatically if you do not.
39. Evernote
Evernote is one of the most popular notes services in the world. It was created to store everything from the Internet. Unlike Pocket, which is tailored for comfortable reading, Evernote is more versatile.
With the Evernote extension, you will be able to save everything that seems interesting, useful, or necessary to come back to, watch later, or share with someone. You can select fragments of text or pictures, create a link, and send your note to other people.
If you save a screenshot, you can edit it, draw arrows on it, etc. Evernote is useful not only for personal use by affiliate marketers, but also for organizing teamwork. In the paid version, all notes are available offline.
40. Google Keep
Google also offers a tool for note taking, organizing, task management, and archiving. This extension beats all the alternatives because of the option to synch with a mobile application. You should choose this solution if you work within the Google ecosystem.
Productivity and Workspace
41. Marinara: Pomodoro Assistant
If you are not using the Pomodoro Technique yet, give it a try! This is a way to focus on a task and keep track of your work in 25-minute chunks or "Pomodoro".
The timer can be set for different periods of work and rest. History is saved.
42. Dualles
This extension divides the screen into two working windows for all currently open windows in the browser. This feature may be available on your device without an extension to offer a dual mode for your screen.
43. OneTab
Now, all your 100 open tabs will consolidate into one, where they will be compactly placed in a list. This is how the OneTab extension works once you click on the extension's icon in the browser bar. This extension helps you focus on the main tab.
44. Lightshot (Screenshot Tool)
This extension helps you take screenshots and save them as links. It is quite useful if you take frequent screenshots that clog up your computer. Your screenshots can be edited or cropped, you can add arrows or text, and so on.
The selected area can be searched in Google, printed or saved to the service server, and received as a link to the screenshot.
You can use Lightshot outside of Google Chrome if you install the application.
45. LastPass
Are you constantly forgetting passwords and tired of recovering them? If you do not trust saving your passwords in the browser, now you only need to remember one: the master password in LastPass. All the rest will be securely saved and synced across all your devices.
46. I don't care about cookies
This extension hides cookie requests from websites. It is convenient if you have to surf the Internet a lot and are constantly distracted by pop-up windows with cookie notifications.
47. Color Enhancer
This extension applies a special filter to the colors of websites. The resulting shades can be seen by people with color blindness.
The below illustration shows how the screen looks in normal color mode compared to how it looks with the applied color enhancement filter.
48. Go f**king work
Procrastinating on Facebook and YouTube instead of working? Install this extension, add websites that may be distracting, as well as times when you rest, and enjoy the increased productivity.
How to Manage all These Extensions?
Now that you have so many extensions installed, you need one more extension to manage them all!
49. Extensity
With the help of Extensity, you can quickly turn extensions ON or OFF, so they do not interfere with one another and waste memory.
50. Chrome Extension Manager
Chrome Extension Manager is a good alternative to the Extensity extension. It will help you quickly manage extensions for the Google Chrome browser by selecting enable or disable. This manager differs from Extensity in design and provides some additional functions. For example, you can configure a more compact view of the drop-down window.
Above, we shared extensions that may be handy for affiliate marketers. However, more and more browser extensions are published every day. Please share your own experience. Which Google Chrome extensions do you use for affiliate marketing?
Share the article

Read. Learn. Do. Earn more money on Affiliate Marketing
Don't miss